Disclosure - This is a sponsored post:
Guides on PricePlow
This page lists our notorious "mega posts" – extremely well-researched articles ranging from scams to avoid to buyer's guides to in-depth ingredient analyses.
We publish one or two of these per month, and they are brutal to work on, so we hope you appreciate them.
Buyer's Guides
Each of these includes a Top 10 list, but we actually like the choose your own adventure guides where we recommend products specifically tailored for you and your needs:
Some of our most in-depth information can be found in our long-form podcasts. Join us and subscribe to the PricePlow Podcast on your favorite service (or watch on YouTube).
Critical Information
Ingredient Analyses
Other Scams / Scandals / Potentially Unsafe Ingredients
Contact us if you have ideas / requests for new ones.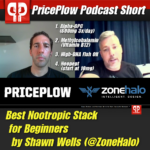 In our second podcast episode, Optimizing Brain Performance with Shawn Wells, the master formulator dropped so much information it was tough to keep it all straight.
But one of the most important pieces was around the 40-minute mark, where […]

Continue Reading →