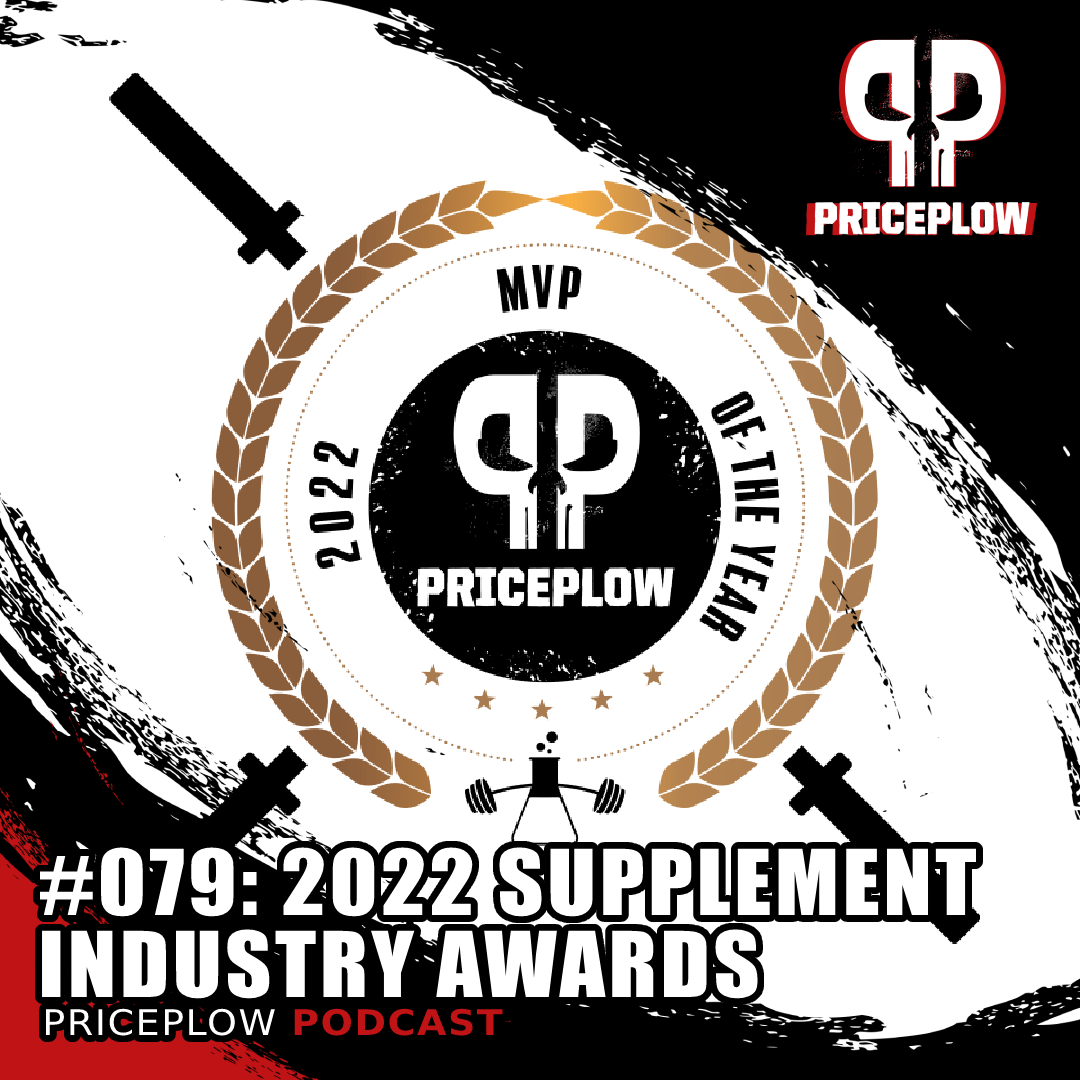 It's that time of year again — time for PricePlow's 2022 Supplement Industry Awards. Mike and Ben sat down to review 2022, and then got into a batch of awards similar to what we did in the 2021 Supplement Industry Awards.
2022 brought some great new ingredient innovations, but also came with some heartbreaking tragedy. The industry mostly broke away from some of the issues created in 2020 and 2021, but also dealt with ongoing issues such as supply chain difficulties and price increases (especially for protein, creatine, and citrulline).
Once again, most players who went big in 2022 were already well-established before 2020, but there are definitely a few new movers to keep your eyes on for 2023 and beyond.
This is posted as Episode #079 on the PricePlow Podcast. Video and audio versions are below, with the details after that:
Podcast: Play in new window | Download (Duration: 1:17:18 — 68.4MB)
Subscribe to the PricePlow Podcast on Your Favorite Service (RSS)
0:00 – General 2022 Discussion

10:25 – 2023 MVP of the Year (Lifetime Achievement Award)

Our 2022 MVP of the Year is none other than Dr. Hector Lopez, a legendary sports medicine and nutritional biochemist who passed away in 2022. Hector has done countless phenomenal things in the space, particularly with SmartPrime-Om, which we covered extensively here on the PricePlow blog. It's a game-changer for the sports nutrition industry, and we can think of nobody better for the MVP of the Year.

We even had Dr. Lopez on the PricePlow Podcast for a discussion on SmartPrime-Om, and it's absolutely worth a listen.

Honorable mentions

Dan Fabricant and the NPA (Natural Products Association) for beating the FDA on NAC
Chris Bumstead and Domenic Iacovone (Raw Nutrition, Revive MD)
Dan Lourenco and Ryan Hughes (Ghost Lifestyle)
Shawn Wells and the team at Ingenious Ingredients

These honorable mentions are no doubt mentioned plenty throughout the rest of the podcast, so let's continue:

18:00 – 2022 Innovator of the Year

The Innovator of the Year Award was an extremely close race between Dr. Lopez for SmartPrime-Om and the team at Ingenious Ingredients for enfinity paraxanthine, but we have to give the edge to Shawn Wells, Kylin Liao, Dr. Ralf Jaeger, and Dr. Martin Purpura at Ingenious Ingredients.

Paraxanthine, the primary metabolite of caffeine, is a monumental step forward in the space. It has demonstrated an ability to target the positive effects of caffeine while mitigating the downsides caused by the other caffeine metabolites. We see paraxanthine taking off like a rocket in 2023.

We talked with Shawn Wells and Raza Bashir of MuscleTech back in PricePlow Podcast #072 — it's a great listen if you want a master class on caffeine and its metabolites.

Honorable mentions

As always, we're excited to see what innovations come in 2023, as well as continued success for enfinity.

32:30 – Product of the Year

Our product of the year is a collaborative one — the Ghost X CBum Thavage Legend collab, in Miami Vice flavor.

It was originally launched at a pop-up party in Miami during the summer, but due to popularity, it was relaunched on Black Friday. No single product received this much discussion — Ben even had to ship tubs to people directly.

Two heavy-hitting brands, Ghost Lifestyle and Raw Nutrition came together to create the coolest product and best flavor of the year.

Honorable mentions

This was a great year for formulations and collaborations, and will be a tough one to beat.

34:10 – Brand of the Year

Ghost Lifestyle will always be in the discussion for Brand of the Year, and this year they take the cake for the third straight year. Their CBUM Thavage Miami Vice collab was off-the-charts good, driven by one of the coolest collaborations of the year as discussed above.

The re-released Ghost Fish Oil with SmartPrime-Om pushed it over the top, and we particularly loved Ghost Hydration for its insanely good flavors (shoutout to Sour Patch Kids Redberry, in particular).

We also got a ton of new Ghost Energy flavors: Swedish Fish, Orange Cream, Sour Green Apple, and Cherry Limeade. Ghost Energy is going to be a huge driver for the brand going forward.

Add in delicious flavors for Ghost Whey, Greens, Gamer, and collaborations with Teenage Mutant Ninja Turtles, Ghost was a machine in 2022.

Ghost's new products included:

However, Mike is clear to point out that Ghost still has some holes in their product line, such as a functional food and strawberry protein, but Ghost still manages to kill it year after year.

We just may have to handicap Ghost for 2023…

Honorable Mentions

48:40 – Breakout Brand of the Year

Ben's pick is Arms Race Nutrition for their momentum. This past year, they released some awesome new products:

Mike, on the other hand, nominated AstroFlav for products like:

However, AstroFlav came on a bit late, some of their new launches are bleeding into 2023, so we'll have to award the breakout to Arms Race Nutrition.

Honorable Mentions

Raw Nutrition with Chris Bumstead

56:00 – Brands to watch for 2023

An interesting brand to watch in 2023 is Klout. This young brand is on a mission to adapt the flavor collab model to different aspects of the industry – things like ingredient collabs, anime collabs, and more. This alone sets them apart and primed for an innovative breakout in the sphere. Klout is going after a younger demographic, and is therefore definitely a brand to keep an eye on for the future.

As discussed in the Breakout Brands category, AstroFlav has been doing some very cool things with both new formulas and flavor systems. Their VeganMix, in particular, is the best plant-based protein mix that Mike has ever tried.

Finally, as an honorable mention, Mike forgot to discuss Soul Performance Nutrition for their holistic approach to health — Matt Karich has been very active in the PricePlow Discord and is doing amazing things. You can listen to him on PricePlow Podcast Episode #068.

1:03:30 – Protein Powder of the Year

Ben's pick is CBum Itholate Mint Chip Ice Cream – an outrageously delicious, inclusion-filled protein powder. They even put heavy chocolate chips in there! It tastes like a real milkshake.

Mike's pick is AstroFlav's VeganMix, which somehow managed to achieve the impossible and make a plant-based protein powder taste amazing. Their Chocolate Peanut Butter flavor, in particular, is out-of-this-world when it comes to vegan protein.

Honorable Mentions

If we're including protein bars:

1:06:55 – Pre-Workout of the Year?

We had a ton of excellent pre-workouts this year, and it was all started off with a huge bang with the epic Pre-Kaged Elite:

One we'd particularly like to highlight for its accessibility is Raw Nutrition CBum Thavage. It's an excellent "daily driver" pre-workout formula that's reasonable in both ingredients and price. It's not over-powered or under-powered, it's in that goldilocks zone. Our favorite flavor this year was their Ghost Legend Cbum Thavage Miami Vice Collab, although Myprotein put in yet another incredible The Pre-Workout Flavor, this time with their Mike and Ike Caribbean Punch flavor.

What was your favorite pre-workout of 2022? Because we left this one a bit open…
That wraps it up — as always, subscribe to the PricePlow Podcast on your favorite platform. Next up is our discussion with Jason Budsock of Animal Pak / Universal Nutrition!
GHOST Fish Oil – Deals and Price Drop Alerts
Get Price Alerts
No spam, no scams.
Disclosure: PricePlow relies on pricing from stores with which we have a business relationship. We work hard to keep pricing current, but you may find a better offer.
Posts are sponsored in part by the retailers and/or brands listed on this page.
Subscribe to the PricePlow Podcast on Your Favorite Service (RSS)