AstroFlav is one of our favorite brands because they really go the extra mile for their customers. This company was founded by supplement-industry veterans with tons of direct retail customer experience. That's a big part of the reason AstroFlav really knows what they're doing and what consumers want.

Plus, they have ASTROnomically great FLAVors!
Beyond great flavoring, AstroFlav's doing some really unique stuff lately. The MetaBurn PM hybrid fat-burning sleep aid had some incredible tricks up its sleeve, and today's new pre-workout supplement from AstroFlav is no different:
AstroFlav One Scoop Only Pre-Workout – and they mean it
Today we're pumped to explain AstroFlav's new One Scoop Only Pre-Workout, which really exemplifies AstroFlav's customer-oriented design philosophy.
Lately, supplement consumers have been grumbling about a trend in the industry regarding half-dosed products, particularly pre-workouts. These are products that are marketed and sold as if a single scoop were enough to give users the benefits we're looking for. In many cases, even supplement facts labels are written as if a single scoop of the product is all you need.
In reality, many of these products require two scoops to get efficacious doses — especially in regards to certain ingredients. Sometimes manufacturers give you the "option" of double-scooping a product. But, in reality, it's basically obligatory.
That's not the case here:
OSO: Supreme Energy, Focus, Pumps, and even NucleoPrime nucleotides!
AstroFlav caught onto this, which is why they're launching One Scoop Only (often abbreviated "OSO"). Everything in this formula is dosed appropriately for a single-scoop serving to give you everything you need, and more.
Charged with 375 milligrams of caffeine, OSO gives us our first chance to cover a supplement with NNB Nutrition's NucleoPrime nucleotides, which we're very excited to see in a pre-workout! Combined with D-ribose, we have a very powerful and out-of-the-box method of supporting the mitochondria with enhanced, feel-good ATP production.
Let's get into how it works, but first, check the PricePlow news and deals:
AstroFlav One Scoop Only Pre Workout – Deals and Price Drop Alerts
Get Price Alerts
No spam, no scams.
Disclosure: PricePlow relies on pricing from stores with which we have a business relationship. We work hard to keep pricing current, but you may find a better offer.
Posts are sponsored in part by the retailers and/or brands listed on this page.
This area is reserved for Team PricePlow's upcoming videos.
Subscribe to our channel and sign up for notifications so you catch it when it goes live!
One Scoop Only Ingredients
In a single – you guessed it – 1-scoop serving of One Scoop Only from AstroFlav, you get the following, starting with the Tru-Absorb Electrolyte & Pump Complex:
D-Ribose – 5,000 mg

D-ribose is important for adenosine triphosphate (ATP) production. ATP is important because it is your body's energy currency, and powers every single action your cells are tasked with performing. Thus – because your body is the sum of your cells – it powers your body as you go through everyday tasks like walking, carrying bags of groceries, and working out.

In other words, if your body were a car, ATP would be the gas. Just like your car needs gas, even to turn on, your body must have ATP to function. If all the ATP in your body disappeared at once, you would immediately die!

So how does ribose come into this?

Ribose is actually one of the key components of ATP. There are three: adenosine, phosphate, and ribose.[1] In order to create enough ATP, you need to supply your body with enough of all three components.

Technically speaking, ribose belongs to a class of molecules called pentose sugars. The word "pentose" denotes the fact that the molecular structure of ribose is based around a carbon ring with five carbon atoms.[1]

Your body creates ribose through a metabolic pathway called the pentose phosphate pathway (PPP), which is part of glycolysis.[1]

Ribose synthesis through the PPP requires access to an enzyme called glucose-6-phosphate dehydrogenase. Unfortunately, access to this enzyme is pretty limited, so it tends to be the limiting factor on how much ribose your body can produce. The downstream consequence of this limiting factor is that when ribose production is limited, ATP production is also limited.[1]

This is borne out by research showing that when your body's ribose reserves run low, your ATP production declines in parallel.[1]

What this means for us is that, because intense exercise consumes a lot of ATP, and thus ribose, it can end up downregulating ATP synthesis at a time when your body needs a lot of ATP to recover from the workout you just completed.

Ribose supplementation is one potential solution. It can help speed-up ATP replenishment by giving your body enough ribose to bypass the glucose-6-phosphate dehydrogenase bottleneck.[1]

Research shows that ribose supplementation can potentially help manage:[1]

Pain
Muscle cramps
Muscle stiffness
Chronic fatigue syndrome
Fibromyalgia
Myocardial dysfunction

Aside from the stimulants and pump ingredients in OSO, this is the additional direction AstroFlav's going in here. We'll do even more to support ATP production later on with NucleoPrime.

L-Citrulline – 4,000 mg

Citrulline is an awesome nitric oxide (NO) boosting compound.[2]

In recent years, long-time industry mainstay NO-booster, arginine, has been replaced by citrulline, a compound that's much more bioavailable than arginine.[3] Unlike arginine, citrulline is not broken down in the stomach before it can reach the intestinal wall,[4] meaning that your body absorbs much more of it.

Citrulline research shows that it can:

Improve oxygen uptake and increase top-end power[5]
Increase time to exhaustion – one study found that citrulline can increase the max number of bench press reps by 53%[6]
Decrease muscle soreness following exercise[6]
Increase growth hormone (GH) production[7]
Limit muscle protein breakdown[8]
Increase the anabolic response[9,10]

These effects are caused, for the most part, by NO that citrulline causes your body to produce.

The way NO works to improve performance and recovery is by triggering vasodilation, a phenomenon where the diameter of your blood vessels expands allowing more blood to flow through. It's especially good for improving blood delivery to smaller peripheral blood vessels.

The natural consequence of improved circulation is that oxygen and nutrients are delivered to your muscles more efficiently, whereas lactic acid is cleared from your muscles more efficiently.

The accumulation of lactic acid during exercise is a major cause of muscular fatigue, so improving lactic acid clearance is great for athletic endurance.

Citrulline supplementation can also increase your body's supply of ornithine,[11] an amino acid that helps remove ammonia from your body.[12] Ammonia is a big cause of both mental and physical tiredness. So helping eliminate ammonia is another big endurance-boosting effect of citrulline.

Ornithine can even improve metabolic function, mainly because of its effect on your body's cortisol-to-DHEA ratio.[12]

Betaine Anhydrous – 2,500 mg

Betaine, also known as trimethylglycine (TMG) is a great ergogenic aid, capable of increasing your body's capacity for work. One could compare its effects to creatine, although betaine acts by a very different mechanism.

Betaine is a methyl donor

What betaine and creatine both have in common is their ability to increase adenosine triphosphate (ATP) production.[15]

Creatine does this as a phosphate donor, ferrying phosphate groups to the site of ATP synthesis, where they can be incorporated into the high-energy phosphate bonds that actually allow the ATP molecule to store and deliver usable energy.

Betaine donates methyl groups instead.[16] And indeed, betaine is one of the most powerful methyl-donating nutritional supplements.[17] By flooding your body with the methyl groups it needs for a huge range of metabolic processes, betaine can spare key nutrients like methionine and choline from being consumed as methyl donors, thus freeing them up for other uses.

Because of its methyl-donating ability, supplementation with betaine can help keep your homocysteine blood levels under control,[18] which is awesome since homocysteine is a major risk factor for cardiovascular disease (CVD) and cardiovascular emergencies like heart attack and stroke.[19]

Betaine as an ergogenic aid

But the headline for betaine is always its ergogenic effect, so let's take a look at how that works.

Betaine is an osmolyte. Osmolytes increase the osmotic pressure around cells. Since fluids naturally move from regions of higher solute concentration to lower solute concentration, this ultimately forces a higher than normal amount of water into those cells.

With additional water comes additional nutrients and fuel. These can help fortify your cells against metabolic stress[13,20] and heat stress.[21]

The upshot is better strength, power and, eventually, body composition.[22-27]

A 2013 study found that participants who supplemented with 2,500 milligrams of betaine daily – the same dose used in AstroFlav One Scoop Only – gained more than 5 pounds of muscle and lost more than 6 pounds of fat during the 6 week study period. That translates to a 3% decrease in body fat.[13,14]

A similar study conducted in 2018 found that female collegiate weightlifters who supplemented with betaine while completing a 10 week resistance-training program lost 4 pounds more body fat compared to a placebo group.[28]

Calci-K – 500 mg

Calci-K is a patented complex of potassium, phosphorus, and calcium, which are all important electrolytes that help facilitate muscle contractions. Maintaining adequate stores of electrolytes is important for peak performance since electrolytes help with hydration and prevent muscular cramps.[29,30]

During exercise, we can lose a lot of electrolytes in sweat, so adding electrolyte support to a pre-workout like AstroFlav One Scoop Only is never a bad idea.

Magnesium Bisglycinate Chelate – 250 mg (30 mg elemental magnesium)

Magnesium, the fifth and final electrolyte, is here to round out the electrolyte profile of AstroFlav One Scoop Only.

But magnesium is perhaps most important as a cofactor for hundreds of different enzyme reactions that are necessary for healthy metabolism. They affect hugely important aspects of health, including blood glucose tolerance, cellular energy production, and arterial function.[32]

Symptoms of magnesium deficiency can include fatigue, insulin resistance, and cardiovascular dysfunction.[33,34]

Getting a little bit of supplemental magnesium is a great idea, as magnesium is one of the electrolytes that we tend to lose in sweat. The bigger problem, though, is that the magnesium content of our food has declined quite a bit in the last century, owing to poor agricultural practices.[33,35-39] So Americans aren't taking in nearly as much magnesium as we used to.

Worth noting that this is a great form of magnesium – bound to glycine, an amino acid our intestines are great at absorbing, it's been shown to vastly outperform cheaper forms like magnesium oxide.[31]

Sodium Chloride – 270 mg

Sodium is another important electrolyte mineral that we tend to lose in sweat. Like the other electrolytes, you need sodium for muscular contractions.[40] Muscles that aren't supplied with enough sodium can function below their optimal level.[41]

If you want to learn more about why sodium is so important, especially if you're physically active, check out our favorite peer-reviewed article on the subject, "The Importance of Salt in the Athlete's Diet".[41]

AstraGin [Astragalus membranaceus (root) Extract and Panax notoginseng (root) Extract ] – 50 mg

AstraGin is a bioavailability enhancer. It increases the absorption of any other supplements you take it with, by increasing the amount of adenosine triphosphate (ATP) available to your intestinal cells.

Since, as we've discussed, ATP is your body's form of usable energy, giving your intestinal cells more ATP allows them to do more work. This means better absorption of whatever your intestines are digesting.[42-49]

Astragalus membranaceus and Panax notoginseng, the botanical sources for AstraGin, have a long history of use in traditional Chinese medicine (TCM) for the purpose of improving health and extending lifespan.

Human studies on healthspan and lifespan are notoriously difficult to design, so data is a bit lacking, but studies in simpler organisms have repeatedly corroborated the idea that astragalus and ginseng can boost longevity and improve health.[50,51]

Next up, the Strength & Performance Matrix:

Beta Alanine – 3,200 mg

Beta-alanine is an important carnosine precursor.

We like carnosine, a dipeptide molecule that concentrates in muscle tissue, because it helps the body clear out lactic acid from muscles.[52] Again, the accumulation of lactic acid in muscle tissue is a major contributor to fatigue, so accelerating lactic acid clearance by increasing carnosine can significantly improve athletic endurance.

So why not supplement with carnosine? Well, once again, we see that the target molecule (carnosine) has poor oral bioavailability, while its precursor (beta-alanine) is much more bioavailable.

It's been shown that beta-alanine availability is actually the limiting factor in your body's ability to synthesize carnosine.[53,54] So supplementing with beta-alanine can definitely help increase your carnosine production.

According to a couple of big meta-analyses that included over 40 different peer-reviewed studies, beta-alanine supplements can be most beneficial when used for exercise intensity that's sustainable for 30 seconds to 10 minutes in duration.[52-59]

You might experience the beta-alanine tingles when taking this, but don't worry, they're harmless.[60]

NucleoPrime – 250 mg

NucleoPrime is a trademarked complex of adenosine monophosphate (AMP), guanosine monophosphate (GMP), uridine monophosphate (UMP), and cytidine monophosphate (CMP).

These nucleotide polymers are crucial for a variety of important metabolic processes, including adenosine triphosphate (ATP) production,[61] which we've already discussed a few times in this article (see the Ribose section if you skipped that area).

To put it succinctly, nucleotides are the building blocks of both DNA and RNA, and supplementing more of them can support a very large list of benefits due to the central roles that DNA and RNA play. We often call amino acids the building blocks for protein, and this is similar, just on a much lower, foundational level.

With NucleoPrime, NNB puts 24 to 26% each of these into NucleoPrime, providing lab tests to verify, so you are getting all four components. Let's explore some of the science:

Nucleotide research

A recent study subjected participants to four sets of high-intensity bike exercises, during which their power and fatigue were repeatedly measured. This experiment was conducted twice – the first session was done to establish a baseline of the participants' athletic characteristics. Then they took NucleoPrime for a week, after which a second session was done to see if the supplement improved performance.[62]

Compared to the first session, the study participants maintained their peak power for significantly longer during the second session.[62] The same study also found that subjects' self-reported levels of fatigue were lower after the second session, as were their blood cortisol levels.[62]

Another study, published by the journal Nutrients in 2013, found that nucleotide supplements might improve time to exhaustion, heart rate, and running speed.[63]

You can read more in our article titled NucleoPrime by NNB Nutrition: Step Up Your Immune and Recovery Stack.

Senactiv (Panax notoginseng root extract; Rosa roxburghii root extract) – 75 mg

Senactiv is a senolytic supplement from Nuliv Science. It consists of extracts from Panax notoginseng and Rosa roxburghii.

A senolytic agent is designed to help your body break down and recycle old, dead, or dying cells (known as senescent cells). This clears the way for that metabolic dead weight to be replaced by younger, healthier cells. The bioactive constituents in Senactiv have been studied extensively and found to do exactly that.[64-69]

In one randomized, double-blind, placebo controlled study conducted in humans, subjects taking a particular ginsenoside (one of the important bioactive constituents in Senactiv) showed significantly less muscle damage, a faster rate of glycogen synthesis, and decreased inflammation following exercise, compared to those who took a placebo.[64]

What's really interesting is that in this study, the time to exhaustion during exercise for the ginsenoside group increased by 20%.[64] The exercise in question was conducted at 80% of the subjects' VO2max, so it was pretty intense.

This is followed by the high-powered Energy & Focus Blend:

L-Tyrosine – 1,000 mg

The essential amino acid tyrosine is a great supplement for athletes, for two reasons.

First, tyrosine is an important thyroid support supplement, as it's the precursor to the thyroid hormones triiodothyronine (T3) and thyroxine (T4).[70,71]

Thyroid function can be compromised by intense exercise, which has the potential to shift your body into a high-cortisol state if it isn't managed properly, so thyroid support is crucial for anyone who's working out hard.[72,73]

Since gym-going is often accompanied by dieting, it's also worth considering that calorie restriction can interfere with thyroid hormone production, depending on how big your calorie deficit is.[74]

The other big reason to take tyrosine in a pre-workout is that it can upregulate your body's production of catecholamine neurotransmitters like dopamine, adrenaline, and noradrenaline.[75-77] These neurotransmitters can improve focus and motivation. Adrenaline and noradrenaline can help suppress appetite and increase fat burning.[78]

Tyrosine is great for sleep deprivation

The U.S. military has studied tyrosine for its ability to improve performance during sleep deprivation, and discovered that it's actually better at doing this than caffeine.[79,80] That's pretty impressive!

Caffeine anhydrous – 375 mg

Caffeine is renowned for its ability to fight fatigue. It does this primarily by blocking the action of adenosine, a nucleotide that builds up in your brain during the waking state and produces fatigue as it accumulates.[81,82]

But caffeine can also give you more energy in a literal sense – it inhibits phosphodiesterase, an enzyme that breaks down cyclic adenosine monophosphate (cAMP).[81,82] cAMP signals your cells to turn up their metabolic machinery and burn more glucose and fatty acids for energy,[83] so raising cAMP through phosphodiesterase inhibition quite literally speeds up your metabolism.

Caffeine is particularly good at increasing the body's rate of fat burning—t's been shown to increase fat burning by as much as 50% above baseline.[84] Partly because of its ability to increase cellular energy availability, caffeine is a safe, legal, and cheap ergogenic aid that can at least slightly improve an athlete's strength, endurance, and power.[85]

Of course, caffeine also has some mental performance benefits as well. It can speed up reactions,[86] improve focus,[86,87] and increase alertness.[87]

Caffeine might also improve working memory, which is an important component of fluid intelligence.[88]

Bitter Orange (30% synephrine) – 60 mg

Synephrine is a powerful fat burning supplement that works by upregulating beta-3 adrenergic receptor activity.[89]

Specifically, synephrine acts on the beta-3 adrenoceptors found in fat tissue,[89] which has the effect of significantly upregulating cyclic adenosine monophosphate (cAMP) exactly where it can do the most good: the fat cells you're trying to shrink or get rid of.[90]

Although similar supplements have been in common use for a long time, synephrine is starting to replace them as awareness grows that the beta-3 adrenergic pathway provides the same benefits as the beta-2 pathway, with less of an increase in heart rate and blood pressure.[89]

The upshot of synephrine is increased basal metabolic rate. The boost we see from synephrine supplementation is not small: some studies show it can be as big as 200 extra calories burned per day.[89,91]

Synephrine can also suppress appetite, which may help improve adherence to a calorie-restriction or other diet regimen.[89]

Randomized, double-blind, placebo-controlled studies on synephrine have found that people who take it burn more fat during exercise than those who take a placebo.[92]

At least one study has shown that synephrine and caffeine have synergistic effects when taken together, boosting fat burning in combination faster than either supplement alone.[93]

Rauwolfia vomitoria extract (root) (std. to 90% Rauwolscine) – 1 mg

Rauwolfia extracts are standardized for rauwolscine, a beta-adrenergic receptor agonist.

Rauwolscine is sometimes referred to as alpha-yohimbine or alpha-yo. Its effects are similar to those of yohimbine, but stronger.

Rauwolscine upregulates adrenaline and noradrenaline, helping initiate fight-or-flight, suppress appetite,[94] increase fat loss and inhibit fat gain,[95] improve focus,[96] and increase cellular energy production.[97]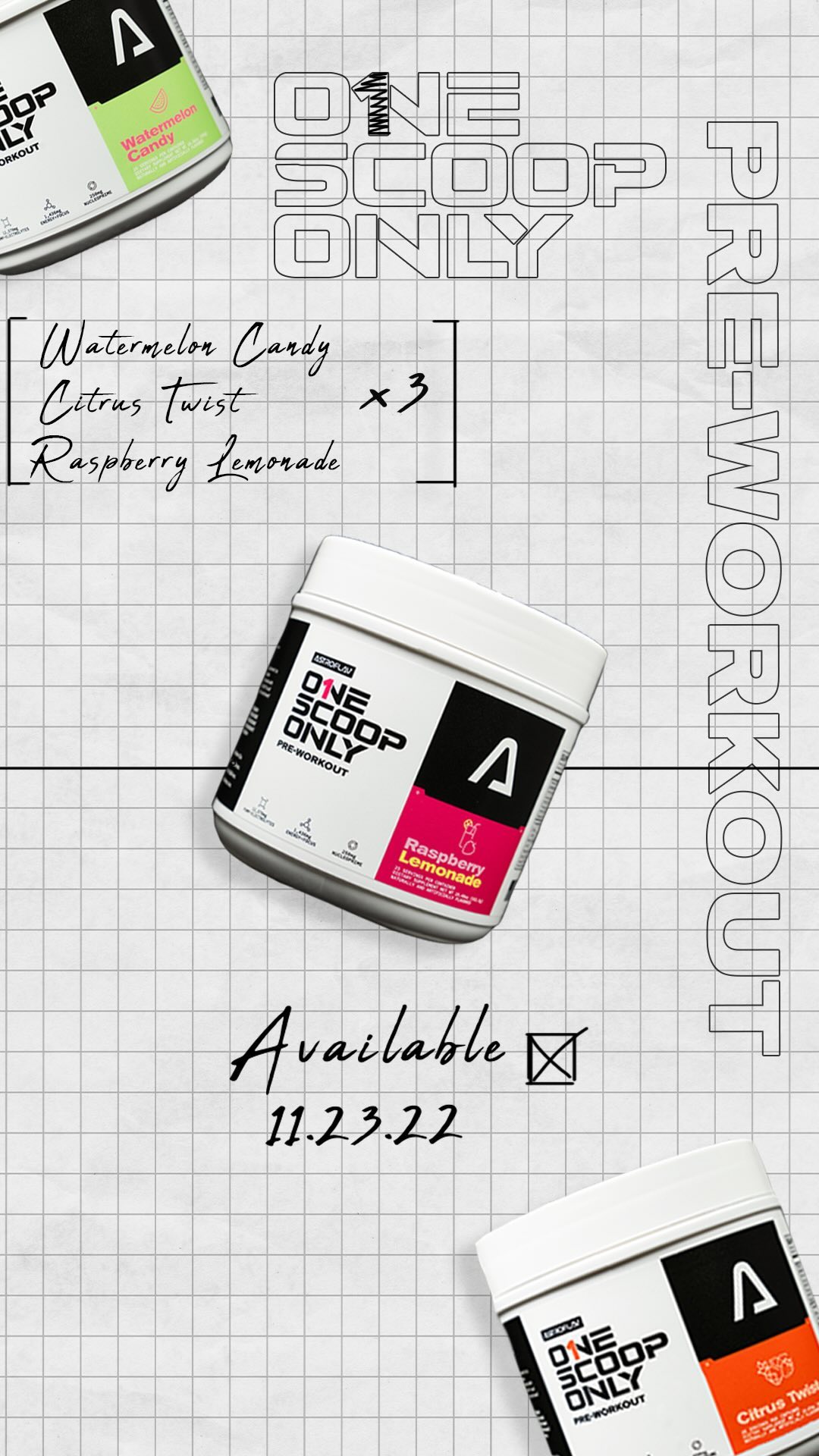 Flavors Available
Conclusion: One Scoop Only means One Scoop Only!
The whole two-scoop trend can be annoying for obvious reasons – first, many of these products are sold in packages that contain 40 single-scoop doses. Now, 40 doses is definitely enough to satisfy most customers, but if you actually have to double scoop it, you only get 20 doses. That means if you're taking the product daily, you run out in less than a month.
Granted, some people don't care. But it seems that most consumers don't enjoy having to replace products every few weeks and pay more for extra containers. At worst, the obligatory double scoop could be taken as a deceptive marketing practice.
Besides the one scoop only selling point, this formula is really awesome. We're glad to see ingredients like D-ribose and NucleoPrime make an appearance, as supplement formulators catch on to the possibility of attacking ATP production from previously unexplored angles.
AstroFlav One Scoop Only Pre Workout – Deals and Price Drop Alerts
Get Price Alerts
No spam, no scams.
Disclosure: PricePlow relies on pricing from stores with which we have a business relationship. We work hard to keep pricing current, but you may find a better offer.
Posts are sponsored in part by the retailers and/or brands listed on this page.