Nearly everyone knows about the glorious AP Prime Bites Protein Brownies, but with winter coming, we're going to need to do more than just microwave our favorite high-protein snack. It's time to buckle down and get our immune systems ready.
One of the main ways to do that is with a solid greens powder, especially when it has some extra ingredients specifically meant to boost immunity:
AP Greens & Fruits + Immune
In 2020, we saw tons of greens powders and various other immune system supplements — some better than others. The category then went a bit quiet, but in early 2022, the team at AP livened it up with their new Greens & Fruits + Immune formula. We haven't covered it yet, so now's the perfect time.
Reason being, we have both greens and reds blend bolstered by an immunity blend, added fiber, heat-stable probiotic, capitalized with added turmeric and ginger.
If you're looking for a greens formula with a focus on immunity, check PricePlow, watch our video, and read our breakdown below:
Alpha Prime Supps Greens & Fruits – Deals and Price Drop Alerts
Get Price Alerts
No spam, no scams.
Disclosure: PricePlow relies on pricing from stores with which we have a business relationship. We work hard to keep pricing current, but you may find a better offer.
Posts are sponsored in part by the retailers and/or brands listed on this page.
This area is reserved for Team PricePlow's upcoming videos.
Subscribe to our channel and sign up for notifications so you catch it when it goes live!
Alpha Prime Supps Greens & Fruits + Immune Ingredients
Down to the right you can see the whole label – in every 10 gram scoop, you'll get 2 carbs and 10 calories from the following ingredients:
Organic Greens Blend – 5000mg

Here comes a large 5 gram dose of greens from vegetables, grasses, fruit, and even algae. Let's key in on the first half-dozen or so:

Organic Spinach Powder – Who doesn't love a spinach smoothie? One of the world's most popular lettuce greens, it's well-known for its nitrate content,[1] which can help cardiovascular health. Additionally, it's a great source of trimethylglycine (betaine),[2] which we love in sports nutrition supplements as a potent methyl donor.

Organic Parsley Powder – A highly underrated herb that we love seeing this high up on the list! Parsley is a phenomenal source of apigenin,[3] a plant flavonoid with anti-aging properties thanks to its CD38 inhibition mechanism.[4] CD38 uses up our NAD+ levels,[5] which our mitochondria (cell powerhouses) need to generate energy.[6]

CD38 goes up as we age, and NAD+ subsequently goes down[7,8] — but apigenin can combat that effect, and parsley's one of the best natural sources of it!

Organic Kale Powder – The popular superfood that has unheralded gut protection capabilities on top of its antioxidant support.[9] Some researchers consider it to be a bit "overrated", but still quite beneficial.[9]
Organic Barley Grass Powder – A very interesting grass that works as a fantastic source of GABA, potassium, calcium, vitamins A/B1/C/E, flavonoids, chlorophyll, selenium, and more.[10] This is helpful because it may boost immunity with respect to chronic inflammation[10] and animal studies have even shown it to improve lipid profiles with other anti-obesity effects even when paired with a poor diet.[11]
Organic Wheat Grass Powder – Our second source of chlorophyll, with additional bioavailable vitamins (especially C and E), minerals, and enzymes.[12,13]

Organic Spirulina Powder – Here comes the microalgae, leading to our third source of chlorophyll. Spirulina is popular in supplements because we generally don't eat it in diets, but it has an extremely powerful antioxidant profile.[14,15] It's been shown to boost HDL and improve lipid profiles,[16-21] and can prevent lipid peroxidation,[22-24] making it beneficial to the cardiovascular system.

AP (Alpha Prime Supps) is a sports nutrition company, and there's good news there — at high enough doses (higher than what we'll have in one scoop here), it can lead to better endurance[25,26] and there's even a study where the researchers found an increase in power![27]

Organic Chlorella Powder – Like spirulina, chlorella is a type of algae that also provides chlorophyll, as well as vitamin B12, and iron.[28] There is research showing improved immunity[29] and reduced blood pressure.[30]

And then we actually get into some fruits and even a tuber while we're at it:

Organic Green Pepper
Organic Green Apple Powder
Organic Green Banana Powder
Organic Sweet Potato Powder
Organic Broccoli Powder

Organic Antioxidant Red Blend – 1000mg

Generally, the greens above are our vegetables and algae material, while the reds are our antioxidant-rich fruits:

Organic Strawberry – One of the most delicious fruits on the planet, strawberry's fruit powder has been shown to reduce lipid peroxidation and improve lipid profiles[31] and animal models show improved blood glucose levels.[32]
Organic Raspberry – A 2010 paper titled Raspberries and Human Health: A Review" details the potency of the anthocyanins and ellagitannins as polyphenolic / antioxidant compounds in raspberries, and discusses how some animal studies have shown protective effects, but it depends on the diet.[33] There aren't a ton of human studies on raspberry supplements, however, but raspberries seem to be DNA protective, similar to the next ingredient:
Organic Blueberry – This incredible fruit is more powerful than most realize, and most already know that it has a large antioxidant profile! Blueberry fruit can boost recovery and reduce muscle damage,[34] but what's even cooler is that it does this through a DNA protection mechanism!![35-37]
Organic Tart Cherry – Studies have shown that tart cherries have the ability to reduce muscle pain and boost recovery after intense exercise.[38-41]

Organic Pomegranate – Pomegranate has many incredible effets, most stemming its mechanism as a nitric oxide booster[42] that can improve blood pressure.[43] Studies have found ergogenic benefits from it as well.[44,45]
Organic Cranberry – Most know cranberry for its incredible ability to help combat urinary tract infections! It indeeds helps with urinary tract health, and is protective against bacterial build-up in organs.[46] It has a huge concentration of proanthocyanidins[47] which inhibit bacterial growth.[47,48]

Organic Prebiotic Fiber (Inulin / Fructooligosaccharides) – 1000mg

Produced from the prebiotic fiber inulin, fructooligosaccharides (sometimes shortened to FOS) are water soluble carbohydrates that are non-digestible.

FOS is used for three main reasons:

It helps the digestive system produce healthy short-chain fatty acids,[49] which are incredibly healthy for the gut.[50,51]
It improves mineral absorption, especially for calcium, magnesium, phosphorus, iron, and zinc.[52-58]
It tastes good! FOS is said to be 0.3 to 0.6 times as sweet as table sugar (sucrose).[59,60]

So with this prebiotic fiber, we get a trifecta of benefits.

Immunity Blend – 800mg

Ascorbic Acid (Vitamin C) – The most well-known vitamin, this powerful antioxidant has been shown to reduce the length and severity of colds[61-74] — generally by half a day, which we'll gladly take!
Elderberry Fruit Powder – The popular ingredient frequently seen in children's cough syrups with antiviral effects that can assist in treatment of flu, sinusitis, and bronchitis.[75,76] It works by boosting antibody production after introduction of a pathogen, boosting the immune system's potential.[75]

1,3/1,6 Beta Glucan – An incredibly underrated immune system support ingredient duo that come from baker's yeast (β‐1,3-Glucan) and mushrooms (β‐1,6 branching) and have been repeatedly shown "immune‐enhancing and immune‐modulatory effects across different populations" and "may improve symptom severity and duration in populations prone to respiratory infections and allergies."[77]

When talking to AP's Brian Ikalina, this is an ingredient he specifically calls out. We don't often see it in greens powders and don't ingest enough through diet, so it makes total sense to add it to a supplement like this.

Grape Seed Extract – Another ingredient full of proanthocyanidins, which have great effects on endothelial nitric oxide synthase (eNOS) and can ultimately help lower blood pressure to improve circulation.[78] There are additional benefits for cognition, anti-inflammatory action, reduced blood sugar, and overall organ operation.[79-82]
Pine Bark Extract – Another potent antioxidant that upregulates eNOS to improve nitric oxide and blood flow,[83,84] a benefit which can then improve nearly everything else.

Organic Metabolic Blend (Organic Ginger Powder & Organic Turmeric Powder) – 250mg

AP added two popular ingredients – organic ginger powder and organic turmeric powder to assist with metabolism and inflammation. Let's quickly get into each one:

Ginger has long been popular as a "gut tonic", with tons of research demonstrating its anti-nausea properties.[85-95] AP calls it a metabolic blend because it's been shown to help in diets,[96-99] but it also has anti-inflammatory potential[100-102] and may help joint pain.[102,103] There's even research with ginger reducing muscle plain![104,105]
Turmeric is another root that has a rich history of use, mainly as an anti-inflammatory agent[106-111] by reducing oxidative stress.[112-118] It's quite effective at reducing pain.[106,117,119-130]

Prebiotic Blend (Heat Stable Bacillus Coagulans) – 3 Billion CFU

Bacillus coagulans is a spore-forming probiotic that's unique because it can survive the stomach's low pH levels. It's been demonstrated to assist with digestive health, immunity, and protein utilization.[131-133]

One cool study showed that this probiotic could help reduce markers of muscle damage and boost recovery after intense exercise when taken with 20 grams of protein.[134] We don't have any protein in here, but it's a great time to look at Alpha Prime Supps' whey protein powders or Alpha Prime Supps Vegan.
Flavors Available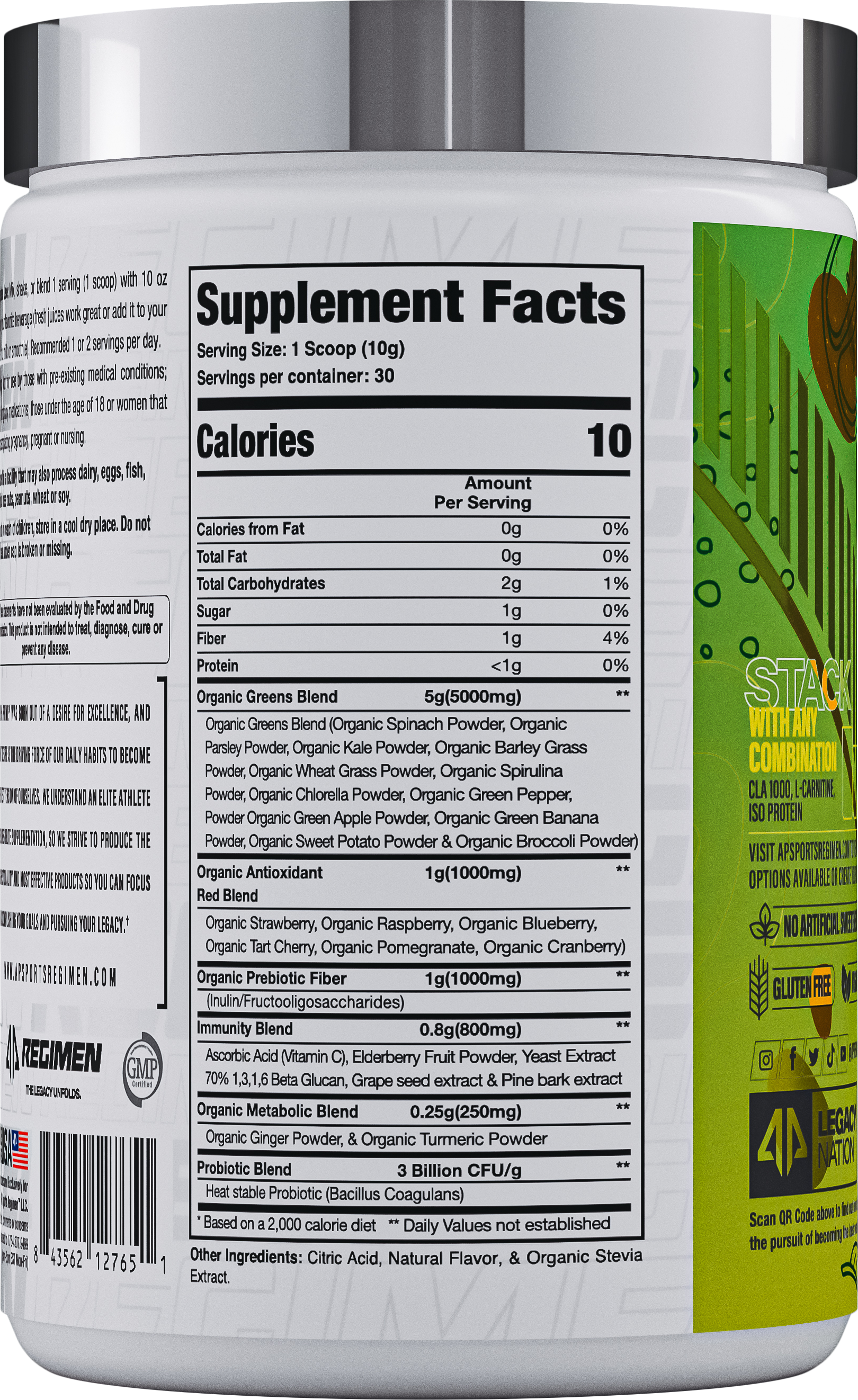 It's all sweetened with stevia, and the Berry Gusher flavor is talk of the town:
A Great Greens & Reds Formula Heading into Winter
It's not just greens, it's not just reds… AP's Greens & Fruits + Immune has a little bit of everything. We're big fans of the Immune blend inside, especially the beta-glucans that have been added. Unless you're eating a lot of mushrooms, there's a good chance you're not getting much of the 1,6-branching beta glucans, and that's why we supplement.
The addition of turmeric and ginger is also a bit of an unsung hero inside, we've found these two to be potent parts of our overall health stacks, whether it's for immunity/sickness, gut health, or joint support.
This year's been a massive success from AP — the Legacy Pre-Workout series was great, and nearly everyone knows about the Prime Bites Protein Brownies. But don't overlook some of their other stuff like this Greens & Fruits formula, especially with cold weather coming to most of us.
Alpha Prime Supps Greens & Fruits – Deals and Price Drop Alerts
Get Price Alerts
No spam, no scams.
Disclosure: PricePlow relies on pricing from stores with which we have a business relationship. We work hard to keep pricing current, but you may find a better offer.
Posts are sponsored in part by the retailers and/or brands listed on this page.