Skin health is something that doesn't get a lot of press in the sports nutrition industry. It's tempting to write this off as a relatively "superficial" concern in an industry that's geared towards helping people wring every last watt of mental and physical performance from their personal potential.
But as it turns out, the health of your skin isn't just skin-deep, and if there's one brand to bring beauty to the athletic masses, it's Ghost Lifestyle.
The state of your skin is often a visual clue to the health of your metabolism and internal organs. In recent years, we've seen a much more holistic approach to improving skin quality — one that focuses on supporting whole body health by improving antioxidant balance and accelerating detoxification.
Ghost Glow: Look Good, Feel Great
That's the idea behind Ghost Glow, the skin health formula from Ghost that's packed with ingredients to help hydrate the skin, control blood sugar, reduce inflammation, and boost antioxidant status – all of which can cause improvements to health that ultimately manifest as noticeably better skin quality.
Ghost Glow was originally released as a powder back in 2020, and we loved it then. In this version, Ghost replaced DIM with hyaluronic acid and reduced the inositol dosage in the powder. Additionally, there's no more sucralose — the sweetener has switched to stevia. All of these changes will make it easier on the gut.
But Ghost has yet another surprise in store for us today:
New in 2023: Introducing Ghost Glow Capsules
Ghost Glow Caps are also here! This is a condensed formula with just one major change – there's no inositol! Aside from that, it's the same formula. More options for more skincare success.
Let's get into how the updated Ghost Glow formula works and how it can improve your skin health. But first, check PricePlow's coupon-powered deals and Ghost Lifestyle news alerts:
Ghost Glow – Deals and Price Drop Alerts
Get Price Alerts
No spam, no scams.
Disclosure: PricePlow relies on pricing from stores with which we have a business relationship. We work hard to keep pricing current, but you may find a better offer.
Posts are sponsored in part by the retailers and/or brands listed on this page.
This area is reserved for Team PricePlow's upcoming Product Introduction video.
Subscribe to our channel and sign up for notifications so you catch it when it goes live!
Ghost Glow Ingredients
If you're interested in the Ghost Glow Caps ingredients, simply skip the inositol section listed first. In a single one scoop serving of the new Ghost Glow, you'll get the following:
Inositol – 2000 mg

The one ingredient that's only in the powder version, it's a 2000 milligram dose of inositol, also known as myo-inositol, which is a carbocyclic sugar naturally found in the body and several foods. It has a very similar chemical structure to blood glucose and is involved in a diverse set of physiological processes. Inositol plays a key role in osmoregulation, cell signaling in response to hormones, growth factors, and neurotransmitters — it helps maintain a cell's structural integrity.[1,2]

A brain booster in a skin care supplement? Inositol is more than that…

Ghost Glow isn't the only product you can find inositol in — the Legends also include it in Ghost Gamer, which is a part of the nooLVL nootropic ingredient. There, inositol provides brain-boosting benefits, but what can it do for overall health?

Metabolic improvements

In a study from 2011, researchers recruited 80 postmenopausal women with metabolic syndrome and divided them into two groups.[3] One group received a placebo and the other group was given tablets with 2g of inositol.[3] The researchers instructed the subjects to take the tablets 2 times per day for 6 months, equating to 4g of inositol per day.[3]

At the end of the study, they found that inositol supplementation led to reduced blood pressure by 11% on average, improved insulin sensitivity, reduced serum levels of triglycerides by 20% on average, and increased HDL cholesterol levels by approximately 22%,[3] which are all very significant findings!

Reason being, there's often a connection seen between insulin sensitivity and reduced "AGEs" – advanced glycation end products – which are associated with the aging process.[4]

PCOS improvements

Other research has found that inositol is capable of improving insulin sensitivity, ovarian function and fertility in women with polycystic ovary syndrome (PCOS).[5,6] PCOS is a hormonal disorder that can lead to enlarged ovaries and formation of small cysts. Some signs and symptoms include facial hair, acne, and irregular menstrual cycles.

In addition, there's some research suggesting that inositol can improve mood – but note that the studied dosages are much higher than 2 grams.[7]

Added carbs in the powder

Also remember that Ghost Glow now contains around 4 grams of carbohydrates – down from 5 grams in the original formula. Much of that is coming from inositol here, but the potential benefits far outweigh a few extra calories that you shouldn't fear. And if you do, then take a look at the Ghost Glow Caps, which are in the reset of the formula:

PureWay-C (Ascorbic Acid and Citrus Bioflavonoids) – 667 mg (yielding 500 mg Vitamin C) – 556% DV

Vitamin C is a water soluble vitamin[8] that's famous for its antioxidant properties. If you've been into supplements for any length of time, you've likely heard of Nobel laureate Linus Paulin's lifelong obsession with vitamin C, which he believed to be a silver bullet for human health. We wouldn't go that far, but still think the vitamin's pretty cool.

It's important for protein assimilation, as well as the production of collagen, neurotransmitters, and carnitine.[8-12] But it's also for collagen synthesis!

Vitamin C for the collagen win

According to a 2018 meta-analysis, vitamin C specifically boosts your body's production of collagen type I,[13,14] the most abundant kind of collagen in your body and skin. In fact, collagen type I synthesis cannot occur unless your skin cells have adequate vitamin C.[15] Consider it essential.

Combat oxidative stress

Vitamin C can also protect your skin from damage caused by ultraviolet (UV) light, which is key to minimizing skin aging. And oral vitamin C supplements (i.e., Ghost Glow capsules) seem to be best at this.[15]

We've all heard that runaway oxidative stress can increase one's risk for many diseases,[9] so it probably won't surprise regular readers of the PricePlow Blog too much to learn that oxidative stress is a central part of skin aging as well.[16] Vitamin C's antioxidant capacity is actually what protects skin from UV light,[15] and is key to its potential as an anti-aging compound.[15,16]

One thing to note about Ghost Glow is that the 667 milligram dose of PureWay-C provides 500 milligrams of vitamin C. The other bioflavonoids involved have been shown to increase its bioavailability!

PureWay-C: Higher Bioavailability Vitamin C

Ghost's customers may be familiar with PureWay-C, which is also in Ghost Multi and Ghost Pump. This is a type of vitamin C that includes bioflavonoids that are claimed to improve Vitamin C retention by 233%, based upon four clinical trials with no adverse events.[17-20]

In fact, a 2008 study put PureWay-C up against three competitors in ascorbic acid, calcium ascorbate, and ascorbate-calcium threonate-dehydroascorbate (Ester-C), and came to the following conclusion:

PureWay-C supplementation leads to the highest absolute serum vitamin C levels when compared to AA, CaA and Ester-C. PureWay-C provides a statistically significant greater serum level than calcium ascorbate at 1, 2, 4, and 6 hours post oral supplementation whereas Ester-C shows a less but slightly statistically significant increase at only 1 and 4 hours[17]

We appreciate the fact that Ghost spends more money on a better Vitamin C ingredient — especially one that takes up a bit more room in the capsules!

Astrion (Astragalus membranaceus (root) and Centella asiatica (whole plant)) extracts – 250 mg

There are three primary factors in good skin health:

Collagen integrity
Hyaluronic acid levels
Matrix metalloproteinase (MMP) activity – less is better

Astrion from NuLiv Science is formulated to lend crucial support when it comes to all three factors. Let's see how it works:

Astragalosides in Astrion

Astragalosides (ASTs) are saponin molecules sourced from Astragalus membranaceus, one of Astrion's two source plants. They've been shown to have tons of benefits for human health, including antioxidant and cardioprotective effects.

One thing that sets ASTs apart from most other antioxidants is they can cross the blood-brain barrier.[21] This enables them to more effectively protect brain tissue from oxidative stress.

There are four types of ASTs, aptly named ASTs I, II, III, and IV.

A 2014 study found that AST IV can both protect collagen from UV-induced damage, and also inhibit MMP activity in UV-irradiated skin cells.[22]
A 2012 study on AST II found that it can protect demis cells (also known as fibroblasts) from UV damage, increasing their viability by an impressive 142.8%.[23]
Both studies also found collagen-related AST benefits for non-irradiated skin cells.[22,23]

Asiaticosides in Astrion

Now that we've talked about Astragalus, let's focus on Centella asiatica, the other source of Astrion's bioactive constituents.

The key compound sourced from this plant is named – aptly – asiaticoside.

Asiaticoside is a triterpene molecule. According to a research review on Centella from 2013, this compound can do the following:

Upregulate protein, collagen, and hydroxyproline during skin healing[24]
Support your body's metabolism of both proline and lysine, both collagen precursors[24]
Trigger the synthesis of hyaluronic acid in skin wounds[24]
Upregulate collagen synthesis in fibroblasts (dermis cells)[24]

There are 12 different in vitro studies showing that Astrion can boost collagen type I production by about 60% in the epidermis and 80% in the dermis. It also upregulates the production and secretion of type III collagen in dermal cells – by 30% and 80%, respectively – and upregulates hyaluronic acid synthesis in the epidermis by about 20%.[25]

The clinical trial for Astrion found that it can decrease the appearance of skin wrinkles by 15%, and melanated sun spots by 17%.[25]

Setria L-Glutathione – 250 mg

Setria L-Glutathione is a trademarked form of glutathione (GSH).

Because glutathione is a powerful and abundant antioxidant in the body, any strategy to boost GSH levels earns our appreciation – and Setria supplementation definitely qualifies.

Although the bioavailability of oral GSH supplements has been questioned in recent years, some studies do indicate that increased GSH levels can be observed 1-2 hours after ingestion of an oral GSH supplement.[26]

At least one Setria-specific study has attested to the efficacy of this orally-administered designer GSH. In this study, 60 healthy women between the ages of 20 and 50 were recruited for a randomized, double-blind, placebo-controlled study – the gold standard of scientific research – which concluded that supplementation with 250 mg Setria L-Glutathione "effectively influences skin properties" and "showed a significant reduction in wrinkles compared with those taking placebo". The authors of the study conclude by saying that Setria has "various beneficial effects on skin properties and is possibly an antiaging agent, at least in middle-aged female subjects".[27]

Effective GSH supplementation will come with tons of other benefits too – besides the general benefits of antioxidant supplementation that we discussed in the vitamin C section, we should note that GSH is particularly good at recycling antioxidants in the body, including vitamins C and E. This can help promote mercury detoxification and mitochondrial function, among other things.[28]

And don't forget, oxidative stress is a prime factor in skin aging.[29]

L-Theanine – 200 mg

Although theanine is most famous as an anxiolytic GABA-like complement to caffeine, it can actually have some pretty cool benefits for skin health too.

Theanine can downregulate the production of pro-inflammatory interleukin cytokines, both in the skin and systemically,[30,31] which is one of the reasons that topical theanine can significantly reduce skin inflammation.[32] The reason this matters is that inflammation, like oxidative stress, is closely linked to skin aging – so much so that the term inflammaging is often used in dermatology papers.[33]

The most common natural source of theanine, tea (Camellia sinensis) has been proposed for use as an anti-skin-aging compound.[34]

Theanine is also great for your liver,[35,36] which is key to maintaining good skin health. Many liver diseases actually manifest as poor skin quality.[37,38]

Hyaluronic Acid (as Sodium Hyaluronate) – 120 mg

Hyaluronic acid (HA) is an osmolyte, meaning that it can increase the concentration of water in your cells by increasing the osmotic pressure around them.[39] This hydrating effect of HA can go a long way towards helping your skin stay moist and supple.

Not just a topical, and not just a joint supplement

It may be a little surprising to see hyaluronic acid used in an oral supplement, since the vast majority of skin care applications are topical. And those are great indeed, but there are oral benefits as well!

A research review on the subject shows that oral HA supplementation is effective.[40] Hyaluronic acid supplementation has been shown to moisturize skin across the entire body.[40,41]

This is one of the additions in the 2023 version of Ghost Glow, and we're very happy it made the cut. You may even get some joint health improvements!

Verbasnol (Rehmannia glutinosa) Leaf extract – 50 mg

Verbasnol is another trademarked botanical extract from NuLiv science, sourced from Rehmannia glutinosa, a plant with a long history of use in traditional Chinese medicine (TCM).

This is another powerful antioxidant ingredient that helps improve skin quality by fighting oxidative stress,[42,43] but it also can improve skin hydration and elasticity.[42]

This is thanks to verbascoside, the primary bioactive constituent in Rehmannia. Verbascoside has been shown to:[42,43]

Increase procollagen type I production
Prevent the reproduction of acne-causing bacteria
Downregulate inflammatory cytokines
Inhibit the growth of yeast
Fight oxidative stress
Protect skin from photoaging

As a potent inhibitor of 5-alpha reductase, the enzyme that converts testosterone to the more potent dihydrotestosterone, verbascoside might also reduce sebum production, which can alleviate oily skin. It also downregulates the production of melanin, so be aware of that if you're trying to tan.[42,43]

A human clinical trial found that 30 days of topical Verbasnol application significantly reduced the severity of acne lesions.[43]

Biotin – 2500 mcg (8333% DV)

Biotin, also known as vitamin B7, is a mainstay ingredient in supplements for hair, skin and nail health due to the fact that being deficient in biotin can wreck all three of these – it can cause dermatitis[44] and hair loss[45,46] among other things.

At over 80 times the daily recommended value, this dose of biotin is obviously more than adequate for the purposes of preventing deficiency in this key nutrient. As with any vitamin, other factors may affect the absorption and elimination of biotin, but you've definitely got your biotin intake covered here.

Selenium (as Selenium Glycinate Chelate) – 100 mcg (182% DV)

Many are familiar with the role of selenium in fighting oxidative stress and maintaining fertility, but it actually plays an important role in protecting your skin as well. Specifically, like several other ingredients in this formula, selenium can prevent your skin from being damaged by UV light.[47] It does this by upregulating glutathione peroxidase and thioredoxin reductase, two enzymes that play a key role in your body's endogenous antioxidant defense system.

Psoriasis patients have been observed to have lower than expected levels of selenium, and supplementation can help improve their symptoms.[48]

On the other end, selenium deficiency can increase a person's risk of skin cancer, which we obviously want to avoid if possible.[49]

We like seeing chelated forms of minerals wherever possible, as they are generally more bioavailable than non-chelated forms. Glycine is one of our favorite supplemental aminos, so this selenium glycinate has a great partner to help boost absorption.

Chromium (as Chromium Picolinate) – 120 mcg (343% DV)

As you've probably heard before, out of control blood sugar can cause premature skin aging, which is why people with chronic hyperglycemia (diabetics, usually) tend to look older than they really are.[50]

Chromium can help your body properly regulate blood glucose levels by modulating insulin signaling.[51-53] In people with high insulin and high blood glucose, this has the effect of decreasing both.[54,55]

And the picolinate form of chromium seems to be the most effective form available.[55]

Research shows that people who supplement with chromium have a lower risk of type 2 diabetes than those who don't.[55] Correspondingly, chromium deficiency can seriously increase a person's risk of developing diabetes or other metabolic disorders.[56]

Finally, chromium can help improve liver health by defatting liver tissue.[57]

Chromium and selenium are two minerals that can be incredibly helpful for skin care health (as well as whole body health), but we don't see them much in skin care supplements. Leave it to Ghost Lifestyle — who actually knows a thing or two about formulation — to get the job done.

And you can always get more of these with Ghost Multi — chromium doses can safely go far higher, and bring even more benefits.
Flavors Available
Ghost has always flavored Glow incredibly well, and that shouldn't change with the new version, although the sweetening is now natural with stevia instead of the sucralose used from 2020-2022. All variations are listed below:
Conclusion: Look Great, Feel Incredible!
Ghost Glow is an awesome formula – the inclusion of so many great ingredients (even chromium) shows that Ghost has really done their homework and developed a holistic, comprehensive view of how skin aging occurs and can be prevented.
If this formula has a slant, it's definitely protecting your skin against photoaging, which is awesome because that's the primary factor in the aging of most people's skin.[58]
Finally, we love the capsule variation. Not everyone wants to drink yet another sweetened drink powder, and not everyone wants the extra carbs. But three capsules? Easy.
Ghost is really focusing on wellness in 2023, and proves once again that they have something for everyone to look good and feel even better.
Ghost Glow – Deals and Price Drop Alerts
Get Price Alerts
No spam, no scams.
Disclosure: PricePlow relies on pricing from stores with which we have a business relationship. We work hard to keep pricing current, but you may find a better offer.
Posts are sponsored in part by the retailers and/or brands listed on this page.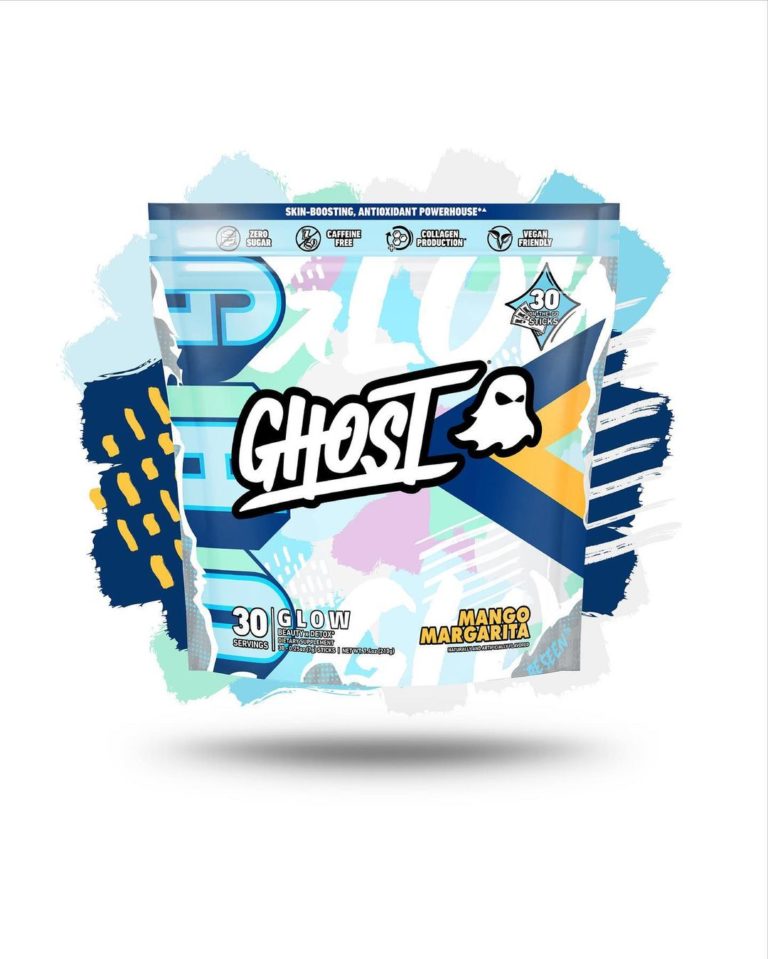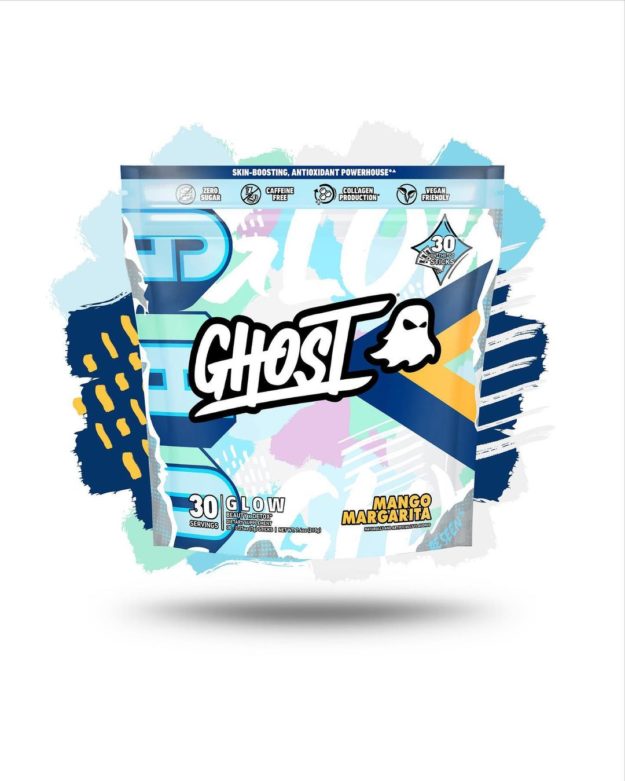 Note: This article was originally published on June 23, 2020 and updated on January 25, 2023.