Let's… go!
Today we're talking about Bucked Up LFG Burn, the latest "do it all" fat burning pre-workout supplement from DAS Labs, the brand behind the original Bucked Up pre-workout.
The idea behind this product is to give you everything you need for successful training in a single supplement – pumps, energy, focus, motivation, recovery, and thermogenic weight loss support.
LFG Burn Brings Nitrosigine and extra fat burning support
And did we mention the monstrous pumps? Those come from Nutrition21's Nitrosigine — the sponsor of this article — and it's backed up with a solid dose of time-tested ergogenic aids like beta-alanine and caffeine.
The major differences been Bucked Up LFG Burn here and the original Bucked Up pre-workout are that we have Nitrosigine (inositol-stabilized arginine silicate) for nitric oxide support and MitoBurn (L-BAIBA) for fat oxidation support.
There are a few other great ingredients inside, so we get to it – but before we start, check out PricePlow's coupon-powered deals and sign up for our Nutrition21 news alerts:
DAS Labs Bucked Up LFG Burn – Deals and Price Drop Alerts
Get Price Alerts
No spam, no scams.
Disclosure: PricePlow relies on pricing from stores with which we have a business relationship. We work hard to keep pricing current, but you may find a better offer.
Posts are sponsored in part by the retailers and/or brands listed on this page.
Bucked Up LFG Burn Ingredients
In a single 1-scoop (9.7 gram) serving of LFG Burn from Bucked Up, you get the following:
Beta-Alanine – 3,200 mg

Beta-alanine is a naturally-occurring amino acid that acts as an ergogenic aid, meaning it can increase your body's capacity for physical work, specifically by improving athletic endurance.

Beta-alanine itself isn't what does this, though. Rather, it combines with histidine, another amino acid, to form carnosine. Carnosine is a dipeptide molecule that's distributed throughout muscle tissue, where it works to help your body remove lactic acid.[1]

Since lactic acid buildup causes muscular fatigue, we can accelerate its removal through carnosine upregulation, helping to delay the onset of fatigue. This effectively increases athletic endurance.

So why not supplement directly with carnosine?

The answer is that the oral bioavailability of carnosine is too low to make supplementation worthwhile. Since the body's supply of beta-alanine is actually the limiting factor in its ability to produce carnosine,[2,3] supplementing beta-alanine is a great way to bump up your carnosine levels, thus helping your muscles to more efficiently get rid of lactic acid.

According to two large meta-analyses of the literature on beta-alanine supplementation, it's most effective when used to support athletic activities conducted at an intensity that can be sustained for 30 seconds to 10 minutes.[4,5] These studies cover a rage of numerous athletic settings and exercises[1-3,6-8] — beta alanine has been quite well-studied.

The dose here is good, since 3,200 milligrams is the most commonly used and studied throughout an entire day – and you get it all in one scoop of LFG Burn.

Beta-alanine tingles? Need not worry

Beta-alanine supplements are notorious for causing a tingling sensation in the upper body. This can be uncomfortable for some (and enjoyable for others), but don't worry, a safety review concluded the ingredient is safe and the effect is not harmful.[9]

Nitrosigine (Inositol-Stabilized Arginine Silicate) – 1,500 mg

Now it's time to get pumped up before we bring the burn. That's done with Nutrition21's Nitrosigine, a powerful and research-supported nitric oxide (NO) boosting ingredient.

Nitrosigine is a common addition to pre-workout supplements because increasing NO production can give you an awesome pump thanks to its blood flow supporting properties, and 1.5 grams of Nitrosigine has shown to be as effective as a whopping 8 grams of citrulline malate,[10] another common nitric oxide booster.

This shows that Nitrosigine is stronger than citrulline and citrulline malate on a gram-for-gram comparison – less for companies to ship, and less for you to ingest!

Nitric oxide and vasodilation

Nitric oxide is powerful in a pre-workout application because it triggers a mechanism called vasodilation, which causes the smooth muscle lining your blood cells to relax. As a result, those blood vessels expand in diameter,[11] which improves circulation, over time helping to decrease stress on the heart, allowing it to pump the same volume of blood with fewer beats per minute.

Better circulation means better delivery of oxygen, glucose, and other nutrients to your muscle cells,[12] which can translate to better athletic performance during a workout, and faster recovery.

The development of Nitrosigine

There's some interesting supplement industry history behind the development of Nitrosigine:

Arginine was the go-to nitric oxide booster in the 2000s, because it's the direct precursor to NO. Over time, however, scientists realized that plain L-arginine's oral bioavailability is pretty low.[13-16] This led formulators to replace it with citrulline, the precursor to arginine which happens to be more bioavailable than arginine itself.[17]

Reliance on citrulline has its drawbacks, though — like massively heavy doses up to 10 grams[18,19] — and Nutrition21 wasn't satisfied with that. So, they set out to develop a better arginine, and that's how Nitrosigine was born and patented.[20]

The company realized that when you chemically complex arginine, inositol, and silicate, you get a superior ingredient that significantly outperforms standard L-arginine HCl.[21] Research shows that Nitrosigine works as quickly as 15 minutes[22,23] and can generate greater plasma arginine levels for up to six hours.[21]

Mechanistically, Nitrosigine has been demonstrated to reduce arginase activity[24] — this means it reduces the activity of the arginase enzyme that breaks arginine down. Scientists have also shown that the bonded Nitrosigine ingredient is more effective at raising serum arginine levels than the sum of its parts in a preclinical trial,[25] indicating it's much more than just a blend of ingredients.

The blood flow isn't just great for our muscle tissue, though – there are cognitive benefits as well:

The cognitive benefits of Nitrosigine

Realize, of course, that improved circulation can support every organ in the body — including the brain! Our energy-hungry processing centers actually consume extremely large amounts of blood and oxygen, as well as glucose.

With this known, it was worth exploring whether Nitrosigine can support cognitive function as well. It turns out that the patented ingredient is quite effective at it, too.

Many athletes are familiar with the brain-draining effect of a very hard workout. Not to fear, Nitrosigine has been shown to prevent that temporary decline in cognitive function following strenuous exercise.[26,27]

But what about healthy people who haven't just exercised?

In another study, researchers recruited healthy young men who were rested and had not exercised, and found that 1.5 grams of Nitrosigine led to improved multitasking.[22,23] Another study found that Nitrosigine led to short-term memory improvements in healthy young men and women compared to control.[28]

So while most users get excited about the blood flow to their muscles, realize that cognitive performance is just as important. Hard workouts really take it out of us in more ways than one, and Nitrosigine can keep you going both during and after your workout.

Nitrosigine is one of our favorite ingredients — we have an entire article about it if you'd like to learn more. See Nitrosigine: The Nitric Oxide Booster That Enhances Brain Function.

Caffeine (as Caffeine Anhydrous, Microencapsulated Caffeine Anhydrous) – 300 mg

Caffeine is the most widely used psychoactive substance in the world.[29] Here in the United States, about 85% of adults use caffeine every day.[30] Most rely on the stimulant to adhere to a busy schedule, which often requires waking up and functioning at a high level early in the morning.

The ability of caffeinated drinks like tea and coffee to fight fatigue is legendary, and in that sense caffeine definitely gives us "energy", in a subjective sense.

What few people understand, however, is that caffeine can increase your body's production of literal energy – that is, cellular energy in the form of adenosine triphosphate (ATP).

Caffeine and energy / metabolism

Caffeine boosts ATP production by inhibiting phosphodiesterase, an enzyme responsible for breaking down a hormone called cyclic adenosine monophosphate (cAMP),[31,32] which controls cells' production of ATP.

A decrease in phosphodiesterase action, then, means an increase in cAMP activity. This can have the effect of speeding up your metabolism, causing you to burn more calories in a day than you normally do.[33]

One animal study found that a human equivalent dose of about 2.7 milligrams of caffeine per pound of bodyweight can boost the rate of fat burning by approximately 50%.[34]

That's a huge increase, and it's easily attainable. That dose works out to about 400 milligrams caffeine for a 150 pound person. With the 300 milligrams in Bucked Up LFG, you'll be well on your way to achieving that.

MitoBurn (L-β-aminoisobutyric Acid) – 250mg

MitoBurn is a trademarked form of L-β-aminoisobutyric Acid (L-BAIBA) from NNB Nutrition. BAIBA is a myokine, a peptide produced by muscles that has hormone-like effects in the body.

Once they sense that exercise is underway, muscles create BAIBA from the amino acid valine.[35] As BAIBA accumulates in your muscles, it sends your cells a signal to launch various metabolic functions that help your body adapt to intense exercise, and better recovery afterward.[36]

Examples of this are BAIBA's ability to increase fat burning for energy, and upregulate hormones that protect bones from stress-induced damage. You can almost think of BAIBA as the "exercise molecule" – we don't go so far to call it "exercise in a pill". Supplementing with BAIBA won't give you all the benefits of exercise, but it can provide a lot of them, and further support them while you're training.

How BAIBA helps burn fat

The cool thing about BAIBA is it doesn't just burn fat while it's in your system – it helps trigger a recomposition of the body's fat tissue that helps you burn more fat while at rest as well. It does this by converting white adipose tissue (WAT) to brown adipose tissue (BAT). These two types of body fat are simply called "white fat" and "brown fat."

The key difference between these types of fat is that the body uses WAT to store emergency calories in the form of fat, while BAT is metabolically active tissue.[37] Your BAT burns calories pretty much around the clock in a process called non-shivering thermogenesis (NST), one of the primary mechanisms for maintaining core body temperature.

In other words, the more BAT you have, the more calories you'll burn in a day through NST.

By increasing your body's proportion of BAT, BAIBA can:

Speed up the rate of fat burning[35,37-40]
Increase your body's production of ketones[41]
Turn WAT into BAT[37,39]
Decrease insulin resistance and improve glycemic control[35,40,42]
Decrease whole-body inflammation[39]
Improve blood lipids[35,40]
Increase bone density[43]
Improve kidney function[44]

How BAIBA converts WAT to BAT

There are two important metabolic pathways stimulated by BAIBA: PGC-1 alpha and PPAR alpha.[37,45]

PGC-1 alpha drives mitochondrial biogenesis, the creation of new mitochondria, in fat cells.[46] In fact, the presence of mitochondria is what visually distinguishes WAT from BAT: whereas BAT appears opaque under a microscope, thanks to the high number of mitochondria contained within; WAT is transparent because it's relatively devoid of mitochondria.

PPAR alpha is what actually feeds lipids within BAT to the mitochondria.[47]

Together, PGC-1 alpha and PPAR alpha increase your daily calorie burn by helping mitochondria inside your BAT work faster.[47]

What's special about MitoBurn?

Because of its obvious potential for being exercise in a pill, supplement manufacturers have been experimenting with ways to use BAIBA basically since the day it was discovered.

There have been major obstacles, though. For example, only the L isomer of BAIBA, made from valine, has beneficial effects on human metabolism. The other isomers – D-BAIBA and R-BAIBA – have no effect.[35,38]

So in order for a BAIBA supplement to work, there has to be a process for standardizing it to make sure consumers only get L-BAIBA. That's what MitoBurn is.

AlphaSize Alpha GPC 50% – 200 mg

The full name for alpha GPC is alpha-glycerylphosphorylcholine, but hardly anyone uses that name, for reasons that should be obvious. Alpha GPC is a specific form of the essential B vitamin, choline.

The first thing to know about this ingredient, in the context of a pre-workout formula, is that it can trigger the secretion of growth hormone (GH),[48] which, as most PricePlow readers probably know, helps your body put on muscle[49,50] – especially the lower body.[51] This makes alpha GPC a great supplement to take on leg day!

Besides helping optimize your body's response to exercise, choline also plays a number of important roles in human health. For one thing, it's a necessary building block of cellular phospholipid membranes, the fatty envelopes that enclose the contents of cells, keeping toxins out and nutrients in.[52]

Your body also needs choline to produce the neurotransmitter acetylcholine (ACh). We like ACh because it helps brain and nerve cells communicate with each other more efficiently, which can improve global cognition. But more specifically, ACh is important for memory consolidation, your body's process of turning short-term memories into long-term ones.[53]

Although ACh's main claim to fame is as a nootropic target, it can also improve certain athletic skills by boosting psychomotor function. Balance and coordination are two great examples of this.[54,55]

This can be a great thing for your workouts, which is why we're seeing ACh precursors like choline appear more and more in pre-workout formulas like LFG's Bucked Up.

Again there are a few different types of choline, but we like alpha GPC the best because of its high bioavailability and ability to cross the blood-brain barrier.[56]

Mucuna pruriens Extract (98% L-Dopa) – 100 mg

Mucuna pruriens is a powerful antioxidant source and dopamine booster.[57] It's standardized for L-dopa,[58] the direct precursor to the neurotransmitter dopamine.[59] Dopamine, of course, is famous for its ability to improve focus and motivation, which are crucial for getting the most out of your workout.

Mucuna also has significant anti-stress effects, thanks to its ability to lower cortisol levels.[60-62] This makes it a great ingredient to stack with stimulants like caffeine, since it can help take the edge off your buzz.

The real reason to keep cortisol under control, though, is that too much can cause a drop in testosterone,[63,64] potentially hampering your gains.

Mucuna pruriens and L-dopa also cause the body to secrete growth hormone,[65-67] which is also anabolic.

Finally, Mucuna can help keep prolactin levels under control.[68] This is good because prolactin, like cortisol, tends to be elevated after exercise.

AstraGin (Astragalus membranaceus Root, Panax Notoginseng Root) – 25 mg

AstraGin is a bioavailability enhancer. It increases the body's absorption of ingredients you take in combination with it.

The way it does this is by increasing the production of adenosine triphosphate (ATP) in intestinal cells. Thanks to this extra energy in the form of ATP, the intestines can then work more efficiently, which translates into better absorption of nutrients.[69,70]

This is one of the hottest ingredients in the industry right now, because it does a great job of maximizing value for the consumer.

There are over 20 studies attesting to the effectiveness of AstraGin and its bioactive constituents.[71,72]

Paradoxine (Grains of Paradise) – 10 mg

Paradoxine is a branded grains of paradise extract, a type of pepper plant native to western Africa. Synergistic with MitoBurn, it's great at helping the body convert white adipose tissue (WAT) into brown adipose tissue (BAT).

As we discussed in the MitoBurn section, WAT is metabolically inactive, while BAT is metabolically active and burns calories through non-shivering thermogenesis. So if the goal is to improve metabolic function and drop body fat, you should prioritize ingredients that convert WAT to BAT.

The bioactive constituent to know about in grains of paradise is 6-paradol, which is responsible for most of its BAT-promoting effects.

In one clinical trial, healthy men between the ages of 20 and 32 saw a substantial boost in metabolic rate after taking grains of paradise.[73]

In another, healthy young women saw a decrease in their visceral fat content.[74]

Unfortunately, those studies used a 40-and 30-milligram dose, respectively. So, here in Bucked Up LFG, Paradoxine appears to be underdosed. We almost always see the 30+ milligram dose used in fat burner supplements, with the same standardization for 12.5% 6-paradol that Paradoxine has. So if you want the full-fledged effects of this extract, you'll need to find some separate stimulant-free CaloriBurn, for instance.

Huperzine A – 200 mcg

We often see huperzine A stacked with alpha GPC because they both affect acetylcholine levels, helping to keep the focus high alongside Nitrosigine.

The difference between the two is that alpha GPC increases acetylcholine production, whereas huperzine A inhibits the breakdown of acetylcholine, meaning that the acetylcholine your body produces lasts longer.[75] This also has the effect of raising acetylcholine levels in the blood.

Huperzine A isn't just a complement to acetylcholine precursors, though. It has a significant enough impact on acetylcholine levels that it's often taken as a standalone supplement.[76]

Huperzine A is also a powerful antioxidant and can defend neuronal mitochondria from oxidative stress.[77]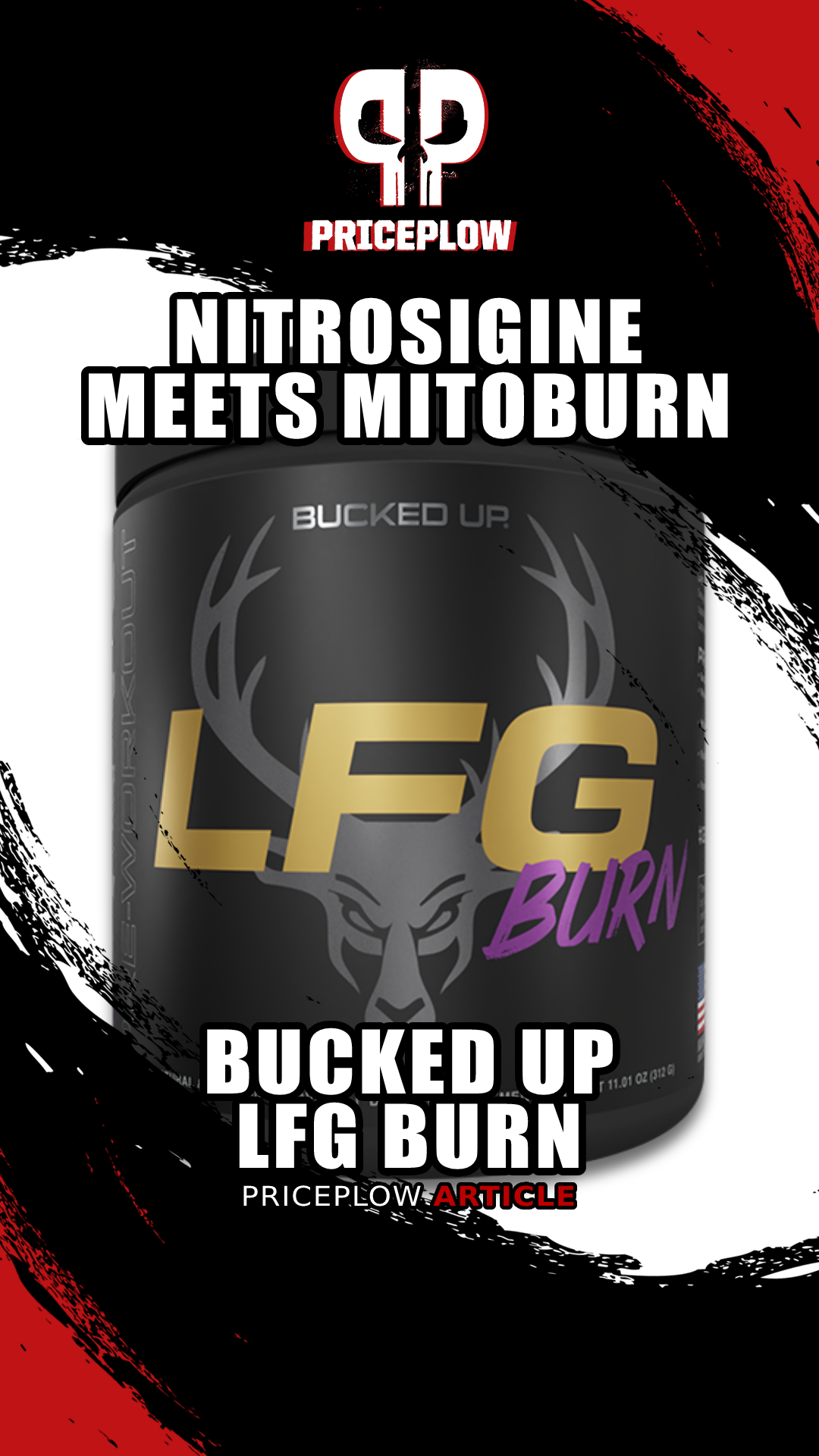 Flavors available
Conclusion: LFG!!
Overall, Bucked Up LFG is a solid product that does a lot. And because it's using Nitrosigine, it's doing a lot without needing a monstrous, protein-sized scoop. As mentioned in our Top 5 Supplement Industry Trends from SupplySide West 2022, doing less with more is the way to go with shipping costs, supply chain restrictions, and monetary inflation getting to everyone.
The formula is powerful, although we would have liked to see the grains of paradise dose bumped up, but we understand that it can be hard to find room for full doses in "do it all" products like this one – especially when such an ingredient would add considerable spice to the product.
On the nootropic angle, the combination of alpha GPC and huperzine A is great to see, but don't forget the blood flow component from Nitrosigine, which has effects of its own. This is an extension of the industry trend toward recognizing that many useful pre-workout ingredients have nootropic effects as well.
Only other thing to say is… LFG!
DAS Labs Bucked Up LFG Burn – Deals and Price Drop Alerts
Get Price Alerts
No spam, no scams.
Disclosure: PricePlow relies on pricing from stores with which we have a business relationship. We work hard to keep pricing current, but you may find a better offer.
Posts are sponsored in part by the retailers and/or brands listed on this page.