Beast Sports Nutrition is on a tear of new releases, with Beast-fronted supplement tubs that have feel-good formulas to match. Their recent Beast Mode X pre-workout supplement has a powerful feel-good "X-Factor" with RhodioPrime Rhodiola extract and a timed-release caffeine blend, so we love what Beast has been up to.
But for those who are looking for weight loss, Beast has a powerful pre-workout variation for you: Beast Mode Burn!
Burn Fat Like a Beast with Beast Mode Burn
Beast Mode Burn is a hybrid pre-workout / fat burner supplement, which is perfect for those who want the energy and power of a pre-workout supplement, but the weight loss support of a fat burner. After all, most fat burners (like Beast's 2Shredded) have stimulants, taking most pre-workouts out of the equation if you want to prioritize the weight loss pill.
With Beast Mode Burn, you never have to choose against your stim fat burner and stim pre-workout — this is the do both option. But unlike other fat burners, this one's not over-the-top. 200 milligrams of caffeine and 1 milligram of rauwolscine are paired with novel support ingredients like NNB Nutrition's MitoBurn and CaloriBurn duo.
The sweat effect is enhanced by GBB, and a unique fat burning mechanism is added with fucoxanthin, something that's not in most powders.
Let's dig in below, but first check prices and our Beast Mode Burn video — the Peach Sangria flavor is absolutely killer:
Beast Beast Mode BURN – Deals and Price Drop Alerts
Get Price Alerts
No spam, no scams.
Disclosure: PricePlow relies on pricing from stores with which we have a business relationship. We work hard to keep pricing current, but you may find a better offer.
Posts are sponsored in part by the retailers and/or brands listed on this page.
This area is reserved for Team PricePlow's upcoming videos.
Subscribe to our channel and sign up for notifications so you catch it when it goes live!
Beast Mode Burn Ingredients
In a single scoop (9 gram) serving of Beast Sports Nutrition's Beast Mode Burn, you get the following:
Betaine Anhydrous – 2,000 mg

Betaine, whose chemical name is trimethylglycine (TMG), has similar effects on human physiology and performance to those of creatine. So if you've never taken betaine before and need an easy frame of reference to understand how it works, think of it as a creatine-like supplement.

Betaine increases ATP production

Both compounds are ergogenic aids and osmolytes that increase ATP production.[1] But whereas creatine increases ATP by donating phosphate groups, betaine does so by donating methyl groups.[1]

Since ATP is the energy currency of your body, used by your cells to power all the work they do, having adequate ATP levels is key to peak performance.

The importance of methylation

Betaine is an incredibly effective methyl donor, even compared to other methyl donors. And the reason that's important is that methylation is a fundamental metabolic process that touches almost everything that happens in your body, whether directly or indirectly.

For instance, methylation plays a key role in controlling your body's blood levels of homocysteine, a metabolic byproduct of methionine metabolism. Elevated homocysteine blood levels have been linked to atherosclerosis, heart attack, and stroke, among other cardiovascular illnesses.[2] Needless to say, helping get homocysteine levels under control is one of the best long-term investments you can make in your cardiovascular health.

Betaine's effects on athletic performance

As an osmolyte, betaine can help create a state called cellular hyperhydration, in which a greater-than-usual volume of water is forced into your cells by increased osmotic pressure. With more water comes additional nutrients and greater resilience to stress.[4-6]

When you combine the hyperhydration with betaine's status as a methylator and ATP booster, it's no wonder that plenty of peer-reviewed evidence has identified betaine as a powerful ergogenic aid capable of boosting athletic performance in multiple domains. Among these are increased power, strength, and body composition.[7-12]

Two fat loss studies at this dose (one in women)

One particularly impressive study from this corpus, published in 2013, found that participants who received a 2,500-milligram daily dose of betaine gaind 5.3 pounds of muscle and dropped 6.4 pounds of body fat over the six week study period. That works out to a 3% decrease in body fat.[6,13]

Another study, from 2018, found that college women who took the same dose of betaine while completing a weight training program lost 4.4 more pounds of body fat than the group that received the placebo.[3]

Taurine – 1,750 mg

Taurine is a conditionally essential amino acid, which means that although under normal circumstances your body produces enough of its own taurine to cover metabolic requirements, times of increased taurine consumption – like in response to injury or illness – may overwhelm your body's ability to make taurine. In that case, supplementation is extremely helpful.

Taurine's concentrations are highest in muscle, heart, eye, and brain tissue,[14] where it acts as a powerful antioxidant that can improve insulin sensitivity.[15] Physical training itself is a stressor, so we like seeing athletes of any kind supplement with conditionally essential amino acids that may get depleted.

More importantly for athletes, supplemental taurine has also been shown to increase athletic endurance and power,[16,17] which is a great effect for anyone who's looking to increase their daily calorie burn.

Another common use for taurine is actually as a mood booster and mild nootropic, which is why you often see big doses of taurine used in energy drink formulas. In the brain, taurine has GABA-like neurotransmitter effects, and has an inhibitory (as opposed to excitatory) effect on neurons.[18-22]

In fact, taurine actually binds to the GABA receptors in your brain, thus helping you relax. Because of this, taurine is considered to be an anxiolytic supplement[23-26] and is used by many consumers to manage anxiety symptoms.

Taurine also appears to improve learning and memory.[26,27]

The clinically-validated dose of taurine is at least 1,000 milligrams, so the 1,750-milligram dose in Beast Mode Burn definitely clears that hurdle, with room to spare.[17] A uniquely high dose!

Beta Alanine – 1,600 mg

Next up is another endurance booster: beta-alanine.

Few ingredients have been used by the supplement industry longer than beta-alanine, and it will probably be used far into the future simply because it works so well.

Beta-alanine is a precursor to carnosine, a molecule that helps buffer lactic acid and prevent it from interfering with muscular function.[28] Because lactic acid accumulation is a major factor in the physical fatigue brought on by exercise, this ultimately increases athletic endurance.

Supplementing with carnosine precursors is the go-to strategy for boosting carnosine levels because, unfortunately, the bioavailability of oral carnosine supplements is pretty low.

And since your body's beta-alanine level is the bottleneck in your body's rate of carnosine production,[29,30] supplementing with this particular carnosine precursor is the best strategy for raising carnosine levels.

Throughout its long history of use, carnosine has been scrutinized intensively. Two large meta-analyses, which reviewed 40 different peer-reviewed studies of beta-alanine's effect on athletic performance, have concluded that beta-alanine is best for boosting endurance during exercises between 30 seconds and 10 minutes in duration.[28-35]

The biggest complaint about beta-alanine is that it can cause a tingling sensation in your upper body when you take it, but there's no evidence that the "beta-alanine tingles" are harmful.[36] Additionally, this is not a full scale dose. In order to get the clinically-recognized benefits, you'd need to find another 1.6 grams per day. Some would rather get it all in one shot, but others will be happy that they won't have tons of tingles from this dose.

L-Carnitine L-Tartrate – 500 mg

Carnitine is a quaternary ammonium molecule that can help your body burn fat for energy by shuttling fatty acids into your cells, where they can be taken up by their all-important mitochondria and turned into adenosine triphosphate (ATP).[37]

Plenty of research shows that supplementing with carnitine can support fat loss,[38,39] while improving insulin sensitivity and glycemic control.[40]

Carnitine can also convert some of your body's white adipose tissue (WAT) into brown adipose tissue (BAT). Since BAT is full of mitochondria that burn calories as heat, in a process called non-shivering thermogenesis, converting WAT to BAT can ultimately increase your body's metabolic rate.[41]

The L-tartrate form of carnitine

The L-carnitine L-tartrate (LCLT) form of carnitine is gaining popularity with supplement manufacturers because of its high bioavailability and rapid action in the human body.[42]

At higher doses, the tartrate form of carnitine has been shown to increase androgen receptor (AR) density, which can potentially increase the action of testosterone in the body. It comes with the usual effects of increased androgen function, like more muscularity and faster recovery from exercise.[43]

So basically, LCLT helps optimize androgen function. It also doesn't hurt that it's a better tasting form of carnitine for use in powders, which shines through in the initial Peach Sangria flavor.

MitoBurn L-β-Aminoisobutyric Acid (L-BAIBA) – 250 mg

L-BAIBA belongs to the myokine class, which consists of non-protein amino acids with hormone-like effects. We often refer to myokines as "muscle messengers," which is a great description of how L-BAIBA works in the human body.

Exercise triggers the metabolism of valine, a branched-chain amino acid (BCAA), into L-BAIBA.[44] The function of L-BAIBA during exercise is to signal to your muscle cells that exercise has begun.[45] Once your cells receive this signal from L-BAIBA, they undergo several metabolic processes that help your body cope with and recovery from exercise: among these are increased fat burning and bone protection.

After L-BAIBA was discovered, some smart scientists began asking whether exogenous or supplemental L-BAIBA could simulate the effects of exercise, without any exercise actually occurring.

Incredibly, based on current research, the answer appears to be yes.

In research settings, supplemental L-BAIBA has been shown to convert white adipose tissue (WAT) to brown adipose tissue (BAT), thus increasing the number of calories a person burns in a day by upregulating non-shivering thermogenesis.[46]

So far, research has found that this exercise-induced molecule can:

Increase fat burning[44,46-49]
Increase ketone production[50]
Convert WAT to BAT[46,49]
Improve insulin sensitivity and lower blood sugar[44,47,51]
Reduce systemic inflammation[53
Improve blood lipids[44,47]
Increase bone density[52]
Improve kidney function[53]

L-BAIBA mechanism of action

L-BAIBA works by upregulating PGC-1 alpha and PPAR alpha.[46,54] PGC-1 alpha increases mitochondrial biogenesis,[55] and PPAR alpha feeds BAT to your mitochondria, which then burn it off as heat.[56]

In fact, the mitochondria themselves are what make BAT appear brown under the microscope, hence the name.[56]

Why MitoBurn?

Many attempts have been made to create effective BAIBA supplements over the years, but properly sourcing this compound can get complicated.

First of all, only the L isomer of BAIBA – as opposed to D-BAIBA or R-BAIBA – is metabolically active.[44,48]

That's why NNB Nutrition came up with MitoBurn, a pure, standardized, and stabilized form of L-BAIBA. If you'd like a more detailed explanation of this incredible novel ingredient, check out our long-form article, BAIBA: Weight Loss Ingredient Generates Exercise in a Pill?!

Caffeine Anhydrous – 200 mg

Caffeine is a methylxanthine alkaloid. It's the most widely used psychoactive drug in the world. One thing that jumps out right away is the 200 milligram dose, which is less than what we've been seeing lately, especially from other pre-workouts like Beast Mode X (which has ~275).

Because caffeine crosses the brain-blood barrier, it has potent effects on the brain itself, and can significantly improve mood, cognition, and physical performance.[57]

The reason most of us reach for that extra cup of coffee or tea throughout the day is that caffeine inhibits the action of adenosine, a metabolic byproduct that accumulates in your brain while you're awake and produces fatigue as it builds up. By blocking adenosine, caffeine can increase neural activity and improve cognition, even in spite of sleep deprivation and stress.[58]

Pretty much all of us have heard that caffeine can help keep a person awake – fewer have considered the physical and athletic benefits of caffeine supplementation.

Caffeine's weight loss effects from the phosphodiesterase inhibition side

Caffeine improves cellular metabolic function by inhibiting phosphodiesterase, an enzyme responsible for degrading cyclic adenosine monophosphate (cAMP).[59,60] cAMP is a messenger that tells your cells to burn carbs and fats for energy – in other words, it stimulates metabolism. And unsurprisingly, increasing your body's cAMP levels also increases the number of calories you burn in a day.[61]

Caffeine is particularly good at increasing your body's rate of fat burning – it has been shown to do this to the tune of a 50% increase.[62] This is the main reason why we see caffeine used in fat burner formulas.

Moreover, there's one super important knock-on effect to this upregulation of cellular metabolism.

By raising cAMP and, hence, cellular energy levels through phosphodiesterase inhibition, caffeine can actually increase athletic performance, making it an ergogenic aid. Research consistently shows that caffeine use can increase strength, endurance, and power.[63]

Caffeine is also considered a nootropic because it can decrease reaction times,[64] help people pay attention,[64,65] and increase alertness.[65] Caffeine can also improve working memory, an important factor in fluid intelligence.[66]

At 200 milligrams, most users will be able to get some energy, but not have their day ruined. You may even be able to sneak some coffee or a single fat burner capsule on the other end of the day!

CaloriBurn GP (Aframomum Melegueta Extract (seed)(12.5% 6-Paradol)) – 40 mg

Another NNB Nutrition ingredient often paired with MitoBurn, CaloriBurn GP is a trademarked extract derived from Aframomum melegueta, also known as grains of paradise. It's standardized for a phenolic ketone called 6-paradol that alters human fat metabolism when consumed.

To understand how 6-paradol helps us burn fat, we need to briefly touch on an important aspect of mitochondrial activity: brown adipose tissue (BAT) to white adipose tissue (WAT) ratio. Pretty much all the stored fat on your body is either WAT or BAT, and these two tissues have very different functions.

WAT is where your body stores long-term emergency energy reserves, which it only accesses when calorie intake is very low, i.e., famine conditions.[67]

BAT, on the other hand, is where a process called non-shivering thermogenesis (NST) occurs. In NST, the mitochondria located within BAT cells are constantly burning calories – in the form of both carbs and fatty acids – and turning them into heat.[67]

In other words, BAT is metabolically active and WAT is generally not. In fact, BAT gets its name from the fact that the high density of mitochondria within this tissue stains it under a microscope, giving it a dark brown appearance compared to WAT, which is comparatively devoid of mitochondria.

So the more BAT you have, the higher your metabolic rate will be,[68,69] and the more calories you'll burn in a day. And again, fat isn't the only substrate that's converted to heat by BAT, which has been shown to use glucose for thermogenesis as well.[70]

This means, importantly, that having lots of brown fat can actually improve your glycemic control, keeping blood glucose levels down, even in the absence of weight loss.[70]

Grains of paradise extract can have similar effects on fat metabolism too. In non-obese women, supplementing with grains of paradose was found to burn off visceral fat, a type of fat deposit that accounts for a small percentage of overall body fat, but has particularly bad effects on cardiometabolic health.[71]

We like seeing a 40-milligram dose of CaloriBurn in Beast Mode Burn because this specific dose has been validated by clinical research as effective for weight loss. In one study, researchers gave young men the 40-milligram dose of grains of paradise extract while directly measuring their metabolic rate. They discovered that the men who received grains of paradise burned significantly more calories at rest than the controls, due to increased BAT activity.[72]

Gamma-butyrobetaine – 30 mg

Here we go – the sweat-effect "sauna" ingredient!

Gamma-butyrobetaine (GBB) is a precursor to carnitine. It gets converted to carnitine by an enzyme called gamma-butyrobetaine dioxygenase (BBD).[73]

As you probably noticed, we already have a form of supplemental carnitine in Beast Mode Burn. So what's the point of taking this carnitine precursor on top of it?

GBB sustains high carnitine levels by modifying carnitine equilibrium

To understand why combining GBB with carnitine is a smart idea, we have to bring up a concept from chemistry called Le Chatelier's principle, also sometimes referred to as the law of chemical equilibrium.[74]

GBB turns into carnitine, but carnitine turns back into GBB as well – until the two compounds have achieved equilibrium with each other. Excess GBB is transformed into carnitine, but excess carnitine also gets turned into GBB.

Although the enzyme BDD turns GBB into carnitine, there is also a process that takes place in your gut, by which carnitine is converted back into GBB by certain bacterial species in gut flora.[75]

If your carnitine levels are elevated above baseline – for example, because you've ingested 500 milligrams of carnitine tartrate by supplementing with Beast Mode Burn – then your body will begin balancing your carnitine levels with your GBB levels by converting some of the extra carnitine back into GBB.

In simple terms, when the right side of the equation gets too big, your body will start moving stuff from the right to the left.

If you want the right side of the equation (concentration of product) to stay big after you've added to it, you have to add stuff to the left side (concentration of reagent) as well.

GBB is the reagent in this case.

So to maintain high carnitine levels, we should take some GBB along with carnitine. This overview is a simplification, of course, but that's the gist of it.

GBB allows us to raise carnitine levels indirectly

Supplementing with straight carnitine comes with another problem: carnitine is tough to digest and absorb, and often causes gastrointestinal distress in those who take large doses.[76,77] So most people can only raise their carnitine blood levels through direct supplementation to a fairly limited extent.

GBB, on the other hand, is generally better tolerated, meaning that GBB supplementation allows you to boost carnitine levels higher without having to suffer through the GI effects of taking even more carnitine.

GBB is a potent nitric oxide (NO) booster

GBB is also great at boosting nitric oxide (NO) levels,[78] which is helpful since there aren't any other nitric oxide boosters in here (we're assuming Beast will have a new stim-free pump supplement that can be stacked in).

Boosting NO won't necessarily help you lose weight faster, but it can support certain behaviors that will.

For example, higher NO levels can:

Improve sexual function in men and women[79,80]
Boost exercise performance[81]
Speed up recovery from exercise[82]
Reduce blood pressure[83,84]

All of which can help you be more active, and, hence, burn more calories.

The GBB sweats

Another famous (or infamous, depending on whom you ask) property of GBB is its ability to induce intense sweating in most people who take it.

Many GBB users consume it as part of a pre-workout stack, and swear that it helps them hit the gym harder.

However, higher exercise intensity is probably not the main reason that GBB causes sweating, because perspiration happens even in people who are not exercising (as this writer can personally attest).

The precise mechanism by which GBB causes sweating actually remains to be discovered, but regardless, it can have great effects on human health.

For one thing, sweating is one of your body's detoxification mechanisms. Your body can eliminate toxic xenoestrogenic and carcinogenic compounds like bisphenol A (BPA),[86] polychlorinated biphenyls (PCBs),[87] urea, persistent organic pollutants, and heavy metals,[88] just by sweating them out.

So even if GBB doesn't give you a boost in the gym, the bottom line is that sweating can still be a good thing.

Fucoxanthin – 10 mg

Fucoxanthin is a xanthophyll carotenoid. It naturally occurs at high concentrations in seaweed, and upregulates a transporter protein called glucose transporter 4 (GLUT4), which is responsible for shuttling glucose from the bloodstream into muscle cells.

In other words, GLUT4 is your body's endogenous glucose disposal agent – it helps ensure that the carbohydrates you ingest are preferentially stored in lean tissue, where they can actually do some good, instead of in fat tissue where they will, well, make you fat.[89,90]

Fucoxanthin also increases the expression of uncoupling protein 1 (UCP1)[91-93] in white adipose tissue (WAT).[94] This increases mitochondrial activity, thus upregulating thermogenesis and increasing the number of calories your body burns as heat.

Animal studies have shown that consumption of seaweed with high fucoxanthin content can inhibit the growth of adipocytes (fat cells) and increase feelings of satiety.[95]

We like this as a unique play in Beast Mode Burn — the ingredient has a great mechanism of action, and isn't in too many fat burners — especially not the powdered ones!

AstraGin (Astragalus membranaceus & Panax notoginseng) extract (roots) – 25 mg

AstraGin boosts ATP production in one particularly important place: your intestines.

When intestinal cells have more cellular energy available for metabolic functions, they can absorb more of whatever you ingest – food, nutrients, and supplements.

By this mechanism, AstraGin has been shown to improve the bioavailability of many different amino acids, vitamins, and minerals.[96-99]

About half the bioactive phytochemicals in AstraGin are sourced from the herb Astragalus membranaceus, which has a long history of promoting longevity in traditional Chinese medicine (TCM). Recent research has shown that Astragalus actually promotes health span —the duration of an organism's life in which it remains free of chronic disability and disease.[100]

Panax notoginseng, which constitutes the other half of AstraGin, has a similar history, but actually does extend life span in certain organisms.[101]

Rauwolscine (Rauwolfia vomitoria root extract) (std. min 99% alpha yohimbine) – 1 mg

Rauwolscine is an alkaloid found in the Rauwolfia vomitoria plant. It is sometimes referred to as "alpha yo" (short for alpha-yohimbine) because of its similarity in effects and mechanism of action to an ingredient called yohimbine.

Rauwolscine is a beta-agonist that stimulates adrenaline and noradrenaline receptors, ultimately decreasing appetite,[102] accelerating weight loss,[103] and enhancing focus[104] as part of the infamous fight or flight response that's initiated by the body's sympathetic nervous system.

Both rauwolscine and yohimbine have been shown to prevent fat from being deposited and increase the body's cellular energy availability.[105]

This amps the 200 milligrams of caffeine in Beast Mode Burn a fair amount, so get ready for it!

We're now done with the "active ingredients" area, but don't forget that there are two critical mineral components in the "nutrition facts" area that should never go ignored:

Chromium Picolinate – 600 mcg (510% DV)

Chromium is a trace mineral that's crucial for glycemic control. Unfortunately, insulin resistance has become incredibly common among modern Westerners,[106] and seems to be getting more common every year.

Part of the reason for this is that our foods are losing nutritional value year over year due to the soil-depleting nature of modern agricultural practices. Several key minerals are now largely absent from our food supply, and chromium is one of them.

This is a problem because chromium is involved in insulin production and signaling,[107-109] and helps the body metabolize the food you eat – particularly carbohydrates.

So let's take a look at the research behind chromium supplementation and how it can help with glycemic control:

Lower blood glucose levels and higher insulin sensitivity

According to a 2014 meta-analysis that included 25 different studies, chromium supplementation has been shown to support the body's mechanisms for blood glucose regulation.[110] The most effective form of chromium for this purpose was chromium picolinate[110] – the same form of chromium used in Beast Mode Burn!

The key to chromium picolinate's effectiveness is its high bioavailability compared to other forms of chromium.[111]

These studies were done in people with pre-existing insulin resistance, but as it turns out, chromium can be of benefit even for those who are metabolically healthy.

This was shown in a 16 week long randomized, double-blind, placebo-controlled study that showed how although chromium picolinate doesn't improve A1c or blood lipid profiles in healthy subjects, it still improves those subjects' blood sugar and insulin responses.[112]

At higher doses of chromium – 600 mcg (which we have here) to 1000 mcg – research shows that reductions in food craving and appetite are possible.[113,114]

And remember – 600 mcg is the same dose of chromium used in Beast Mode Burn!

The interesting thing is that this appetite suppressant effect of chromium seems to be a global one. One of these studies showed chromium making people crave carbohydrate rich foods less,[114] while the other showed that people supplementing with chromium craved fatty foods less.[113]

Weight loss aid?

So you'd probably assume, based on its ability to optimize glucose and insulin levels while decreasing appetite, that chromium would be a great weight loss aid. Well, although there is some evidence that this may be the case, it's pretty mixed.

For example, let's take two chromium meta-analyses of comparable scope and quality: one found that three months of chromium supplementation decreased BMI,[115] while the other found no change.[114]

However, it's hard to tell what's going on with the chromium data, because some of these studies have subjects taking chromium alongside a resistance training program, and muscle is much denser than fat. So if the study subjects who are lifting gain muscle, it could statistically wash out a decrease in body fat.

There's good reason to believe this may be the case, because studies using relatively low doses of chromium – 200 mcg and 400 mcg – have found that it can improve body composition.[116,117]

The benefits of avoiding chromium deficiency

The 600 mcg dose we have in Beast Mode Burn is 510% of the daily recommended intake. Other chromium doses we've cited in research – 200, 400, and 1,000 mcg – are also way over the amount we need to satisfy our daily requirements.

In other words, the evidence we've discussed thus far deals with the benefits of megadosing chromium.

Well, what about chromium deficiency? What happens when you don't get enough?

People with low chromium levels are at significantly greater risk of heart disease,[118] and chromium supplementation may help lower this risk.[119]

Also, as we mentioned before, failing to get enough chromium can mess with your insulin levels – but this insulin-disrupting effect seems to happen specifically within the hypothalamus,[120] which is not great considering the importance of the hypothalamus for regulating hormones and appetite.

Chromium supplementation can also help normalize serotonin levels.[121]

We wrote a whole article about chromium

Want to know more about chromium? Then check out our full-length blog post

Chromium Picolinate: The Ultimate Trace Mineral For Insulin Sensitivity.

Iodine (as potassium iodide) – 196 mcg (130% DV)

If you're taking a fat burner supplement, to lose weight, it's always worth asking the question how did I end up here in the first place – what made me gain this weight?

The answer for many people is some degree of impaired thyroid function, i.e. hypothyroidism. Hypothyroidism is incredibly common, and missed diagnoses are rampant – according to one estimate, about as many hypothyroidism patients go undiagnosed as actually get diagnosed.[122]

And if thyroid function is slow, the simplest answer, and the easiest to consider, is that you may have an iodine deficiency.

Your thyroid needs a certain of iodine to function properly, and unfortunately, increasing numbers of us are not meeting our iodine needs.[123]

Iodine can be displaced from the thyroid gland

A functional iodine deficiency can have a few different causes though. The first, and most obvious, is that you simply don't consume enough iodine through your normal diet.

Consider the fact that bread in the United States used to be fortified with iodine,[124] but is now fortified with bromine instead.[125] Salt also used to be iodized across the board, until recent years when consumers began to prefer sea salt and pink Himalayan salt, two types of salt that neither naturally contain nor are fortified with iodine.

So as iodine has been displaced from our food supply, we have naturally consumed less and less of it.

But there's another, arguably bigger problem afoot: the competitive displacement of iodine from your thyroid gland by similar chemical elements. For example, bromine, the iodine replacement we discussed above, is a halogen just like iodine. Other halogens include fluorine and chlorine.

The problem with consuming these halogens is that because of their similarity to iodine, they can compete with iodine for access to the thyroid and thus disrupt normal thyroid function.[126,127]

And unfortunately, these competitor halogens are also becoming more common in our food and water, through examples like the bromine fortification of bread which we discussed above, or the addition of fluoride and chlorine to many public drinking water supplies in the United States.

All of these things, and more, are why iodine deficiency – a previously vanquished public health problem – is now making a comeback in the United States.[123]

What iodine does in the thyroid gland

The two basic thyroid hormones, thyroxine (T4) and triiodothyronine (T3), are regulated by your body's iodine levels.

Both of these hormones are crucial for thyroid function, and they both contain iodine, meaning that iodine is required for these hormones to be synthesized.[128]

Your T3 levels will play a huge role in determining the health of your heart, brain, and digestive tract.[129] Your basal metabolic rate, the rate at which your body burns calories while at rest, is also set by T3.[129]

Not having enough T3 means you're at great risk of becoming hypothyroid. If that happens, you can expect to deal with slow metabolism and eventually some serious weight gain.[130]

Impaired thyroid function also directly increases your risk of other diseases, like type 2 diabetes[131] and hyperhomocysteinemia,[132] a condition where excessive levels of the amino acid homocysteine in your blood can cause damage to your vascular tissues.

Other problems associated with hypothyroidism:

Chronic fatigue[133]
Weakness[133]
Impaired tolerance for cold[134]
Reduced levels of brown adipose tissue (BAT)[135]
Slow heart rate[136]
Smaller and less functional hippocampus, the region of the brain responsible for learning and memory[137]
Flavors Available: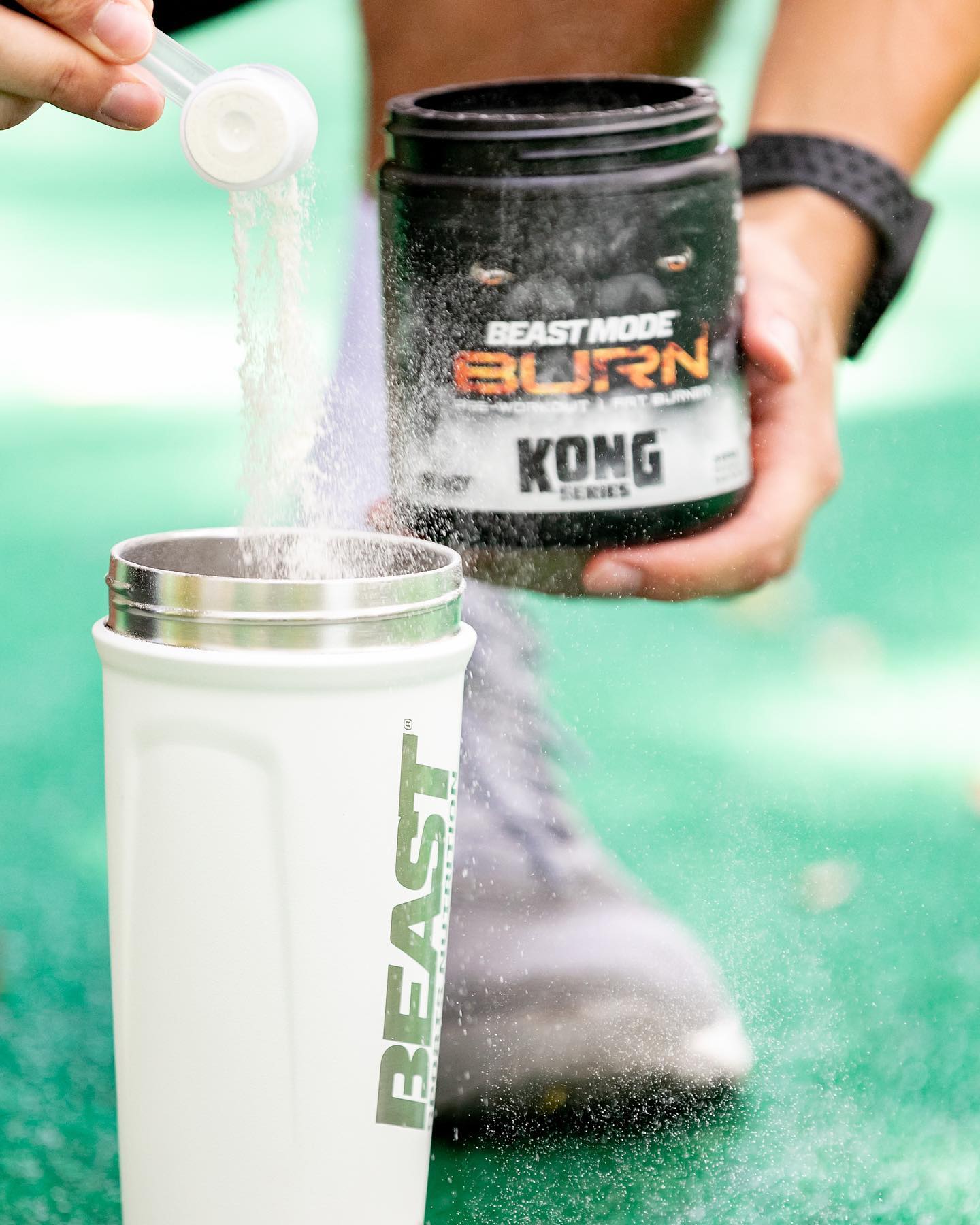 Conclusion: Beast Mode Burn Brings Balance
We love 2-in-1 formulas that have purpose. But we've found that these hybrid fat-burning pre-workout supplements are either incredibly expensive or ridiculously overstimulated for the average consumer.
Beast Mode Burn attacks that issue on both fronts – 200 milligrams of caffeine and 1 milligram of rauwolscine is "low" by today's standards, but it's a great way to get a thermogenic pre-workout supplement that nearly everyone can enjoy. Meanwhile, lower-caffeine pre-workouts like this don't always have more novel ingredients like MitoBurn, CaloriBurn, GBB, or fucoxanthin, but this one does.
This combination puts Beast Mode Burn in a unique slotting, and without tons of citrulline (which became incredibly expensive in 2022), keeps the price tag far lower than its competitors using the CaloriBurn / MitoBurn combination. Well played, Beast.
Beast Beast Mode BURN – Deals and Price Drop Alerts
Get Price Alerts
No spam, no scams.
Disclosure: PricePlow relies on pricing from stores with which we have a business relationship. We work hard to keep pricing current, but you may find a better offer.
Posts are sponsored in part by the retailers and/or brands listed on this page.