A long time in the making, Glaxon has a new multivitamin and mineral complex, and they're doing it the Glaxon way. To kick off 2023, their new multivitamin complex brings the following features:
2 Capsules per serving
High-quality B-complex with P5P as Vitamin B2 and methylated versions of B12 and B9 (folate)
Chelated minerals, including 25% daily value magnesium for magnesium glycinate
MitoBurn L-BAIBA for metabolic support
SAMe for mood and liver support
Boron for hormonal / vitamin D support
No mega-dosing – vitamins are at 100% daily recommended value
A multivitamin that supports metabolism and mood!
This is definitely the first time we've seen MitoBurn in a multivitamin, but it makes sense since everyone can benefit from it. It's available in Glaxon Thermal, a stimulant-free weight loss support powder, but not everyone is in "diet mode", and L-BAIBA supports far more than weight loss, so this is a very useful addition for the rest of us.
We're also excited to see SAMe inside — this sulfur- and methyl-donating molecule has a lot of research supporting mood, and after recently diving into it, we wondered why more sports nutrition companies don't have it somewhere in their arsenal. Glaxon already has Serenity for stress and mood support, it actually makes more sense in a daily product for everyone.
Anchoring a powerful health stack
Before this, Glaxon has had their Super Greens, which is boosted by the Super Shroom blend, and will stack very well with the new Multi. Note that Super Shroom is also a separate product that's recently been upgraded with MitoPrime L-ergothioneine, another fascinating, protective molecule.
Between all of these products, we have one phenomenal health stack that can be bolstered in so many other ways. This rounds out a really creative platform for the brand.
So let's dig into some of the ingredients in the new Glaxon Multi + Mood + Metabolism after checking on PricePlow's coupon-powered prices and availability:
Glaxon Multi+ Mood +Metabolism – Deals and Price Drop Alerts
Get Price Alerts
No spam, no scams.
Disclosure: PricePlow relies on pricing from stores with which we have a business relationship. We work hard to keep pricing current, but you may find a better offer.
Posts are sponsored in part by the retailers and/or brands listed on this page.
This area is reserved for Team PricePlow's upcoming videos.
Subscribe to our channel and sign up for notifications so you catch it when it goes live!
Glaxon Multi + Mood + Metabolism Ingredients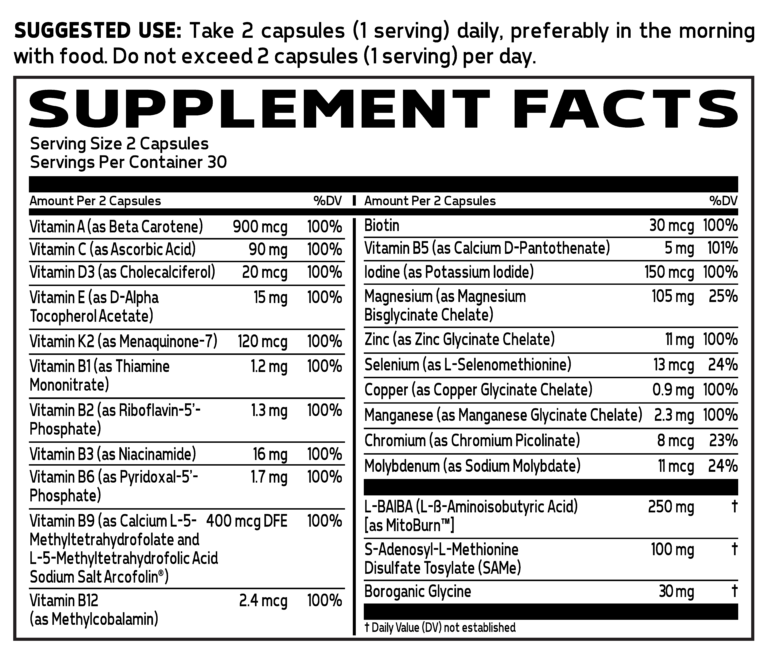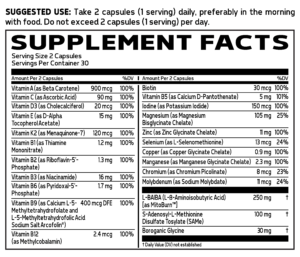 Below is what you get in a two capsule serving — but we're going to start at the bottom of the label with the novel ingredients that aren't usually found in multivitamins:
L-BAIBA (L-β-Aminoisobutyric Acid) [as MitoBurn] – 250 mg

The key differentiator in Glaxon's Multi+, MitoBurn is a novel ingredient that we call "the exercise molecule". It consists of stabilized L-BAIBA, which is a myokine (muscle messenger) that's transmitted when the body undergoes physical activity and breaks down the branched-chain amino acid L-valine[1] (yes, the same L-valine in BCAA/amino acid supplements like Glaxon Xeno Amino).

When L-BAIBA (also known as L-β-aminoisobutyric acid) is transmitted, it alerts the rest of the body that exercise is underway,[2] and they begin to facilitate exercise-related circuitry such as fat oxidation and bone preservation.

Upon this discovery, researchers tested what would happen if they supplemented more of it in animals – with or without them exercising – and the data was incredible. What they found is that it boosted this "exercise signal" and led to more browning of adipose tissue into more mitochondria-dense, metabolically-active cells.[3]

There is now a great deal of preclinical research supporting BAIBA for numerous reasons:

Better fat oxidation[1,3-6]
Improved ketone body production (measured as BHB, or beta-hydroxybutyrate)[7]
Browning of adipose tissue[3,5]
Better blood sugar tolerance and reduced insulin resistance[1,6,8]
Decreased inflammation[5]
Improved lipid profiles[1,6]
Increased bone mineral density[9]
Protective effects from kidney disease[10]

Why put MitoBurn into a multivitamin?

The bone preservation, anti-inflammatory, and renal protective aspects are why it's in this multivitamin — it's not just about enabling better fat oxidation. MitoBurn's generally only bene in fat burners and occasional fat-burning pre-workout supplements, so Glaxon is giving non-dieters a chance to benefit from its inclusion.

We've been covering L-BAIBA for nearly a decade now, but it was always hard to source because the L-isomer is the one that's biologically active with the results we want. L-BAIBA comes from valine while D/R-BAIBA comes from thymine,[1,4] which doesn't have these effects.

When NNB Nutrition solved this problem with a pure L-BAIBA ingredient in MitoBurn, Glaxon was one of the first companies to use it in their Thermal stim-free fat burning powder. Now it's available for everyone. You can learn much more on the mechanism in our article titled BAIBA: New Weight Loss Ingredient Generates Exercise in a Pill?!

S-Adenosyl-L-Methionine Disulfate Tosylate (SAMe) – 100 mg

Putting the word "mood" in Glaxon's Multi + Mood + Metabolism, SAMe (S-Adenosyl-L-Methionine Disulfate Tosylate, sometimes SAM-e) is a metabolite of methionine normally synthesized from methionine and ATP.

SAMe generally works by significantly boosting the body's production of glutathione[12] as well as its function.[13] This leads to reduced oxidative stress, especially in the liver[12] and brain.[14,15] Glutathione depletion is a major problem, and preventing this is why SAMe seems so universally powerful for so many individuals (a great reason why it's in a multivitamin).

The big thing here, however, is how well SAMe improves mood, which is supported by numerous studies powerful enough for affirmative reviews and meta-analyses,[16-19] one of which goes back to 1994,[17] before the screws really got turned on us. It can support dopamine activity in the brain.[19,20]

Beyond its glutathione and dopamine support, SAMe is a methyl donor[21] (like a few of the vitamins inside Glaxon Multi), supporting numerous biochemical reactions.

Finally, SAMe has been well-studied as a liver protective ingredient as well,[22] another great reason to have it in a multivitamin for everyone, since the liver is arguably our most important metabolic organ. If this is of interest to you, you may also like Glaxon's new Liver+ Synergy supplement.

Bororganic Glycine – 30 mg

The third and final of our "bonus" novel ingredients is bororganic glycine, a glycine-bound form of the mineral boron.

Boron is important because it enhances utilization of vitamin D,[23] which we often prefer to call "hormone D". Given the importance of this hormone, it can lead to many downstream benefits, including other hormonal ones such as testosterone support.

To back that statement up, a small study published in 2011 showed that boron could significantly increase free testosterone levels while reducing estrogen in healthy men![24]

Boron: the key to better vitamin D function?!

How does it work? Boron can actually lengthen vitamin vitamin D's half-life and improve magnesium absorption.[23] Its suggested that it does this by suppressing the activity of the enzyme that breaks down vitamin D, 24-hydroxylase.[25]

It's purported that this then increases calcitriol — the most active vitamin D metabolite — inside the cell.[23]

Because of this effect, many are beginning to suggest that rather than mega-dose vitamin D, we should instead supplement more boron and reduce vitamin D's competitors (for instance, overwhelming amounts of vitamin A are antagonistic to vitamin D[26]). Food for thought that we'll be exploring more in the future.

Until then, we're very glad Glaxon included boron here — especially another chelated version bound to glycine — since it often goes ignored in lieu of more and more vitamin D.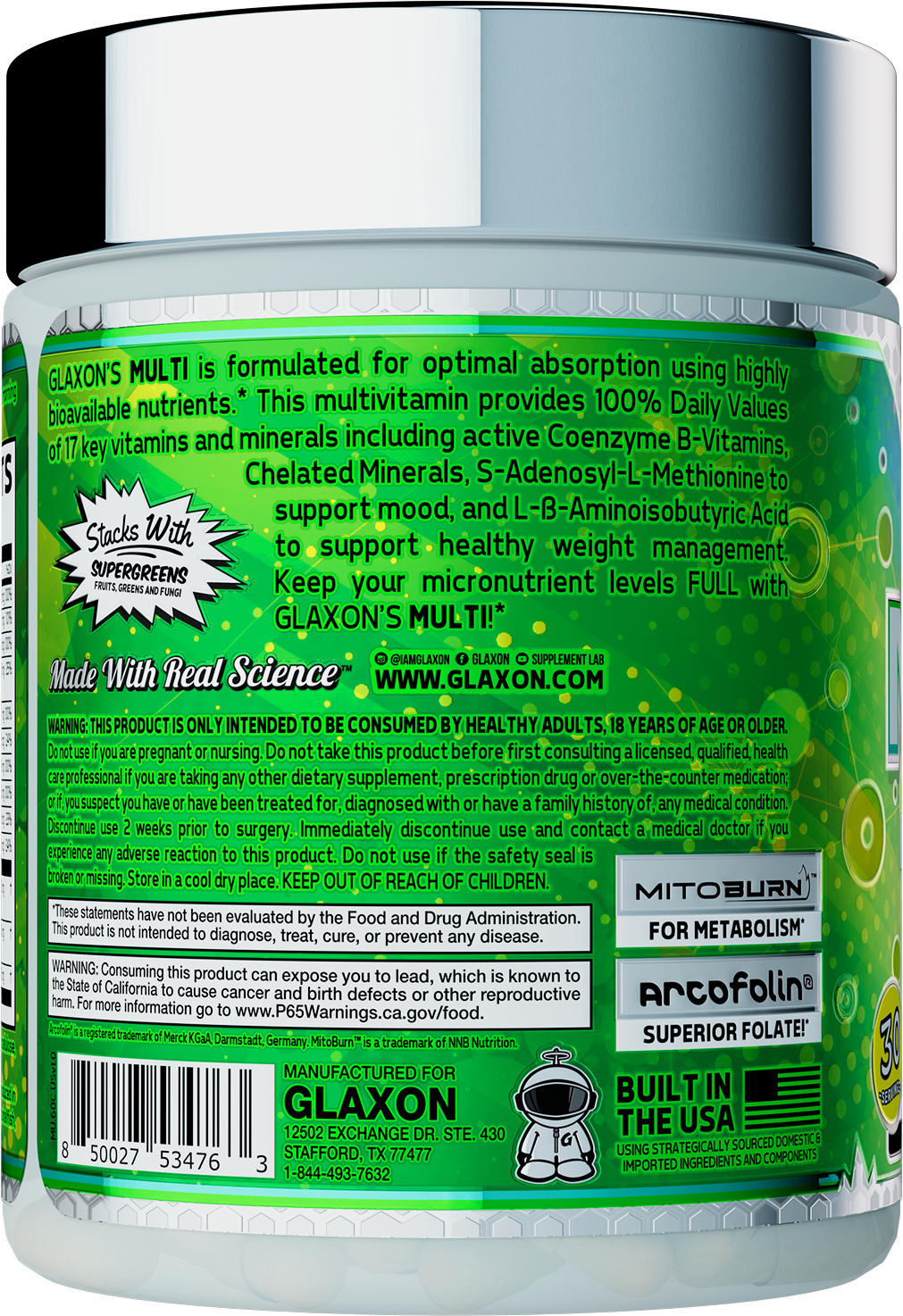 With those concluded, you can now take a look at the rest of the Glaxon Multi+ label:
Vitamin A (as Beta Carotene) – 900 mcg (100% DV)

Vitamin C (as Ascorbic Acid) – 90 mg (100% DV)

Vitamin D3 (as Cholecalciferol) – 20 mcg / 800 IU (100% DV)

Vitamin E (as D-Alpha Tocopherol Acetate) – 15 mg (100% DV)

Vitamin K2 (as Menaquinone-7) – 120 mcg (100% DV)

Vitamin B1 (as Thiamine Mononitrate) – 1.2 mg (100% DV)

Vitamin B2 (as Riboflavin-5′-Phosphate) – 1.3 mg (100%DV)

Vitamin B3 (as Niacinamide) – 16 mg (100% DV)

Vitamin B6 (as Pyridoxal-5′-Phosphate) – 1.7mg (100% DV)

Vitamin B9 (as Calcium L-5-Methyltetrahydrofolate and L-5-Methyltetrahydrofolic Acid Sodium Salt Arcofolin) – 400 mcg DFE (100% DV)

Vitamin B12 (as Methylcobalamin) – 2.4 mcg (100% DV)

Biotin – 30 mcg (100% DV)

Vitamin B5 (as Calcium D-Pantothenate) – 5 mg (101% DV)

Iodine (as Potassium Iodide) – 150 mcg (100% DV)

Magnesium (as Magnesium Bisglycinate Chelate) – 105 mg (25% DV)

Zinc (as Zinc Glycinate Chelate) – 11 mg (100% DV)

Selenium (as L-Selenomethionine) – 13 mcg (24% DV)

Copper (as Copper Glycinate Chelate) – 0.9 mg (100% DV)

Manganese (as Manganese Glycinate Chelate) – 2.3 mg (100% DV)

Chromium (as Chromium Picolinate) – 8 mcg (23% DV)

Molybdenum (as Sodium Molybdate) – 11 mcg (24% DV)
Dosage and Directions
Take two capsules per day, preferably in the morning with food. This will help you cover your bases, get your metabolism fired up, provide methylation support, and protect your "hormone D" levels.
Conclusion: Glaxon Multi+ makes another splash
We love Super Greens and the recently-upgraded Super Shroom, but every major brand has to have a multivitamin. The biggest question is how Glaxon was going to… "Glaxonify" it.
MitoBurn is the big story here, but SAMe and boron deserve just as much excitement.
These are three ingredients that everyone can benefit from, but are often placed in specialty targeted formulas (MitoBurn in fat burners, SAMe in mood enhancers, and boron for testosterone support) — but it should not be that way.
Adding chelated minerals (even if not 100% DV) to get things in the right direction and making it all fit in two easy capsules is another impressive feat. If you want mega-dosed ingredients, you'll have to look elsewhere, but if you are already a strong dieter just looking to cover bases if your diet has a gap or two, this is a great play.
Fantastic start to 2023 for Glaxon. Let's see what they drum up next — you can subscribe to PricePlow's Glaxon news alerts below to stay tuned:
Glaxon Multi+ Mood +Metabolism – Deals and Price Drop Alerts
Get Price Alerts
No spam, no scams.
Disclosure: PricePlow relies on pricing from stores with which we have a business relationship. We work hard to keep pricing current, but you may find a better offer.
Posts are sponsored in part by the retailers and/or brands listed on this page.