At SupplySide West 2024, one of the biggest events was a panel discussion held at the Kyowa Hakko USA booth, featuring a star-studded cast of influential industry advocates: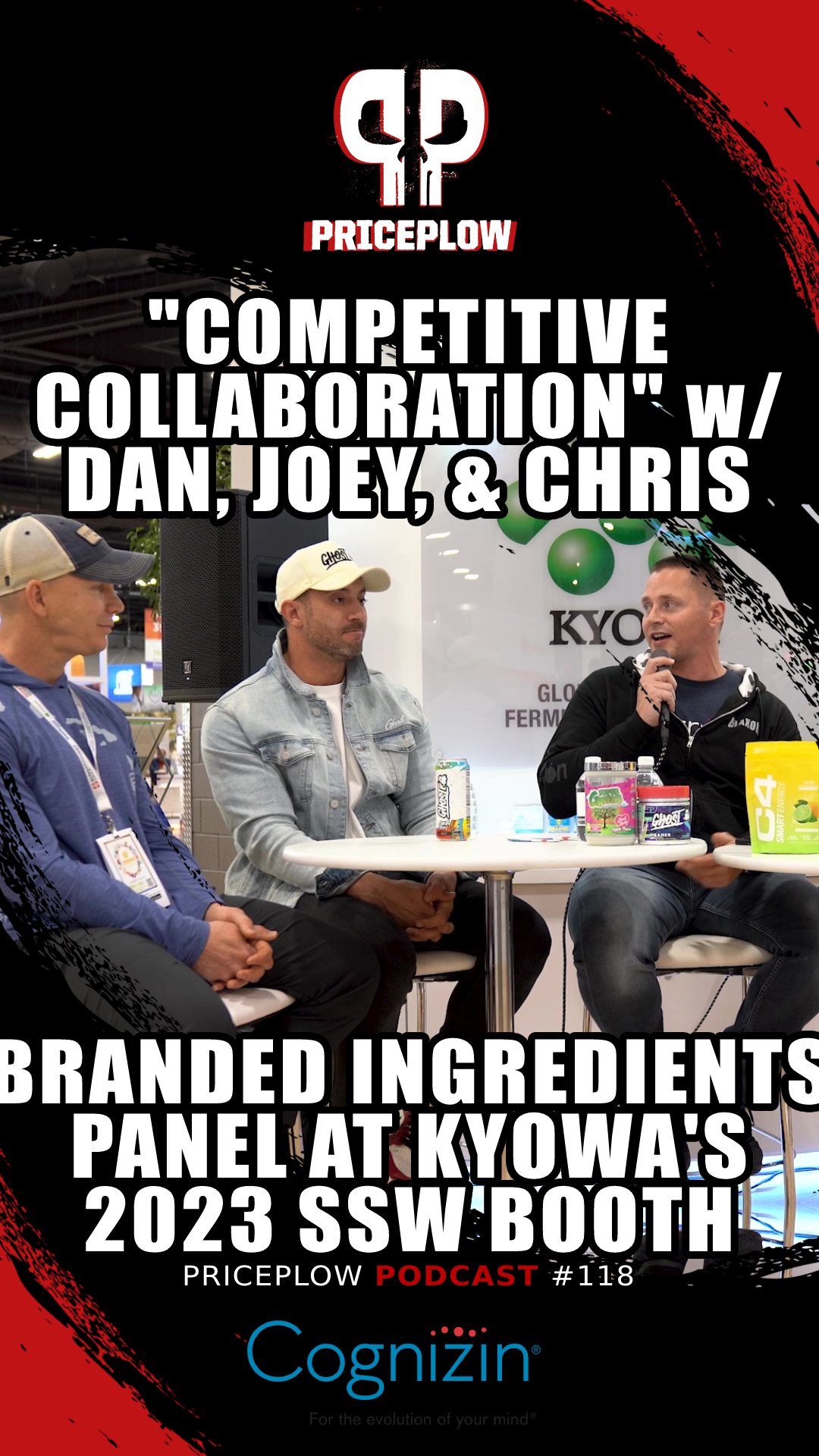 Dan Lourenço – Founder and CEO of Ghost
Joey Savage – Chief Scientific Officer of Glaxon
Chris Lockwood – VP of Scientific Affairs at Nutrabolt
David Sandler – Scientific Consultant and COO of Jupiter Wellness
The topic of the panel was The Growth of Branded Ingredients, with an initial focus on Cognizin Citicoline, an ingredient used by everyone listed above.
The episode offers fresh and unique perspectives from each member, who have different reasons and purposes for various ingredients. When you're as big as these brands, you have to rely on trusted and legally compliant inputs, and few in this industry are as trusted as Kyowa Hakko!
Embracing branded ingredients and collaborative competition
This was a hallmark moment for the dietary supplement industry — one that we call "collaborative competition". To put it bluntly, a panel like this simply wouldn't have happened 5+ years ago.
But with a growing industry where all good players can win, and companies like PricePlow and Kyowa Hakko here to bring a network of forward-thinking industry advocates together, it's now a reality. With this, we get more information, less duplication of mistakes, and the consumer is ultimately the beneficiary.
Let's get to it, our main podcast links are available, and then the video and show notes are below:
Subscribe to the PricePlow Podcast on Your Favorite Service (RSS)
https://blog.priceplow.com/podcast/kyowa-branded-ingredients-ssw-2023
Video Version: Watch Dan, Joey, and Chris Talk Branded Ingredients
Audio Version available for download
Podcast: Play in new window | Download (Duration: 43:20 — 43.7MB)
Detailed Show Notes: Embracing Branded Ingredients with Kyowa at SSW 2023
0:00 – Introductions and Branded Ingredients

As you can see from the introduction, this is a star-studded cast, or a "Dream Team" as Sandler puts it. Everyone is quickly introduced. One thing that everyone has together is Cognizin, Kyowa Hakko's patented and trademarked form of citicoline.

1:45 – Why use Cognizin in supplement formulations?

When asked why use Cognizin, Joey kicks it off by saying "Data – data data data."

When it comes to an ingredient that has reliable amounts of clinical data across numerous populations in a range of dosages, Cognizin is tough to beat (see many of the studies discussed in the Cognizin article linked above). There's a wide range of applicability where Cognizin checks the boxes.

Dan mentions that Cognizin even has data for adolescent males, which is the primary demographic of Ghost Gamer, the supplement Ghost uses Cognizin for.

Chris Lockwood throws it back to 1998, when he started writing about citicoline. New data continues to come out, as he's been involved in some additional research published in 2023 that includes the ingredient.[1]

4:30 – Cognizin Citicoline vs Alpha-GPC

Ben discusses that talk about alpha-GPC had gotten a bit "stale", so Cognizin grabbed our attention.

A great part of citicoline is that it's experiential — Cognizin has been shown to not only upregulate dopamine, but it also boosts other neurotransmitters like norepinephrine and acetylcholine.[2]

5:00 – Energy, Focus, and Nootropics – Where to Next?

Joey takes the next question, talking about how old trends will become new again (we see this often). We're not sure what exactly he's talking about, but one idea could be pregnenolone, which is in his Alpha 365 formulation. Joey predicts that someone will blow everyone's hair back, which may put them in jail if they're not doing things in compliance.

Dan talks about the push-pull trends between obscure herbal compounds and tried-and-true hits like Cognizin that have more research. The balance between the two is the key to driving success, which is something Ghost has been great at.

Chris mentions how to get the most bang for your buck, at a low price. Caffeine is obviously number one for this, it's become ubiquitously inexpensive, and everyone knows what they can get out of it.

Regarding "old become new" again, with recycling, Chris talks about EAAs being back for the third time in his career, and how silk amino acids and arginine ketoglutarate may be on a big swing back.

David mentions desiccated liver coming back — this is one thing we're seeing a major resurgence in the carnivore type communities (but note that there are major concerns about accumulative vitamin A toxicity that will be covered on PricePlow soon).

8:45 – Why branded ingredients?

Joey answers first — this is a case by case basis. If it comes from a reputable supplier like Kyowa Hakko, you can lean on the quality systems of that supplier! So they don't only have data, but they have analytical testing and third-party testing, so you don't have to roll the dice and continually re-test secondhand ingredients.

At the Ghost level, they need to know so much about an ingredient that the only way to get it right is from professional companies like Kyowa. Also, not all ingredient suppliers can even keep up with a company like Ghost. (This also ties into some of Scivation's BCAA sourcing issues discussed with Mike McCandless in Episode #106). Kyowa, having manufacturing in the US and abroad, can reliably supply major brands like Ghost.

There's also a push to use ingredients from suppliers that aren't allowing their products into non-compliant products with drugs inside.[3] The last thing Dan wants to see is that an ingredient he's using is in a product that ends up on the nightly news.

On top of all of that, Chris looks up to any brand that is willing to invest in research.

Dan adds that we live in an information world. Ghost formulates for the 1% that understands the formula, but builds the brand for the other 99%. Branded ingredients have a major place in that conversation. Yet anyone can brand an ingredient — bringing the data and quality to back it up is just as important.

From the Nutrabolt perspective, Chris is far more likely to want to do research on a finished product that includes ingredients that are already trusted.

14:15 – Operating in the Information Age

So what would brands like to get out of branded ingredient suppliers? Aside from the data, Joey points to what they're doing right now — educational, entertaining content! Joey hasn't been as diligent about doing this as much as he'd want, but with PricePlow pulling it forward, we're doing our best. Chipping away at the learning curve can accelerate quality product adoption.

Dan agrees, and adds that from Ghost's side, they would selfishly love to have some of their business tactics fulfilled, such as limited distribution and first-to-market advantages. Transparency and easy-to-digest information is very helpful: clear, concise, accurate, and cited studies. Don't force someone at Ghost to go have to dig for some obscure, paywalled study you're citing!

17:15 – Ingredient Suppliers Need to Know their Mechanisms

Joey goes on the attack, telling every other ingredient supplier in the room to understand the mechanisms of what they're selling. Do not try to sell to an expert scientist like Joey if you clearly and concisely cannot explain the ingredient. Know what your product does!

Know how your ingredient works in cells
Know how your ingredient works in animals
…and if we happen to have a successful human trial that corroborates with the above data, then we have a good trademarked ingredient!

Add in safety data, and you're golden. Sadly, most companies presenting at SupplySide West do not have all of this.

18:15 – How Important is Flavoring? What if it attracts kids?

Dan goes first here, which makes sense since GHOST has single-handedly leveled up the industry in terms of flavoring and pioneering collaborative efforts. Especially with the beverage industry growing, this is the first thing people notice.

David brings up the ongoing media pressure about kids drinking many of these products, when they're not to be marketed to them.

Dan discusses the nostalgia card that GHOST has played. But there is a lot of responsibility on the brand to not market to kids. Internally, they have several guidelines to avoid that.

Dan takes it back another step, talking about protein powder and the two most popular flavors — chocolate and vanilla — two things kids obviously love.

Joey makes a point that all of the candy brands we work with have been around forever, and they're nostalgic for us.

24:00 – Ingredients that Don't Taste Well

If there are ingredients that don't taste good enough, but Dan says, if you can't make it work, you have to drop them. For instance, in the GHOST collaboration with Welch's, it simply would not work with Ghost Greens. So be it, you can't force a product that misses the mark on taste.

Other times, you can actually lean into the base (unflavored) product rather than fight it. This is what flavor houses are notoriously great at. Glaxon Super Greens works well with tea flavors, leaning into the botanicals. Chris mentions that polyphenols also can change the color, which can be good or bad, so you have to work with it.

Dan notes that culturally, everyone's gotten soft, wanting literally everything, and sometimes you need to be reasonable.

David reminds us that caffeine tastes awful. It was once not possible to flavor it well – now it's simple. Flavor houses have gotten good at getting more involved.

Joey also adds a note to ingredient suppliers – work to make your ingredient taste better, whether that's a liposome or a built-in mask or whatever it may be. However, this doesn't always work, as sometimes you can do better than the ingredient supplier themselves. Flavor houses should probably be invited to be more heavily involved in the bad-tasting ingredients.

32:00 – Immune: Kyowa Hakko's Immune Support Postbiotic Ingredient

Joey provides an excellent clip on why he uses Kyowa's Immuse in Glaxon Super Greens (linked above), explaining that it creates a more well-rounded immune response.

In terms of other ingredients from Kyowa, Joey loves how Velox leans on the discovery that citrulline is an arginase inhibitor for arginine, making them both work better together — see our article on Kyowa Quality where that's discussed. And what's there not to like about Cognizin?

Dan also gets into Setria glutathione, which they use in Ghost Glow, their skin care product – this is a daily use for him.

35:45 – Branded Ingredients in Functional Foods?

Things open up to the audience, where Mike is asked to provide a question. He asks why we don't see more branded ingredients in functional foods, and what can be done. He's standing next to Ryan Bucki of FitButters (see Episode #094), who the question is thrown back to, and he answers simply what they had learned at General Mills: nobody cares.

Dan agrees — unfortunately, most customers aren't looking for Cognizin-like effects in their protein cookies, for instance. However, functional beverage is a growing segment, even outside of energy drinks.

There's a big convenience effect to be discussed. Younger people are not interested in mixing drinks and water. It's too much work for them, as crazy as it sounds to older folks.

Joey also talks about the specific functions of supplements, and what you'd want from a food. Most people just want to eat a food that tastes good, not something that does a specific thing.

41:00 – Trojan Horsing In Healthy Ingredients

One thing we love about GHOST Energy is that it "sneaks" in a gram of L-carnitine to those who drink it, which will make many of them feel tremendous if they haven't been eating enough meat.

As Dan mentioned in Episode #116 just a couple of days earlier, they're currently selling 750 cans per minute! But how many of that 750 know the benefits of these ingredients? Probably 7, Dan says.

The drink market is expected to hit over 100 billion over the next decade, so there's going to be room for more opportunity and functional beverages. The gentlemen say thank you and close on out.
Where to Follow Everyone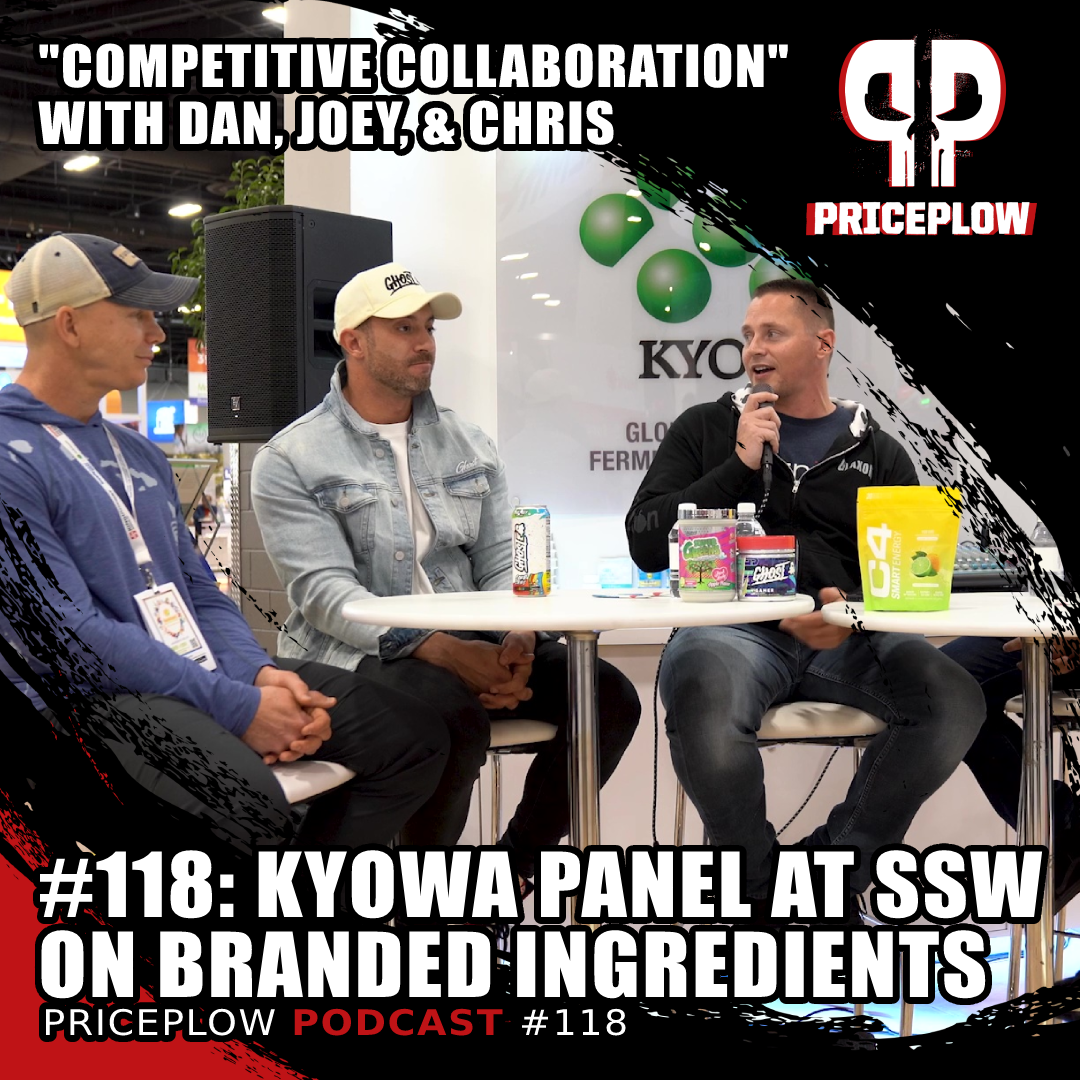 Thank you to Kyowa Hakko for allowing us to put together such a phenomenal "dream team" panel. We hope to do it again in 2024!
As always, please subscribe to the PricePlow Podcast and take the time to give us a 5-star rating on your platform of choice.
Subscribe to the PricePlow Podcast on Your Favorite Service (RSS)