Ghost Lifestyle founder and CEO Dan Lourenço is back for the fifth time on the PricePlow Podcast, in an episode that's becoming an annual tradition – a pre SupplySide West show!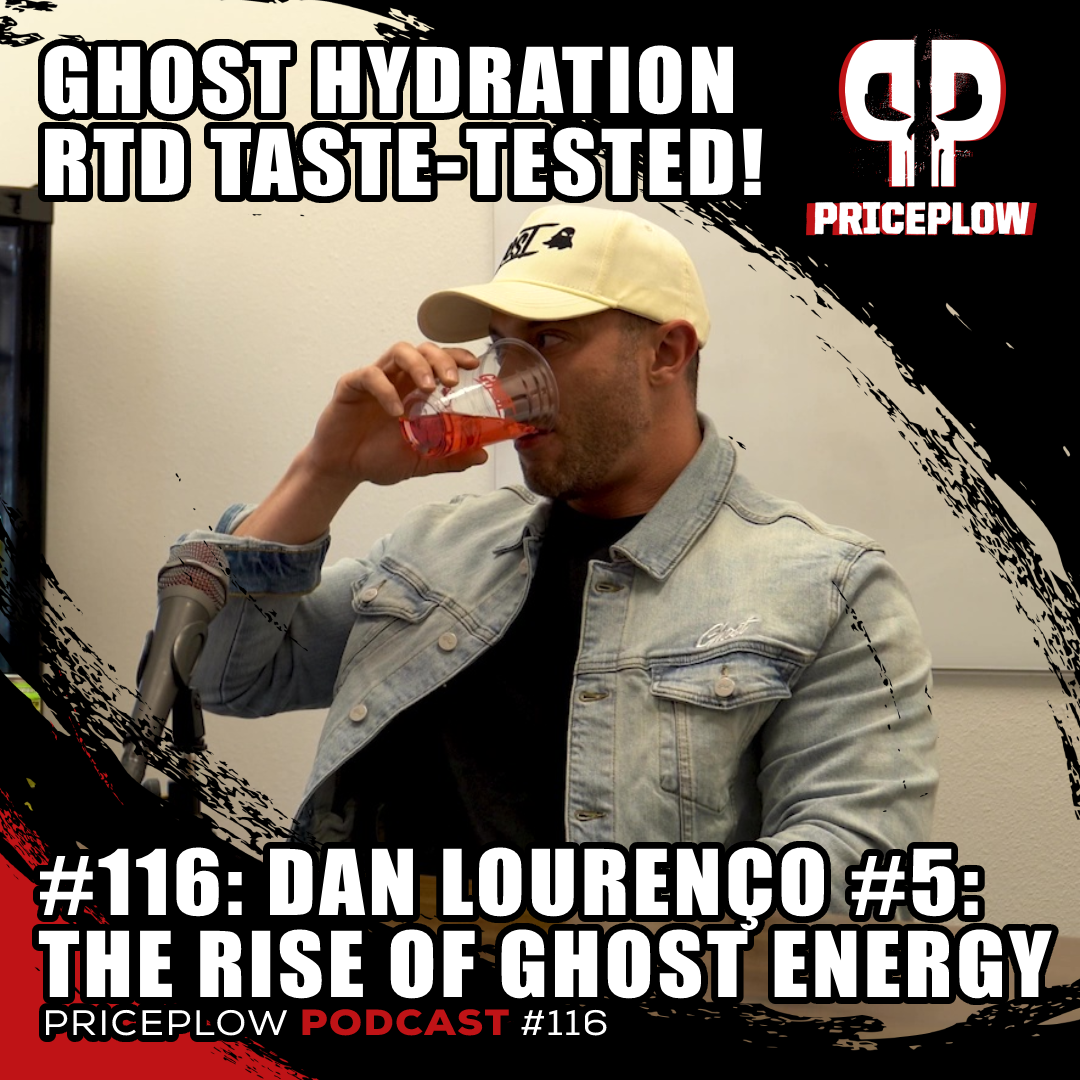 We last saw Dan in Episode #088, where he gave us Ghost's Plans for 2023 and celebrated the 2022 PricePlow Brand of the Year award.
In this episode, Dan explains what Ghost's been up to in 2023 — besides Cinnabon and Legend V3 going global, it's been all about scaling. But he's also happy to give a sneak peak of Ghost Hydration RTD, trialing out the Strawberry Kiwi flavor that's a fan favorite in the Hydration powder as well. He also teases a few other flavors.
This was also a major year for Ghost Energy Drink, which not only took advantage of the scaling, but had new marketing pushes into music festivals and sporting arenas.
As for 2024, Dan's extremely excited to state that he's very confident in a new "food item" coming to Ghost. We can't make guarantees, but when Ghost enters a new arena, they do it their way, so we're hoping for something extremely innovative. Same goes for Ghost Sleep, which is also mentioned!
Check it out below on your favorite podcast platform or check the YouTube video below:
Subscribe to the PricePlow Podcast on Your Favorite Service (RSS)
Show notes at https://blog.priceplow.com/podcast/dan-lourenco-ghost-lifestyle-116
Podcast: Play in new window | Download (Duration: 43:13 — 42.0MB)
"Back in Vegas": Show Notes with Dan Lourenço
0:00 – "Say it! Say It"

Dan needs no introduction on PricePlow at this point, so the guys jump right into it, with the famous quote "Back in Vegas!" They don't remember what they talked about last time, with Dan joking that a year in Ghost years is like ten years.

Dan is open to any and all conversation, as he says, "authenticity is undefeated".

They also bring up Episode #066, where the gang was all together for the Teenage Mutant Ninja Turtles launch, and Mike graced the Ghost YouTube channel with his yelling of "Turtle Power!" in their S8:E27 of their Building the Brand series.

Ben flashes back to that video, where he admits to clapping the fresh tubs together but not knowing what to say. Dan teases him for not watching the channel, but this is only half-true, since Mike watches nearly every episode, but isn't there to defend his honor.

1:15 – The challenges of the Ghost YouTube Channel

Dan notes that it's become hard to keep the YouTube series going – as the business grows, the team grows, and there's more to follow. Additionally, it's important not to give their competition too much information.

Ghost is deliberate in not showing just Dan and Ryan, and not just their major influencers either – they want it to feel accessible to everyone. When brands are reliant on influencers, it's not scalable and will eventually peter out.

The best sale for a brand run by an influencer — such as Maxx Chewning's Sour Strips or Christian Guzman's Alphalete — is when someone buys the product without knowing who they are. That's because they're buying it because of the product and the brand.

Similarly, Ghost shows more of the team – it's not the Dan Company or the Ryan Company, after all.

4:15 – Avoiding Pigeonholing

Dan has always looked up to the shoe industry, and doesn't want Ghost to be pigeonholed into only fitness or weightlifting. Or just powder or beverage.

That'd be like Nike telling people they can't buy their shoes if they don't play basketball. Similarly, Ghost isn't just sports nutrition.

05:30 – Ghost Apparel

Dan jokes that he and Ryan don't really go clothes shopping, especially with Ghost's apparel styles being what they like to wear, and having close partnerships with Alphalete. Dan's loving his Ghost denim jacket.

06:15 – Ghost Protein RTDs (or lack thereof?)

It's time to catch up on what happened with Ghost RTD Protein Drinks, which came out with a bang but are rarely in stock. These are in the category of "aseptic beverages", which are shelf-stable products that don't require refrigeration. They're thermally sterilized before being put into a sterile container.

Aseptic manufacturing is really tight right now in the US, especially with the bottles. There's not a lot of line time. There aren't many facilities that can recycle this material, and they're ending up in landfills.

Ghost has great partners in Ghost Energy, and their customers across the nation are asking for the Protein RTDs, but there's not enough manufacturing capacity to make it economical.

Manufacturing isn't just taken up by other RTDs — it's taken by things like creamers, almond milk, and more. Any plastic bottle that requires aseptic manufacturing is competing for line time with Ghost, and those products are made by massive conglomerates with endless budgets.

Dan's hoping to come back with a partner who can meet their needs. This seems to be an opportunity for a manufacturer to get involved in, but the lines cost something like $45 million to build, so vertical integration isn't an option either.

Ultimately, the return of Ghost Protein RTD is a goal – it was a goal for this year, but will have to continue to wait.

9:00 – The success of Ghost Energy

The irony of the success of Ghost Energy is that Dan and Ryan were never energy drink guys. And why would they be — when they came up in the industry, it was only sugar and caffeine with very little value-add.

But in 2018 and 2019, they saw that Ghost customers were buying tons of energy drinks when not buying powders. So they asked if they could make a good one. This brings Anheuser Busch in, which was also discussed in detail in Episode #066.

750 cans of Ghost Energy are sold every minute in the US.

What Dan loves about Ghost Energy is that it allows them to partner with other passions of theirs, such as music festivals they've long admired. This wasn't really possible with just pre-workout supplements. It's gone bigger than Dan could even dream of.

8.4 ounce drinks are going to be selling on premise — they're easier for tabletop and bartenders. However, Red Bull has done a great job locking down the real estate, which is hard to break through. Ghost has to make the most of the opportunities they get.

Ghost is also working on putting a modern spin on the "traditional" energy drink flavor.

Dan jokes that there is no "marketing" — they're just doing great things they would have liked when younger. As opposed to some brands who only give their apparel to elite athletes, Ghost wants everyone wearing their stuff!

17:45 – Looking at 2023 and forward to 2024

The big thing Ghost did in 2023 — it wasn't the sexiest thing ever — but they scaled Ghost Energy bigtime. They had some other great successes like the Cinnabon collab and Legend V3, but it was definitely a bit more of a quieter year than usual. But overall, the achievement wasn't innovation-driven, it was scale-driven.

Next year, though, the return will come to the focus on powder. Dan wants to scale the "ALL OUT" brand (which is currently only seen in Legend All Out), teases a Ghost Sleep, and wants to broaden the Legend V3 worldwide takeover.

19:55 – Legend V3 and Global Compliance

Legend V3 has been such a great success in places like Australia and New Zealand that they may need to manufacture over there! The global compliance achievements in the US may not even be needed if that happens — they can then get back to geographical pre-workouts. This is ironic because Legend V3 was created to suit global compliance, and was so successful that it may not be needed and Legend in America can potentially go back to America-specific ingredients!

20:45 – Ghost Hydration RTD and a Food Item for 2024!

Dan continues to tease Ghost Hydration RTD, which will attack the category like they did with Ghost Energy — with more efficacy and great flavors. That should launch sometime around January 2024.

And Dan's finally very confident that Ghost will release a food product in 2024!

Ghost has been talking about a functional food product for 8 years – why so long? Dan's said this many times — if they're going to do it, it needs to be special.

Dan mocks the "herd mindset" in the industry:

Quest gets hot, everyone wants a Quest Bar
Outright Bar gets hot, everyone wants an Outright Bar
Brownies get hot (shout-out to Ike), everyone wants a brownie

They're gonna stay out of the "moshpit" of functional foods and do what they did in Ghost Energy – innovating every facet of it. They may call it "Ghost Eats".

23:30 – Collabs: TMNT V3 Next Year?

This year, TMNT upgraded with TMNT V2, but Dan isn't so sure they'll do V3 next year. Collabs are oversaturated and he doesn't want to cheapen the experience.

A good collab has to have a "why?"

Cinnabon was great because it's authentic to Ghost's use of it (it's in many airports), they allowed it to go global, and they let Ghost use their famous cinnamon. Other protein collabs are North American only.

Dan isn't expecting tons of new collabs like everyone else, but he is very proud of the homegrown Sour Strips collab with Maxx Chewning, a Ghost family member since before the very beginning.

26:00 – Energy: FaZe Pop Expansion and the Return of Strawbango

At 7-11, FaZe Pop Ghost Energy was a top-selling SKU, so they're going to be expanding that line. Additionally, Strawbango is coming back and coming back big on a national level. To make Maxx Chewning a better part of that, they want to further the Sour Strips collab.

Both Maxx-based flavors are popular, Ghost can't just do one when they can hopefully do both.

27:30 – Ghost Hydration RTD Kiwi Strawberry: Under the Table Tasting

Dan brings out a bottle, but states that Ryan won't let him show us the label. So he pours a drink under the table. It's a sneak peak of Ghost Hydration RTD – which is now shown below!

There are five flavors launching, and while Swedish Fish is of course Dan's favorite flavor, when it comes to Hydration RTD, his personal pick is Kiwi Strawberry, and it's simply incredible. There's a "jelly" feel to it, which is exactly what Mike said later on when testing it in Vegas.

Dan tells a funny hypothetical story about the flavor system and what it reminds him of.

29:30 – GRAS Status of Some Hydration Ingredients

Can brings mention of taurine, which he loves in his hydration products and uses all the time. However, it's not GRAS (generally recognized as safe) in conventional beverages with nutrition facts panels at any decent dose, so they can't use it in Hydration RTD.

Dan doesn't want to pixie dust it (even though some would be better than none) because then they'd have to repeatedly say why it's underdosed by Ghost's standards. So there's no taurine in Hydration RTD.

Ghost's using a Nutrition Facts Panel (sold as a food) for grocery reasons and getting it into the right aisle. So this leaves taurine either underdosed or out — and Ghost is deliberate in keeping it out to do the ingredient justice.

Dan's a pilot, and likens the situation to flying upside. If you want to fly upside down, and can do it, then cool. But if you're upside down and didn't intend on that, then you obviously have a problem.

Unlike many of Ghost's competitors, they refuse to break or bend the rules.

33:30 – Living in a "More is More" Society

We're often so focused on health through additions — Dan has been learning about health through subtractive health. "I actually want to put less stuff in my body and get maximum results out of it". He's not convinced the 15 grams of citrulline is worth the extra work for the body compared to 4 grams in Legend.

The "more is more" game has never been Ghost's thing.

35:00 – Listening to customers

Ghost listens to consumers. Dan brings it all the way back to the beginning, when their initial launch wasn't 100% open formula, and he caught flak for it. So they listened, changed, and never looked back.

He gets into natural and artificial colors, and Sour Patch Kids Blue Raspberry is going to be very hard to do naturally. They then taste Orange, and it's straight up orange juice flavor, not many or any other citrus notes.

Dan also gets into non-proprietary protein blends, which is something Ghost always wanted to do when launching Ghost Whey. Jokes are of course made about the video Dan made, teasing Jim Stoppani:

39:30 – Dan's Favorite Thing of 2023

Dan's a huge fan of the When We Were Young Festival, which is held annually in Las Vegas, and this year they sponsored the main stage. They supplied a unique can (a re-branded Orange Cream Ghost Energy flavor), and he simply could never have imagined going this big.

The lesson is, brick by brick, focus on the things that make the most impact:

Your People
Your Products
Your Partners

Bringing any new people into the Ghost ecosystem, perhaps watching this podcast, is a huge win.

Dan also notes the huge tie between music and gym culture.
How to Find Dan
Dan's still off Instagram! But you can follow him and his brands at the following locations:
And as always, you can sign up for PricePlow's Ghost Lifestyle news alerts so that you never miss a drop – and there are a lot of them to cover!