Last year brought us many incredible supplement innovations, but none greater than the enfinity-powered launch of MuscleTech's iQ Series. This included three supplements — two for weight loss and one pre-workout — all powered by the smoother caffeine alternative called paraxanthine, trademarked as enfinity.
Along with a podcast featuring Raza Bashir, MuscleTech's VP of Scientific Affairs and Product Innovation, we've covered each of these products in depth:
Today we're going to focus on the bottom two — the thermogenic fat burners — both of which are available at GNC alongside MuscleTech's site directly.
Why are there two Burn iQ Fat Burners? What are the Differences?
Dieters looking for some smart weight loss support have come to the right place – the enfinity in both Burn iQ products provides a smooth, feel-good effect that's further supported by the nootropic and thermogenic ingredients in each product.
It's not a question of whether you should try Burn iQ — everyone should experience the paraxanthine alternative to caffeine — the question is which to get: pills or powder?
Besides the obvious form factor differences, there are a couple key differentiators to discuss that will help you make the right decision for yourself. They're covered below, but before we dig into the details, let's compare prices and get you signed up for MuscleTech's news alerts – they've got quite a big year planned:
MuscleTech – Deals and Price Drop Alerts
Get Price Alerts
No spam, no scams.
Disclosure: PricePlow relies on pricing from stores with which we have a business relationship. We work hard to keep pricing current, but you may find a better offer.
Posts are sponsored in part by the retailers and/or brands listed on this page.
At the time of writing this, the coupon-based prices of the products are the same, so that shouldn't weigh in on the decision. So let's get more nuanced:
Pills vs. Powder in Fat Burners: The Main Differences
Setting aside the two products' ingredient differences for a moment, let's quickly cover the pros of each form factor: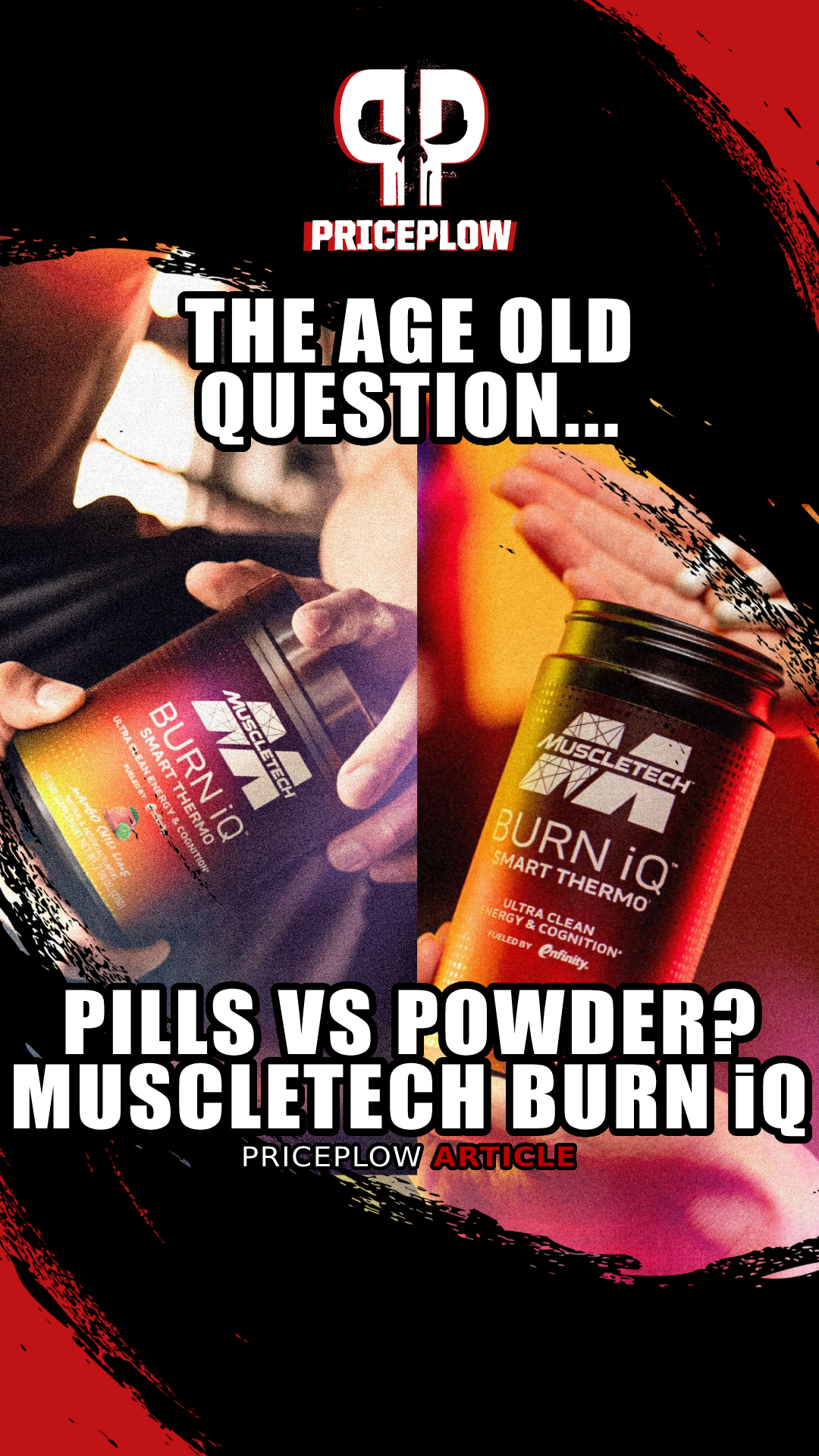 Pros of fat burning capsules
More convenient / easier to transport
No added ingredients like sweeteners, colors, flavor systems, and excipients
Slower ingredient release profile
One less shaker cup – can drink alongside your favorite non-caffeinated beverage
Pros of fat burning powders
Larger doses (this is discussed in detail in the next section)
Ability to precisely dose stimulants
Great taste and a more enjoyable experience
So if you find that you like exactly 250 milligrams of paraxanthine, you can make that happen pretty easily with the powder — but it's not so convenient to take 2.5 capsules!
The spice effect of Burn iQ Powder
Taste will definitely play a major part here. While Burn iQ Powder tastes incredible, it does have some spice to it. There are three spices inside (aXivite phenylcapsaicin, grains of paradise extract, and black pepper extract) that undoubtedly add some zing to that Sweet Heat. It's definitely not for everyone, and if you think you'd rather skip the spice, then capsules will be the way to go.
With that noted, let's get into the specifics of the ingredients:
The active ingredient differences between Burn iQ versions
First, take a look at the two labels side-by-side:
When analyzing the differences, we'll use the full doses of the products, which come from 3 capsules or 2 scoops of the powder (both yielding 300 milligrams of enfinity paraxanthine).
L-Carnitine: 2.4 grams more in the powder

L-carnitine is an important weight loss ingredient because of its role in energy production — it transports fatty acids to the mitochondria of our cells, enabling ATP (energy) production.[1] It's conditionally essential — our bodies can make it, but in times of stress (ie. dieting or training), we could almost always use more to perform optimally.

Carnitine works best for weight loss in those who are most deficient, namely vegans / vegetarians,[3-6] the elderly,[7,8] and hard-training athletes.[2]

It's a powerful ingredient — now let's take a look at the types of L-carnitine used.

The capsules use 600 milligrams of n-acetyl L-carnitine hydrochloride, a form of acetyl l-carnitine (ALCAR) that's quite useful in nootropic applications[9] since it can cross the blood-brain barrier.[10]
The powder uses 3 grams of L-carnitine L-tartrate, which works best in flavored applications, since the tartaric acid it's bound to generally improves taste.[11]

Most research is at 2 grams of carnitine per day

More important than the differences in types are the sheer dosage differences. In general, athletic-centric research has shown that 2 grams per day is the most common clinically-tested dosage of carnitine.[2] Burn iQ Powder goes well above this dose — you'll basically get 2 grams in a single heaping scoop!

Additionally, a six-month study published in 2009 showed that 2 grams of carnitine per day led to improved blood sugar response and better insulin sensitivity,[12] indicating metabolic improvements.

600 milligrams in capsules is still a significant amount

MuscleTech clearly takes carnitine seriously — the 600 milligrams they fit into three capsules actually takes up an entire capsule itself! And all is not lost — even though it's not a 2 gram dose, it still should help boost the diet, since it's more than most people eat in the first place.[13] And doses of under 600 milligrams have still had success in maintaining carnitine levels in humans[14] and have been shown to reduce signs of aging.[15]

In humans, a study using 500 milligrams of acetyl L-carnitine showed a noticeable increase in serum carnitine levels, with the maximum level occurring 3.1 hours after ingestion,[16] but it is rather variable from person to person.[17]

Animal models have also shown that even low doses of acetyl L-carnitine can prevent cognitive decline.[18]

So do you need 2 grams per day? No, especially not if you're eating red meat, which has a lot of carnitine. But is the 3 gram dose in Burn iQ Powder better for dieters? Certainly.

L-Tyrosine: Only in powder

While care was taken to keep some carnitine in the capsules, this couldn't be done for the next two ingredients – L-tyrosine and taurine.

Burn iQ Powder has 1.5 grams of L-Tyrosine in two scoops. This is an amino acid found in neural tissue that leads to dopamine and adrenaline production, supporting mood, focus, and stress resistance.[19] We love its nootropic properties,[20,21] which fits in well with this smart supplement series. Especially with its research supporting cognition in times of sleep deprivation.[22-24]

However, what's often understated is the connection between tyrosine and thyroid health. The thyroid is critical for both exercise performance[25] and recovery,[26] and hard training can sometimes interfere with the production of thyroid hormones.[27]

However, tyrosine is a precursor to thyroid hormones – it's needed to make both namely triiodothyronine (T3) and thyroxine (T4).[28] Animal studies have shown that tyrosine deficiency leads to poor thyroid hormone production,[29] so this is a great ingredient to have.

Is it necessary to have? Generally no. But it's certainly a nice ingredient — especially in times of poor sleep.

Taurine: Only in powder

Another ingredient that generally requires scoop-sized doses is taurine, which is dosed at 1 gram in two scoops of Burn iQ Powder. Taurine is a sulfur-based ingredient with a plethora of health benefits, and while it's also conditionally essential like carnitine, many researchers indeed call it essential.[30]

In workout settings, we often talk about taurine's ability to act as a hydrating osmolyte,[31] its incredible effects on endurance (even with a single use at this dose),[32] its role in muscle signaling,[33] its nootropic potential,[34,35] and its mitochondria-supporting antioxidant status.[36-38]

But for weight loss applications, you should also know that taurine can increase the body's BAT-to-WAT ratio[39] — the amount of metabolically-active brown adipose tissue as opposed to white adipose tissue that's used for storage. In fact, while allowing new brown adipose tissues to form, taurine can prevent new white adipose tissue from growing![40,41]

This is very useful, because brown adipose tissue burns through fatty acids and glucose by expending heat – the whole idea with Burn iQ!

As for the dose in the powder, you get 1 gram in two scoops, which has been shown to be effective for endurance in a meta-analysis published in 2018.[32]

Green coffee bean extract: higher dose in the capsules

Now it's time for a few ingredients where the capsules take the edge.

With MuscleTech's, caffeine-free green coffee bean extract, you get well-documented anti-inflammatory, anti-obesity, anti-diabetic, and antioxidant properties[42] that can help the body metabolize both glucose and fatty acids[43] while inhibiting the creation of new adipose cells.[42]

Good news for the capsules – rather than try to add insignificant doses of above ingredients like tyrosine and taurine, MuscleTech opted to put 600 milligrams in the capsules as opposed to the 400 milligrams in the powder!

aXivite phenylcapsaicin – higher dose in the capsules

If you're looking for heat, the capsules have twice the dose of aXivite phenylcapsaicin — 60 milligrams in 3 capsules versus 30 milligrams in two scoops of the powder.

Phenylcapsaicin is a derivative of capsaicin, which you may know as the potent constituent of chili peppers. A phenyl group has been added to the molecule to stabilize it, leading to more consistent results — but according to research, it did not interfere with capsaicin's action.[44]

That research showed that low-dose phenylcapsaicin improved gut health while helping subjects lose more fat and waist circumference than placebo.[44]

In the capsules, you get twice as much, for far more burn – but without having to taste it!

Grains of paradise – higher dose in the powder

Back to the powder, the famed grains of paradise extract comes in 30 milligrams in three capsules, but 40 milligrams in two scoops of powder! A spice trade-off compared to the aXivite dosing, if you will.

Grains of Paradise is an ancient spice known as Aframomum Melegueta that's been clinically shown to increase energy expenditure and improve body composition. Its constituents — especially 6-paradol — increase caloric expenditure by burning extra calories and expending them as heat.

There are two human clinical trials on grains of paradise, one at 40 milligrams (where significant metabolic rate improvements were seen within 30 minutes and lasted over 2 hours)[45] and the other at 30 milligrams (where women showed decreased abdominal visceral fat and burnt 100 more calories per day compared to placebo through 4 weeks).[46]

The good news is that both products have at least one study to match – but for the capsules, you'll need to get all three caps in to hit that 30 milligram dose.

Forskolin: Higher dose in the powder

Additionally, the Burn iQ Powder has 50 milligrams more coleus extract (standardized for 10% forskolin) — 200 milligrams in two scoops compared to 150 milligrams in three capsules.

This relative of mint has been shown to activate cAMP, boosting cellular energy and increasing the metabolic rate.[47] It's able to suppress appetite[48,49] and can help improve body composition, lipid profile, and insulin sensitivity compared to placebo in users on caloric restriction.[50]

Quite honestly, these are both sizable doses — we often just see 50 milligrams total.

Black pepper extract – not in the capsules

Interestingly, we have black pepper extract in the powder, but not the capsules! A rather large (and unique) 10.5 milligram dose, standardized for 95% piperine, leaves us with just a hair under 10 milligrams of piperine.

This is useful because piperine is an antioxidant[51] that can increase the bioavailability of other ingredients taken alongside it.[52] It works by inhibiting stomach enzymes that break down ingredients in the intestine,[53] which is sometimes too soon for the biological effects we desire.

But there are also fat loss effects – it can increase GLUT4 expression, which allows muscle cells to take up more glucose from the bloodstream.[54] This can lead to improved insulin sensitivity and metabolic health.

Further, piperine can assist in the removal of liver fat.[55] Finally, it can synergize with grains of paradise extract to boost energy expenditure through non-shivering thermogenesis.[56]

Most brands just use black pepper extract as an ingredient absorption agent, but it's obviously far more than that!

Huperzine A – higher dose in the capsules

The capsules have triple the dose of huperzine A — 30 milligrams vs. 10 milligrams — which is an acetylcholinesterase inhibitor,[57] meaning it can interfere with the breakdown of acetylcholine. This ultimately means higher acetylcholine levels, which is helpful for learning, memory, and coordination.[58,59]

This puts a bit more smart in this smart supplement series, as it can support mitochondria in the neurons[60] and even assist with new neuron growth![61]

More vitamins in the capsules

Finally, it's worth noting that the Burn iQ Capsules have a few more vitamins:

0.9mg (75% DV) Thiamin in the capsules, none in the powder
0.96mg (74% DV) Riboflavin in the capsules, none in the powder
7.2mg (45% DV) Niacinamide in the capsules, none in the powder
1.27mg (75% DV) Vitamin B6 in the capsules, 1.7mg (100% DV) in the powder
7.2mcg (300% DV) Vitamin B12 in the capsules, 2.4mcg (100% DV) in the powder

So as you can see, it's not so cut and dry – and the powder doesn't always have more. In general, it's going to come down to preferred form factor and whether you like drinking a little bit of flavored spice.
Another thing to consider is your diet — if you eat a diet high in muscle meat, chances are you're doing great on carnitine and taurine and don't necessarily need the powder as much as a vegan, vegetarian, or low meat eater would.
One final consideration: the effects of inactive ingredients
Finally, one last comment on the powder that we leave for the bottom since it's not really substantiated by hard science. In general, the more added inactive ingredients you ingest, the more work it forces the liver to do. We believe this may temporarily and ever-so-slightly reduce the metabolic organ's ability to do other things, like metabolize food and burn liver fat.
For instance, the tiny amount of beta-carotene that's used in Burn iQ Powder as a color agent is processed by the liver to form retinal and subsequently retinol,[62] or vitamin A — which is a fat soluble vitamin, after all.[63]
Splitting hairs? Absolutely. But something to consider – if you're a "minimalist" kind of person, you may appreciate fewer inactive ingredients in the capsules.
All Variations for Sale:
If any new flavors are added, they'll be listed below:
Conclusion: There's no wrong decision with Burn iQ
Ultimately, dieters are going to be pleased regardless – MuscleTech is the first supplement brand to use enfinity paraxanthine, and it's the real deal. If you're tired of the excessive effects of caffeine, but still want some stimulation, then this is where you can go.
To learn more about it, and the products inside, listen to our podcast with MuscleTech's Raza Bashir or read any of our three MuscleTech iQ Series articles:
Good luck with your decision, and enjoy the smart shredding.
MuscleTech – Deals and Price Drop Alerts
Get Price Alerts
No spam, no scams.
Disclosure: PricePlow relies on pricing from stores with which we have a business relationship. We work hard to keep pricing current, but you may find a better offer.
Posts are sponsored in part by the retailers and/or brands listed on this page.