Natural bodybuilder Doug Miller founded Core Nutritionals in 2005. What pushed him into action was his realization that meal replacement proteins of the time were woefully inadequate, and Core MRP was born.
Since those simple beginnings, Core Nutritionals has become an unstoppable juggernaut of a supplement brand.
A quick look at Core's site shows that they sell dozens upon dozens of products. What sets them apart from most other brands is consistency. Core pretty much never puts out a dud. Everything from them is solid, especially recent releases like Core PEAK (stimulant-free nitric oxide pump capsules) and the Moose Tracks Core PUDD'N collaboration.
One category they've needed to revisit is weight loss.
Core Nutritionals BURN: Four New Flavors, Slightly Updated Formula
Today we'll talk about the updated Core Nutritionals BURN formula, which is a weight loss powder drink mix designed to maximize fat burning. Each scoop contains 200 milligrams of caffeine.
This is a type of product that needs no introduction. Fat loss is possibly the most common goal shared by supplement consumers, and we all know why: greater insulin sensitivity, less cardiovascular strain, increased life expectancy, and better athletic performance, to name a few reasons.
Updated with fucoxanthin
In late March of 2023, Core Burn was updated with four new flavors (highlighted in yellow below) and added Laminaria japonica for its potent fat-burning fucoxanthin content.
Let's get into how Core Burn works, but first, check the PricePlow news and deals on Core Nutritionals supplements:
Core Nutritionals Burn – Deals and Price Drop Alerts
Get Price Alerts
No spam, no scams.
Disclosure: PricePlow relies on pricing from stores with which we have a business relationship. We work hard to keep pricing current, but you may find a better offer.
Posts are sponsored in part by the retailers and/or brands listed on this page.
This area is reserved for Team PricePlow's upcoming videos.
Subscribe to our channel and sign up for notifications so you catch it when it goes live!
Core Burn Ingredients
In a single 1-scoop (4.1 gram) serving of BURN powder from Core Nutritionals, you get the following:
N-Acetyl-L-Carnitine HCl – 500 mg

Carnitine can speed up metabolism and improve blood sugar control, insulin sensitivity, and post-workout recovery[1,2] – all of which are crucial for achieving and maintaining lean body composition.

Carnitine's primary mechanism of action is shuttling energy substrates like glucose and fatty acids into cells, where mitochondria burn them for energy. This increases fat burning, improves glucose disposal, and ultimately provides more energy for workouts and recovery.[3,4]

Related to this is carnitine's ability to convert white adipose tissue (WAT), which is metabolically inactive and burns few calories, into brown adipose tissue (BAT), which is rich in mitochondria that burn calories through non-shivering thermogenesis.[5] In fact, one study concluded that carnitine is necessary for maintaining the body's BAT![5]

Carnitine can also improve blood flow to affected muscle tissue, leading to improved oxygen delivery and faster removal of metabolic wastes.[6]

The upshot of all this is that carnitine has can increase muscle mass while decreasing body weight, leading researchers to suggest that it could be useful in preventing age-related muscle loss.[6]

ALCAR's special nootropic benefits

Acetyl L-carnitine (ALCAR) has long been used as a nootropic, thanks to its ability to protect and stimulate the growth of new structures in the brain, as well as enhance mood.[7]

These effects can be explained partly by the energy substrate transport effect we discussed earlier. Increasing cellular energy production[8] is an effect that benefits virtually every cell in the body, including neurons!

When it comes to the brain, ALCAR has an advantage over other forms of carnitine in that it can cross the blood-brain barrier (BBB) and have a more direct effect on the central nervous system.[9,10] In animals, ALCAR has been observed to promote synaptic plasticity in the brain, thus facilitating learning.[11]

In one human study, men and women over the age of 65 with mild cognitive impairment showed significant improvement on cognitive tests after taking ALCAR supplements.[12]

One of the most significant benefits of ALCAR is its ability to protect the brain from damage by decreasing oxidative stress, maintaining DNA integrity, and reducing lipid peroxidation in brain tissue.[13] These neuroprotective effects make ALCAR a promising supplement for preventing and treating diseases that affect the central nervous system.

Furthermore, one meta-analysis revealed that the benefits of ALCAR supplementation increase over time, suggesting that prolonged use of the supplement can yield even better results.[14]

Nootropic support is always a good thing to see in a fat-burning formula, because the behaviors that create weight loss – dieting and exercise – can cause brain fog. Keeping your mind sharp is a great way to maximize your chances of body recomposition success!

KSM-66 Full-Spectrum Ashwagandha Extract (Withania somnifera) (root) (5% withanolides) – 300 mg

Ashwagandha is an evergreen shrub that's been used for centuries in folk medicine systems all over the globe. It falls into a category of supplements called adaptogens, which are so named because they normalize metabolic and/or hormonal processes in the body, thus helping it adapt to a variety of environmental conditions. For example, if your cortisol is too low (this does happen!), ashwagandha can raise it. At the same time, if your cortisol is too high, ashwagandha can lower it.

This versatility makes adaptogens a powerful tool for health and performance. Tons of research attests to ashwagandha's ability to help manage mental and physical stress in humans.[15-18]

Ashwagandha works by improving the function of the hypothalamic-pituitary axis (HPA),[15] the hormone production pathway that's tasked with producing stress and adrenal hormones.[15] Because of its impact on the HPA, ashwagandha not only helps keep cortisol in proper equilibrium – it can also boost testosterone levels in men,[15] which may ultimately have a fat-burning effect.

Double-blind, randomized, placebo-controlled studies have found that people in stressful circumstances who take ashwagandha actually feel significantly less stress.[16-18]

One knock-on effect of this anti-stress effect is ashwagandha's ability to improve sleep quality,[19] which is crucial for exercise recovery and achieving optimal body composition.

How ashwagandha fights obesity

Ashwagandha also helps brown body fat – that is, it converts metabolically inactive white adipose tissue (WAT) into mitochondria-packed brown adipose tissue (BAT), which ultimately increases the number of calories you burn in a day.

It both increases mitochondrial activity in existing BAT and helps adipocytes differentiate into beige cells, thus helping your body make more brown fat in the long run.[20]

Garcinia cambogia Extract (fruit rind) (60% hydroxycitric acid) – 250 mg

Garcinia cambogia extract is still kind of a new kid on the block, but is definitely growing in popularity with supplement formulators. It's standardized for hydroxycitric acid (HCA), a derivative of citric acid with pro-metabolic effects.

Garcinia research is still pretty much in its infancy, but what little research does exist is quite encouraging. One South African study found that Garcinia supplementation can suppress appetite, increase fat burning, and decrease lipogenesis — the body's process of endogenous fat production.[21]

Garcinia can also increase insulin sensitivity, which can help improve blood sugar control and postprandial satiety.[21]

As is often the case with fat-burning compounds, HCA's benefits go way beyond weight loss: It has also been identified as an anti-inflammatory, anti-carcinogenic, and anti-diabetic agent.[21] It may also reduce blood triglycerides, boost acetylcholine levels, and protect the liver.[21]

One thing to note here is that we've got 60% HCA by weight – this is slightly better than the 50% standardization we see in most Garcinia extracts!

Green Coffee Extract (Coffea arabica) (bean) (50% chlorogenic acid) – 250 mg

Green coffee bean extract (GCE), which is derived from raw, unroasted coffee beans, is standardized for chlorogenic acid (CGA), a polyphenol that has numerous health benefits.[22] CGA has anti-inflammatory, anti-obesity, anti-diabetic, anti-carcinogenic, and antioxidant properties, and it can improve the metabolism of both lipids and glucose.[22]

A meta-analysis published in the peer-reviewed journal Gastroenterology Research and Practice found that GCE can suppress fat and cholesterol synthesis while also increasing the rate at which fat and cholesterol are oxidized by the body. The same study also found that GCE reduces intestinal absorption of glucose and accumulation of fat in the liver.[22]

Another study published in the journal Phytotherapy Research found that CGA can mobilize free fatty acids stored in body fat, which makes them available for use by the body – even without co-administered caffeine. This suggests that GCE may be beneficial for fat loss.[23]

A 2019 meta-analysis concluded that existing research literature "support[s] the use of GCE supplementation for the improvement of obesity indices"[24] However, be aware that the studies reviewed found benefit only after four weeks of GCE supplementation. So, plan to take Core Burn for at least that long.

Cocoa Extract (Theobroma cacao) (seed) (20% theobromine) – 200 mg

Cocoa extracts are usually standardized for theobromine, a particularly beneficial methylxanthine alkaloid that naturally occurs in cocoa.

Theobromine can decrease hunger, improve energy levels, enhance mood, and stimulate thermogenesis.[25,26] Its mechanism of action is similar to caffeine's: it's dopaminergic and, by inhibiting the action of adenosine, it can improve alertness and motivation.[25]

It also, much like caffeine, inhibits phosphodiesterase, an enzyme responsible for breaking down cyclic adenosine monophosphate (cAMP). This naturally increases cAMP levels, which is good for fat loss since cAMP can increase metabolism by telling cells to burn more calories for energy.[28,29]

Upregulation of cAMP leads to upregulated peroxisome proliferator-activated receptor-γ coactivator (PGC-1α),[30] one of the genes responsible for converting white adipose tissue (WAT) into brown adipose tissue (BAT), which is why theobromine is considered a thermogenic compound.[31]

Theobroma cacao contains other polyphenols and alkaloids with anti-inflammatory, cardioprotective, and antioxidant effects.[25,26]

Caffeine anhydrous – 150 mg (of 200 mg total caffeine)

Caffeine is a methylxanthine stimulant capable of crossing the brain-blood barrier. Its ability to directly affect neuron function gives it a powerful ability to improve mood, fatigue, and mental and athletic performance.[32,33]

As we touched on in the theobromine section, caffeine's anti-fatigue effects come primarily from its ability to antagonize adenosine,[34] a nucleotide byproduct of ATP hydrolysis that builds up in the brain during wakefulness and creates feelings of mental fatigue.

It's safe to say that virtually everyone reading this article has personally experienced caffeine's anti-fatigue effects, but fewer people know that caffeine can literally give you more energy, by increasing cellular metabolism.

It does this – again – by upregulating cAMP through phosphodiesterase inhibition, as we discussed in the theobromine section.[35,36]

More cAMP means more calories burned in a day,[37] and caffeine is especially good at increasing fat burning. Ine study found that a 6 mg/kg caffeine dose can increase the body's rate of fat burning by an impressive 50%.[38] For most people, that translates to a 200-300 milligram dose, which is good news since the total caffeine content of Core Burn is 200 milligrams (when you factor in the time-released zumXR caffeine, which we'll discuss below).

Increased fat burning is an obvious benefit, but caffeine can also aid weight loss, thanks to ergogenic properties that make it capable of improving strength, speed, and athletic endurance.[39] All of this can help you burn more calories in the gym.

Finally, we like caffeine in fat burner formulas for its nootropic effects. Besides its anti-fatigue mechanism, caffeine can also increase attentiveness,[40,41] alertness,[41] reaction times,[40] and working memory.[42]

We find that cognitive support is a great addition to fat burner formulas, since it helps mitigate the brain fog that diet and exercise causes for many people.

Note: the total caffeine content of Core Burn is 200 milligrams.

Bacopa monnieri Extract (whole plant) (50% bacosides) – 100 mg

Bacopa monnieri is a well-known adaptogenic herb that has been used for centuries in traditional folk medicine, perhaps most notably in Ayurvedic medicine.

It's known to upregulate several critical neurotransmitters, including dopamine, serotonin, acetylcholine, and GABA,[43,44] an effect that's driven by bacosides inside Bacopa. These bacosides — a special kind of saponin — are not only renowned for their adaptogenic effects, they can also help regenerate synapses and repair injured neurons.[44,45]

Bacopa can provide many cognitive and mental benefits, including:

Reduced stress and cortisol levels[46,47]
Improved memory and cognition[48]
Anxiety relief[49-53]
Better learning capabilities[43,54-58]
Protection from neurodegeneration[59,60]

These effects are highly beneficial in and of themselves, but are particularly helpful when delivered by a supplement formulated for people who are trying to lose weight through caloric restriction and increased activity. Both of these behaviors can, particularly in combination, at least mildly interfere with normal cognitive function. Nootropics like Bacopa can help offset these effects.

How Bacopa can accelerate weight loss: the cortisol connection

When it comes to weight loss, the focus should be on cortisol. Chronic cortisol levels can lead to dire health effects, including higher blood glucose levels,[61] increased abdominal fat and difficulty losing fat,[62] lower muscle mass and strength,[63] and uncontrolled appetite.[64]

By helping keep cortisol under control and reducing stress levels,[46,47] Bacopa can make weight loss easier, or discourage unwanted fat gain.

Züm-XR XR Caffeine – 70 mg (provides 50 mg of 200 mg caffeine)

Züm-XR is a time-released form of caffeine, and the extra "XR" here means that it's an extended release form. It gives you all the benefits of caffeine that we discussed in the caffeine anhydrous section of this article.

The reason we see caffeine anhydrous combined with something like züm-XR is that although the former is a fast-acting caffeine source, and can thus provide an immediate boost in productivity, it comes with one big potential downside: after it wears off, caffeine withdrawals and a sudden energy crash usually follow.

To prevent this from happening, Core has combined anhydrous caffeine with zümXR, which, being time-released, is absorbed into the bloodstream more gradually than the anhydrous stuff.

Thus, the slow-release effect of zümXR helps to smooth out the caffeine energy curve by adding some caffeine into your bloodstream while the liver eliminates anhydrous, thus mitigating any negative effects of caffeine withdrawal.

Again, the total caffeine content of Core Burn is 200 milligrams. Most users can handle this, but start at half of a scoop if you're unsure.

Laminaria japonica Extract (whole plant) (10% Fucoxanthin) – 50 mg

A newcomer in the 2023 version of Core BURN that replaces yerba mate, we have some Laminaria japonica extract providing us with 5 milligrams of fucoxanthin per scoop. This is actually a seaweed, and fucoxanthin gives it its brown-hued color.[65] It is metabolized into fucoxanthinal, which is then absorbed alongside fatty acids like fat-soluble vitamins are.[66] This is where it gets to work:

Boost GLUT4 activity[67] (shuttling of carbohydrates into cells)
Increase AMPK phosphorylation[68] (AMPK is the "we need energy now" enzyme)
Reduce triglyceride levels in blood[69]
Boost adiponectin levels in circulation[70] (Adiponectin is a hormone that controls fat burning)

In 2009, a study was published showing fucoxanthin's incredible effects on white adipose tissue.[67] It is able to boost mRNA expression of of ꞵ3-adrenergic receptors and uncoupling protein-1 (UCP-1), two mechanisms that allow for more fat burning to occur.

Another animal study showed that this effect was able to suppress weight gain and white adipose tissue formation – more fatty acid oxidation and thermogenesis was seen.[71]

For humans, a double-blind, placebo-controlled study on 151 obese individuals (113 had NAFLD, non-alcoholic fatty liver disease) was conducted in 2010.[72] The treatment group received just 2.4 milligrams of fucoxanthin each day for 16 weeks. After the study, the fucoxanthin users had significantly reduced body fat, body weight, liver fat, and triglycerides. It worked in users both with and without NAFLD.[72]

Core has twice as much as the dose used in the study – 5 milligrams worth. A very solid dose, but it's been shown to be without adverse effects.[73] Great update here by Doug Miller and his team.

Saffron Extract (stigma) (Crocus sativus L.) (SaffSerene) – 15 mg

As we've been hinting throughout this article, the name of the fat loss game is eating less – and that's what SaffSerene saffron extract is here to help you do.

According to a randomized, double-blind, placebo-controlled study from 2017, people who took saffron extract spontaneously ate less and lost significantly more weight than the placebo group.[74]

According to another study that actually analyzed bloodwork from its animal subjects, saffron extract's mechanism of action is upregulating leptin, a hormone that the body uses to suppress hunger.[75]

Very underrated ingredient — we've also seen it in Core Nutritionals' stimulant-based fat burning capsule product, Core BLAZE.
Core Burn Flavors Available
You may see a good number of flavors listed below. The four new flavors released in 2023 are highlighted in yellow — Apple Guava, Australian Gummy Snakes, Sour Candy, and Watermelon Grape. Other flavors below are sticking around, but some retailers may have the older formula (which is very similar, but not exactly the same as above).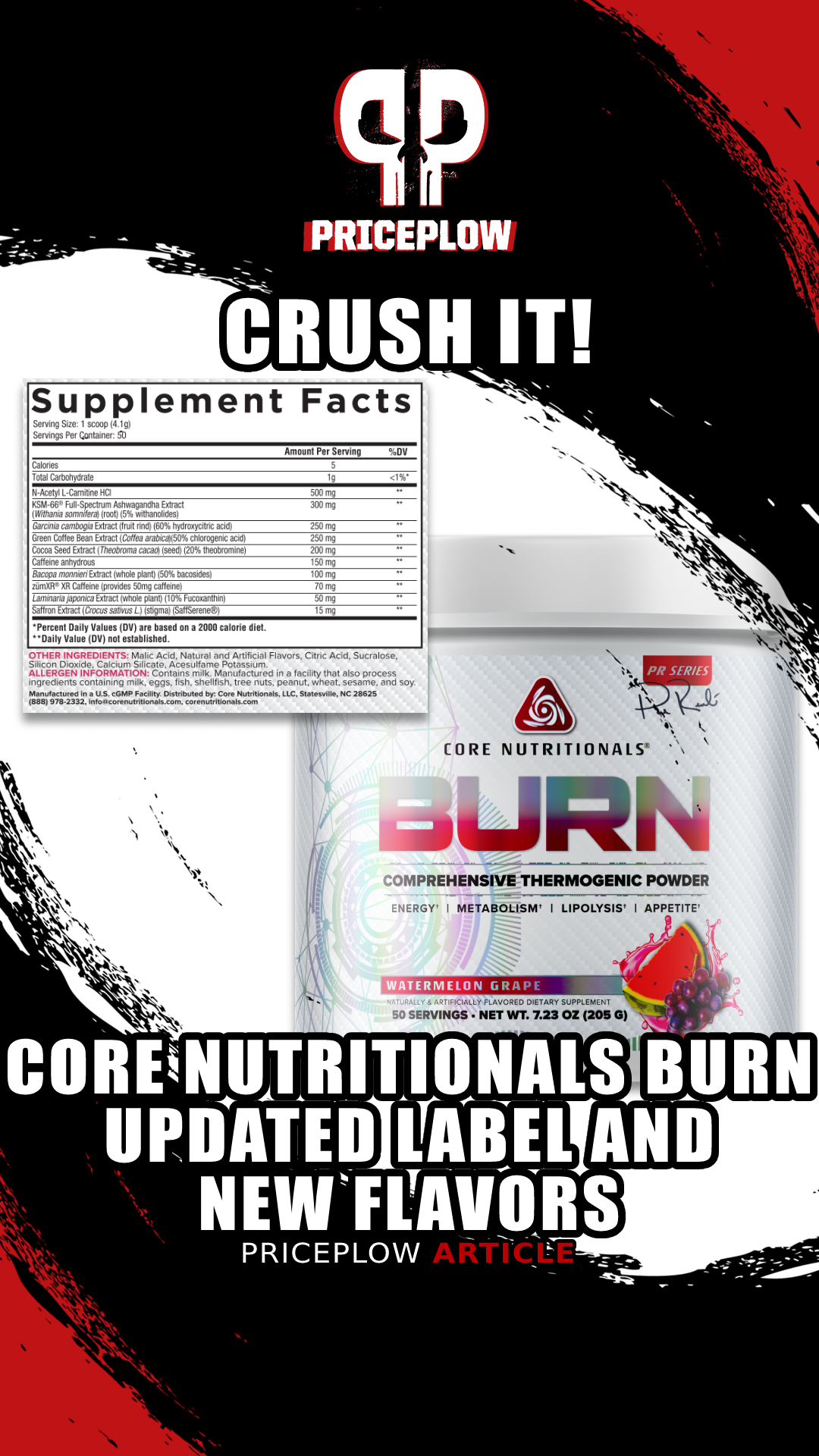 Core Burn is part of Core's "PR Series", which is for bodybuilder Paul Revelia, a famed bodybuilding YouTube education sensation.
Stacking ideas
Core BURN has a ton of fat burning bases covered, and we're confident that it will support a healthy diet and no additional "fat burners" are needed, provided you eat enough meat to get some more carnitine in.
But how about more workout support? For that, CORE has two incredible stimulant-free options, both pictured above: Core PEAK (pills) and/or Core PUMP (powder). Both can be used alongside Core BURN for an epic workout!
Conclusion: Core BURN Tightens it Up
The basic strategies behind Core Burn's ingredient selection are to provide energy, increase the formation and activity of brown adipose tissue (BAT), and control cortisol. This new version launched in 2023 has a great new ingredient added in fucoxanthin that doubles down on the product's WAT-burning power.
Ashwagandha and Bacopa are big-time anti-stress ingredients, which is something that sets Core Burn apart from the standard fare in its product category.
Another thing that's unique about this formula is the use of a dedicated appetite suppressant in the form of saffron extract. Leptin upregulation is an obvious approach to creating an anti-obesity supplement, yet we've rarely encountered this in most of the fat burners we've written about.
In our view, the overall 200-milligram caffeine dose is reasonable. There's no need to throw 300 or 400 milligrams of caffeine into a fat burner formula – particularly when the vast majority of adults are more or less compulsively drinking some type of caffeinated beverage on a daily basis. The 200 milligrams here definitely helps, but is unlikely to push a veteran caffeine consumer into uncomfortable territory.
At the end of the day, we think WAT-to-BAT conversion is the ticket to big-time weight loss, which is why we're glad to see a formula with BAT activators like carnitine, ashwagandha, and cocoa extract.
Core Nutritionals Burn – Deals and Price Drop Alerts
Get Price Alerts
No spam, no scams.
Disclosure: PricePlow relies on pricing from stores with which we have a business relationship. We work hard to keep pricing current, but you may find a better offer.
Posts are sponsored in part by the retailers and/or brands listed on this page.