On February 17, 2023, Core Nutritionals Founder and CEO Doug Miller took to the Instagram airwaves to drop this bombshell news:
Moose Tracks PUDD'N Collab with Core Nutritionals!
That's right – Core Nutritionals has announced their first-ever collaborative flavor effort, and they're doing it in a big way with the famous Moose Tracks ice cream!
Moose Tracks is a branded ice cream flavor owned and licensed by Denali Flavors Inc. The original Moose Tracks Ice Cream is a vanilla ice cream with Reese's Peanut Butter Cups and the company's famous Moose Tracks fudge, but it also comes in a chocolate variation as well.
And the good news is that Core Nutritionals will have both flavors – but it won't be in their ordinary protein powder…
Original and Chocolate Moose Tracks Core PUDD'N Flavors
Making a great idea into a phenomenal idea, the duo of companies are putting the collaborative flavors — Chocolate Moose Tracks and Original Moose Tracks — in the Core PUDD'N protein sludge! PUDD'N is a protein powder that's built to be used with a low amount of water, making an extremely thick and rich protein dessert that's meant to be eaten with a spoon.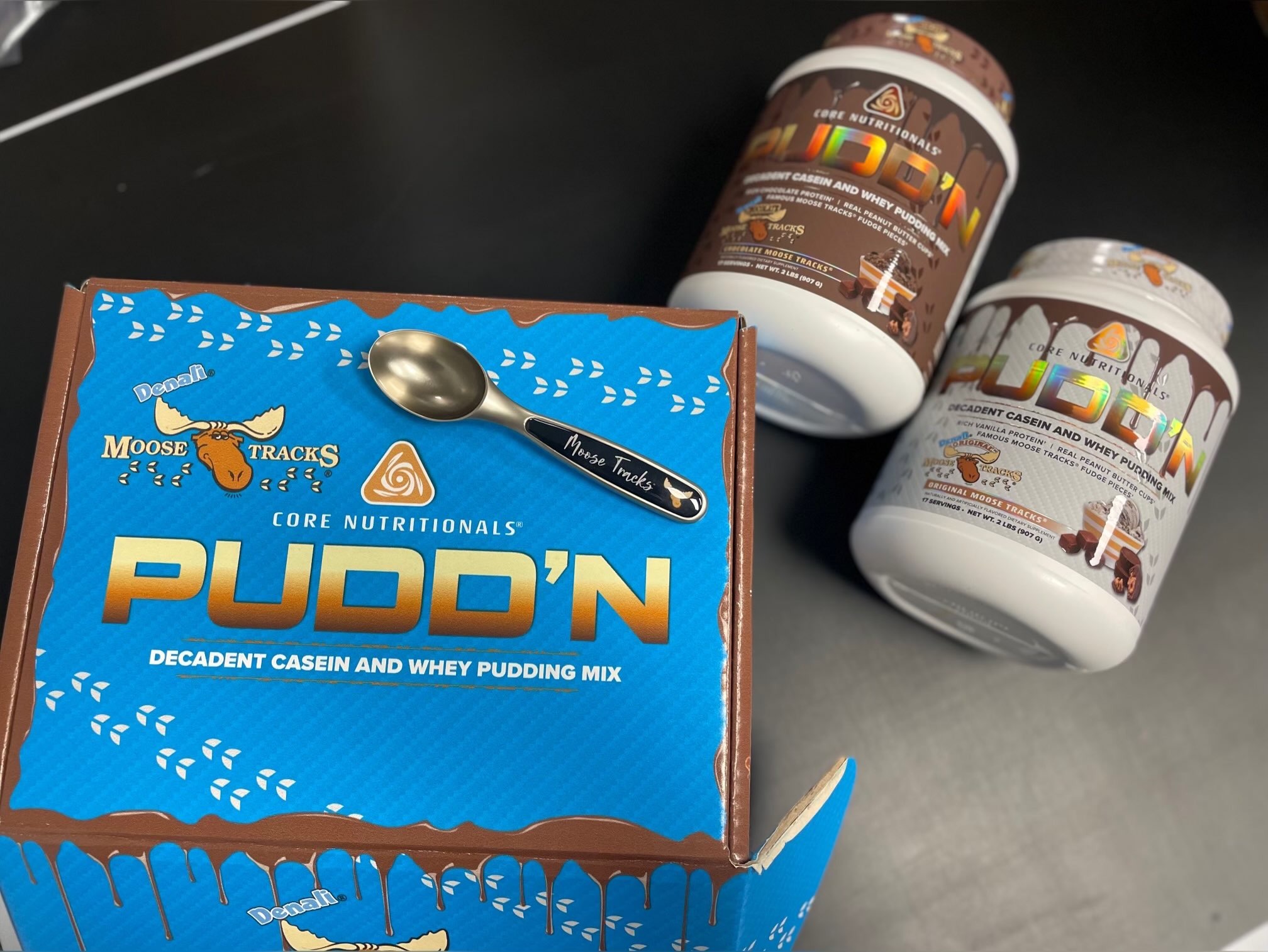 And if you can control yourself enough to put these Moose Tracks flavors into the freezer for a few minutes after mixing them up, you'll get a high-protein ice cream dessert unlike anything you've ever had.
The word is that these are insanely delicious. They're available starting March 3, 2023 — an Arnold Sports Festival launch — but you won't have to be in Ohio to get them. All sales that are live at the Arnold will also be live on Core Nutritionals' website, and will be shown in PricePlow's coupon-powered price comparisons lower on this page.
All Core PUDD'N Flavors
If this is your first time reading about Core PUDD'N, see the other incredible flavors available:
This stuff is undoubtedly the real deal. Lower on this page, there are some videos associated with the product, and one of them is when we visited Crush It HQ to taste everything they had coming. That included PUDD'N, which turned out to be one of the most delicious releases of the year!
Meanwhile, there have been some Easter Eggs for you on this launch…
So that's what this moose has been doing in Core's videos!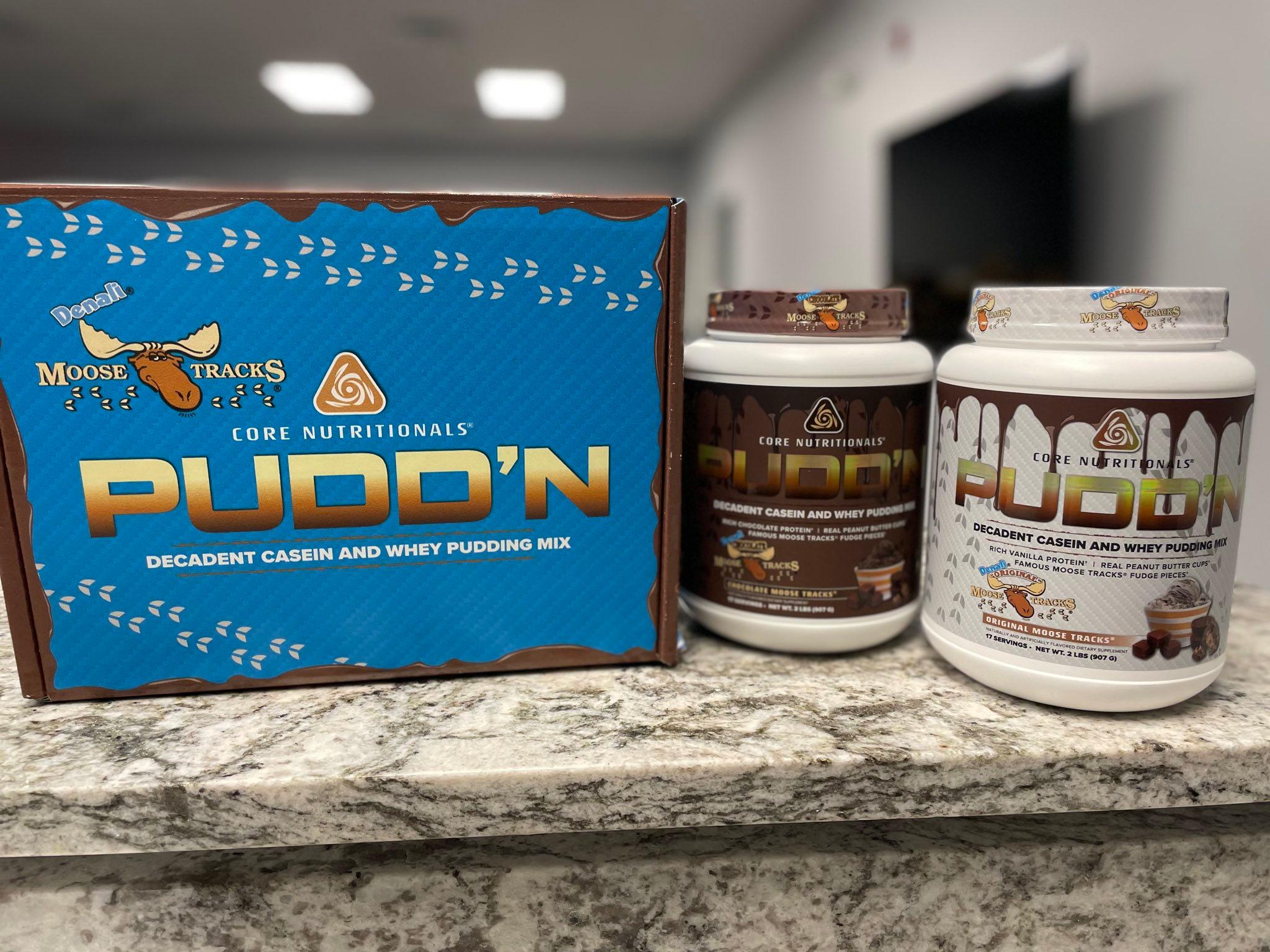 Fans of CORE Nutritionals may have noticed that a Moose has been lingering around in a few of their videos. They've actually been teasing this for a while, as you can see on these Instagram posts here, here, here, here, and here. But the best showing of all may be this one (or from the blooper reel here)… no further comment required.
You can read more on our official Core Nutritionals PUDD'N article, and sign up for alerts below so that you don't miss a release!
Core Nutritionals PUDD'N – Deals and Price Drop Alerts
Get Price Alerts
No spam, no scams.
Disclosure: PricePlow relies on pricing from stores with which we have a business relationship. We work hard to keep pricing current, but you may find a better offer.
Posts are sponsored in part by the retailers and/or brands listed on this page.