PricePlow is a company of patriots, so of course we love 'Merica Labz for doing everything with an unapologetically American flair.
This means going big, taking things to the limits, and testing the boundaries of supplement convention in the finest tradition of American innovation.
Today we're going to talk about Castle Bravo, named after the largest thermonuclear bomb ever detonated. Now that's how you set the tone.
Castle Bravo: The Thermonuclear Bomb of Pre-Workouts
Castle Bravo is designed to help you explode into the gym and incinerate every single set that's on your lifting schedule.
True to form, 'Merica Labz went big on the stimulants – here we have an impressive 450 milligrams of caffeine, so be careful with this one! After the release of F-BOMB, many of Merica Labz' fans probably won't have an issue with it, but many will need to go with less than a scoop — which would still bring plenty of citrulline since Merica went big there as well (7 grams).
Of course, thermonuclear war isn't just about brute force – a lot of scientific analysis and intellectual precision goes into it as well. For that we have ingredients like alpha-GPC and huperzine A, which will help get your mind and your body razor sharp to handle the mental challenges of a tough workout.
Let's get into it, but first sign up for PricePlow's Merica Labz news alerts and check our coupon-powered deals:
Merica Labz Castle Bravo – Deals and Price Drop Alerts
Get Price Alerts
No spam, no scams.
Disclosure: PricePlow relies on pricing from stores with which we have a business relationship. We work hard to keep pricing current, but you may find a better offer.
Posts are sponsored in part by the retailers and/or brands listed on this page.
This area is reserved for Team PricePlow's upcoming videos.
Subscribe to our channel and sign up for notifications so you catch it when it goes live!
Merica Labz Castle Bravo Ingredients
In a single 1 scoop (20.8 gram) serving of Castle Bravo from 'Merica Labz, you get the following:
L-Citrulline – 7000 mg

Merica's not just about big energy – they went big with pumps too!

Citrulline is truly an all-star pre-workout ingredient. Aside from caffeine, it's the most commonly used ingredient in the category – and it's definitely the most common nitric oxide (NO) booster.[1]

Citrulline is a conditionally essential amino acid. This means your body can produce some on its own, but not necessarily enough to cover all your metabolic requirements. This is why we almost always see additional benefit from supplemental citrulline.

Conditional amino acid requirements tend to go up because of exercise – so athletes in particular should consider supplementation, especially if you want some vasodilation to drive more blood, more nutrients, and more gains.

Citrulline to NO conversion pathway

Citrulline actually doesn't get converted directly into NO. First it gets converted into arginine – and then the arginine gets converted into NO. So the full conversion pathway looks like Citrulline → Arginine → NO.

Most people will look at this and wonder why we don't just take arginine instead – and the answer is that citrulline's bioavailability is much higher than arginine's when taken orally.[2,3]

Thus, citrulline supplementation is a better strategy than arginine supplementation for increasing arginine blood levels – and hence, NO blood levels.

Benefits of NO upregulation

What's the point of increasing NO levels?

Upregulated NO causes vasodilation, a process in which the smooth muscle tissue lining the inside of your arteries relaxes.

This allows your arteries to grow in diameter, and the bigger arterial capacity naturally leads to reductions in blood pressure and heart rate, since you're using a bigger space for the same volume of blood. It also means that circulation is more efficient, allowing for better delivery of nutrients to cells and faster removal of metabolic waste.[6-8]

Because of this, increased cardiovascular efficiency usually translates into improved athletic performance. For instance, lactic acid causes muscle fatigue as it builds up, and can be removed more quickly than usual during vasodilation. Thus, vasodilation usually comes with an endurance-boosting effect.

For the same reasons – improved nutrient delivery and waste removal – recovery after exercise can also be better.

But don't take our word for it! Let's take a look at what the research has to say about the benefits of citrulline supplementation:

Increased power output and oxygen uptake[9]
Better athletic endurance – 50% more![10]
Less muscle soreness post-workout[10]
Increased growth hormone (GH) production and secretion[11]
Reduced protein breakdown[12]
Better muscle gains[13,14]

Ornithine – antitoxin, antistress

So citrulline is a great NO booster – and let's be honest, most of us have heard that before.

What's less commonly discussed is that citrulline supplements can also increase your body's production of ornithine,[15] which is an amino acid that's involved in ammonia detoxification.[16]

Ammonia's another metabolic waste – it causes mental and physical fatigue as it accumulates in various tissues. In other words, increased ornithine production via citrulline supplementation is yet another way that citrulline can boost endurance

Additionally, the removal of waste is an important factor in recovery.

Ornithine is great for more than just performance and recovery, though – it can also improve sleep quality, which is obviously important for not only performance and recovery, but also for overall health and wellness.

A 2014 study found that L-ornithine supplementation significantly improved sleep quality in healthy workers, at least in part because it improved their ratio of DHEA to cortisol.[16]

The dose

This 7,000 mg dose is awesome, going above and beyond the traditional 3-6 grams we see. It's more than twice the clinically-verified 3 gram dose, and pretty near the 10,000 mg mark, which is where gains on additional citrulline supplementation begin to diminish.[17] Since citrulline's effects are dose-dependent,[18] more is generally better.

If you are patriotic enough, you can always stack it with F'n Pump'd to get even more. That stack could be reserved for the monster arm days where you're OK getting so pumped you won't be able to move much.

Beta Alanine – 3,200 mg

Next we have another pre-workout superstar, beta alanine.

It's commonly accepted that beta alanine belongs to a category of supplements named ergogenic aids. The etymology of this word literally means "work creating," and refers to the ability of these supplements to improve athletic performance by increasing one's capacity for physical work.

Like citrulline, beta alanine has been around forever, and will be around for a long time to come. It's cheap, safe, and effective.

Beta alanine + histidine = carnosine

The reason we like beta alanine is that when combined with the amino acid L-histidine, it forms a dipeptide molecule named carnosine. Carnosine is important because it's one of the mechanisms your body uses to get rid of lactic acid.[20]

Recall from the previous section that lactic acid accumulation causes muscular fatigue – so again, getting rid of it faster through carnosine upregulation can improve athletic endurance.

So why not supplement with carnosine instead?

Once again, just like arginine (in the case of citrulline), carnosine itself is not very bioavailable when taken orally. Beta alanine, on the other hand, is – and since histidine is really abundant in common foods, your body's access to beta-alanine is almost always the bottleneck on its production of carnosine.[21,22]

This means that supplementing with beta alanine is the most reliable way to boost carnosine production.

Endurance boost: meta-analyses

Two big meta-analyses on beta alanine supplementation,[19,23] reviewing over 40 different studies found that it's best at improving exercise performance when exercise is conducted at a specific intensity: namely, an intensity that can be sustained for anywhere between 30 seconds to 10 minutes. There are numerous athletic applications for the ingredient, too.[19-27]

The dose

3,200 mg is the standard dose, most commonly used and studied by far. You are good to go with this one.

PeakO2 (Cordyceps (Cordyceps militaris), Reishi (Ganoderma lucidum), King Trumpet (Pleurotus eryngii), Shiitake (Lentinula edodes), Lion's Mane (Hericium erinaceus), and Turkey Tail (Trametes versicolor)) – 2,000 mg

PeakO2 is a proprietary blend of adaptogenic mushrooms. These mushrooms have many benefits, including anti-inflammatory, anti-oxidant, anti-aging, anti-fatigue, and even sexual performance benefits.[28,29]

That's all great, but the benefit we're most interested in for the purposes of Castle Bravo is the one that inspired the name "Peak O2" – increased oxygen utilization. This can translate into improved VO2max, endurance, and power output. Let's look at the three studies performed specifically on PeakO2:

2015 study: Peak O2 can improve aerobic performance

The first study on Peak O2 came from researchers at the University of North Carolina in 2015.[30] In this randomized, double-blind, placebo-controlled study – the gold standard of scientific research – subjects got either 1.3 grams of Peak O2 or 1.3 grams of a maltodextrin placebo 3 times per day.

By the end of the three-week study period, the Peak O2 group had significantly higher peak power, VO2max, and time exhaustion. The placebo group saw no significant changes in any of these parameters.[30]

2016/2017 study: Peak O2 effects at 2 grams

In 2016, that same team of researchers returned with more participants and more data, showing that Peak O2 was after three weeks.[31] In this study, they again gave 4 grams per day or placebo.

After one week of supplementation, there were not statistically significant effects. However, after three weeks, VO2max significantly improved in the PeakO2 users, as well as time to exhaustion.[31]

However, that was 4 grams per day – more than we have here. Can 2 grams be effective as well?

2018: Faster effects at greater doses, but effective at 2 grams over time

The first two studies used 4 grams, however, which is a lot. So in 2018, another team of researchers published a follow-up study testing lower-dosed PeakO2 (2 grams per day, what we have here) over 28 days against a higher dose of 12 grams per day in 7 days. They found that the lower-dose group took a longer amount of time to achieve benefits, but still achieved statistical significance in four weeks regarding:[32]

Increased time to fatigue
Increased VO2peak
Lower blood lactate levels.

This is the study we're looking for – a 2 gram dose that doesn't overwhelm you with mushrooms – and after four weeks, it does have effects.

Other benefits

The individual ingredients in this blend have been extensively studied. Here is a partial list of their research-backed benefits:

Cordyceps: improves exercise tolerance,[31] boosts immunity[33]
Reishi: 5 alpha-reductase inhibitor[34] and anti-estrogen[35]
King trumpet: testosterone booster,[36] contains testosterone imitators[37]
Shiitake: immune boosting[38]
Lion's mane: antioxidant, anti-lipidemic, neuroprotective, nerve regeneration[39-41]
Turkey tail: anti-oncogenic, immune boosting[42,43]

L-tyrosine – 2,000 mg

Pre-workout users typically have two big things in common: they workout hard, and they diet hard. L-Tyrosine can help with both. This amino acid is good for neurotransmitter production, thyroid hormone production, and alertness during sleep deprivation.

Neurotransmitter production

Tyrosine is the precursor to dopamine, adrenaline, and noradrenaline.[44-46] These catecholamine neurotransmitters are crucial for focus, motivation, and energy.

They also control your body's stress response, which is important for performing well during your workouts.

Adrenaline and noradrenaline can aid in body recomposition, as they suppress appetite and speed up the rate at which your body burns fat.[47]

Great for sleep deprivation

Believe it or not, a lot of tyrosine research comes from militaries, who are interested in its ability to promote wakefulness and alertness. According to a study conducted by the United States military, tyrosine is even better than caffeine at doing this.[48,49]

Thyroid

Although you don't usually hear the thyroid brought up in the context of pre-workout formula analysis, it's something that you should consider. After all, the thyroid is really your metabolic master gland. If you want your athletic performance, cognition, and body composition on point, you need proper thyroid function.

As it turns out, the two big behaviors we named earlier – working out and dieting – can take a toll on thyroid function,[50-52] thanks to their cortisol-raising effect.

When your thyroid is subjected to stress, it usually causes a drop in the production of triiodothyronine (T3) and thyroxine (T4), your thyroid hormones – and tyrosine is the precursor to these hormones.[53,54]

So if you're working hard to build muscle and gain fat, supplemental tyrosine might be a good idea.

Caffeine Anhydrous – 350 mg (of 450 total)

Caffeine needs no introduction. Almost everybody reading (and writing) this article uses some type of caffeinated beverage to help them deal with the demands of their busy schedule.

That's because caffeine inhibits adenosine, a nucleotide that builds up in brain tissue while you're awake and ordinarily produces fatigue.[55-59]

Between this and the 200 mg caffeine citrate (50% caffeine by weight) in Castle Bravo, there are 450 milligrams of caffeine per serving. Be careful with this! It's a lot of caffeine. If you aren't sure whether you can handle it, ask your doctor!

Performance booster, especially at these high doses

Caffeine is considered an ergogenic aid that improves multiple dimensions of athletic performance, including but not limited to endurance, strength, and power output.[51] Research indicates that "performance benefits can be seen with moderate amounts (~3 mg.kg-1 body mass) of caffeine"[51] — which we definitely have here.

But if you're willing to go higher with Merica Labz, there's even more research once you're over the 5mg/kg dose! This is generally 400+ milligrams of caffeine, depending on your weight. And numerous studies have shown increased strength, endurance, and overall performance at higher doses![60-72]

Interestingly, a study showed that even users who habitually consumed 350 milligrams of caffeine per day still had significant ergogenic benefits when going big at 6 milligrams per kilogram of body weight.[72]

There's more to the story though – genetics play a major role as newer studies are differentiating across different genotypes.[68,70]

If you're interested in the above few paragraphs, you can read the 2018 review titled "Are the Current Guidelines on Caffeine Use in Sport Optimal for Everyone? Inter-individual Variation in Caffeine Ergogenicity, and a Move Towards Personalised Sports Nutrition".[73]

Caffeine and body composition

Caffeine is also great for body composition: it drives a process called thermogenesis, in which your body burns calories for heat.[55,56]

It does this by inhibiting an enzyme called phosphodiesterase, which is responsible for breaking down cyclic adenosine monophosphate.[55,56] Since cAMP is a messenger that tells your cells to burn calories, increasing cAMP via phosphodiesterase inhibition is a great way to speed up your metabolism.[50]

This can help you lose weight faster, but also makes more energy available for workouts, so it's part of caffeine's ergogenic effect.

Alpha-GPC 50% (L-alpha glycerylphosphorylcholine) – 300 mg

Alpha-GPC is a particular form of choline, a B vitamin that plays some interesting roles in your body. Among these, it's needed for the construction and maintenance of the phospholipid bilayer membranes that surround the contents of all your body's cells.[74]

It's also needed for the signaling between cells in which those membranes are involved.[75]

Choline is also a precursor to the neurotransmitter acetylcholine, which we often call the learning neurotransmitter because of how important it is for learning and memory.[76] Increasing acetylcholine through choline supplementation can boost cognitive performance above baseline.[52,77]

Choline is also needed to donate methyl groups for the purpose of methionine metabolism. Without this process, methionine can build up to unacceptably high levels in your blood, which raises the risk of cardiovascular disease.[65

Alpha-GPC is highly bioavailable and crosses the blood-brain barrier.[78]

Pine Bark Extract (Pinus pinaster) (95% Proanthocyanidins) – 250 mg

Next we have another great NO-boosting ingredient – pine bark extract (PBE), which contributes to vasodilation.

Pine bark is full of powerful antioxidant phenols[79,80] that can protect endothelial nitric oxide synthase (eNOS), the enzyme that is responsible for generating much of your body's NO, from being degraded by oxidative stress.

Pine bark's effects on cardiovascular function, its antioxidant properties, and anti-inflammatory effects are so palpable that it's been used for hundreds of years as a folk remedy.[79,80]

In the modern era, scientific research has found that pine bark extracts can have significant cardioprotective effects.[79,80]

It can reduce systemic inflammation so significantly that a drop in neurological disease risk from pine bark extract supplementation has been observed.[80]

Caffeine citrate (yields 50% caffeine) – 200 mg (yields 100 mg of 450 mg total)

Caffeine citrate gives you the same benefits as anhydrous. It's sometimes used in pre-workouts because it seems to act faster than caffeine anhydrous, giving a more immediate boost in mental and physical energy.

It's even specifically been used to treat breathing problems in infants.[81] There might be respiratory benefits in adults too, but no research has been done on the subject.

Anyways, at a minimum, this is giving us another 100 mg caffeine, as it's 50% caffeine by weight.

Note that the caffeine citrate brings the total dose of caffeine in Castle Bravo up to 450 milligrams. This is a big dose of caffeine! If you're not sure whether you can handle this, ask your doctor!

ElevATP (Ancient Peat Extract and Apple Extract) (fruit) – 150 mg

Next up we have ElevATP, a promising ergogenic ingredient that helps your body do more.

ElevATP supports your body's ATP production.[82] Taking it can increase your body's extracellular ATP concentration,[82,83] which can help performance because ATP is your body's energy currency.

If your body were an engine, ATP would be the gas – we don't want to run out of gas!

In one 2016 study, ElevATP supplementation for eight weeks caused significant increases in the study participants' barbell lifts, as well as vertical jump velocity and power.[84]

If you look at the original study on elevATP published in 2013, you'll get a good look at the composition, which we've included to the right. It contains many catechins, phenols, and acids that support ATP production.

So long as the ingredient has remained unchanged over the past decade, the primary constituent is 5-O-Caffeoylquinic acid, also known as neochlorogenic acid, a natural polyphenol that's an isomer of chlorogenic acid.

Theobromine HCl – 100 mg

Theobromine is a methylxanthine alkaloid. This is the same category that includes caffeine. It has stimulant, bronchodilatory – i.e. airway-opening – and vasodilatory effects.[85]

Just like caffeine, theobromine inhibits phosphodiesterase, thus increasing cyclic adenosine monophosphate (cAMP) levels[86] and speeding up your metabolism.[87,88]

Compared to caffeine, though, theobromine is much better at relaxing smooth muscle,[89] which is the mechanism behind vasodilation. Thus, theobromine can actually decrease blood pressure, while caffeine increases it.[90]

When given in combination with caffeine, theobromine can in fact cancel out caffeine's blood pressure raising effect.[90] This ability of theobromine to give you the upside of caffeine with significantly less downside makes it a smart ingredient for caffeine-containing pre-workouts, and we're expecting to see it show up a lot more in the future.

Theobromine also increases nitric oxide production and signaling.[91]

Synephrine HCl – 30 mg

Synephrine activates the beta-3 adrenergic receptors in your body fat,[92] causing cyclic adenosine monophosphate (cAMP) upregulation that ultimately speeds up the rate at which your cells burn calories.[93]

Although synephrine's effects resemble those of stimulants, the beta-3 adrenergic pathway has a comparatively mild effect on heart rate and blood pressure.[92]

In one 2016 study, subjects who took synephrine burned a lot more fat during their workout than subjects who got a placebo – about 30% more fat, to be more precise.[94]

A 2015 study found that taking synephrine and caffeine in combination can synergistically increase fat burning.[95]

So here we have some additional ergogenic and fat burning support that brings some of the thermo to the thermonuclear bomb that is Castle Bravo.

Huperzia serrata Extract (leaf and stem) (1% Huperzine A) – 20 mg

Huperzine A is another supplement that boosts acetylcholine levels. However, unlike alpha-GPC, which boosts acetylcholine by increasing production, huperzine A does it by inhibiting acetylcholinesterase, the enzyme responsible for degrading acetylcholine.[96]

In other words, it makes the acetylcholine you have last longer, and pairs well with the alpha-GPC in Castle Bravo.

Huperzine A is a powerful acetylcholine booster – it doesn't need to be stacked with alpha-GPC,[97] but seeing these two ingredients combined is great because they'll give synergistic effects.

Huperzine A is also a potent antioxidant. It's particularly good for protecting mitochondria in your brain from oxidative stress.[98]
Flavors Available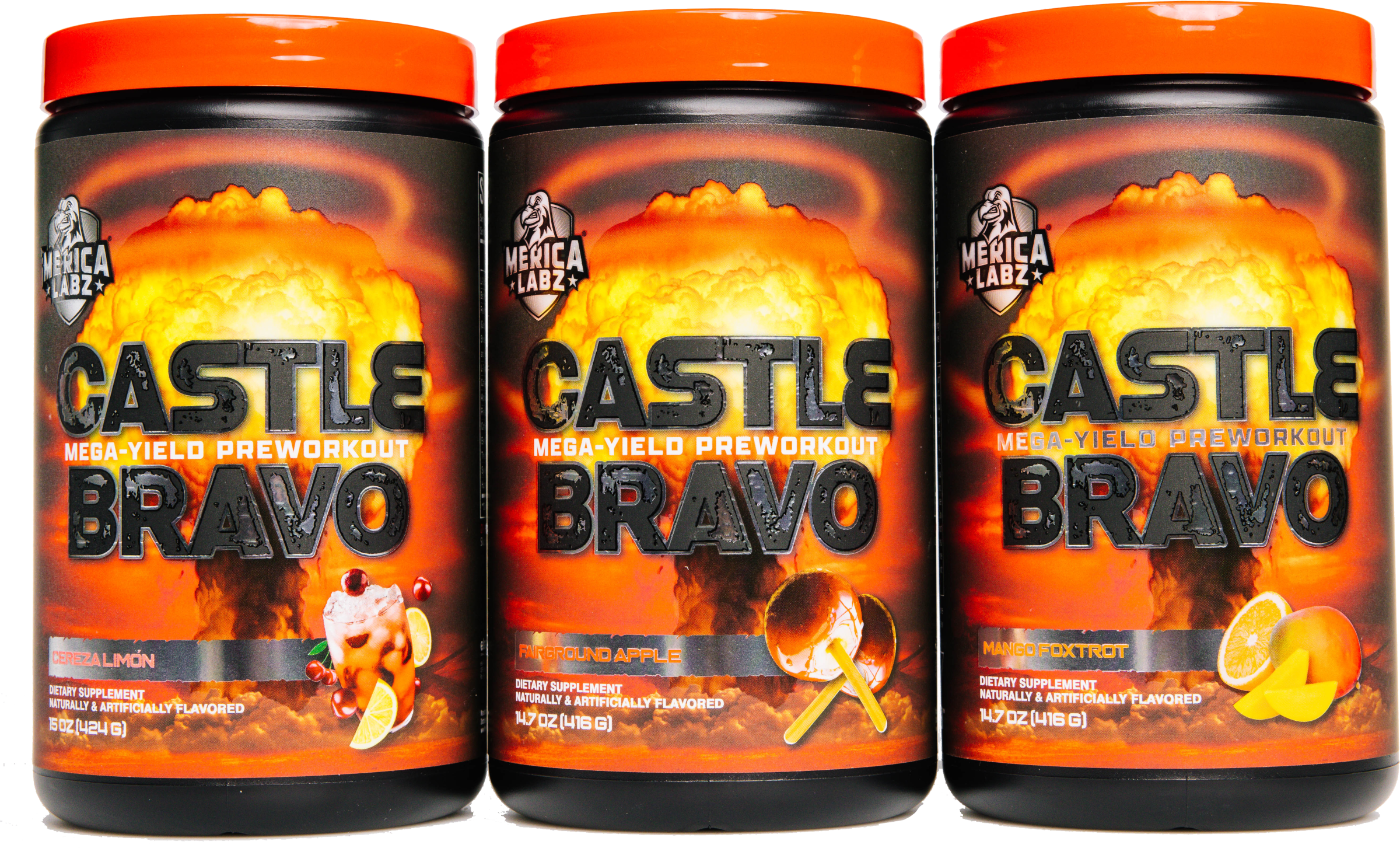 Stacking
Honestly, you shouldn't need to stack much with this, caffeine is pretty much topped out and the 7 grams of citrulline should be plenty. But if you were to have a big arm day… going with F'n Pump'd is the only way to go! Unless you go with Stars 'n Pipes, which is the other way to go.
Conclusion on Castle Bravo: Aptly Named Supplement
Castle Bravo is aptly named! You are definitely going to feel this one. This article gave us a chance to go over our high-caffeine research — there are simply too many research trials to ignore that show performance and endurance gains on this level of caffeine. Sometimes, you gotta do what you gotta do.
And alongside that big dose of caffeine, we also have a decent dose of synephrine to top it off. In fact, the synephrine dose is a little less than we've seen from 'Merica Labz, and Merica's not afraid to go even higher on caffeine (as shown in F-BOMB's 473 milligrams of caffeine).
Some consumers might miss the big stim cocktails of pre workouts past, but for most, we think the new approach will work better – especially if you want clinically-demonstrated performance effects of big caffeine.
Merica Labz Castle Bravo – Deals and Price Drop Alerts
Get Price Alerts
No spam, no scams.
Disclosure: PricePlow relies on pricing from stores with which we have a business relationship. We work hard to keep pricing current, but you may find a better offer.
Posts are sponsored in part by the retailers and/or brands listed on this page.