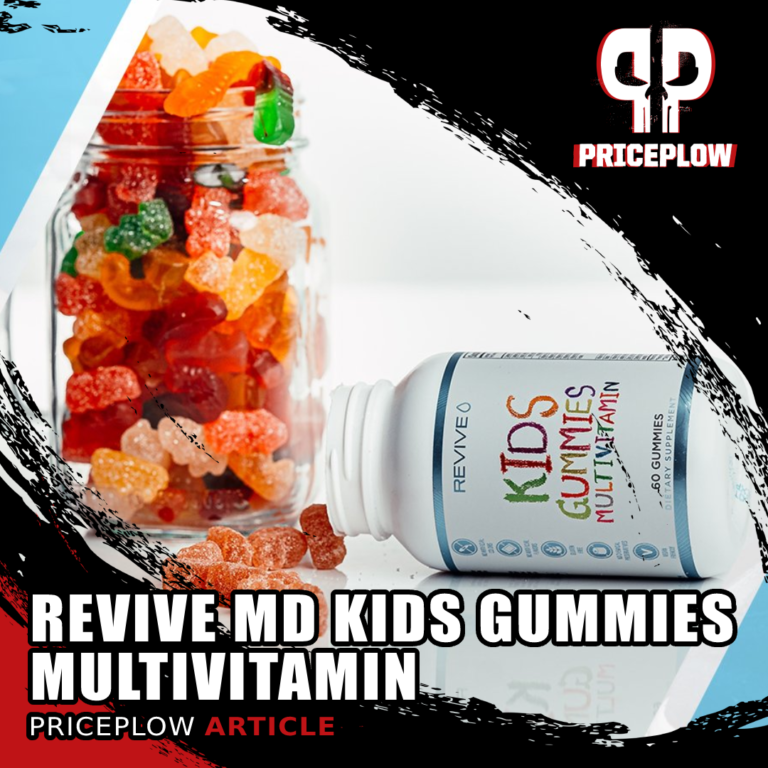 Those of us with kids know all too well the struggle getting our kids to consume the nutrients they need to support healthy growth and development. Run by Dr. Domenic Iacovone and elite bodybuilding coach Matt Jansen, Revive MD has turned much of the supplement industry on its head recently, and now they've come up with an improved solution for kids.
With their team, they've developed a multivitamin that will provide kids aged 2 and up with the essential vitamins and minerals they need, including vitamins A, C, D, E, Bs, and immune-boosting zinc. These delicious chewy gummies were designed to ensure that kids get the additional micronutrients they need every day – on top of a healthy diet.
We get into those ingredients below – but after a quick discussion on healthy eating for children. Before that, see our coupon-based price listings and sign up to receive PricePlow's Revive MD news:
Revive MD Kids Gummies Multivitamin – Deals and Price Drop Alerts
Get Price Alerts
No spam, no scams.
Disclosure: PricePlow relies on pricing from stores with which we have a business relationship. We work hard to keep pricing current, but you may find a better offer.
Posts are sponsored in part by the retailers and/or brands listed on this page.
This area is reserved for Team PricePlow's upcoming Ingredients video.
Subscribe to our channel and sign up for notifications so you catch it when it goes live!
A note on kids' diets: eat nutrients, not anti-nutrients
Before starting, we need to quickly give our take on children's diets. It's very clear that the prevalence of processed food and busy schedules has led to a surge in childhood obesity[1] and even pediatric non-alcoholic fatty liver disease (NAFLD),[2] something completely unheard of just a couple generations ago.
Omega-3 to Omega-6 is critical for health
Our research over the years has concluded that these diseases are caused by over-eating processed foods, specifically those containing industrialized processed seed oils, also known as "vegetable oils", which are extremely high in inflammatory omega-6 polyunsaturated fatty acids – specifically one named linoleic acid,[3-8] which has increased in our fat tissues by 136% over recent years![9] A massive body of research shows that overconsumption of omega-6 fatty acids leads to catastrophic health consequences.[10-13]
The disastrous consequences of eating industrialized toxic waste oils
And if you look at any ultra-processed foods, you'll note that these oils — often in the form of soybean oil, canola (rapeseed) oil, corn oil, sunflower oil, or other processed seed oils — are literally everywhere.[10-16] They're prone to rancidity and oxidation and lead to excessive inflammation[10-13] as well as increased hunger (literally giving the "munchies" by hyper-activating the body's endocannabinoid system).[17]
These seed oils are ANTI-nutrients. They should be fed to children as sparingly as possible. Instead, they are now the ingredients in nearly everything they eat.
What to feed children? Meat!
Here's the part where you expect us to suggest vegetables to children. Except we're not. Decades of pushing vegetables on children has obviously not solved any problems, and it's tough to get them to consistently eat them.
If your kid likes vegetables, then great. But there's something better that's been removed from our diets at alarming rates: meat. Specifically red meat, high in saturated fat.
First, a word on saturated fat
Unlike the rancid and unstable omega-6 oils discussed above, saturated fats are stable. It's no secret that ever since 1970, when we were told to stop eating saturated fats, we've become sicker and fatter by several magnitudes. The agenda pushed by the "American Heart Association" used extremely unscientific grounds to banish saturated fats,[18] using trials with serious methodological flaws that wouldn't meet today's research standards and wouldn't pass peer review.[18]
Newer research, however, is showing that saturated fat is not to be feared. For instance, a 2015 meta-analysis of 76 studies found no relationship between saturated fat and heart disease.[19] The analysis of the AHA's data also looked at 19 studies (10 of being randomized controlled trials) further showing the lack of association between heart disease and saturated fats.[18]
We've been lied to about saturated fat, plain and simple. And now we're being lied to about meat as well. But when we eat healthy amounts of both, get more nutrients, we're not longer as hungry, we don't overeat, and we sure as hell don't get childhood NAFLD.
Meat is beneficial to cognition and growth
Before it became suspiciously taboo, several studies researched the significance of adding more meat to children's diets – oftentimes in third world countries. We almost universally find better cognition scores, growth, behavior, and nutrient status.[20-26] Meat — especially beef — is great as a first food after breastfeeding,[21] healthy for school children,[20,22,23,25] and it continues to be great for young women[26] who have been propagandized to avoid it.
With meat (and especially organ meat if you can get some mixed into ground beef), you get nutrient density. Sadly, we no longer see research like this published anymore, but a combination of fish and meat – animal proteins and animal fats – is what our children are truly lacking. That's what we should be striving for.
And then, we follow any gaps up with a multivitamin:
Revive MD's Kids Gummies Multivitamin Ingredients
Now let's take a look at the ingredients in Revive MD's Kids Gummies Multivitamin:
Vitamin A (as retinol acetate) – 750 micrograms

Revive MD's Kids Gummies kicks things off with a solid dose of vitamin A, delivering a very hefty dose of 750 micrograms of this crucial fat-soluble vitamin per serving. Vitamin A's reach is expansive – it plays a key role in protecting eyesight, maintaining reproductive health, and keeping the immune system in top shape.[27-29] Additionally, Vitamin A supports cell growth and differentiation, playing a critical role in the normal formation and maintenance of the heart, lungs, kidneys, and other organs.

Vitamin C (as ascorbic acid) – 18 milligrams

We all know that when we, or someone we care about, feels under the weather, we turn to vitamin C. And for good reason!

Vitamin C takes on several roles. This essential micronutrient is a potent antioxidant, which helps prevent free radicals from damaging healthy cells. It also has immune boosting benefits.[30-32] Research shows that vitamin C increases the activity of cells involved in the adaptive and innate immune systems.[30-32]

Vitamin C's Immune Boosting Benefits

Vitamin C supercharges the immune system. Here are several immune-boosting benefits that vitamin C provides to help fight against foreign bacteria and viruses:

Increases phagocytic cell activity: enhanced microbial removal.[31]

Needed for apoptosis: programmed cell death induced by natural killer cells to get rid of cells infected by a bacteria or virus.[31]

Decreases tissue damage.[31]

Enhances proliferation and differentiation of T-cells and B-cells: essential components of the adaptive immune system, which helps strengthen immunity.[31]

Supports the epithelial barrier: decreases the risk of a pathogen entering the cell.[31]

Serves as a powerful antioxidant: protects against environmental oxidative stress.[31]

Acts as a cofactor for monooxygenase and dioxygenase enzymes: contributes to the synthesis of collagen, carnitine, catecholamine hormones.[31]

Vitamin C Deficiency

A vitamin C deficiency can jumpstart a vicious cycle of immunity issues. It's well-documented that vitamin C deficiency leads to decreased immunity and increased risk of infection.[30,31] This is ultimately a double-edged sword because infections can negatively impact vitamin C levels due to enhanced inflammation.[31]

Kids love to play and get dirty, and can be vulnerable to germs and when they get sick, which happens with all kids. We want to bounce back as soon as possible. Therefore, it may be a good idea to get in extra vitamin C when they're sick, since their small bodies run through it rapidly. Supplementing with an adequate amount of vitamin C has been shown to help prevent and treat common illnesses such as respiratory or systemic conditions.[31]

In summary, vitamin C is a very important micronutrient to keep kids healthy and to ensure their immune systems are functioning properly!

Vitamin D (as cholecalciferol) – 1.5 micrograms (60 IU)

As kids are growing it is important that they get the nutrients needed for healthy bones, proper digestion, and a properly functioning immune system. Healthy doses of Vitamin D can be accomplished when kids are outside playing in the sun – get your kids outside!

But it's during the winter months or times when being outside for long periods of time is not possible or as beneficial. In these times, it's important to get that vitamin D, and Revive MD's provides a dose of 1.5 micrograms per gummy. Vitamin D gets a lot of love regularly, but given how tough it can be to get enough of it naturally in colder months, it becomes even more important.

Vitamin E (as dl-alpha tocopheryl acetate) – 15 milligrams

When it comes to vitamin E, the conversation usually revolves around skin health due to its strong antioxidant abilities. Vitamin E is able to protect your skin by warding off free radicals that attack healthy cells.[33]

However, those abilities extend further – vitamin E can protect eye health,[34] to a level similar to that of vitamin A. Similarly, those effects can reach your muscles, as research has shown that vitamin E may also promote muscular health.[34]. With all of these benefits you can see why Revive MD made sure to add the ingredient to a kids multivitamin.

Vitamin B6 (as pyridoxine hydrochloride) – 700 micrograms

Vitamin B6 is considered the ultimate "brain health" B vitamin which makes an essential vitamin to add to a kids multivitamin. Vitamin B6 is required for the creation of several neurotransmitters in the brain, but more importantly, it's shown to support memory, learning, and BDNF (brain-derived neurotrophic factor) expression.[35]

Additionally, Vitamin B6 also works with our next two B vitamins to support the body's production of red blood cells.

Folate (as folic acid) – 700 mcg

Folic Acid provides several benefits for men and women. Folic acid, also displayed as Vitamin B9 works in conjunction with Vitamins B6 and B12 (as well as other nutrients) to regulate blood levels of the amino acid homocysteine. Elevated levels of homocysteine are associated with heart disease[36], so having some extra folic acid in your diet may lower risks associated with developing this disease.

When it comes to children, folic acid has been used to treat or prevent folate deficiency anaemia, help the development of the brain, skull and spinal cord to avoid developmental problems such as spina bifida. Folic acid may also help boost mood too, as some research has indicated that it can be used in the treatment of depression.[37]

Biotin – 60 micrograms

Biotin, also known as vitamin B7, is a crucial essential nutrient that helps a large amount of bodily processes. It's a crucial cofactor for four different carboxylases, which are enzymes imperative for different carboxylations. In the case of biotin, the carboxylases it interacts with are heavily involved in mitochondrial processes, with the result being unique to each interaction:

Pyruvate carboxylase – uses biotin to convert glucose in the liver, kidney, and other tissues.[38]
Acetyl-CoA-carboxylase – regulates the metabolism of fatty acids.[38]
Methyl-crotonyl-CoA carboxylase – needed for proper leucine breakdown and absorption.[38]
Propionyl-CoA carboxylase – also helps metabolize fatty acids, as well as amino acids.[38]

As you can see, biotin is a key factor in staying healthy which is very important for kids, especially when nutrient metabolism is of focus.

Vitamin B5 (as calcium D- pantothenate) – 5 milligrams

Much like all the other B vitamins, this is used for energy production and metabolism in the body, but vitamin B5 is particularly important to the production of red blood cells which as we stated above helps to prevent heart disease, assists in the development of the brain, skull, and spinal cord. Not only that, but Vitamin B5 plays a role in keeping your digestive tract healthy and functioning optimally.[39]

Iodine (as potassium iodine) – 37 micrograms

Iodine may not be the first thing you think of when discussing compounds that are imperative for upkeeping general health, but in fact, we're beginning to realize just how significant it truly is. Unfortunately, it took a widespread deficiency for us to come to such a realization.

You see, we used to get plenty of iodine in our diets, as it was a main additive in breads – it's since been replaced with bromine (a compound that actually competes with iodine for uptake). And yes, table salt contains iodine, but modern society has moved towards replacing generic table salts with non-iodine salts such as sea salts. Finally, most water supplies contain chlorine and fluoride, each of which also compete with iodine. Sum all of this together, and you're looking at a significant increase in the risk of iodine deficiency, which can wreak havoc on the health of our children.

Iodine keeps the thyroid happy and your hormones in check

Iodine deficiency in kids can cause issues with the thyroid and their hormones. As kids are growing their bodies are overflowing with hormones. If these hormones are not kept in check it can cause serious issues such as hypothyroidism (working too little) which can cause symptoms such as fatigue,[40] feeling "cold",[41] cognitive decline,[42] and slow heart rate. Things are equally as problematic in hyperthyroidism (thyroid working too much), with fatigue, insomnia, and fast heart rate among potential symptoms.[43] Providing kids with a proper amount of iodine is an excellent way to maintain optimal thyroid levels and improves overall health.

Zinc (as zinc citrate) – 2.2 milligrams

Zinc is an important trace mineral that has a wide range of benefits. Research has shown that zinc can help shorten the duration of a cold and protect against respiratory tract infections. Not getting enough zinc is known to weaken the immune system.[44-46] To ensure that the mineral is absorbed properly by the body, it needs to be combined with another compound. Although zinc is available in several forms, for immune support, zinc citrate is far more effective than zinc oxide that we see too often in children's supplements.

Choline (as choline bitartrate) – 10 micrograms

Choline Bitartrate is the most widely available form of choline supplementation available, and it contains 41% choline by weight. It's usually dosed in the 500 to 1,000 milligram range for adults who are looking for cognitive focus improvements, but in Revive MD's gummies, a smaller dose of 10 micrograms per gummy is provided.

Choline is an essential nutrient that has shown significant benefits in developing and maintaining a healthy brain. Choline is a precursor to acetylcholine, which we call "the learning neurotransmitter", and having more choline allows our brain to generate more of this critical messenger. Research has shown that adequate levels of choline improve cognitive function, prevents age-related memory decline and reduces the risk for Alzheimer's Disease.

We often find high amounts of choline in egg yolks, which is something else children should be eating plenty of.

Inositol – 10 micrograms

Inositol is a sugar that the body relies on to facilitate a number of functions. From maintaining cell membranes to promoting neurotransmitter activity,[47,48] inositol is a vital part of everyday life, though it often goes unnoticed.

Research has begun to show just how influential this sugar can be, however, specifically in regards to mental health. Multiple studies have found high correlations between things such as depression and low levels of inositol in the brain, suggesting that this sugar is key for neurotransmitter activation.[48] Furthermore, inositol supplementation has shown the ability to balance brain-based chemical production, improving levels of key neurotransmitters such as dopamine and serotonin.[48] This brain-boosting sugar has quite the effect on cognition and is something that is very important for kids.
Conclusion…Gummy multivitamin is a delicious option to ensure kids are getting what they need.
The Revive MD gummy multivitamin provides a delicious source of the daily requirement of vitamins and minerals essential for the support of healthy growth and development of your kids. The kids multivitamin has no artificial flavor, coloring and is gluten free.
Ultimately, we still want you feeding your kids right — and we do disagree with the current agenda of what "right" is, in this case. But we always believe in supplementing around the gaps in diets, and if they're going to get a bit of sugar in their diet after eating a healthy breakfast of meat and eggs, we'd like that sugar to come along with some nutrients. These Gummies provide exactly that, as a perfect "dessert" to a healthy breakfast!
Revive MD Kids Gummies Multivitamin – Deals and Price Drop Alerts
Get Price Alerts
No spam, no scams.
Disclosure: PricePlow relies on pricing from stores with which we have a business relationship. We work hard to keep pricing current, but you may find a better offer.
Posts are sponsored in part by the retailers and/or brands listed on this page.