Ghost Lifestyle's popular focus and gaming supplement, Ghost Gamer, now has two Sour Patch Kids flavors to choose from! The legends have released a Sour Patch Kids Blue Raspberry Ghost Gamer flavor to bring some blue to counterbalance the red in Sour Patch Kids Redberry.
Sour Patch Ghost Gamer now in Red vs. Blue
The clinically-dosed gaming supplement had the Redberry flavor upon launch, so it was only a matter of time before Dan Lourenco and team brought in some blue to face off the red. So now you can choose the flavor that matches your Capture the Flag team, staying true to your colors.
In this quick article, we talk a bit about SPK Blue Raspberry, briefly cover why it's "clinically-dosed" (thanks to Nutrition21's nooLVL ingredient), and show our flavor tasting review. But first, check our coupon-powered deals and sign up for our Ghost Lifestyle news, since we're always cooking up major updates to their other supplements as well:
Ghost Gamer – Deals and Price Drop Alerts
Get Price Alerts
No spam, no scams.
Disclosure: PricePlow relies on pricing from stores with which we have a business relationship. We work hard to keep pricing current, but you may find a better offer.
Posts are sponsored in part by the retailers and/or brands listed on this page.
Not the first for Blue Raspberry Sour Patch Kids… but the first powder
This isn't the first Blue Raspberry Sour Patch Kids collab Ghost has done — although Redberry has been around with Gamer as well as the Legend pre workout supplement, Sour Patch Kids Blue Raspberry first debuted in Ghost Energy.
However, it's the first time we've seen it in a powdered formula, so you can see how it turns out above.
The Ghost Gamer Ingredients
Below is a quick recap of Ghost Gamer's profile. For a fully-sourced, in-depth analysis, see our main Ghost Gamer article.
nooLVL (Inositol Enhanced Bonded Arginine Silicate) – 1600mg

Nutrition21's blood-flow-boosting ingredient is what makes Ghost Gamer "clinically-verified", so it's worth digging into and understanding.

nooLVL is a stimulant-free blend of bonded arginine silicate with an extra bit of inositol. The effect of taking it is that you get improved blood flow (thanks to a vasodilation effect that widens blood vessels), and that blood flow gets to your brain as well as your fingertips! Even better, it was clinically studied on modern gamers playing modern games like Call of Duty, Fortnite, and Madden[1] — no other gaming supplement ingredient that we know of can claim that!

The research was done on gamers who played at least five hours of games per week, and showed that nooLVL increased performance, accuracy, speed, decision making, and reaction time.

The blood flow improvements come from this highly bioavailable form of arginine,[2] which is a precursor to generating nitric oxide (NO).[3,4] This gas molecule causes blood vessel expansion, which then allows more blood to flow, and that brings with it more oxygen and nutrients along the way.[2] The process is known as vasodilation, and it's often marketed to athletes and weightlifters for that "pump" effect in the gym – but the improved nitric oxide and blood flow work in the brain too!

Better than straight L-arginine

The issue with L-arginine is that it's not very bioavailable — the digestive system breaks supplemental arginine down too quickly before it can get to the point of boosting NO.[4] But with this patented combination arginine silicate and inositol, Nutrition21 has solved the age-old arginine problem, getting the nitric oxide boost we had always wanted with L-arginine.

With additional inositol

To top it off, we have inositol, which is an essential sugar that's found in high concentrations in the brain. It assists with osmoregulation (water transfer and stability amongst cells), maintaining stable cell membrane structures, and assists with cell-to-cell signaling.[5,6] For our purposes, it plays a role in a pathway known as the phosphatidylinositol (PI) cycle, which helps translate signals between neurons.[6]

Our theory is that heavy cognitive tasks (such as gaming marathons) depletes inositol stores, which is why supplementing some, alongside of the blood flow improvements, improves performance in gaming and other cognitive tasks. It also turns out that low inositol levels are connected to cognitive dysfunction and worsened mood states,[7] which is something gamers certainly don't have time for.

All in all, when you hear us say that Ghost Gamer is "clinically dosed for gamers", Nutrition21's research study is why.[1] To learn more about nooLVL, read our article titled nooLVL for Next-Level Gaming: Focus Supplement Ingredient for Gamers!

Taurine – 1000mg

A conditionally-essential amino acid that provides sulfur — you don't want to become deficient in this one, and when supplementing, there are hydration, endurance, and cognition benefits.

L-Tyrosine – 1000mg

An amino acid that gets converted to neurotransmitters like dopamine, norepinephrine, and epinephrine (amongst some others), providing feel-good focus.

Cognizin Citicoline – 500mg

A high-quality, high-bioavailability choline source that provides you with more substrate to produce acetylcholine, the "learning neurotransmitter". This form has also been shown to increase dopamine production as well.

Raw Coconut Powder – 500mg

Hydration, electrolytes, and it doesn't hurt the flavor either!

Natural Caffeine – 150mg

Energy and wakefulness – not too much, not too little – perfect for gaming.

AstraGin (Astragalus Membranaceus and Panax Notoginseng Root Extracts) – 50mg

Amplification and improved absorption of the other ingredients by activating important transporters in the small intestine.

Theobromine – 40mg

Synergistic energy with caffeine that lasts longer, but is not as intense.

Additional Vitamins and Minerals

Ghost makes sure you avoid deficiency by adding B Vitamins (niacin, Vitamin B6, and Vitamin B12), Vitamins C-E, and high bioavailability zinc.
Again, for the full write-up, see our original article titled Ghost Gamer: For A Legendary Gaming Experience.
All Ghost Gamer flavors available
Our system will keep the list below up to date, with coupon-based prices included:
The unboxing in Ghost's Building the Brand
You can see Ghost Gamer SPK Blue Raspberry make its debut in Ghost's famous Building the Brand YouTube Series in Season 7, Episode 16 titled "The HQ Showdown":
To read about the original Sour Patch Kids launch, which came in Ghost BCAA, see our 2018 article titled Ghost Licenses Sour Patch Kids and Swedish Fish ("Project X").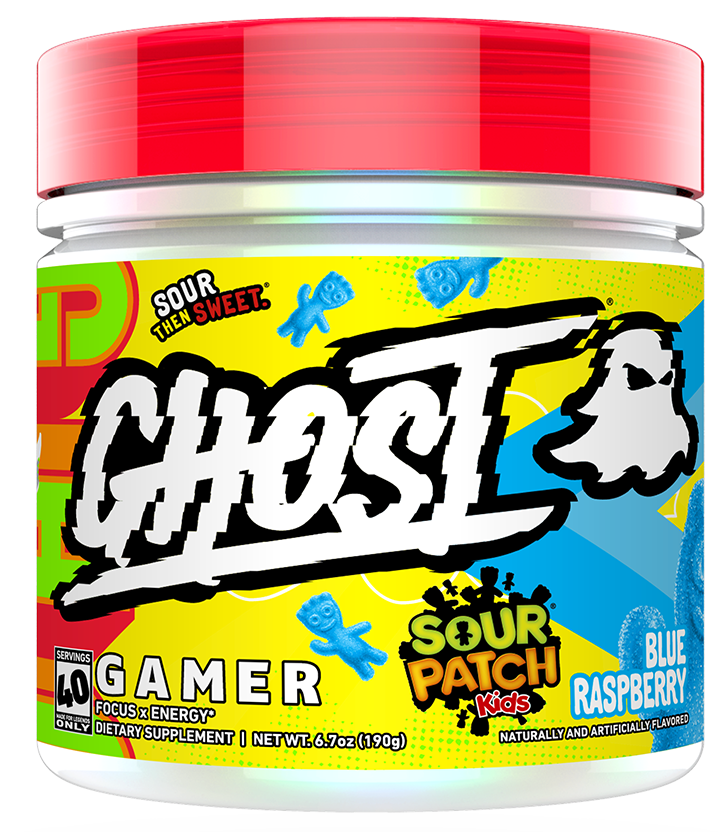 Blue meets red
It's worth saying that Ghost Gamer isn't just for gamers – this is an incredible cognitive-boosting nootropic supplement with world-class flavors. If you're studying, working, or just plain bored, Gamer will bring you up a notch – but won't crash you down.
Sour Patch Kids Redberry is a tough flavor to beat. If you're on Team Red, you may want to stay there. But for you Blue Raspberry fans, you know the drill – Ghost is going to light your taste buds up in all the right ways. It'll be sour — and then it'll be sweet. Just like the sweet, sweet revenge you get on your buddies after they drop a cheap grenade on you.
Ghost Gamer – Deals and Price Drop Alerts
Get Price Alerts
No spam, no scams.
Disclosure: PricePlow relies on pricing from stores with which we have a business relationship. We work hard to keep pricing current, but you may find a better offer.
Posts are sponsored in part by the retailers and/or brands listed on this page.