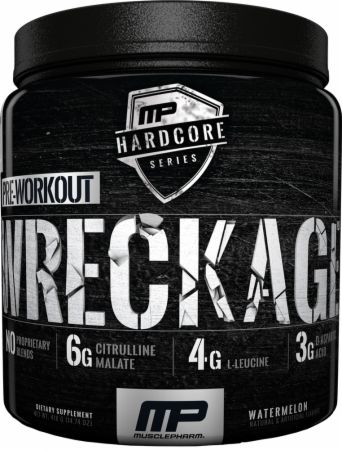 MusclePharm Wreckage is part of the soon-to-be-released Hardcore Series, which we expect to be a higher-end, higher-priced series aimed at experienced athletes and bodybuilders.
Looking at the non-proprietary label and doing some analysis, here's our honest opinion:
The TL;DR
Wreckage is going to live up to its name, and its intended users are going to love the feel and effects from all sides.

Some of the dosing is a bit odd here.

Some ingredients are fully dosed, but others aren't – yet you cannot two-scoop it due to the high caffeine content.

The selection of focus boosters are both impressive and unique:

While everyone's talking about the energy and pumps, we're most excited to discuss a cognitive enhancer that's never before been used in a pre workout!
After doing our full analysis, the TL;DR is that this is a must-try pre workout supplement for 2015, but long-term value will depend on how far we can beat the costs down.
To stay on top of this one, you can sign up for MusclePharm updates and alerts below, or head over to our Muscle Pharm page and click monitor this brand.
After that, let's get down to business because this is an interesting pre workout supplement.
Wreckage – Deals and Price Drop Alerts
Get Price Alerts
No spam, no scams.
Disclosure: PricePlow relies on pricing from stores with which we have a business relationship. We work hard to keep pricing current, but you may find a better offer.
Posts are sponsored in part by the retailers and/or brands listed on this page.
Haters gon' hate, but not today
Right now within the online supplement community, hating on MusclePharm has been the cool thing to do lately. And we can't say they don't frequently deserve it.
But we're going to give credit where credit is due – even if we haggle over some of the lower-dosed ingredients, this is going to provide for some aggressive workouts – just as hoped with the "Hardcore" series.
Let's break it down one by one.
The MusclePharm Wreckage Ingredients
Right off the bat, let us praise MusclePharm for the 100% open label – no prop blends here!
As a massive company with what seems to be an unlimited marketing budget, MusclePharm could probably sell this without doing that. But they're clearly listening to their most informed fans, and for that we appreciate it.
By knowing what we're getting, we can build solid, research-backed stacks using this product.
L-Citrulline DL-Malate (6g)

Yes! Right off the bat, we know MusclePharm means business here with Wreckage. When using L-Citrulline, if you want a research-backed nitric oxide boost, you're either going to want 3g of straight-up L-citrulline, or 6g of Citrulline Malate. We get the latter here.

A popular study showed that trained athletes who took 6g of citrulline malate had boosted levels of both nitric oxide and growth hormone.[1]

Citrulline works by converting to arginine and boosting nitric oxide levels better than arginine itself. Beyond the boosted NO and GH levels, you can also get increased training capacity[2] and reduced fatigue[3].

What's also great is that this isn't the only nitric oxide booster either! We'll talk about the 500mg agmatine later.

L-Leucine (4g)

L-Leucine is everyone's favorite branched-chain amino acid – it's the "anabolic activator" that initiates the mTOR (or Mammalian Target of Rapamycin) signaling process which plays a pivotal role in muscle-building.[4]

Seeing leucine here alone is a bit odd, some might argue that since it's the most anabolic essential amino acid[5], we'd rather have say 4g of leucine than 5g of leucine/isoleucine/valine mixed. It's essential meaning that your body cannot produce it on its own – you have to get it in via diet or supplementation.

At the same time, given that this seems to be a supplement for those who are building muscle and bulking up, food and protein intake should always be high for those individuals, which might negate the need for all this extra leucine.

But either way, we love this ingredient and will never complain about it being here. We just wonder if it would have been better to save some space and cost and get a full dose of creatine instead.

D-Aspartic Acid (3g)

This is where the wreckage really takes off.

Let's get the backstory on D-Aspartic Acid (DAA) first. In late 2009, a study was published showing significant increases in LH (Luteinizing Hormone) and natural testosterone synthesis and release.[6]

Over the next few years, it was then hailed as the next big natural testosterone booster, and indeed, it makes you feel like a freakin' champ.

At least for a little while.

The truth about DAA

What the researchers "hid" in their 12 day study was the fact that within a month or so, your testosterone levels fall back to baseline. This was confirmed by another study published mid-2013.[7]

Meanwhile, a study published in late 2012 showed that it significantly improved fertility, sperm quality, sperm count, and seminal motility.[8] All of this information effectively makes it more of a "sex supplement" than a "testosterone booster".

But with that said, if you're in a bit of a slump, or you have a competition coming up, and you run Wreckage for a month, you're going to feel like a damned hero with this stuff. Exactly as planned from the name of the product.

Just don't expect "steroid-like gains" from DAA and everyone goes home happy.

Caffeine (350mg)

We're skipping to caffeine here because this dose is worth noting — this almost definitely makes the product a one-scooper unless you have some serious caffeine tolerance. In fact, many people can get away with ⅔ to ¾ scoop, which will make your tub last longer.

A full scoop of Wreckage works with the two ingredients above — they are fully dosed — but the creatine and beta alanine below are not fully dosed… yet taking more than one scoop (maybe a slightly heaping scoop) is not recommended because you'll be brushing up on caffeine's safety limits.[9]

So, a lot of this product's feasibility is going to come down to your caffeine tolerance. If you're the kind of person who just wants 100-150mg caffeine, this likely isn't the perfect blend for you.

But at the same time, most of you reading this who do indeed want to make some wreckage in the gym do want doses like this, and that's why we think these top three ingredients are all going to play very well together for you.

Creatine Hydrochloride (2g)

Creatine HCl's promise is that it leads to increased bioavailability and uptake in comparison to creatine monohydrate. Because of that, it's claimed that you don't need as much to get the same effect. Many users, especially those who dislike monohydrate, swear by it.

However, there's no serious research to back up any of these claims (which have been made for long enough that we'd expect a quality study out at this point).

Typically, you want to hydrochloride salt (the HCl part) to a molecule if that molecule has low bioavailability to begin with, and that may increase absorption / bioavailability. But creatine has great bioavailability – close to 100%![10]

So with that in mind, we'd much rather see 3-5g creatine monohydrate or anhydrous than 2g of creatine HCl, despite the hype.

This is close, and obviously better than nothing, but leads us to believe that you'll also be pitched a creatine-infused post-workout to go along with this, something that we typically frown upon.

Either way, 2g isn't bad, but to be sure, you'll want to find 1-3g extra creatine elsewhere in your day just to be safe.

Carnosyn Beta Alanine (1.6g)

This is the muscular endurance boosting amino acid that we all know and love at this point.

It doesn't matter what sport it is, if you're repeatedly performing activities with your muscles – especially if they're 1 to 4 minutes long – beta alanine is going to make you last longer and work more effectively/comfortably.[11,12,13,14]

The ideal dose that everyone (and the research) agrees upon is 3.2g per day, so you might think this is half-dosed, but in this case, that's a good thing. If you've ever taken 3.2g in one sitting – especially if it wasn't taken with food – the tingling effect becomes borderline aggravating.

So, 1.6g is fine here, and you might even get less if you don't take a full serving (due to the high caffeine content).

So once again, if you want the full effects, you'll need to grab some bulk beta alanine (it's cheap) for the opposite end of your day, or you just might find it in a complementary MusclePharm product.

L-Tyrosine (1.2g)

Back to Wreckage mode! L-Tyrosine is a favorite focus booster, and this here is basically 4-6x the dose that you normally get in other pre workouts! (Save for one comparable product, discussed below)

The most interesting studies were performed on various military units, and all of them had cognitive focus enhancement, reduced stress, and less fatigue when taken.[15,16,17]

Unfortunately, the piddly 200mg doses in other pre workouts simply aren't even close to the doses used in those studies – 2g and up.

This one actually gets close.

So compared to other pre workouts, you might feel something a bit more wild here, just as planned by MusclePharm. And to be quite honest, most of the PricePlow team member has never taken a dose this high at once, so we're interested in this one.

Note that those higher doses were still safe in case you're worried about the 1.2g being too much.

And it's not the only cognitive booster….

Agmatine Sulfate (500mg)

Agmatine is an awesome compound, and is primarily used as a "nitric oxide booster" in supplements. It doesn't directly boost NO levels though – it does so by inhibiting NO breakdown.[18]

Anecdotally, it gives a very strong, hard pump – and provides an "inner strength" kind of feeling.

500mg is the standard dose, but products that use this as a sole pump ingredient usually need to include more. Since this is a supporting ingredient for the 6g citrulline malate, 500mg should do quite well.

But did you know that agmatine is actually a neurotransmitter?[19] This is because it works on the neuron level and is stored in synapse terminals.[20]

Anyway, the point is that it's not just a pump ingredient – beyond the cardiovascular benefits, there are also cognitive benefits to having more agmatine around, at least so far demonstrated in rats.[21,22]

Put simply, we never say no to 250-1500mg agmatine, especially when combined with another NO booster like citrulline.

Phosphatidylserine (125mg)

Frequently shortened to PS for obvious reasons, there's a nice love-hate relationship with phosphatidylserine in the online nootropics community (nootropics are essentially a class of cognitive enhancers).

The pros are that it works quite well in promoting mental focus enhancement and the ability to perform tests, as we'll see below.

The cons are that it's expensive, and that's possibly why it's never been used in a pre workout from what we can see.

So right off the bat, we're excited to say that unless you're a nootropics junkie, Wreckage is going to have something different than anything you've ever tried before.

Let's take a look at some specific research:

Phosphatidylserine in humans

400mg was given to runners, golfers, and cyclists in a double-blinded, placebo-controlled, cross-over study where the supplementation lasted for 14 days.

In that time, the subjects on PS were 20% faster in their mental calculations![23] They weren't just faster though – they were also more accurate.

PS and DHA (the most important fatty acid in fish oil) combined on elderly patients (without dementia) significantly improved their verbal recall in memory tests. Dosage is unfortunately not stated, and is confounded by the fact that the PS was compounded with the DHA.[24]

200mg PS reduced symptoms of ADHD in children[25] as did 300mg when compounded with DHA[26]

Golfers significantly hit the ball better with PS and had a slightly less perceived stress during tee-off time![27] Awesome study, by the way, but they were using at least 300mg once again.

So you essentially have better attention, better memory, improved cognitive speed, and can hit things better when using PS (albeit in slightly higher doses than what we have in Muscle Pharm Wreckage).

So why in the hell has this never been in a pre workout? We need to try this stuff – maybe even trying some bulk phosphatidylserine standalone while we're at it.

Bioperine Black Pepper Extract (5mg)

Black pepper extract, known as piperine, has been added to more and more supplements over the past couple of years because it can enhance the absorption of certain ingredients (by preventing their early breakdown in your system).

It doesn't work for everything, but when it works, it works really well (2000% increased bioavailability for curcumin, for example!)[28]

Bioperine is the trademarked brand that is most popular – they guarantee at least 95% piperine.

A note is that it also may work with prescription drugs[29], so as always, see your doctor before taking this or any other new supplement.

Huperzine A (100mcg)

Huperzine A is yet another focus booster in Wreckage, and is indeed our final ingredient (beyond the supporting vitamins, minerals).

It works by slowing your brain's breakdown of acetylcholine[30], which is also known as the "learning neurotransmitter", thus indirectly increasing levels.

It's also neuroprotective against glutamine, the "neuron death molecule"[31]

But beyond preventing neuron cell death, it's even shown promise as being neurodegenerative — huperzine has helped create new brain cells![32]

If this seems like a small dose – it is to a degree – but that's standard. Very few supplements go too much further than this because of the cost.

In fact, this is twice the dosage of a very popular competing pre workout discussed below.
Wreckage – Deals and Price Drop Alerts
Get Price Alerts
No spam, no scams.
Disclosure: PricePlow relies on pricing from stores with which we have a business relationship. We work hard to keep pricing current, but you may find a better offer.
Posts are sponsored in part by the retailers and/or brands listed on this page.
Feeling a bit like Pre-JYM?
If you haven't noticed, this formula seems to be slightly inspired by JYM's Pre-JYM formula. And not that that's a bad thing – Pre-JYM is currently a top-seller and users are loving it.
Counting the ways, both have:
20 servings
6g citrulline + 500mg supporting NO booster (beet root for JYM vs. Agmatine for Wreckage)
BCAAs (6g in JYM vs 4g leucine in Wreckage)
2g Creatine HCl
High-dose L-Tyrosine (1.5g in Pre JYM vs 1.2g here)
Huperzine A (Pre-JYM's 50mcg vs 100mcg here)
5mg Bioperine
open formula, etc…
If someone were going to mimick a supplement yet improve upon it, like we feel MuscePharm did here, there's absolutely no shame in starting with a product like Pre-JYM.
What about Assault?
Assault is still very popular and is likely going nowhere. But in all honesty, Wreckage looks a lot more appealing. As mentioned, both of them could use more creatine, although Wreckage wins in that department as well.
To conclude our pre-review…
Arguments could be made regarding some of the dosages, but at the end of the day, this product is going to live up to its name, and will definitely provide some new effects thanks to the focus enhancers.
It's going to be a must-try supplement for 2015, and we'll see where the reviews take us from there.
Be sure to sign up for alerts here on PricePlow. We'll have more information on Wreckage as soon as it becomes available, and we'll have the best possible prices and sales for you as soon as it's released.
Wreckage – Deals and Price Drop Alerts
Get Price Alerts
No spam, no scams.
Disclosure: PricePlow relies on pricing from stores with which we have a business relationship. We work hard to keep pricing current, but you may find a better offer.
Posts are sponsored in part by the retailers and/or brands listed on this page.