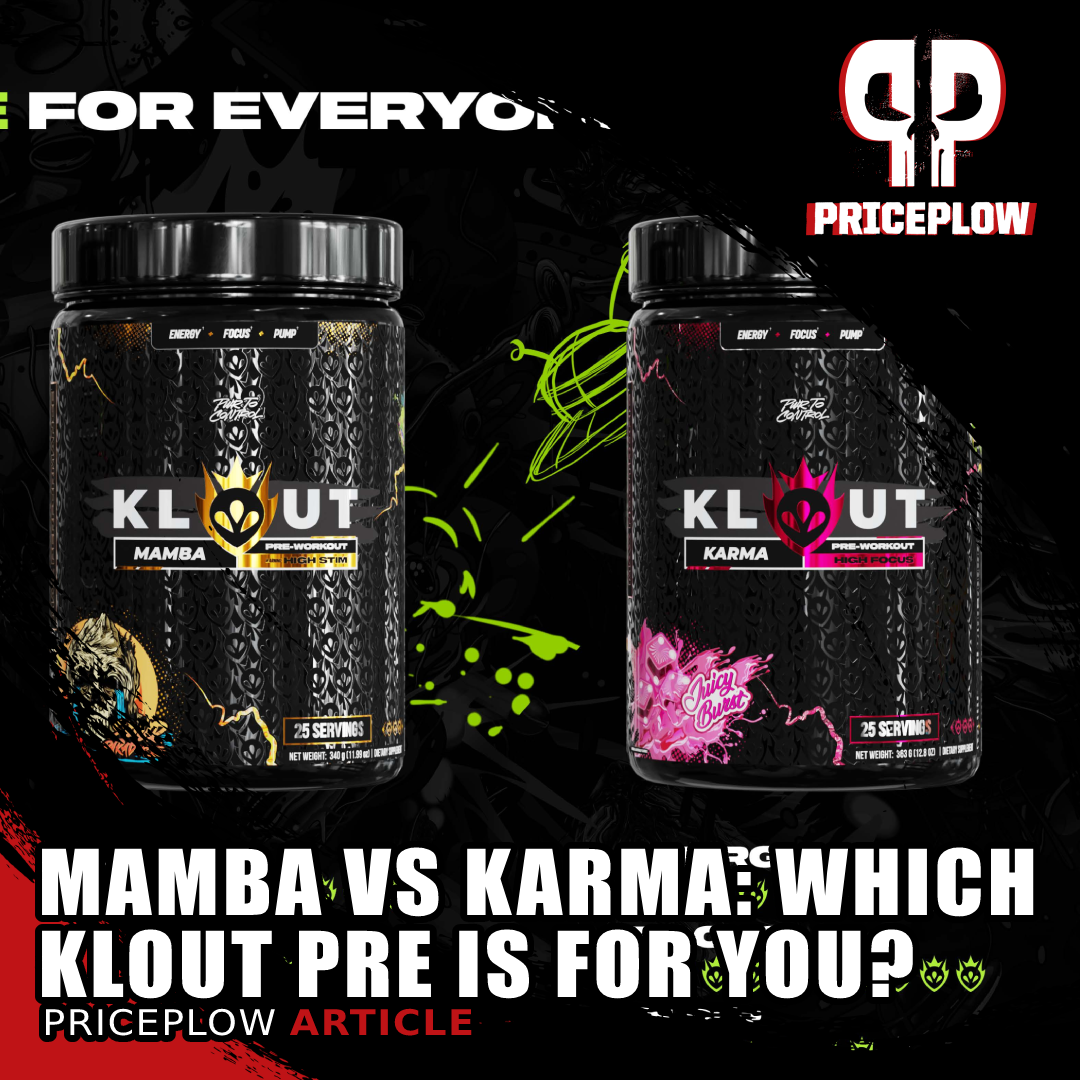 Last week, we were excited to introduce readers to the onslaught of new supplements coming in early 2023 from Klout, the young brand dubbed our "Brand to Watch for 2023". We then covered the labels of their new PWR Burn (fat burner), Aminos, and PWR Off (sleep aid) formulas.
Today, we get back to pre-workout supplements.
This year, Klout's set to release a few of them, starting with upgraded versions of their Mamba and Karma pre-workouts, whose labels are explained in this article. new Both of these have increased numbers of servings (25 full servings per container), epic new designs, and new flavors.
Whenever a brand launches multiple products in the same category, PricePlow loves to help consumers choose the right one for their needs.
Mamba vs. Karma: Which Klout Pre-Workout is For You?
For those who are great at reading labels, let's just have at it with a side-by-side comparison:
For those who want to dive deeper into the differences, the rest of this article is for you. First, let's get you signed up for PricePlow's Klout news, since the brand is going to have an epic sophomore season:
Klout Mamba Extreme Pre – Deals and Price Drop Alerts
Get Price Alerts
No spam, no scams.
Disclosure: PricePlow relies on pricing from stores with which we have a business relationship. We work hard to keep pricing current, but you may find a better offer.
Posts are sponsored in part by the retailers and/or brands listed on this page.
This area is reserved for Team PricePlow's upcoming Product Comparison video.
Subscribe to our channel and sign up for notifications so you catch it when it goes live!
Mamba vs. Karma: The Long Story Short
As you'll see in the labels above, there are a good number of similarities between the two products. For instance, the nitrate-based PWR Pump Blend is the same in both products.
However, there's one major difference:
Mamba has much more caffeine (~392 milligrams) than Karma has (~256 milligrams).
Caffeine from blends
The caffeine in both supplements come from blends:
The vast majority of Mamba is from fast-acting caffeine anhydrous (370 milligrams) with a small amount of slower-absorbing Infinergy dicaffeine malate (30 milligrams yielding the last ~22 milligrams of caffeine).
Karma is more balanced – 200 milligrams comes from caffeine anhydrous, while the other ~56 milligrams comes from Infinergy, which will last longer and provide a bit less up-front shock.
Since both formulas contain 25 full servings per container, this is the most major difference, but it's not the only one. Mamba is the harder-hitting pre-workout, while Karma is the nootropic pre-workout, using a higher dose of Alpha GPC 98% and a combination of L-Tyrosine and L-Phenylalanine to boost focus for the lower-stim users.
We'll get into those later, but let's dig deeper into the caffeine differences:
Karma for beginners and those who are unsure of caffeine tolerance
This leads us to recommend Karma to those who are new to pre-workout supplements and don't know their caffeine tolerance. The 250 milligram caffeine range is a great place to get started – many who are very sensitive can even use less than a full scoop. So if we had to choose one for you, and you gave us zero information about yourself, Karma is the safer bet.
However, if you do enjoy heavy hits of caffeine, Mamba is here for you.
Why would I want more caffeine in Mamba?
Unfortunately, many of us have had our caffeine tolerances rise to the point where we need something stronger than an entry-level dose. In that case, taking heaping scoops of Karma will run you through your tub faster, costing you money. This is why we like a brand that gives you options, and Mamba is that option.
But there's actually another reason to go higher in caffeine – strength and performance gains! Sometimes, even if your tolerance is lower, you want to go big, and research shows that caffeine can help you do just that.
Caffeine and performance
Research has shown that with as little as 3 milligrams of caffeine per kilogram of body weight, we can get modest gains in athletic performance.[1-3] For an average 175 pound person (80 kilograms), that's 240 milligrams of caffeine – right at the Karma level.
However, if you start looking at higher doses, there's a very large body of evidence showing that 5 to 9 milligrams of caffeine per kilogram of body weight leads to increased strength, athletic endurance, and maximum power.[4-16] Mamba is actually on the lower end of that range – our average 80 kilogram user will be just around 5 milligrams per kilogram with Mamba.
So this is the dosage where things start to get interesting. And if you're having a sluggish month, hit a plateau, or just want to level up, safely boosting caffeine can boost performance. Mamba is right in the right range to do that.
Mamba also has more theobromine
It's also worth noting that Mamba has a bit more theobromine than Karma (100 milligrams versus 50 milligrams). This may kick things up even more, since theobromine is a metabolite of caffeine that is also a methylxanthine with similar metabolic effects to caffeine's.[17,18]
Mamba doesn't take you completely over the top, though – there's a small amount of L-theanine (50 milligrams), which is an amino acid from tea leaves that provides some anti-anxiety effects[19-21] to ease some of caffeine's downsides, but synergizes with its nootropic powers.[22]
Karma: the nootropic (focus-boosting) pre-workout
As mentioned above Karma is the nootropic pre-workout, relying less on caffeine but bringing a few extra goodies to the table. Here's the main focus:
More choline from Alpha-GPC 98%

Both have solid doses of Alpha-GPC 98% (500 milligrams in Mamba vs 600 milligrams in Karma), but Karma has a bit more. Alpha-GPC is a choline source, and this is important because choline is an essential B vitamin used in cell membranes[23] and signaling functions between cells.[24]

Important to fans of nootropics, choline is essential for the generation of acetylcholine, a neurotransmitter that supports learning and memory.[25] More supplemental choline can boost acetylcholine levels, which can then lead to improved brain performance.[26,27]

L-Tyrosine and Phenylalanine in Karma only

L-Tyrosine is an ingredient that we consider a "focus amino acid" since it's needed to generate our feel-good neurotransmitters like dopamine, epinephrine, and subsequently norepinephrine,[28-30] which play a major role in motivation, energy, and focus

Tyrosine has been studied to help against sleep deprivation,[31,32] which may be useful to some who need some better sleep karma as well.

What's also cool about the Karma formula is that it includes L-Phenylalanine, which is an essential amino acid that's a precursor to tyrosine,[33,34] and should help upregulate neurotransmitter synthesis even more. It's also needed to make phenylethylamine (PEA),[34] another feel-good molecule in the brain[35] that can boost mood.

CognatiQ and Theacrine in Karma

Karma's not done yet – it also has CognatiQ, formerly known as NeuroFactor, an extract from coffeeberry used to boost BDNF (brain-derived neurotrophic factor), a focus-boosting protein.[36]

Greater BDNF levels can improve learning and memory by supporting better neuron health, growth, and survival.[37] Higher levels of the protein are associated with better cognitive operation,[38] but lower levels put people at greater risk of neurodegenerative disease.[36]

Thankfully, this coffeeberry extract has been shown to boost BDNF levels by 137% on average.[36]

And to top it off, Mamba also has a small amount of theacrine (20 milligram yield), which is similar to caffeine (and theobromine) in that it can increase mental and physical energy[39] through its inhibition of phosphodiesterase.[40] Like caffeine, it can also subvert adenosine's actions[41] and stimulate dopamine receptors.[42]

A couple extra vitamins in Karma

Finally, Karma provides some Vitamin C and Vitamin B12 for improved nitrate tolerance (the pump blend is nitrate-based) and metabolic support, respectively.
Mamba has elevATP for more power
Above, we talk about how the higher level of caffeine can help Mamba users attack greater top-end power. Another way Mamba supports this is with 150 milligrams of elevATP, an extract from ancient peat moss and apple with several natural compounds inside[43] that can boost your body's production of energy-carrying ATP.[44]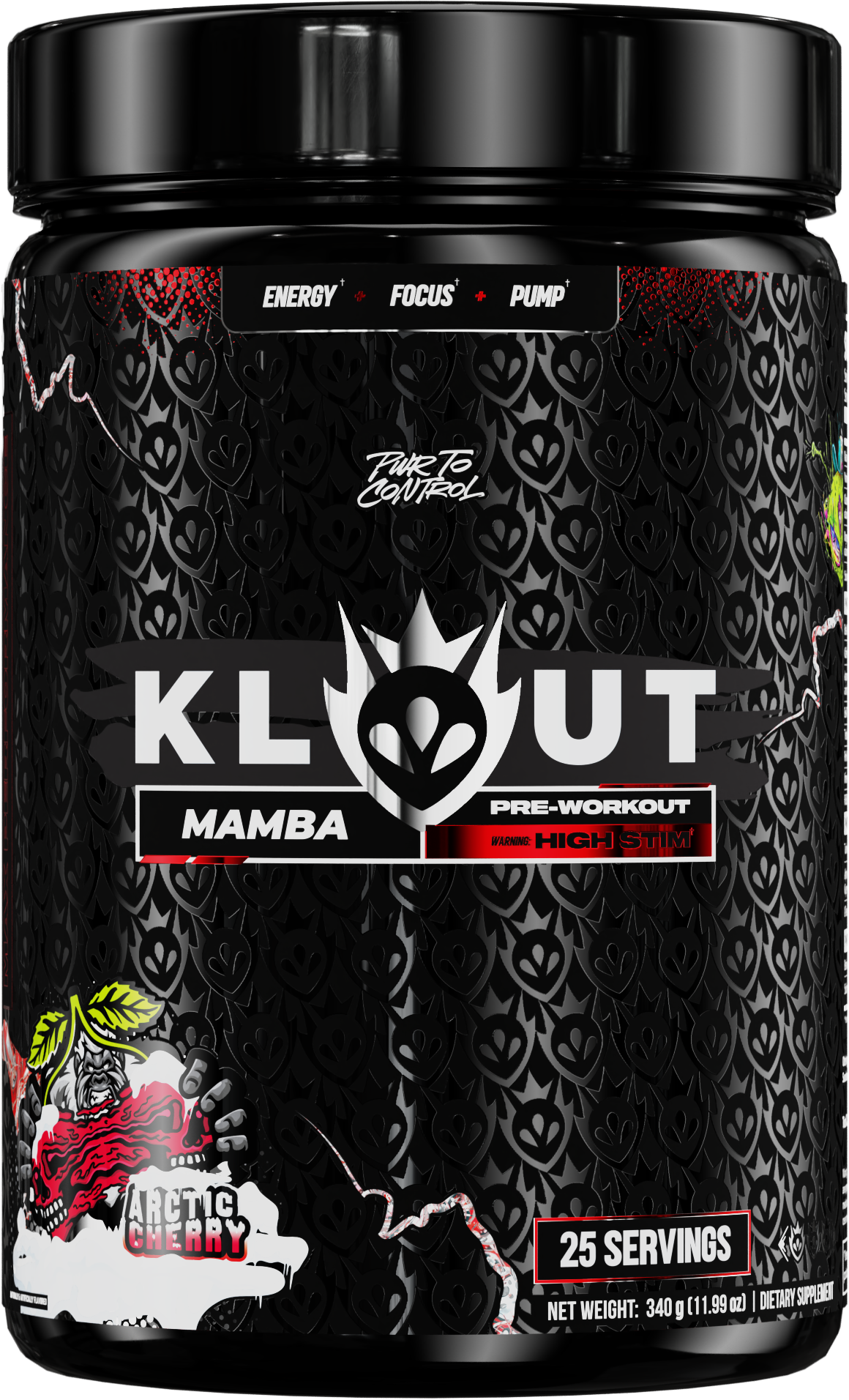 In 2016, a study was published showing that this 150 milligram dose can significantly improve one rep maxes in squats and deadlifts (as well as vertical jump power and velocity) when taken daily for eight weeks.[45]
Mamba Fires Back with GBB and Niacin!
Finally, an interesting inclusion in Mamba is gamma butyrobetaine (GBB) from branded ingredient FitGBB. This is a carnitine precursor that can lead to greater carnitine stores in the body.[46-48] This may drive some additional metabolic benefits, thanks to carnitine's role in the body as a fatty acid transporter.
Additionally, it may add some thermogenic potency, since GBB can make some users sweat more![48] So if you enjoy getting after it, you may like the amplifying effect of this ingredient. It's a clever way to push more carnitine without using grams of material.
To amplify things even more, Mamba includes 30 milligrams of niacin, which is an NAD+ precursor.[49-51] This is important because NAD+ is essential for a plethora of biochemical reactions to support energy metabolism, DNA repair, liver detoxification, and countless other essential functions.[52-55] Depending on the form and dosage of niacin, a bit of zing can be felt from it.
What you get with both Mamba and Karma
Finally, with both pre-workouts, you get:
Beta alanine – 3,200 mg: combines with the common amino acid L-histidine to form carnosine, a molecule that helps your body clear lactate from your muscles. Since lactate causes muscular fatigue, supplementation with beta alanine can improve athletic endurance. This is the most clinically-verified dose.
Aquamin – 300 mg: a mineral complex sourced from seaweed. It contains generous doses of calcium and magnesium, two crucial electrolytes, but also trace minerals like boron and manganese. Mineral support is important for pre-workouts because it helps you replenish the minerals you lose in sweat.
Taurine – 2,000 mg: an ergogenic aid and osmolyte that can improve focus and motivation through dopaminergic activity. It also helps you burn more calories by upregulating brown adipose tissue (BAT) and stabilizing neuronal mitochondria. This is an incredible dose.
The PWR Pump Blend, which contains 1500 milligrams of total nitrates. Nitrate supplementation is a powerful strategy for increasing nitric oxide production. But there are also benefits to what the nitrates are bound to:

Betaine nitrate (as NO3-T) (1,000 mg): Betaine is another great ergogenic aid and osmolyte that improves metabolic function and acts as a methyl donor. It helps your body make carnitine and keeps blood homocysteine levels under control.
Sodium nitrate (as NO3-T) (500 mg): – extra sodium helps your body replenish the sodium it loses in sweat during an intense workout.

Vitamin B6 (as Pyridoxal 5-Phosphate) – 5 mg (294% DV): key cofactor for enzymes involved in metabolic processes, also involved in neurotransmitter synthesis, hemoglobin formation, immunity, gluconeogenesis, and glycogenolysis.
What this all means is that with both of these formulas, most athletes can't go wrong so long as they're good with some level of stim. It just depends on where you want to get your energy and focus from. Mamba brings the caffeine and ATP boosters, while Karma brings more nootropics.
But there's one last thing. If you need to go big on everything, then there's a third option at GNC. Meet Klout KAIO, their final destination pre-workout.
Klout Mamba Extreme Pre – Deals and Price Drop Alerts
Get Price Alerts
No spam, no scams.
Disclosure: PricePlow relies on pricing from stores with which we have a business relationship. We work hard to keep pricing current, but you may find a better offer.
Posts are sponsored in part by the retailers and/or brands listed on this page.