It's been a couple years of incredible growth for Arms Race Nutrition, the novel influential sports supplement brand co-owned by Doug Miller and Julian Smith. Abbreviated to "ARN", the brand supports foundational basics and old school principles, backed by modern science.
Arms Race is on a hot streak, with three hugely successful product launches recently — Foundation Bar (breakfast cereal protein bar), Nite Nite (botanical-heavy sleep aid with no melatonin), and the updated Clarity Powder (energy nootropic and brain health tonic). But that's not the only news lately:
Arms Race Nutrition is now in Vitamin Shoppe!
If you're not following @ArmsRaceNutrition on Instagram (and you should), then you may have noticed the pinned banner announcement that we've glued back together for you:
That's right – thanks to the tutelage of Smith, Miller, and VP-of-Everything David Dodrill, Arms Race has a new "Arms Dealer" – Vitamin Shoppe!
The partnership launched online in late October 2022, with an early November launch party in Las Vegas that will be featured below as Team PricePlow is attending. First, let's get you signed up for Arms Race Nutrition news alerts and link you up to their Vitamin Shoppe page:
Arms Race Nutrition – Deals and Price Drop Alerts
Get Price Alerts
No spam, no scams.
Disclosure: PricePlow relies on pricing from stores with which we have a business relationship. We work hard to keep pricing current, but you may find a better offer.
Posts are sponsored in part by the retailers and/or brands listed on this page.
What's online at Vitamin Shoppe so far?
As of time of press (late October 2022), there's a limited selection of ARN supplements at VitaminShoppe.com. Here's a quick overview:
Harness – Pre Workout Supplement

Harness is the Arms Race pre-workout supplement with a total of ~404 milligrams of caffeine in a full two-scoop serving, thanks to 350 milligrams of caffeine anhydrous and 75 milligrams of ZumXR Extended Release caffeine, which yields about 54 milligrams more.

If you're able to two-scoop it (and you don't need to), you'll get 5 grams of L-citrulline, a full 3.2 gram dose of beta alanine, and a powerful cognitive blend that includes dopamine-boosting L-tyrosine, citicoline (more dopamine), and huperzine A to keep the acetylcholine levels going!

As of right now, we're seeing Key West and Bombsicle flavors. We recently covered the new Key West flavor launch this summer here on the PricePlow Blog.

Daily Pump – Stimulant-Free Pre-Workout Supplement

Daily Pump is the stimulant-free brother to Harness – a nitric oxide boosting pump supplement that brings it big. The formula was recently updated when ARN's Key West flavors were launched, so read that blog post for some of the details.

In short, you have 5 more grams of L-citrulline, 3.2 grams more of beta alanine, betaine nitrate, Alpha-GPC, and endurance-promoting novel senolytic ingredient Senactiv from NuLiv Science.

Stack with Harness? Only if you want a serious boost

There's some overlap with Harness, so some may ask why another 5 grams of L-Citrulline and 3.2 grams of beta alanine. Answers:

10g Citrulline? Research has shown that 10 grams of citrulline is where we really hit the "plasma arginine peak" before the law of diminishing returns.[1,2]
6.4g Beta Alanine? Beyond the typical 3.2 gram per day dosing, there's additional research showing that a total of 6.4 grams of beta alanine can accelerate muscle carnosine saturation even faster.[3,4] This could potentially bring the acid-buffering effect even faster, as we need beta alanine to help build our carnosine stores, and that can take some time.

So consider stacking them together if you've got the budget – Harness and Daily Pump are additive! Daily Pump is initially at Vitamin Shoppe in the aforementioned Key West flavor.

Foundation – Protein Blend

Foundation is a dairy protein blend consisting of whey protein concentrate and milk protein isolate to bring thick and rich taste. It has some incredible, unique flavors and is smoothed by a coconut oil blend combined with a gum blend. In case you're not the best at digesting dairy, a digestive enzyme blend is also included.

Vitamin Shoppe is currently carrying the Chocolate Lava Cake and Strawberry Shortcake flavors, and we hope there are more on the way.

Sidenote: We also hope they pick up those Foundation Bars… especially that Cinnamon Crunch Cereal flavor. Vitamin Shoppe buyers reading this, pay attention to that one!

Elevation – Pure Whey Protein Isolate

If the whey concentrate in Foundation still brings a bit too much lactose for you, you can opt for the more highly-refined whey protein isolate in Arms Race Elevation. Here, we get 24 grams of protein, 1 gram of carbohydrates, and that's about it – all totaling 100 calories. Ultra clean, ultra lean, but with a triple gum blend that really helps thicken it up.

It initially launched in Fruity Cereal and Chocolate Ice Cream flavors – this product indeed has a hilariously incredible chocolate and vanilla flavor set.

Replenish – EAA / BCAA

All of the above supplements are great, but what about during your workouts? That's a great time to sip on EAAs (essential amino acids), which also include the three anti-catabolic BCAAs. Replenish is Arms Race Nutrition's EAA supplement, and it's a solid one.

Aside from the 10 grams of total amino acids (coming from 6 grams of BCAAs and 4 grams of the other six EAAs), you also get a nice hit of sodium and potassium. Simple, well-dosed, and effective!

Vitamin Shoppe is first carrying the Key West flavor.
This is just the initial launch list – we're certain more will come, so check our Vitamin Shoppe links below!
A major new Arms Dealer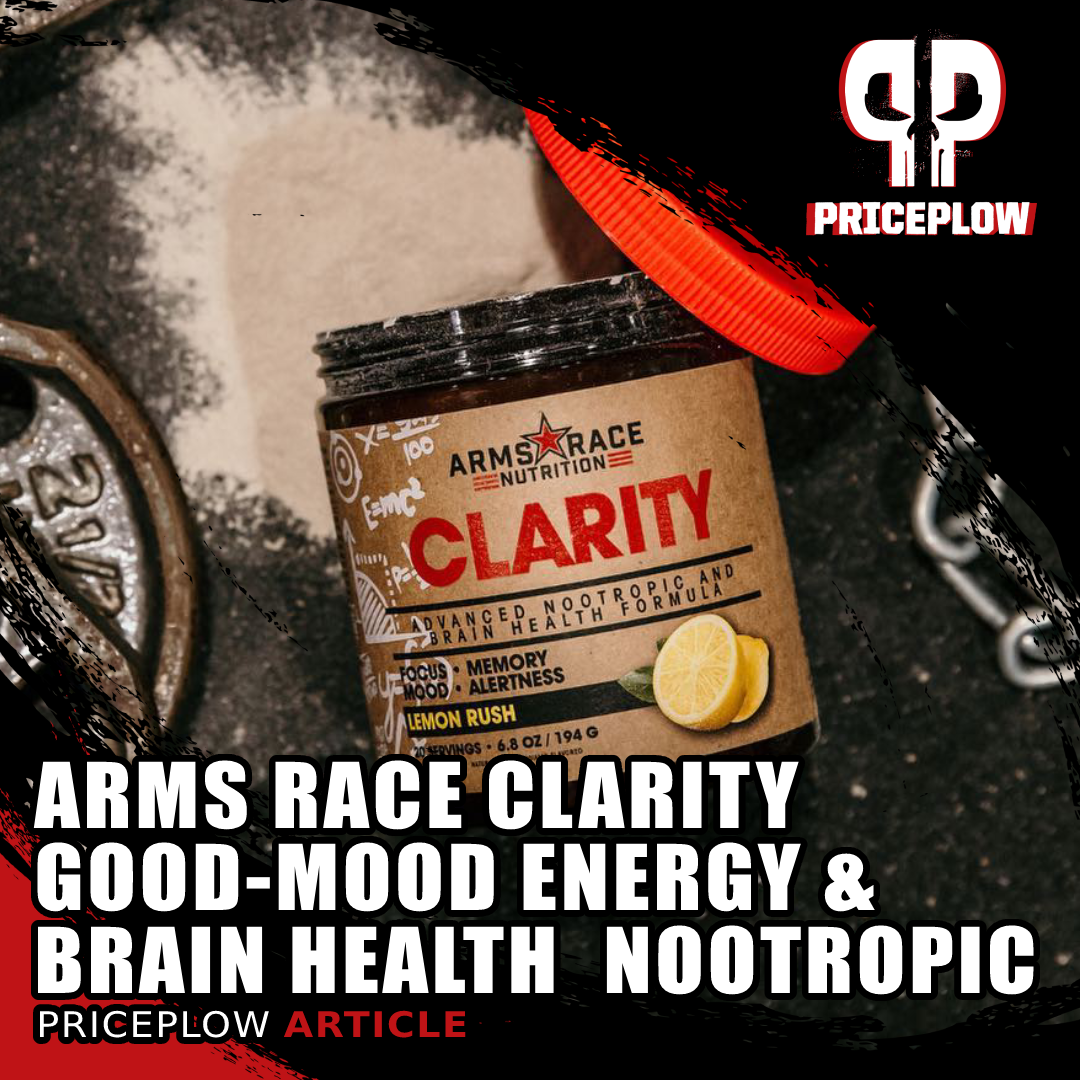 With their classic brown paper labeled tubs, Arms Race Nutrition supplements will stand out yet fit perfectly with Vitamin Shoppe's lineup. Objectively speaking, this brand is on absolute fire lately – and if you don't agree, we challenge you to try those Cinnamon Crunch Cereal Bars to see the light.
Consider this our "strongly worded letter" to Vitamin Shoppe that those are a must-pickup. But either way, this is a great partnership, and we're excited to see this stack get into more hands. Anyone looking to join the "Arms Race" needs to try the 10 gram citrulline stack built into Harness + Daily Pump. You'll be in for a fun month, to say the least.
Arms Race Nutrition – Deals and Price Drop Alerts
Get Price Alerts
No spam, no scams.
Disclosure: PricePlow relies on pricing from stores with which we have a business relationship. We work hard to keep pricing current, but you may find a better offer.
Posts are sponsored in part by the retailers and/or brands listed on this page.