5% Nutrition, founded by legendary bodybuilder Rich Piana, has its foundations in real, time-proven supplements. Whether you're looking to bulk up with their enhanced creatine formula Crea-TEN, or just get an insane pump at the gym with their Kill It RELOADED pre-workout powder, 5% Nutrition knows the exact right supplementation buttons to push.
Bodybuilding advice is pretty standard across the industry: up your protein intake, stick to a solid foundational resistance training program, and make sure the quality of your food is on point. What many overlook is that these practices can't have their full effects unless you can properly digest and absorb all of the nutrients you're consuming.
This is where the gut comes in. The gut, often referred to as the "second brain", plays a vital role in making sure the right nutrients get to the right places and are properly utilized. Due to a variety of factors, many if not most people are operating at a sub–par digestive performance level.
5% Nutrition is seeking to correct this imbalance with their awesome gut health formula: Probio-75, which was originally part of their Digestive Defender stack and is now available on its own.
Probio-75: Kick your second brain into high gear
The research on the benefits of probiotics is pretty consistent: probiotics contribute to a much healthier gut environment, which in turn leads to better nutrient absorption rates. Probiotic supplementation is an excellent way to make sure your body is actually utilizing all of those supplements you're taking in order to gain that coveted edge.
As if channeling the spirit of Rich Piana himself, Probio-75 is on another plane entirely compared to most gut formulas on the market. Probio-75 is a massive probiotic blend: every two-capsule serving contains 75 billion CFUs, or colony forming units. It is a veritable nation-state of good bacteria, poised to conquer the legions of bad bacteria currently occupying your gut.
We're going to take a look at some of the main ingredients in Probio-75, but first, let's check for some good deals on PricePlow, as well as our video review of Probio-75.
Rich Piana 5% Nutrition Probio-75 – Deals and Price Drop Alerts
Get Price Alerts
No spam, no scams.
Disclosure: PricePlow relies on pricing from stores with which we have a business relationship. We work hard to keep pricing current, but you may find a better offer.
Posts are sponsored in part by the retailers and/or brands listed on this page.
Let's take a look at the label:
5% Nutrition Probio-75 Ingredients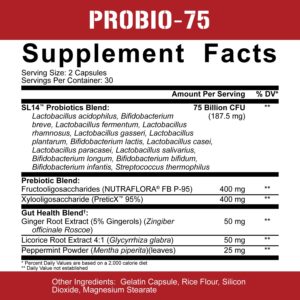 Each 2-capsule serving of Probio-75 contains a probiotic blend, a prebiotic blend, and a gut health blend. Let's work our way through each:
SL14 Probiotic Blend – 75 Billion CFUs

Probiotics are living, healthy bacteria that can help restore beneficial bacteria levels in the gut. Adequate levels of good bacteria in the gut contribute to more efficacious digestion, better nutrient absorption, and dozens of other vital bodily functions.

The SL14 blend contained in Probio-75 consists of 75 billion CFUs of this healthy bacteria (hence the product's name), split among a long list of strains, each having their own structures and benefits. Here are some of the most important families of strains:

Lactobacillus

The first major probiotic family in Probio-75 is lactobacillus, which is present in 8 different strains:

Lactobacillus acidophilus supports general digestive health and treatment of numerous digestive disorders, such as irritable bowel syndrome (IBS).[1]
Lactobacillus fermentum has been found to improve gut barrier function and reduce leukocyte infiltration, leading to a more diverse gut microbiota and alleviation of inflammatory diseases.[2]
Lactobacillus rhamnosus is effective at mediating autophagy induced by Fusobacterium nucleatum, a common source of intestinal dysfunction and inflammation.[3]
Lactobacillus gasseri shows additional benefits when it comes to reduction in fat accumulation, suggesting some body recomposition benefits.[4]
Lactobacillus plantarum produce bacteriocins, which are antimicrobial peptides that have the potential to complement antibiotics in the treatment and prevention of numerous diseases.[5]
Lactobacillus casei has demonstrated its prophylactic benefits in regards to diseases related to the gut microbiota.[6]
Lactobacillus paracasei is efficacious in symptom reduction of irritable bowel syndrome.[7]
Lactobacillus salivarius is shown to hamper the growth of Streptococcus mutans, which contributes to microbiota imbalance.[8]

Bifidobacterium

The bifidobacterium family of bacteria is also prominent in Probio-75, represented by the following strains:

Bifidobacterium breve is shown to regulate gastrointestinal disorders, as well as a strong potential to offer psychoactive benefits like management of mood disorders.[9]
Bifidobacterium lactis has been shown to effectively boost metabolic health and decrease obesity.[10]
Bifidobacterium longum has research demonstrating its ability to improve scores in participants with mood disorders.[11]
Bifidobacterium bifidum reduces intestinal inflammation by bolstering the intestinal epithelial tight junction barrier.[12]
Bifidobacterium infantis reduces "pro-inflammatory biomarkers in both gastrointestinal and non-gastrointestinal conditions."[13]

Streptococcus Thermophilus

Streptococcus thermophilus is the third family of bacteria in the SL14 blend, and it has been shown to be particularly effective against severe colorectal conditions.[14]

Prebiotic Blend

That massive amount of probiotics in Probio-75 needs something to feed on to be truly effective. Prebiotics are essentially food for the beneficial bacteria in the gut's microflora.

Fructooligosaccharides (NUTRAFLORA FB P-95) help the gut produce short-chain fatty acids, which play an extremely important role in the maintenance of gut and immune homeostasis. Further they have been shown to regulate bowel movements and reduce constipation.[15] They also aid in mineral absorption and improved blood sugar levels.[16,17]
Xylooligosaccharide (PreticX 95%), which also aids in the generation of short-chain fatty acids, "can alleviate colonic inflammation by regulating gut microbial composition and enhancing SCFA content in the gut".[18]

Gut Health Blend

In addition to the probiotics and prebiotics blends, Probio-75 contains a few herbal ingredients that smooth the ride for the gut, so to speak.

Ginger root extract revs up the movement of food in the digestive system, leading to a more efficient digestive process and fewer… bumps in the road.[19] It improves gastric motility.[20]
Licorice root extract 4:1 has been demonstrated to improve digestion[21], aid in the treatment of gut-born infections[22], and reduce ulcers.[23] It has further been shown to alleviate oxidative stress and stabilize cardiac health.[24]
Peppermint powder is efficacious in alleviating the symptoms of IBS.[25] It's also used to treat sinus-related conditions, muscle aches, and pains. There is likewise some evidence for psychological benefits, such as the improvement of mental functions, and the reduction of stress.[26]
Dosage and Instructions
Per 5% Nutrition's website, take 2 capsules with 6-8oz water once per day. Probio-75 can be taken with or without a meal. If you do AM/PM supplement dosing, you can split it into AM and PM doses, but it's probably just best to take it in the morning and be done with it!
Conclusion: You can't ignore gut health
Let's say your diet is down to a science. Like the Tokyo subway system, your meals come in exactly the right form at exactly the right time, every single day. Your macros are planned to within the tenth of a gram. You're consuming your daily value of all the micronutrients. You're buying organic food instead of processed food.
That's awesome – but if your gut is not properly absorbing and incorporating those nutrients, you're losing out on results in a big way. The gut needs to be in tip-top shape, so that your body can start running like a truly well-oiled machine.
Probio-75 is like the Rich Piana of gut supplements. Packing 75 billion CFUs, it's three or four times larger than most of the other supplements on the market. If you're going to take your gut health seriously, you might as well go big.
No half measures. Let the colony formation units strafe your unhealthy gut and make your body operate how it was meant to operate.
Next up, we get into a new flavor of Rich Piana's sleep aid, and then we'll be back for the other part of the Digestive Defender stack — 5% Nutrition Digestive Enzymes. Stay tuned!
Rich Piana 5% Nutrition Probio-75 – Deals and Price Drop Alerts
Get Price Alerts
No spam, no scams.
Disclosure: PricePlow relies on pricing from stores with which we have a business relationship. We work hard to keep pricing current, but you may find a better offer.
Posts are sponsored in part by the retailers and/or brands listed on this page.