Hot off the heels of the epic launch of Outlift Burn, the Nutrex Research Rebirth under the tutleage of Chris Waldrum, we have more coming from the resuring brand:
Nutrex Outlift Amped Updated!
Outlift Amped is the higher-energy, higher-stim pre-workout supplement from Nutrex that takes the Outlift platform to a whole new level. This is the third major version of the formula, and with Waldrum at the helm, we can see that it brings an edge of potency for the higher-stim users.
The new formula features a total of ~385mg total caffeine, 1.5mg Rauwolfia, and a 50mg Theacrine yield paired up next to 3 grams of L-Tyrosine in 22 servings, so you know it's going to smack and get you dialed in. But there's far more than that!
The full label's below, but first, check PricePlow's deals — the new formula has 22 servings and three new flavors:
Nutrex Outlift Amped – Deals and Price Drop Alerts
Get Price Alerts
No spam, no scams.
Disclosure: PricePlow relies on pricing from stores with which we have a business relationship. We work hard to keep pricing current, but you may find a better offer.
Posts are sponsored in part by the retailers and/or brands listed on this page.
This area is reserved for Team PricePlow's upcoming videos.
Subscribe to our channel and sign up for notifications so you catch it when it goes live!
Nutrex Outlift Amped Ingredients
Outlift Amped has 22 servings of the following:
Outlift Strength and Pump Complex
L-Citrulline – 6000 mg

Purpose: Nitric oxide pumps.

By way of the amino acid L-arginine, L-citrulline is a nitric oxide precursor[1] used to increase blood flow and pumps using nitric oxide's vasodilation mechanism.[2,3]

This supports improved ATP production that has been shown to lead to better work output and improved recovery[4-7] alongside of the training pumps we've all come to know and love. There's even more growth hormone released.[8]

Generally, 3-4 grams of citrulline is what's recommended to get these benefits,[4,8,9] but Nutrex went bigger with 6 grams, so even if you can't handle the full stimulant load of this product, you can do an "underwhelming" scoop and still reap nitric oxide based benefits!

Beta-Alanine – 3200 mg

Purpose: Muscular endurance.

By combining with the amino acid L-histidine, beta alanine helps form a crucial muscle buffering molecule known as carnosine.[10,11] With more carnosine comes greater total endurance.[11]

Two meta analyses looking at 15 and 40 studies (respectively) have shown that beta alanine can improve work capacity[12,13] — the more recent analysis published in 2016 concluded that it can help in exercises ranging from 30 seconds to 10 minutes long.[13]

Many will feel the beta alanine "tingles" here — this is known as paresthesia,[14] but a large safety analysis determined that the ingredient is safe and "does not adversely affect those consuming it".[15]

Betaine Anhydrous (Trimethylglycine) – 2500 mg

Purpose: Ergogenic performance and muscle booster.

Betaine serves a couple of key roles we're interested in:

It's a methyl donor,[18,19] providing methyl groups for countless biochemical reactions.
It's an osmolyte, supporting proper fluid balance between cells and protecting them from heat shock.[20,21]

With these mechanisms, betaine has been shown to increase athletic performance[22-27] and improve body composition[16,17,28] — supporting more aggressive hypertrophy (muscle building) and fat loss.

With these three fundamental ingredients setup, it's now time to get into the focus and energy.
Amped up Dialed In Blend
L-Tyrosine – 3000 mg

Purpose: Focus and motivation.

L-Tyrosine is a precursor to many of our fundamental motivational precursors, namely dopamine and norepinephrine.[29-31] This supports stress resilience, and has been successfully studied in combating sleep deprivation.[32,33]

3 grams here is a larger than normal dose, and is becoming a trend that users are loving. We normally are excited about 1 gram or more – but Nutrex went bigger with Outlift Amped, unsurprisingly!

Alpha-GPC 50% – 600 mg

Purpose: Focus and cellular strength.

Alpha-GPC is a popular choline source,[34] and choline is popular because it's metabolized into the synaptic neurotransmitter, acetylcholine, which controls skeletal muscles.[35] Choline is incredibly important for cell membranes as well, making it a vital nutrient classified as a B vitamin.

Its supplementation has been shown to improve cognitive outcomes,[36] but also strength and power,[37] making a great pair for Outlift Amped!

Caffeine (~385mg total from 350mg Caffeine Anhydrous & 50mg Dicaffeine Malate)

Purpose: Energy.

At this point, we should all know what caffeine does for us, and how much we can handle. With Outlift Amped, hopefully you can handle a good deal of it, because a full serving has a total yield of ~385 milligrams from two sources! Most of it comes in the form of fast-acting caffeine anhydrous (caffeine without water), while a touch more is in slower-acting dicaffeine malate.

Caffeine is an adenosine inhibitor,[38] and that's important because adenosine build-up (from continual breakdown of our adenosine triphosphate / ATP) makes us sleepy, so caffeine helps promote wakefulness.

Its use leads to increased neurological activity and improved physical performance,[38] and there's also energy production from increased fat oxidation.[40-42]

Depending on the dose range and your weight, caffeine has also been shown to improve athletic performance and strength / power,[39,43-57] and this dose is enough for many of these studies to pertain to average weight athletes!

All in all, expect Outlift Amped to hit hard. The question is whether or not you can handle a full scoop – starting at ½ or ¾ of a scoop is not a bad idea!

Theacrine 40% – 125 mg

Purpose: Longer-lasting energy.

We're not done with energy yet, though! A solid 50 milligram yield of theacrine provides a long-lasting dopamine boost as well. It's in the same family as caffeine and has several similar mechanisms, but is non-habituating.[58-61]

Theacrine has been shown to boost dopamine,[59] combat fatigue,[60] and increase thermogenesis[62] — just what many want in an Amped product.

CognatiQ (Whole Coffee Fruit Extract) – 100 mg

Purpose: Euphoric focus.

Previously known as NeuroFactor, CognatiQ is a coffee fruit extract that's been shown to increase brain-derived neurotrophic factor (BDNF) by 150% at this 100 milligram dose.[63] This is a great thing because BDNF can promote the growth of new neurons and new neuronal connections.[64,65]

There's a lot of research connecting serum BDNF levels with cognitive performance,[66-69] and low BDNF levels are associated with poor outcomes,[70] so keeping it high is a good thing.

Beyond that, anecdotally, CognatiQ is simply a feel-good ingredient that we like having in pre-workouts.

Rauwolfia vomitoria Extract (root) (std. 90% Rauwolscine) – 1.5 mg

Purpose: Intense energy.

Beyond the caffeine and theacrine, here's where the Outlift Amped really earns its namesake! Rauwolscine comes from rauwolfia, and is also known as alpha-yohimbine. It's similar to yohimbine,[71] only more intense, and supports focus, appetite suppression,[72] and weight loss.

This ingredient drives an intense sensation, and paired next to the high caffeine content, there's no doubt most users will get quite amped up.
Hydration Matrix
Finally, we have some added mineral and vitamin support to replace a touch of what's lost:
Aquamin (as Seaweed derived minerals) – 300 mg

Purpose: Natural calcium source.

Pink Himalayan Salt – 300 mg (yields 2% DV)

Purpose: Natural sodium replenishment source.

Potassium Citrate – 100 mg (yields 1% DV)

Purpose: Potassium for sodium balance.

Magnesium Malate – 100 mg (yields 8% DV)

Purpose: Metabolic mineral augmentation.
Maximum Absorption
Bioperine – 5mg

Purpose: Ingredient absorption.
Added Vitamins – Folate (200% DV) and Vitamin B12 (as Methylcobalamin) (20833% DV)
Purpose: Metabolic cofactors.
This combines a ton of our favorite ingredients, and we've come to love the higher doses of L-Tyrosine. If you're a fan of rauwolfia, then this one's definitely for you.
Flavors Available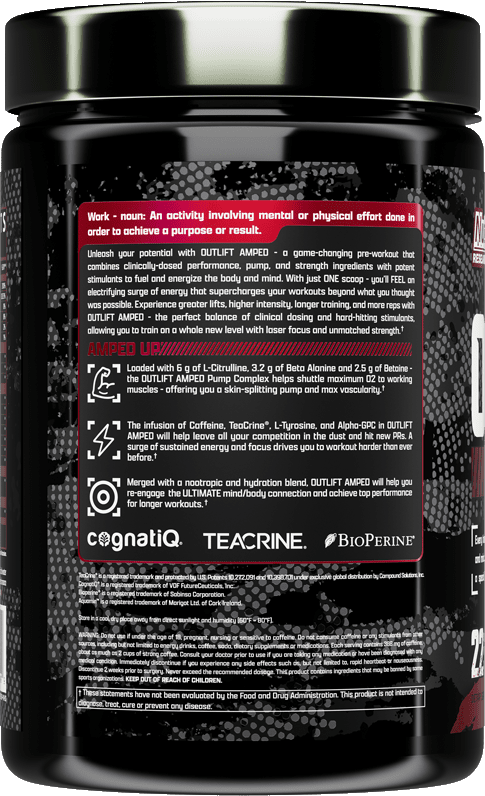 A few legacy flavors will remain available in some retailers, but the new flavors released in 2023 will be highlighted in yellow:
Get Amped with Outlift Amped
With the updated Nutrex platform, you now have two incredible options to go alongside the standard Outlift pre-workout:
Outlift Amped (you are here)
We have a strong feeling that this isn't the end of the rebirth, but if you want to go back and listen to some of the earlier ideas in the conversation, check out Episode #091 with Chris Waldrum on the PricePlow Podcast, where Chris talks about bringing some edgy new labels to the brand and far more.
So far, he's done that in spades, and we've got to believe there's more to come.
Snag yourself a tub of Amped (or Burn!) and sign up for our Nutrex news alerts to find out:
Nutrex Outlift Amped – Deals and Price Drop Alerts
Get Price Alerts
No spam, no scams.
Disclosure: PricePlow relies on pricing from stores with which we have a business relationship. We work hard to keep pricing current, but you may find a better offer.
Posts are sponsored in part by the retailers and/or brands listed on this page.