iForce Nutrition's Max Out preworkout is here and it's definitely intense.

Inside, you'll find several things that we love (from the philosophy to the ingredients to the flavors), all wrapped in one pre workout. We're expecting big things.
iForce is back on the scene with a new pre-workout product accompanied by the usual marketing pictures full of prominent veins and mid-rep screams that would instantly set off the "Lunk Alarm" at Planet Fitness.
Note that the product name is actually not entirely "new", as Max Out was on the market back in the mid-to-late 2000s but disappeared from shelves around 2010. It's back with a completely different formulation, so don't confuse the old labels from the new one shown below!
This reintroduction of the formula is set to replace CONQUER, which in turn replaced Maximize Intense (both of which are still available at clearance prices as we write this).
We've generally been fans of iForce over the years as they make very potent products that also tend to be reasonably priced.
iForce Max Out - Deals and Price Drop Alerts
Get Price Alerts
No spam, no scams.
Disclosure: PricePlow relies on pricing from stores with which we have a business relationship. We work hard to keep pricing current, but you may find a better offer.
Posts are sponsored in part by the retailers and/or brands listed on this page.
Max Out looks to follow in that trend with very generous doses of potassium nitrate and stims for enhanced pump and better-than-average energy.
An open-ish label!
One thing that we're absolutely loving is how iForce is slowly "opening" up their labels by showing exact dosages in each of the complexes. The dosages are not on the main ingredient label below, but they are on other marketing images, and together, we can determine what's really happening here!
This is a great step towards transparency that iForce hasn't had before! Again, note that the usual "proprietary blends" taking up most of the label space, so you have to dig around for more info.
From what we can get out of the label and the press releases, however, Max Out seems very similar in formulation to its iteration that was on shelves a few years ago.
The 2014 Max Out Ingredients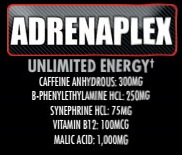 The 2014 version of Max Out contains four ingredient complexes:
The AdrenaPlex
We talked about the AdrenaPlex energy blend in the recent Thermoxyn review, and for a quick recap, we liked the acacia rigidula content, which the label claims is entirely extracted from actual stems and leaves rather than being spiked with questionable PEA content.
300mg caffeine
We also know that there's 300mg per serving of caffeine, which is about double what these products normally contain
What this means is that it's a single-serving product – taking much more than one scoop is not recommended.
This could be good for regular coffee drinkers who are caffeine-tolerant and need a higher dose, but it might also lead to jitters for those who don't regularly use it.
75mg Synephrine and 250mg PEA
The label indicates that the Max Out Adrenaplex adds a couple of items, however — Synephrine HCL (at 75mg) and B-Phenethylamine HCL, or PEA (at 250mg).
Synephrine is very effective as a stimulant, but this is one area where users may get a touch too stimulated. Seeing that it's also in the #1 selling pre workout on the market (C4 Extreme), the safety concerns seem to be overcautious. But as always, you should speak to your doctor to check on your cardiac condition before taking any stimulants.
Advanced dosage product for advanced users
iForce's users like it strong and are typically advanced users, but if this is going to be your first time ever taking a pre workout supplement, you'll definitely want to back down to less than half a scoop.
Let us repeat we are just loving this open label. Most of our team (except CJ) would actually be at 3/4 of a scoop with these dosages, which would yield 40 workouts in a tub – a killer value even at retail prices!
Why is malic acid in here?
Malic Acid is also listed as the primary in this version of the blend. Below is iForce's explanation for adding it to Max Out:
Malic Acid is pivotal in the Kreb cycle, and has been shown to increase ATP as well as enhanced endurance. It's what gives cit malate the endurance enhancement when dosed high enough. Cit on its own is a great lactic acid buffer, but the malic acid is what gives the noticeable improvements for acute doses — Vaughn at iFroce
If nothing else, this is going to be significantly different than other pre workouts because of ingredients like malic acid, so if you're tired of the same ol' same ol' and want a strong pre workout, this could provide quite a bit of energy that you're not used to.
The NitroPlex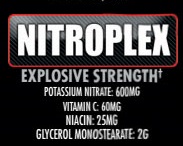 The iForce NitroPlex is simply potassium nitrate and glycerol monostearate. We do know that 600 of the 2,600 milligrams here is potassium nitrate, which is a serious dose.
iForce sells a standalone potassium nitrate product at great deals. Each capsule only has 150mg, meaning that this is 4 caps worth.
If you do the math, you can come to realize that Max Out is a killer deal comparatively – you're getting so much more for your money.
So that leaves 2,000 milligrams of glycerol — having this will contribute wildly to your pumps – this is the same dosage that's in HEMAVOL, our favorite stimulant-free pump supplement.
End result? A potent one-two punch
This one-two punch of nitrates and glycerol will actually be unique to most pre workouts. The potassium nitrate will separate to boost nitric oxide levels.
Meanwhile, the glycerol monostearate works in a completely different way – it's more of a "water sponge" for your muscles, and will make you feel rich and full and strong.
Together, you have two completely different styles of pumps. If one doesn't work for you, the other will. But if both work well for you — then watch out!
The CogniPlex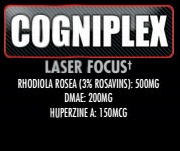 Rhodiola rosea is the primary here (at 500mg, 3% rosavins – a strong dosage of the standard extract), and it's a polarizing ingredient for sure. Fans of rhodiola are going to love this product. Others might not feel it.
Rhodiola known to improve mood, and the purpose of inclusion here is also probably to even out some of the feeling from the heavy stim content. On this site, it's our top-rated herb, so iForce wins points for sure.
But while we're fans of it, some users simply aren't.
An interesting combination is between the rhodiola and the PEA. Rhodiola acts as a minor MAO-inhibitor, which will make the feel-good effects of PEA last longer. This is great for many of us, but if you're on prescription drugs that also target MAO, you'll definitely want to talk to your doctor and sit this one out.
DMAE and Huperzine A are the other ingredients here, fairly common nootropics that seem to show some benefit in early studies.
The HydroPlex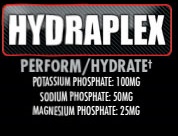 Potassium, sodium and magnesium phosphates are combined in a fairly standard hydration blend.
A note on the flavors
One last exciting item: lemon drop flavor! This is the flavor that has blown us away so much in our HEMAVOL and iForce COMPETE reviews.
We know that it's harder to flavor stimulants (they taste bitter), but if iForce can make this taste anywhere near as good as the above two products, this stuff will be more delicious than nearly any other supplement. We will see in a review soon!
Conclusion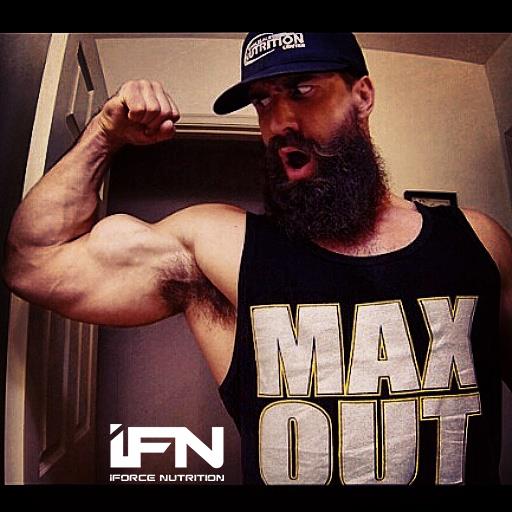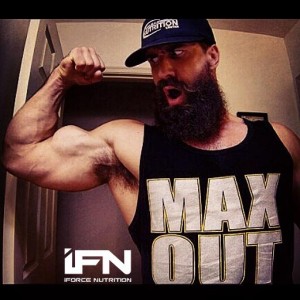 Not going with creatine or beta alanine is an interesting choice for a pre-workout, but Max Out still looks like it has good pump content by virtue of the potassium nitrate dosing alone. Top that off with glycerol and you should be feeling some serious swole here.
The big question here is: what is that heavy stim blend going to feel like, and how will the rhodiola act on it?
iForce has been selling potassium nitrate pills in a similar dose for some time now, so that's an alternate option that delivers most of the pump benefit found here for those who are sensitive to stims.
Unless you're absolutely sure you want a real heavy, high-energy pre-workout, it's probably best to start with the 10 serving packs before committing to an entire tub.
But if you know you can handle 300mg caffeine, and you enjoy HEMAVOL or nitrate based pumps, it looks like it's going to add up well. Rhodiola is probably your biggest question mark, but we know that we love it, so we're forecasting great things for Max Out!
iForce Max Out - Deals and Price Drop Alerts
Get Price Alerts
No spam, no scams.
Disclosure: PricePlow relies on pricing from stores with which we have a business relationship. We work hard to keep pricing current, but you may find a better offer.
Posts are sponsored in part by the retailers and/or brands listed on this page.