Earlier this year, we scooped the industry with news that Black Magic Supply was tooling up for 2022, giving a recap of where the edgy brand was and where it was going. Taking a break from the heroic BZRK Voodoo limited-edition pre-workout and underrated Ecto Plasm stim-free pre-workout, it's time to get those protein numbers up.
In late spring of 2022, Black Magic has a new flavor of their 100% Vegan Protein:
Black Magic in Peanut Butter: 100% Vegan Protein
As of June 9, 2022, Black Magic Supply's 100% Vegan Protein now comes in Peanut Butter flavor! After first testing the ice cream inspired chocolate flavor, the new PB variation adds a twist for those who want something different from chocolate or vanilla. It comes as a dairy-free alternative to Black Magic's Multi-Source Protein powder.
We haven't dug into this unique four-protein blend yet on the PricePlow Blog, so we'll use this flavor as an opportunity to explain how it's different from the rest.
First, check out prices and availability using PricePlow, and sign up for our Black Magic news updates, and then let's get into it:
Black Magic 100% Vegan Protein – Deals and Price Drop Alerts
Get Price Alerts
No spam, no scams.
Disclosure: PricePlow relies on pricing from stores with which we have a business relationship. We work hard to keep pricing current, but you may find a better offer.
Posts are sponsored in part by the retailers and/or brands listed on this page.
Black Magic Supply 100% Vegan Protein Nutrition Facts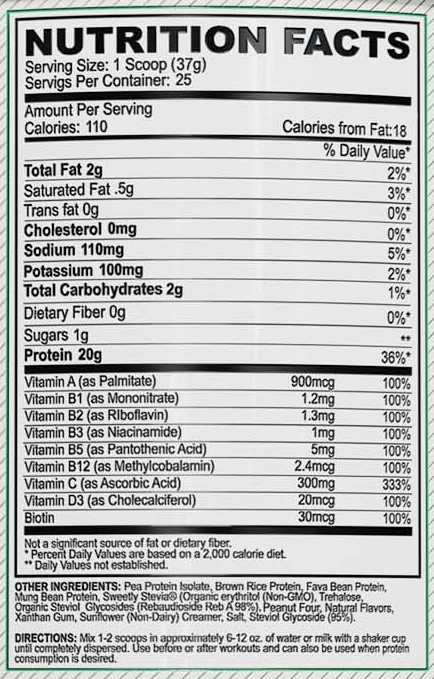 Black Magic has quite a clean label here compared to other vegan proteins (it may differ from flavor to flavor):
Calories: 110

Protein: 20g

Total Fat: 2g

Total Carbohydrate: 2g

Dietary Fiber: 0g

Sugars: 1g
In addition, don't miss the vitamin and mineral blend on the label shown to the right!
Black Magic Supply 100% Vegan Protein Ingredients
Let's focus on the protein blend, but the other ingredients are interesting too – Black Magic is using a Sweetly Stevia blend to naturally sweeten the protein:
Pea Protein Isolate

Like most other vegan protein powders, Black Magic Supply begins with pea protein isolate, which is smart because it's a complete protein source[1-3] with some very solid research backing its use.

As a complete protein source, pea protein has all nine essential amino acids,[1-3] which cannot be produced in the body and must be ingested. However, it is a touch low in methionine,[4] which some longevity researchers consider a benefit. However, Black Magic is targeted towards athletes, so in this case, brown rice protein has been added next to cover all essential amino acid bases. Because of this, we definitely consider the blend to be complete.

Regardless of methionine or not, pea protein alone has been shown to have muscle-building and strength-increasing benefits. A randomized, double-blind, controlled study in 2015 showed that athletes using pea protein alone gained the same amount of weight during a weight-training program as those who took whey protein.[5]

Another study replicated these benefits, this time employing an exercise program similar to CrossFit.[6]

Pea protein is also very digestible, with a PDCAAS (protein digestibility-corrected amino acid score) of 92.8 out of 100%.[3] All in all, dairy proteins have the most research, but many are opting to go dairy-free, and pea protein has the most real world backing to support its use.

Just in case, however, it's a good idea to round out that amino acid profile:

Brown Rice Protein

Brown rice protein is often used to include additional methionine, as mentioned above. It gets 37% of its protein in the form of essential amino acids, and 18% of those are the three branched-chain amino acids (BCAAs).[7]

Brown rice protein isn't used on its own because it's low in the essential amino acid lysine.[4] This is why "rice and beans" are so popular together in so many cultures — they pair very well and cover each other's shortfalls! Smart supplement companies like Black Magic Supply do the same.

In terms of athletic research, a study published in 2013 showed that rice protein had no significant differences in terms of body composition changes or recovery when compared to whey protein.[8]

Researchers have noted that combining pea protein and rice protein can bring PDCAAs (protein digestibility corrected amino acid score) up to 1.0, or 100%.[9]

With this amino acid profile fully rounded out, next it's time to round out something else: the texture!

Fava Bean Protein and Mung Bean Protein

While pea and rice provide the core of the amino acids, their texture can often be gritty. Black Magic goes above and beyond to remedy this with a blend of fava bean protein and mung bean protein, helping to provide a smoother texture.

Scientifically known as vicia faba, fava beans come from a flowering plant in the pea family with a legume that's rich in nutrients, especially protein and fiber.[10]

When the fava bean seed is developing, it produces a large amount of protein, including globulins (legumin and vicilin) as well as albumin, prolamins, and glutenins. These have high amounts of leucine, glutamic acid, and arginine.[10]

But more importantly, it has a smooth texture!

Similarly, mung bean (vigna radiata) has similar properties, and its plant is also known for detoxification potential.[11] Mung bean seeds have somewhere between 21 to 32% protein, and 44% of that is essential amino acids. They are high in leucine, but low in methionine and cysteine[11] – which is fine since supplement brands don't use them for those properties anyway.

With these two protein sources added, Black Magic Supply has a texture that's far more impressive than your traditional pea or pea/rice protein. They also have a few extra ingredients to help even more:

Other ingredients

Black Magic sweetens 100% Vegan with Sweetly Stevia, a blend of erythritol, trehalose, and stevia.

You also get peanut flour with the peanut butter flavor, cocoa with the chocolate ice cream flavor, or vanilla for vanilla ice cream.

To smooth it out further, they also add both xanthan gum and a non-dairy sunflower creamer.
Flavors Available
This section will remain up-to-date with all flavors:
Handcrafted Vegan Protein Powder
Not everyone using these proteins is a vegan – some are just looking for dairy-free options. However, most vegan proteins aren't even remotely close to the milkshake-like texture of whey proteins. Thankfully, brands like Black Magic Supply are figuring it out – and it comes to down to blends that use a few extra plant-based ingredients to smooth things over.
The brand of Less Luck, More Skill puts its slogan to the fire here, so that you can get some dairy-free essential amino acids in after you've had a BZRK and/or Ecto Plasm inspired pre-workout.
So if you've been turned off by gritty pea protein powders in the past, give this one a shot and you may be pleasantly surprised by how much better companies like Black Magic are making them!
Black Magic 100% Vegan Protein – Deals and Price Drop Alerts
Get Price Alerts
No spam, no scams.
Disclosure: PricePlow relies on pricing from stores with which we have a business relationship. We work hard to keep pricing current, but you may find a better offer.
Posts are sponsored in part by the retailers and/or brands listed on this page.