Last October, for PricePlow Podcast #052, we sat down with the Raw Nutrition team to discuss their partnership with Mr. Olympia winner Chris Bumstead.
If you didn't catch that episode of the podcast, or just need a refresher, check it out here:
Chris Bumstead Joins Raw Nutrition Ownership Team, Launches Product Line | #052
In this episode, the team discussed how Chris's arrival at Raw Nutrition would occasion the launch of the CBUM product line, starting with CBUM ISO-Protein and CBUM Thavage Pre-Workout.
New flavor – Green Crush!
We recently covered his celebrational 3-PEAT flavor after Chris won Mr. Olympia Classic Physique for the third time in a row, but the latest story with Thavage Pre-Workout is that yet another new flavor has been released: Green Crush! Since it's already sold out at Raw Nutrition's website, the Cucumber Lime flavor profile is already looking like a winner – and as we write this, some other stores still have it.
CBUM Pre: for Thavages Only
Thavage Pre-Workout is designed to be either single scooped or double scooped, with 40 scoops per container. A double scoop gives you a solid 305 milligrams of caffeine plus added synephrine, meaning that a full serving of this supplement is not for most pre-workout rookies.
Every Thavage loves the tingles
Another notable ingredient here is the 3200 milligrams of beta-alanine per 2-scoop serving. This isn't totally surprising since, as he explains in the podcast episode linked above, Chris himself loves the beta-alanine tingles.
But it's also got a lot of non-stim energy and focus ingredients like tyrosine, synephrine, and alpha-GPC, making it a supplement that attacks the problem of workout motivation from a bunch of different complementary angles, without just relying on a big dose of caffeine.
Let's go through a quick review of the Thavage Pre-Workout ingredients. But first, be sure you're signed up for PricePlow Raw Nutrition alerts:
RAW Nutrition CBUM Thavage Pre-Workout – Deals and Price Drop Alerts
Get Price Alerts
No spam, no scams.
Disclosure: PricePlow relies on pricing from stores with which we have a business relationship. We work hard to keep pricing current, but you may find a better offer.
Posts are sponsored in part by the retailers and/or brands listed on this page.
Ingredients
A full in-depth analysis is in our main article titled Chris Bumstead's CBUM Thavage Pre Workout: A Pre Fit For Thavages. Briefly, in a single 2-scoop serving of CBUM Thavage Pre-Workout, you get the following:
L-Citrulline – 6000 mg

Main Purpose: Nitric oxide pumps.

Citrulline is a potent nitric oxide (NO) booster,[1] more effective than arginine.[2-4] Greater NO production means more efficient nutrient and oxygen delivery, as well as ATP production.[5-7] Athletes who take NO boosters are less sore after exercise.[8] A 6-gram dose of citrulline is big, with the standard clinical dose being about 3 grams.[9]

Beta-Alanine – 3200 mg

Main Purpose: Endurance.

When combined with histidine, beta-alanine makes carnosine,[10,11] which can increase athletic endurance by buffering lactic acid in muscles. Two large meta-analyses found that any exercise between 30 seconds and 10 minutes in duration can benefit greatly from beta-alanine.[12,13] A large meta-analysis also concludes that it's safe.[14]

Betaine Anhydrous – 2500 mg

Main Purpose: Ergogenic muscle builder.

Betaine is a methyl donor capable of reducing homocysteine blood levels.[15] it's also an osmolyte, helping to make cells more resilient through improved hydration[16,17] and protect them from heat shock.[18] After years of positive research outcomes on betaine,[19-24] seminal studies in 2013 and 2014 found that 2500 grams of betaine daily could cause 5.3 pounds of muscle gain and 6.4 pounds of fat loss, a 3% body fat reduction in just six weeks.[17,25] A followup study replicated the fat loss effects in women with the same 2.5 gram daily dose.[26]

L-Tyrosine – 2000 mg

Main Purpose: Focus.

Tyrosine can help boost focus and energy by acting as a precursor for dopamine and adrenaline.[27] It's especially good for mitigating cognitive impairment caused by acute sleep deprivation.[28,29]

Taurine – 2000 mg

Main Purpose: Hydration-driven endurance.

Taurine synergizes with betaine, as it is also an osmolyte. It can increase endurance, act as an antioxidant, and facilitate muscle contractions.[30-33] A 2018 meta-analysis found that 1 to 6-gram doses of taurine work even on the first use.[32] Taurine can also improve cognition[31] and boost NO production.[33]

Inositol-stabilized Arginine Silicate (as Nitrosigine) – 1500 mg

Main Purpose: Nitric Oxide Booster

Nitrosigine (ASI) is a patented compound of arginine, inositol, and potassium silicate.[34] Nitrosigine is designed to increase the bioavailability of arginine by buffering arginase, thus sparing the arginine from the "first pass effect."[35,36] Nitrosigine boosts NO production quickly and for a long time, acting as soon as 30 minutes after ingestion for up to six hours.[37,38] Increased NO production can improve athletic performance[39,40] and speed recovery after exercise.[40,41] Nitrosigine can also have nootropic effects.[37,42,43]

Read more about Nitrosigine at Nitrosigine: The Nitric Oxide Booster That Enhances Brain Function.

Agmatine Sulfate – 1000 mg

Main Purpose: Nitric Oxide Booster

Agmatine sulfate prevents NO from being degraded, thus extending its action.[44] It can also boost NO production.[45] Agmatine also works as a neurotransmitter and can boost mood.[46]

Coconut Fruit Water Powder – 500 mg

Main Purpose: Hydration

Coconut water powder can improve hydration, helping the body hold on to its stored water by raising electrolyte levels.[47] It has been shown to rehydrate at least as well as sugar-based electrolyte sports drinks.[48]

Alpha-GPC (Alpha-Glyceryl Phosphoryl Choline 50%) – 400 mg

Main Purpose: Focus

Alpha-GPC is a great source of choline, which is a precursor to acetylcholine, a crucially important neurotransmitter that regulates a huge range of cognitive functions from learning and memory consolidation to balance and coordination.[49,50] Many who take alpha-GPC report a better "mind-muscle connection."

Caffeine Anhydrous – 260 mg (of 305 milligrams total)

Main Purpose: Energy.

Caffeine fights fatigue by inhibiting adenosine and phosphodiesterase.[51] It can also increase your rate of fat burning.[52-54]

Note: a 2-scoop serving of CBum Thavage Pre-Workout gives you ~305 milligrams of caffeine, which is a lot. Assess your tolerance before using a 2-scoop serving.

L-Theanine – 150 mg

Main Purpose: Caffeine Synergy

Theanine occurs naturally in tea and synthesizes with caffeine. The combination of caffeine and theanine has been shown to improve cognition to a greater degree than either substance alone.[52-54] It also has anti-anxiety effects.[51]

Bitter Orange (Citrus aurantium) Fruit Extract (6% Synephrine) – 100 mg

Main Purpose: Energy and fat oxidation

This extract standardized for synephrine, a beta-3 adrenergic receptor agonist,[55] can increase the body's ability to burn fat.[56,57] It can rev up the metabolism, but without causing a rise in blood pressure or heart rate.[55] It also helps boost fat burning, like caffeine.[58]

Di-Caffeine Malate – 64 mg (delivering 45 mg caffeine out of 305 milligrams total)

Main Purpose: Longer-lasting energy

Di-caffeine malate is caffeine combined with malic acid. This ingredient has all the same effects as caffeine anhydrous,[51-54] but has a longer half-life and a smoother energy curve, meaning you get less of a crash as it wears off.

AstraGin (Astragalus membranaceus & Panax notoginseng) Root extracts – 25 mg

Main Purpose: Bioavailability enhancer

AstraGin increases the absorption of other ingredients.[59] By increasing ATP availability for intestinal cells, AstraGin helps those cells function better, which means they are able to transport more of what you ingest through the intestinal wall and into your bloodstream.[60-62] The presence of AstraGin basically means you're getting more bang for your buck.

Huperzine A (H. serrata) (whole herb) Extract – 100 mcg

Main Purpose: Longer-lasting focus

Huperzine A inhibits acetylcholinesterase, the enzyme that breaks down acetylcholine.[63] This effectively raises acetylcholine levels and will synergize well with alpha-GPC, another ingredient in this stack that can boost acetylcholine production. This means better cognition and faster learning,[64] and perhaps even increased neurogenesis.[65]

Vitamins & Minerals

A 2-scoop serving of CBum Thavage also has:

Vitamin C (250 mg): a famous antioxidant that can increase NO production[66] and NO bioavailability.[67]
Vitamin B6 (10 mg):optimizes protein metabolism, regulates homocysteine, and helps produce neurotransmitters.[68]
Vitamin B12 (100 mcg): needed for red blood cell production, DNA synthesis, and cognition.[69] Deficiencies in B12 cause severe neuropathy.
Again, see our main Raw Nutrition CBUM Thavage Pre-Workout article for the full details.
Flavors Available
Cucumber Lime not your thing? That's fine – you can check out the following Thavage Pre flavors below: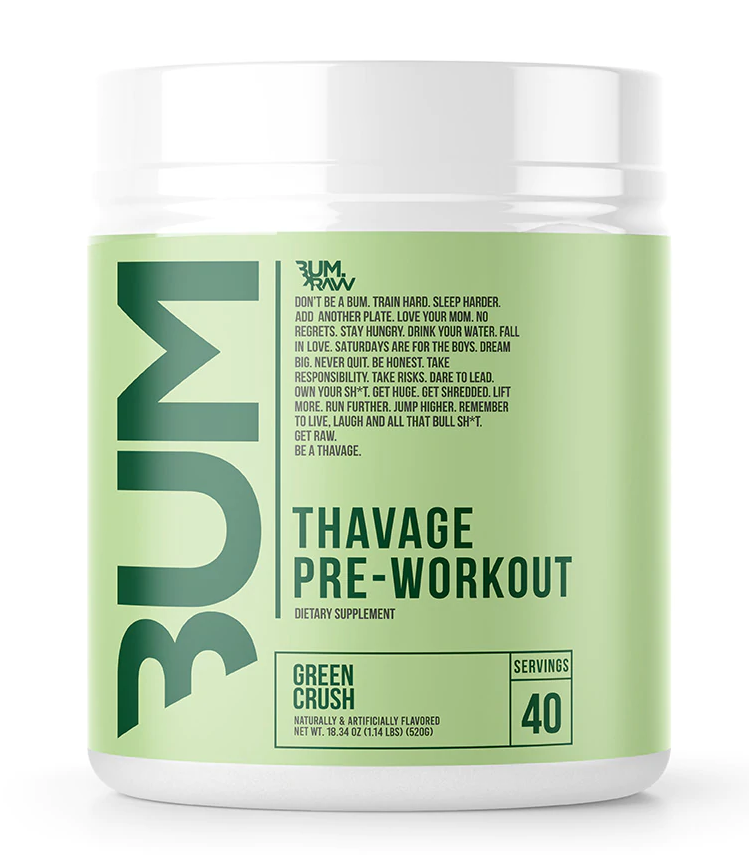 Conclusion: Thavage Keeps it Coming
This flavor was an instant hit, selling out on Raw Nutrition's website in what seemed like record-breaking time. Thankfully, we have the PricePlow system to keep track of other stores that have it in stock.
Besides the new flavor, there has been a slight redesign in the formula since it was created, but we've kept all changes up to date in our original Thavage Pre-Workout article. For instance, creatine and glycerol are both gone and we're now using Nitrosigine for nitric oxide enhancement.
This makes sense, as most consumers will be taking a creatine supplement anyway, and glycerol is probably not needed since there are other osmolytes in the formula to take up the slack, and it doesn't store as well down in Florida where Chris, Dr. Dom, and Matt Jansen are building the next great empire in bodybuilding.
RAW Nutrition CBUM Thavage Pre-Workout – Deals and Price Drop Alerts
Get Price Alerts
No spam, no scams.
Disclosure: PricePlow relies on pricing from stores with which we have a business relationship. We work hard to keep pricing current, but you may find a better offer.
Posts are sponsored in part by the retailers and/or brands listed on this page.