AstroFlav is known (and named) for its astronomically great flavors, and indeed, flavoring is an important part of developing a good supplement.

However, the AstroFlav team has some serious industry expertise behind it, particularly on the retail side. It was really only a matter of time before they branched out into new supplement categories and capsule-based products. In our recent podcast episode #095 with founder Brian Tweer and VP Brady Adamson, we talked about some of these new formulations like AstroFlav Magnesium, their 2X fat burning support supplement, and the new AstroFlav Multivitamin.
But at the end of the episode, they also teased something else, and it's finally here:
As Promised on the PricePlow Podcast, AstroFlav Joint Plus Has Arrived
Today, we get to talk about AstroFlav's joint health supplement — AstroFlav Joint Plus.
Joint problems generally involve chronic inflammation, and the first-line therapy is usually a non-steroid anti-inflammatory drug (NSAID) like aspirin, ibuprofen, or acetaminophen. However, NSAIDs come with serious gastrointestinal and hormonal side effects, so not everybody wants to take one on a regular basis.
AstroFlav's formula emphasizes ingredients that have plenty of mechanisms of action in common with NSAIDs, but with a more forgiving side effect profile.
Besides focusing on anti-inflammatory properties, there are a few ingredients that downregulate the matrix metalloproteinase enzymes, which can damage the collagenous and cartilaginous tissue. The MMPs are typically overexpressed in, for example, osteoarthritis (OA).
Plus, there's a little support in here for the synthesis of new, healthy collagen.
Let's get into it, but first, let's check PricePlow's coupon-powered prices and get you signed up for more AstroFlav news:
AstroFlav Joint Plus – Deals and Price Drop Alerts
Get Price Alerts
No spam, no scams.
Disclosure: PricePlow relies on pricing from stores with which we have a business relationship. We work hard to keep pricing current, but you may find a better offer.
Posts are sponsored in part by the retailers and/or brands listed on this page.
This area is reserved for Team PricePlow's upcoming videos.
Subscribe to our channel and sign up for notifications so you catch it when it goes live!
AstroFlav Joint Plus Ingredients
In a single 2 capsule serving of Joint Plus from AstroFlav, you get the following:
MicroActive Curcumin (micronized sustained-release curcuminoid matrix: curcumin, demethoxycurcumin, bisdemethosycurcumin) – 500 mg

Curcumin is the famous bright yellow-orange pigment that occurs naturally in turmeric root.[1] Despite technically referring to a specific molecule, the term "curcumin" is also used to refer to the entire family of related curcuminoid compounds. The curcuminoids have profound anti-inflammatory effects, which is the main reason that turmeric has been used for thousands of years in several systems of traditional medicine.[2]

Although curcuminoid research emphasizes curcumin specifically, all curcuminoids have similar anti-inflammatory activity.[3] Besides reducing inflammation,[4-9] the they also work to bring the body's level of oxidative stress down.[10-16] This two-fold effect makes sense, since inflammation and oxidative stress are closely related.[17]

Improving inflammation and oxidative stress has tons of knock-on effects. Thanks to this, the curcuminoids have been identified as being useful for liver, cardiovascular, and neurological health.[18]

Curcuminoids' anti-inflammatory mechanism – COX-2

As it turns out, curcuminoids actually inhibit cyclooxygenase-2 (COX-2),[19-22] an enzyme responsible for synthesizing inflammatory prostaglandins.[23] This is the same enzyme inhibited by ubiquitous over-the-counter anti-inflammatory drugs like aspirin and ibuprofen, so it's no wonder that curcumin has been shown to significantly improve chronic pain.[24-37]

Osteoarthritis improvement

When it comes to joint health, there's a ton of research showing curcumin can potentially help improve osteoarthritis symptoms.[24-37]

One randomized controlled trial using curcumin for knee pain found that 500 mg of turmeric extract per day for 4 months reduced the incidence of joint crepitation by 60%, joint stiffness by 64%, and joint effusion by 75.8%.[38] I.e., of the subjects who had knee crepitation at the beginning of the study, 60% of them saw this symptom resolve by the end of the treatment period.

Quercefit Quercetin Phytosome (Sophora japonica L. extract(flower), phospholipids) – 250 mg

Quercetin is a flavonoid polyphenol found in many familiar foods, including coffee, onions, orange juice, and red wine.[39] It has significant antioxidant, anti-inflammatory, anti-platelet, antiviral, anti-carcinogenic, and anti-allergenic properties effects.[39,40] It's also been shown to decrease lipid peroxidation and strengthen blood vessels.[39,40]

Again, it's the anti-inflammatory side of quercetin that makes it a great candidate for supporting joint health. Quercetin is so effective in downregulating inflammatory messengers like histamine, cytokines, and interleukin-4[40] that it can actually help minimize joint and and improve functional movement abilities in rheumatoid arthritis (RA) patients.[41]

A rat study found that quercetin inhibits adenosine deaminase, an inflammatory enzyme whose activity makes RA symptoms worse.[42] The same study found that quercetin can downregulate RA-related cytokines like interleukin-1β, interleukin-6, tumor necrosis factor-α, rheumatoid factor, and C-reactive protein.[42]

If you're a caffeine addict – and let's face it, who isn't at this point – you'll probably be glad to learn that quercetin works synergistically with caffeine to improve fatigue and mood.[43] And on the note of caffeine, the biggest question is how you get it from AstroFlav: In the One Scoop Only pre-workout or MetaBurn AM fat burner?!

Bromelain (std. to 2,400GDU/g) – 175 mg

Bromelain is a proteolytic digestive enzyme. Its normal physiological role is to help break down protein in your digestive tract, thus increasing your body's ability to absorb and use that protein.

However, proteolytic enzymes are being recognized for their ability to clear out unwanted proteinaceous compounds from the human body.[44,45] In a nutshell, certain conditions associated with aging, like atherosclerosis and fibrosis, are driven by the accumulation of protein-containing scar tissue. Enzymes like bromelain can help dissolve this scar tissue by breaking down the proteins it contains.[46,47]

At the same time, bromelain seems to protect our healthy proteinaceous tissue, as shown in an study where it prevented collagen in animals' joints from being damaged by systemic inflammation.[48]

Bromelain also seems to help reduce inflammation directly,[48] and improve circulation[49] – two crucial factors in managing chronic joint pain.

A 2002 randomized controlled trial found that 200 mg of bromelain per day significantly reduced knee pain in otherwise healthy adults with osteoarthritis or rheumatoid arthritis.[50]

ApresFlex (Boswellia serrata) (gum resin)[std. to 20% 3-0-acetyl-11-keto-B-boswellic acid(AKBA)] – 100 mg

Boswellic acid (AKBA), the primary bioactive constituent of Boswellia serrata, has been shown to have significant anti-inflammatory effects.[51]

It's been shown to downregulate an enzyme called 5-lipoxygenase (LOX-5),[52,53] which is responsible for driving lipid peroxidation, the generation of lipid peroxides from the metabolism of polyunsaturated fatty acids (PUFAs).Lipid peroxidation is a highly pro-inflammatory process,[54-56] so inhibiting LOX-5 ultimately has an anti-inflammatory effect.

Since we discussed the fact that curcumin is a COX inhibitor, it's interesting to note that dual COX and LOX-5 inhibitor compounds, which are extremely effective in decreasing inflammation, have been proposed as the next generation of non-steroidal anti-inflammatory drugs (NSAIDs) – replacements for mainstays like aspirin and ibuprofen.[57] In light of this, it makes a lot of sense for AstroFlav to stack curcumin and AKBA.

Other studies have found that AKBA can downregulate inflammatory cytokines like tumor necrosis factor alpha (TNF-α).[58-60]

One randomized, double-blind, placebo-controlled study found that a standardized Boswellia serrata extract is capable of dose-dependently improving OA patients' scores on the Western Ontario and McMaster Universities Osteoarthritis Index (WOMAC), a questionnaire used to quantify the severity of knee pain.[61]

This study also found that the Boswellia extract downregulated matrix metalloproteinase 3 (MMP-3), an enzyme that breaks down collagen and is overexpressed in OA patients.[61] Since collagen is a major constituent of joint tissue, it's not surprising that a compound with beneficial effects in OA would have this collagen-protective effect.

At least two other RCTs have reached similar conclusions.[62,63]

Ginger Root Extract (Zingiber officinale) (5% gingerols) – 100 mg

Ginger is closely related in its chemical composition and biological effect to turmeric. Like turmeric, it has been identified as a potent anti-inflammatory spice.[64,65]

The gingerols and shogaols in ginger have been shown to downregulate pro-inflammatory cytokines like interleukins 1 and 8 (IL-1, IL-8) and tumor necrosis factor alpha (TNF-α). They do this by familiar mechanisms of action – LOX-5 and COX inhibition.[66,67] One specific shogaol, 6-shogaol, has also been shown to downregulate inducible nitric oxide synthase (iNOS), an enzyme that contributes to inflammation by generating excessive nitric oxide (NO) in places we don't want it[68] – in simple terms, we want NO from endothelial nitric oxide synthase (eNOS), not iNOS.

In one study, osteoarthritis (OA) patients were randomized to receive either 255 mg of ginger extract, or a placebo for 6 weeks. By the end of the study period, the ginger group reported significantly greater improvements in knee pain and WOMAC score.[69] When it came to the WOMAC, the ginger group's score was reduced by an average of 12.9 points, compared to the placebo group's 9.0.[69] The ginger group also reported significantly less knee pain on standing, and on walking 50 feet.[69]

But we're not done with ginger just yet!

Black Ginger Extract (Kaempferia parviflora)(rhizome)(std. to NLT 5% 5,7-dimethoxyflavone) – 100 mg

Thai black ginger (KP) is a traditional Thai adaptogen[70] that's rich in polymethoxyflavones, a category of flavonoid antioxidants with impressively broad benefits.

We often see KP used in pre-workout and NO-boosting formulas, because it's awesome at improving multiple dimensions of athletic performance. Randomized controlled trials have found that athletes taking KP have higher grip strength and leg strength, faster sprint times, and even better hip and upper body flexibility.[70] This is due mostly to KP's profound impact on cardiorespiratory performance.

KP Has also been shown to activate peroxisome proliferator-activated receptor (PPAR) gamma[71] and AMP-activated protein kinase (AMPK),[72] which increases your rate of fat burning and decreases the amount of fat your body stores.[73,74] KP also seems to drive mitochondrial biogenesis and respiration.[75] Admittedly, none of this is directly related to joint health, but we think it's worth mentioning that KP seems to be something of a metabolic panacea.

The things we like about black ginger for joints are its vasodilatory effects, which can improve circulation,[76] and more importantly, its anti-inflammatory activity.[77]

Much like ginger, KP has been shown to downregulate iNOS,[78] while upregulating eNOS.[79] This is exactly what we want if our goal is to decrease inflammation by manipulating the NO system.

Besides downregulating iNOS, KP's other anti-inflammatory mechanism is COX inhibition.[77]

A 2019 study reports that KP extract improved pain threshold and decreased the severity of osteoarthritic lesions in an animal model of OA. Further investigation using human chondrocytes (the cells responsible for producing joint collagen) found that the extract worked to protect cartilaginous tissue by downregulating matrix metalloproteinases 1 and 3 (MMP-1, MMP-3).[80]

In a 2021 study, researchers looked at the effects that two different doses of KP extract had on rat OA. They found that while both KP groups (K150, 150 mg/kg/day and and KP 300, 300 mg/kg/day) showed significant improvements in OA symptoms and histopathology, the low-dose group, KP150, actually did better than the higher-dose group. Still, even the higher-dose group, marked KP300, in our images from this study, saw improvements comparable to those experienced by rats who got the NSAID indomethacin.[81]

As you can see, this is an incredibly promising ingredient for Joint Plus – Brady and his team did a fantastic job including it.

Type II Collagen Peptides (providing 42 mgs total type II collagen) – 60 mg

Collagen type II is the collagen your body uses to make cartilage,[82] making this type of collagen especially important for joint health.

Human studies have shown that collagen type II supplementation can significantly improve joint pain in both osteoarthritis and rheumatoid arthritis,[83,84] allowing them to exercise for longer before experiencing pain, and enjoy a greater range of motion (ROM) in the affected joints.[83]

Collagen type II's ability to increase ROM has actually been quantified – the effect size is between 3 and 5 degrees of additional flexion.[85]

Need even more collagen? Then check out our article on AstroFlav Collagen, which adds an incredible anti-aging ingredient to the mix.

Tetrahydrocurcumin – 25 mg

Tetrahydrocurcumin is the primary metabolite of curcumin, with basically the same benefits as curcumin itself, yet targeting some different pathways as well.[86] Compared to curcumin, this metabolite is significantly more bioavailable, and has greater antioxidant activity.[86] Like curcumin, tetrahydrocurcumin has been shown to reduce inflammation by downregulating certain interleukins.[87]

At least one study has put curcumin and tetrahydrocurcumin head-to-head, and found that both are about equally as effective at preventing OA-related symptoms in estrogen-deficient rats.[88] In fact, curcumin and tetrahydrocurcumin did better at managing the OA symptoms than actually correcting the estrogen deficiency!

If you want to learn more, check out our article Tetrahydrocurcumin: A More Potent Alternative to Curcumin?

AstraGin [Astragalus membranaceus (root), Panax notoginseng (root)] – 50 mg

AstraGin from NuLiv Science is a patented bioavailability enhancer.[38,89-92] It works by helping your intestinal cells synthesize adenosine triphosphate (ATP), the form of usable energy they need to fuel their absorption of nutrients from the food and supplements you ingest.

By improving intestinal cell function, AstraGin helps you absorb and use more of whatever other supplements you take it with.

When taken regularly, it can even help improve the health of your intestinal tissue.[93]

Bioperine (std. to 95% piperine) – 10 mg

Piperine, the main bioactive constituent of BioPerine black pepper extract, helps downregulate certain stomach enzymes. In doing so, piperine helps prevent nutrients from being broken down in your stomach, before they can reach your intestines for absorption into your bloodstream.[94]

Piperine also has some metabolic benefits – it can increase insulin sensitivity by upregulating glucose transporter 4 (GLUT4),[95] and helps prevent fat buildup in the liver.[96] It's also a potent antioxidant.[97]

Piperine is very good at improving curcumin absorption

So you can see that BioPerine does a lot of the same stuff as AstraGin. Why, then, is AstroFlav using both?

The answer is that piperine is incredibly effective in boosting the bioavailability of curcumin. On its own, the bioavailability of curcumin isn't very good,[98] but BioPerine has been shown to increase curcumins absorption by a whopping 2,000%![99]
Dosage, Directions, and Stacking
Per AstroFlav's label, take one serving (2 capsules) daily on an empty stomach.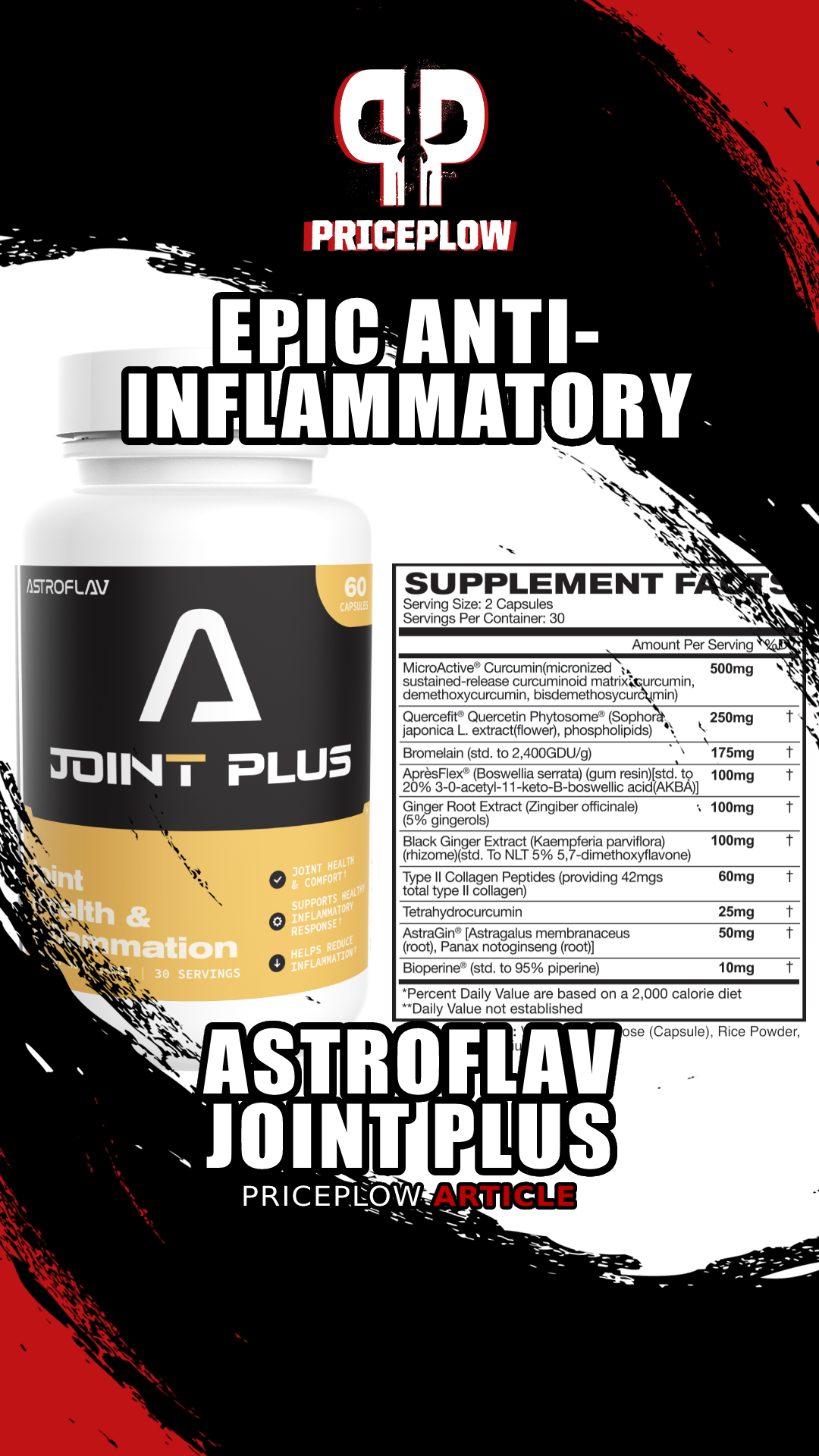 As for stacking, if you're looking for more collagen, then you came to the right place, because AstroFlav Collagen is a premium form with an added anti-aging twist that we especially like!
Also, we'd add in AstroFlav Magnesium, another incredible capsule formulation. Nearly everyone should be supplementing magnesium by default these days!
AstroFlav Joint Plus: The Joint Supplement of the Year?
Every ingredient in this formula, except for AstraGin and BioPerine, has been shown to possess systemic anti-inflammatory effects, which is really the name of the game when it comes to supporting joint health. However, AstroFlav has also made sure to use some ingredients that downregulate the matrix metalloproteinase (MMP) enzymes, while supporting healthy collagen synthesis.
Joint health is a very diverse category of supplements – the industry hasn't really settled on a standard approach or set of ingredients, so you may commonly see a lot of obscure stuff show up in these formulas, and overall quality can vary wildly. This isn't an exception, but Brady and his team really came through with some science-backed anti-inflammatory support here.
If you've tried a few joint supplements and want something powerful and different, this is absolutely the new one of the year we'd suggest running.
AstroFlav Joint Plus – Deals and Price Drop Alerts
Get Price Alerts
No spam, no scams.
Disclosure: PricePlow relies on pricing from stores with which we have a business relationship. We work hard to keep pricing current, but you may find a better offer.
Posts are sponsored in part by the retailers and/or brands listed on this page.