These days we're seeing bigger and better formulas in every product category, with ever-lengthening lists of ingredients. A lot of the formulas we're seeing are great and totally kick-ass – especially as newer, more powerful and focused ingredients emerge.
One example of an awesome multipurpose supplement line is AstroFlav MetaBurn AM and MetaBurn PM, which we've covered in detail on the PricePlow Blog.
In the AM, you can get early morning stimulant energy, moderate nootropic effects, and potent fat burning power. In the PM, you get a combination fat burning and sleep-promoting supplement that makes sense on many levels.
Both formulas are incredible for fat loss, and one thing they have in common is a special ingredient called MitoBurn, also known as L-BAIBA. Both MetaBurn formulas contain 500 milligrams of MitoBurn per serving, and we'd consider MitoBurn the flagship ingredient of these products: it drives much of the fat-burning effects in the MetaBurn line.
MetaBurn AM also contains InnoSlim – another current favorite for us in the fat-burning category. And with these two powerful ingredients, they want to offer you even more flexibility:
AstroFlav 2X: Extra Fat Burning Support in Your Stack
AstroFlav realized that some of their customers want extra fat burning support and/or flexibility in their MetaBurn stack.
Given the presence of stimulants and sleep aids in these formulas, it can be tricky to take more than the recommended dose of either one. Further, some would rather take the aggressive One Scoop Only pre-workout instead of MetaBurn AM, but One Scoop Only doesn't have the two key fat burning ingredients above.
That's why the team is launching AstroFlav 2X. It consists only of 250 milligrams MitoBurn and 250 milligrams InnoSlim in each capsule!
2X is designed to be stacked with either product in the MetaBurn line or One Scoop Only – giving you a nice boost of MitoBurn and InnoSlim without overdoing caffeine or melatonin.
Of course, for minimalist consumers who just want fat burning, AstroFlav 2X could also be taken on its own. These are two of the best fat-burning ingredients on the market, so you could get pretty good results if you're only trying to accelerate fat loss on a lesser budget.
Let's get into the science behind how these ingredients work, but first, check the PricePlow news and deals:
AstroFlav 2X – Deals and Price Drop Alerts
Get Price Alerts
No spam, no scams.
Disclosure: PricePlow relies on pricing from stores with which we have a business relationship. We work hard to keep pricing current, but you may find a better offer.
Posts are sponsored in part by the retailers and/or brands listed on this page.
The ingredients in 2X don't just burn stored fat though – they can also prevent fat storage and help your body use glucose better. Let's dig in:
AstroFlav 2X Ingredients
In a single 2-capsule serving of AstroFlav 2X, you get the following:
MitoBurn (L-B-Aminoisobutyric Acid) – 500 mg

MitoBurn, also known as L-β-Aminoisobutyric Acid (L-BAIBA), is a trademarked ingredient from NNB Nutrition.

The L-BAIBA molecule is in the myokine class. Myokines are non-protein amino acids that muscles synthesize in response to intense physical activity. They also have hormone-like effects in the body.

The basic function of myokines is to help regulate growth (anabolism) and muscle tissue breakdown (catabolism) in response to changing conditions. But L-BAIBA is special, and has some additional effects that we consider pretty phenomenal.

How L-BAIBA is produced, and what it does

When you begin exercising, your body converts the essential amino acid valine into L-BAIBA.[1] Veteran supplement consumers probably recognize valine as one of the three branched-chain amino acids (BCAA), which are famed for their outsize anabolic effects.

Your muscles then release L-BAIBA into the bloodstream, where it circulates throughout your body.

The presence of L-BAIBA in your blood is a signal that exercise is underway – not just to muscle cells, but to many other types of cells as well. In response to L-BAIBA, the body undergoes numerous metabolic changes that help it cope with and recover from exercise.

For example, the body's rate of fat burning goes up, which makes more energy available to your cells for use during activity. It also begins producing factors that help protect bone tissue from loading stress, thus decreasing the risk of bone injury.[3]

Exercise in a pill?

So if L-BAIBA is the molecule responsible for triggering your body's adaptations to exercise, then it seems obvious to ask: Is L-BAIBA essentially exercise in a pill?

There are some benefits of exercise that L-BAIBA won't capture. But based on current research, it seems pretty clear that L-BAIBA is the closest thing to exercise in a pill that we've found.

The research shows that L-BAIBA can:

Increase the rate at which the body burns fat[1,2,4-6]
Increase the production of ketones from fatty acids[7]
Increase insulin sensitivity and decrease blood glucose levels[1,2,8]
Decrease systemic inflammation[6]
Improve blood cholesterol and triglycerides[1,2]
Increase bone density[9]
Support healthy kidney function[10]

Obviously this is a very impressive list. Not all the benefits of exercise are listed here, but there are a lot of them. The thing we're most interested in right now, though, is L-BAIBA's ability to help burn fat.

So how does that work?

L-BAIBA's fat burning mechanism: converting WAT to BAT

There's one more crucial thing that L-BAIBA can do: convert white adipose tissue (WAT) into brown adipose tissue (BAT).[5,6]

The conversion of WAT to BAT is the primary mechanism behind L-BAIBA's fat-burning properties, and it's a powerful one. If you dig deep enough into the research on all the top-tier fat-burning ingredients, you'll find that most drive the conversion of WAT to BAT.

The reason this works for fat loss is that having more BAT increases the number of calories your body burns in a day.[5]

How BAT burns calories: non-shivering thermogenesis (NST)

To understand how this process works, we need to look at the essential difference between WAT and BAT.

Your body uses WAT as long-term energy storage – this is where it keeps emergency calories that can help you survive a famine.[11]

BAT, on the other hand, is not just storage. It's metabolically active tissue.

The name brown adipose tissue comes from the difference in appearance between WAT and BAT. WAT is more or less pure body fat and, as such, it's basically transparent: it looks white when illuminated under a microscope. BAT looks dark brown when illuminated, because it's so jam-packed with mitochondria that light is actually occluded[12]

When your body converts WAT to BAT – say, by taking MitoBurn – what's actually happening is new mitochondria are growing inside your WAT. MitoBurn drives this conversion by activating peroxisome proliferator-activated receptor-gamma coactivator (PGC-1) alpha and peroxisome proliferator-activated receptor (PPAR) alpha.[5,13]

Regular readers of the PricePlow Blog may perk up at this since we constantly harp on mitochondrial biogenesis, usually through PGC-1 alpha and PPAR alpha. They're the key to health and longevity.

Well, in this case, it's helping you burn fat faster.

That's because the mitochondria inside BAT are busy: they continuously burn calories as heat in a process called non-shivering thermogenesis (NST).[5,11] The purpose behind NST is to help the body maintain its core temperature in the face of cold exposure, which is why cold exposure itself also can increase your body's ratio of BAT to WAT.

The more BAT you have, the higher your total daily energy expenditure (TDEE), the number of calories your body can burn in a day. So, increasing NST by converting WAT to BAT can accelerate your rate of weight loss.[14,15]

Other benefits of BAT: improved cardiometabolic health

Because the mitochondria in BAT work by burning glucose and fatty acids in the bloodstream, increasing your body's proportion of BAT can also improve blood glucose, cholesterol, and triglyceride levels.[16]

The biochemical mechanism of NST: mitochondrial uncoupling

This section is for those of you who really want to dig into the nitty-gritty of why WAT to BAT conversion is such a powerful fat loss mechanism.

The mitochondria inside BAT are characterized by their expression of a protein called uncoupling protein 1 (UCP1). It basically short-circuits the electron transport chain (ETC) that mitochondria use to generate energy.

In crude terms, if you think of the ETC as an electrical circuit, UCP1 works by short-circuiting it. If you short-circuit an electrical circuit, it will arc, radiating intense light and heat. That's basically what happens when UCP1 short-circuits the ETC.[17]

The significance of this is in the name uncoupling protein – by short-circuiting the mitochondria inside BAT, UCP1 also de-couples the metabolic activity of mitochondria from your body's overall metabolic demands.

This translates to a big increase in calorie burn that's independent of variables like your level of physical activity.

And again, when UCP1 causes mitochondria to burn more fuel in the form of glucose and fatty acids, it can actually increase insulin sensitivity, glycemic control, and blood lipids, exerting an anti-obesity effect.[18]

Why MitoBurn?

The reason we write L-BAIBA and not simply BAIBA is that the L-isomer is the only form of BAIBA that actually works in humans.[1,4] The other two – D-BAIBA and R-BAIBA – are not useful.

NNB's MitoBurn is a carefully standardized form of BAIBA that consists of only L-BAIBA, making it exceptionally effective compared to more generic BAIBA supplements.

This is a bit more detailed than what we wrote in the MetaBurn AM and MetaBurn PM articles, but if you want to learn even more about MitoBurn (yes, there's actually more), you should check out our long-form article titled BAIBA: Weight Loss Ingredient Generates Exercise in a Pill?!

InnoSlim (Panax Notoginseng Root & Astragalus Membranaceus Root Powder) – 500 mg

InnoSlim is a combination of ginseng and astragalus extracts developed by NuLiv Science.

NuLiv offers a range of extracts from these two plants. They contain so many different bioactive constituents that you can get very varying effects depending on what you standardize the extract for. Many customers have heard of their other ingredient, AstraGin, which boosts absorption. In the case of InnoSlim, we have a blend of extracts that are intended to maximize fat burning, insulin sensitivity, and cardiometabolic health.

Adiponectin

In order to maintain healthy body composition and insulin signaling, we need adiponectin, a hormone that controls fat burning and gluconeogenesis (your liver's mechanism for converting protein to glucose).[19]

According to research on adiponectin, it:

Inversely correlates with visceral fat[19]
Inversely correlates with blood glucose levels[19]
Inversely correlates with risk of diabetes[19]

So, in other words, the more adiponectin your body produces, the less visceral fat you'll have, the lower your blood sugar will be, and the lower your risk of diabetes is.

Fortunately for us, certain bioactive constituents of InnoSlim have been shown to significantly increase the body's production of adiponectin.[20]

AMP-activated protein kinase (AMPK)

Your body uses an enzyme called AMP-activated protein kinase (AMPK) to maintain its cellular energy balance.[22] When your cells' ATP stores get too low, AMPK is their signal to produce more of it.[23]

Unsurprisingly, AMPK upregulation has been shown to increase the body's rate of burning fat and glucose.[22] Increased AMPK activity is associated with better insulin sensitivity[24] and less visceral fat.[22]

Again, key constituent molecules of InnoSlim can upregulate AMPK.[20]

Glucose Transporter 4 (GLUT4)

When your cells need glucose to burn, something has to move that glucose out of your bloodstream and into the cells where it's needed. Performing that transfer is the function of glucose transporter 4 (GLUT4).[25]

There are a number of glucose transporter proteins in the body, each with a different area of responsibility. GLUT4 is primarily responsible for shuttling glucose into muscle and fat tissue.[25]

Upregulating GLUT4 basically increases insulin sensitivity, meaning that more glucose moves into your cells in response to insulin signaling.[25] This makes it a viable strategy for improving glycemic control and keeping blood sugar from rising too high.

Once again, some of the biologically active molecules in InnoSlim have been shown to upregulate GLUT4 in both muscle and fat tissue.[26,27]

Sodium Glucose Transporter 1 (SGLT1)

Another glucose transporter is sodium glucose transporter 1 (SGLT1). It performs the same essential function as GLUT4, except it occurs primarily in the digestive tract – SGLT1 is what helps your intestines absorb dietary carbohydrates from the food you eat.[28]

Certain compounds in InnoSlim have been shown to inhibit the operation of SGLT1 by an impressive 25%. It can have an anti-obesity effect by decreasing the number of calories you're taking in.[29]

ACC-P

The phosphorylation of the acetyl coenzyme A carboxylase (ACC) can inhibit lipogenesis, your body's process of storing excess energy as body fat.[30,31] This process is abbreviated as ACC-P.

Fortunately for us, some of the ginsenosides in InnoSlim have been shown to increase ACC-P in vitro.[20]

We dive deeper into this ingredient in another article titled InnoSlim: Potent Stim-Free Weight Loss Ingredient by NuLiv Science.
Dosage and Stacking
In the intro, we discuss the many ways AstroFlav 2X can be used:
Alone
To double the MitoBurn and InnoSlim dose of MetaBurn AM or MetaBurn PM
To stack with just MetaBurn PM if purely stimulant-free
To amplify other brands' inferior fat burners sitting on your shelf that don't have these ingredients
To supercharge coffee or energy drinks without extra stimulants
Alongside the One Scoop Only pre-workout
The list can go on. This is an incredibly flexible supplement, so you can get creative with its use.
A little backstory on 2X
It's worth noting that 2X was encouraged and inspired by Steve Calabrese and Tim Gritzman of Natural Body Inc, the industry-leading New York based retailer. They were discussing holes in the market with Brady Adamson and the team at AstroFlav, and this is what Natural Body wanted to be able to sell.
For decades, Natural Body Inc has been a pioneer in the supplement industry – when they talk, brands and other retailers listen. AstroFlav did just that, and now we have a very cool supplement to add to basically any stack.
Conclusion: AstroFlav 2X Brings Fat Burning Flexibility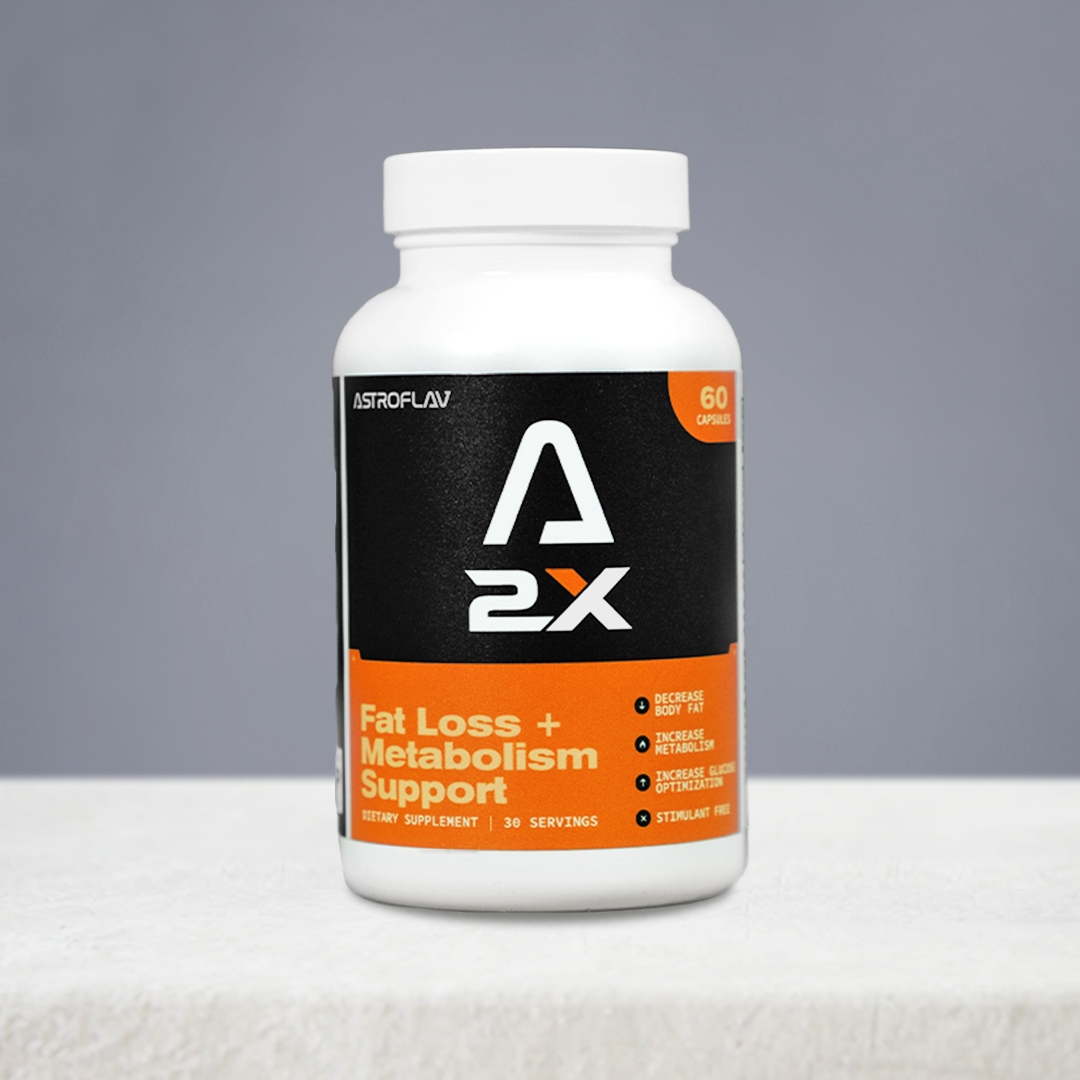 What's great about both of these ingredients is that they don't just increase the number of calories you burn in a day, they also improve key markers of metabolic function, like insulin sensitivity and blood triglyceride levels, which are crucial for long-term health and weight management.
If you were to stack a standard serving of AstroFlav 2X with MetaBurn AM or PM, you'd get 1,000 milligrams each of MitoBurn and InnoSlim. That's a huge dose of both – we'd be pretty surprised if it didn't get results.
Of course, one disclaimer always must be made – if you simply eat more calories to cover the deficit created by supplements like MitoBurn and InnoSlim, you won't lose any weight! Ultimately, you must burn more calories than you consume.
That's why when we write about these ingredients, we're always careful to point out that they can accelerate weight loss. They won't necessarily cause weight loss because, in order for that to happen, you'd have to make sure you're holding your calorie intake constant and hit the gym or outdoors and get to it.
AstroFlav 2X – Deals and Price Drop Alerts
Get Price Alerts
No spam, no scams.
Disclosure: PricePlow relies on pricing from stores with which we have a business relationship. We work hard to keep pricing current, but you may find a better offer.
Posts are sponsored in part by the retailers and/or brands listed on this page.