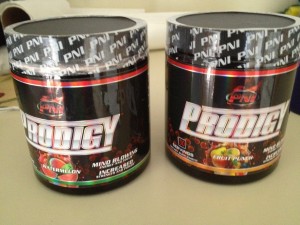 PNI Prodigy Fruit Punch
For the past six weeks, I've been using (and enjoying) the fruit punch and watermelon flavors of the Prodigy pre-workout supplement. They both taste awesome, but I personally think the fruit punch has a stronger and more enjoyable taste. While the taste is definitely great, the thing to focus on with this supplement is how well it has performed for me.
Why I'm a Believer in Prodigy
After having used the product before my workouts for about six weeks, I'm extremely satisfied with the way it has worked for me and the positive effect it has had on my training.
I started off skeptical of pre-workouts believing it was a matter of harnessing my own will power rather than "relying" on a supplement. Since starting with Prodigy, I have been able to feel and see a considerable difference in my workouts.
Starting from the first dose, I felt how intense and energizing it was. Right then and there, I felt the supplement working and I was convinced the product could live up to the hype.
Since that day, I've used Prodigy nearly every time I worked out. Throughout the past few weeks, there have been very few occasions when I noticed improvements during training without using the product. The first tub of fruit punch (obviously my favorite flavor) is completely wiped out. That goes to show you how often I actually use this stuff!
Within the short amount of time I've used the product, I've seen an increase in my bench, chest flys, arm curls, and my squats.
I'm not claiming that everything I've accomplished is completely due to the pre workout supplement, but, had it not been for Prodigy, I wouldn't have been putting in the extra sets or the extra time. I have had some of my most intense workouts in the gym with Prodigy. It's safe to say that the supplement was definitely a key factor in keeping me focused and providing me with more energy in the gym.
What's Next?
Once my tub of the watermelon flavor is gone, I would like to see how other pre-workout supplements compare with Prodigy. Walking into the world of pre-workout supplements, I didn't let myself believe any of the hype surrounding these products. But, my success with Prodigy has convinced me that the right product can definitely have amazing results on both an athlete's performance and gains in the gym. I would definitely recommend PNI Prodigy to anyone looking to take their training to the next level.