The Kaged evolution continues, with promises of a big year coming to fruition thanks to Clean Burn Elite, an enhanced apple cider vinegar enhanced fat loss drink!
Ever since our June 2023 interview with Aaron Heidebreicht and Darin Decker of Kaged on Episode #097 of the PricePlow Podcast, we've been teasing the brand's latest innovations that have now launched at GNC on August 31, 2023.
We've covered pre-workout (Kaged Pre-Workout Elite Series) and hydration (Kaged Hydration Elite), and protein (Kaged Protein Isolate Elite), but there are still a few categories to go. One such category is weight loss — and unsurprisingly, Kaged has you covered with an upgraded formula in their Clean Burn Series:
Kaged Clean Burn Elite Brings InnoSlim to the Fat Loss Fight
Kaged already has their classic capsule formulas in Clean Burn (stimulant-free) and Clean Burn Amped (with natural caffeine) as well as their Clean Burn Powder, an apple cider vinegar based drink launched in 2022.
They're now taking that same Clean Burn Powder formula and boosting it with an ingredient named InnoSlim to form Kaged Clean Burn Elite. Today, we reveal the formula (which has 166 milligrams of naturally-sourced caffeine), and focus specifically on InnoSlim.
First, take a moment to sign up for PricePlow's Kaged news alerts, then let's look at this fat-fighting ingredient:
Kaged Clean Burn Elite – Deals and Price Drop Alerts
Get Price Alerts
No spam, no scams.
Disclosure: PricePlow relies on pricing from stores with which we have a business relationship. We work hard to keep pricing current, but you may find a better offer.
Posts are sponsored in part by the retailers and/or brands listed on this page.
This area is reserved for Team PricePlow's upcoming videos.
Subscribe to our channel and sign up for notifications so you catch it when it goes live!
Let's briefly list the formula, then get into InnoSlim. To understand the base of the formula, read our article titled Clean Burn Powder: Kaged Enhances Fat Loss with Apple Cider Vinegar. Then scroll down to understand Clean Burn itself:
Kaged Clean Burn Elite Ingredients
In a 1 scoop serving, you get the following: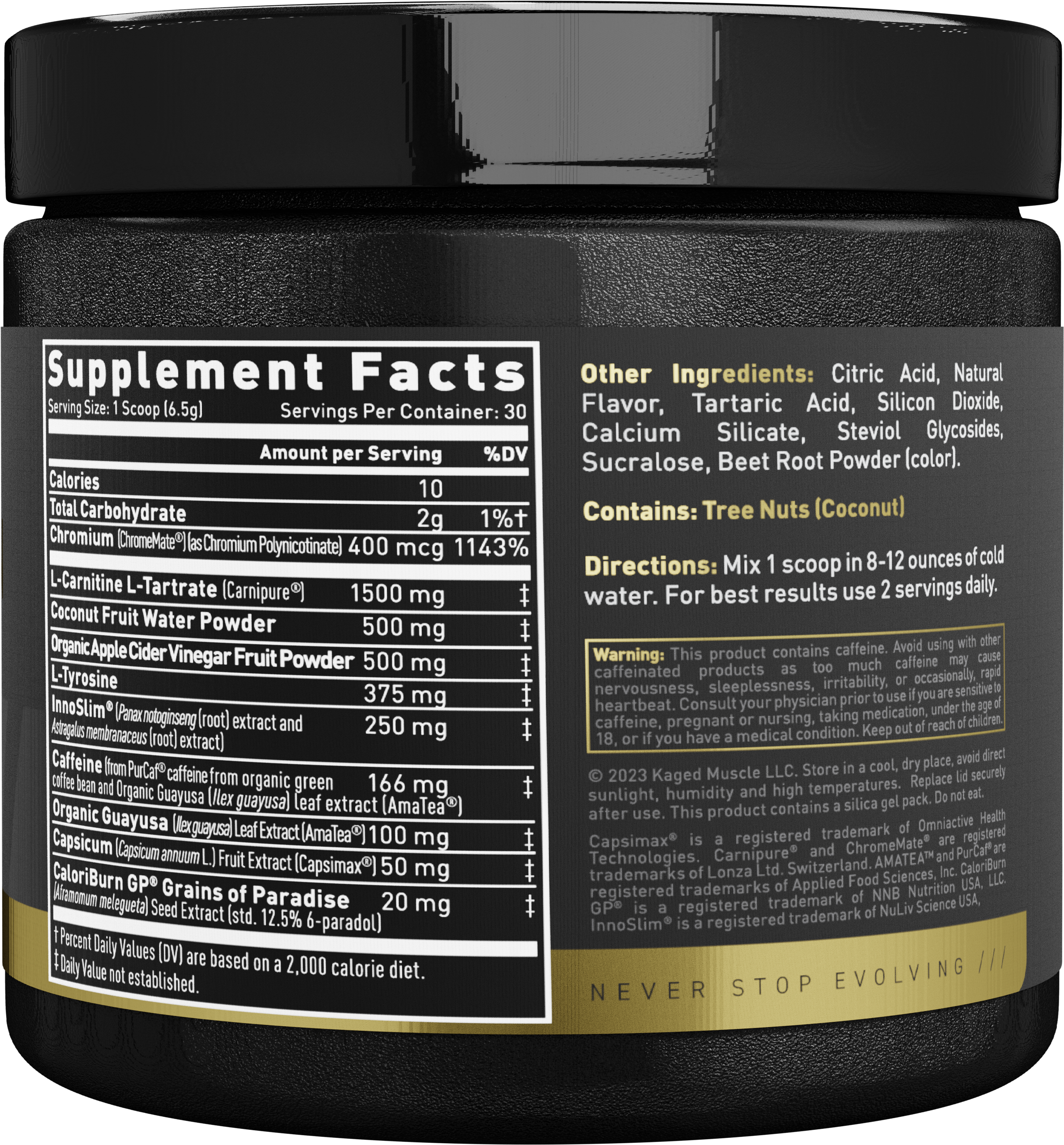 L-Carnitine L-Tartrate – 1500 mg

Coconut Fruit Water – 500 mg

Apple Cider Vinegar Powder – 500 mg

Tyrosine – 375 mg

InnoSlim – 125 mg

Caffeine (from PurCaf and AmaTea) – 166 mg

AmaTea (Guayusa [Ilex guayusa] Leaf Extract) – 100 mg

Capsimax Capsicum annuum Extract (fruit) (2% capsaicinoids) – 50 mg

CaloriBurn GP (grains of paradise extract) – 20 mg

Chromium (as ChromeMate) – 400 mcg (1143% DV)
Now to get into the new ingredient added to the Elite version for GNC in 2023:
What is InnoSlim?
InnoSlim is a powerful weight loss ingredient developed and patented by NuLiv Science.[1-5] It consists of standardized extracts from Panax notoginseng and Astragalus membranaceus, two plants renowned for hundreds of years because of their power to improve health and longevity.
Astragalus and ginseng are packed with powerful bioactive constituents named astragalosides and ginsenosides, and which effect you get from the extracts depends largely on what you standardize those extracts for. InnoSlim was standardized to emphasize the fat-burning, pro-metabolic bioactives from these plants.
Sodium-glucose cotransporter 1 (SGLT1)
InnoSlim inhibits the activity of a transporter protein called sodium-glucose cotransporter 1 (SGLT1)[7] that transports glucose through your intestinal wall. Decreased SGLT1 expression means that your body absorbs less carbohydrate from the food you eat – as much as 41% less.[7]
That means fewer calories and a smaller impact on blood glucose and insulin signaling, which can help support healthy weight loss.
Glucose transport 4 (GLUT4)
At the same time, InnoSlim increases the activity of a transporter called glucose transporter 4 (GLUT4),[8] which moves glucose out of your bloodstream and into your muscle cells. Increased GLUT4 expression means more efficient glucose utilization and, generally, lower blood glucose levels.[9]
Combating insulin resistance by boosting insulin sensitivity
This is important because it can increase muscle insulin sensitivity, which is hugely important in combating insulin resistance. It's suggested that you weight train and keep intensity up to make yourself as insulin sensitive as possible, and avoid foods and activities that increase insulin resistance. But on top of that, the GLUT4 upregulation of InnoSlim can support you on your quest for better insulin sensitivity in muscle tissue.
Pro-metabolic: Upregulate AMPK and Adiponectin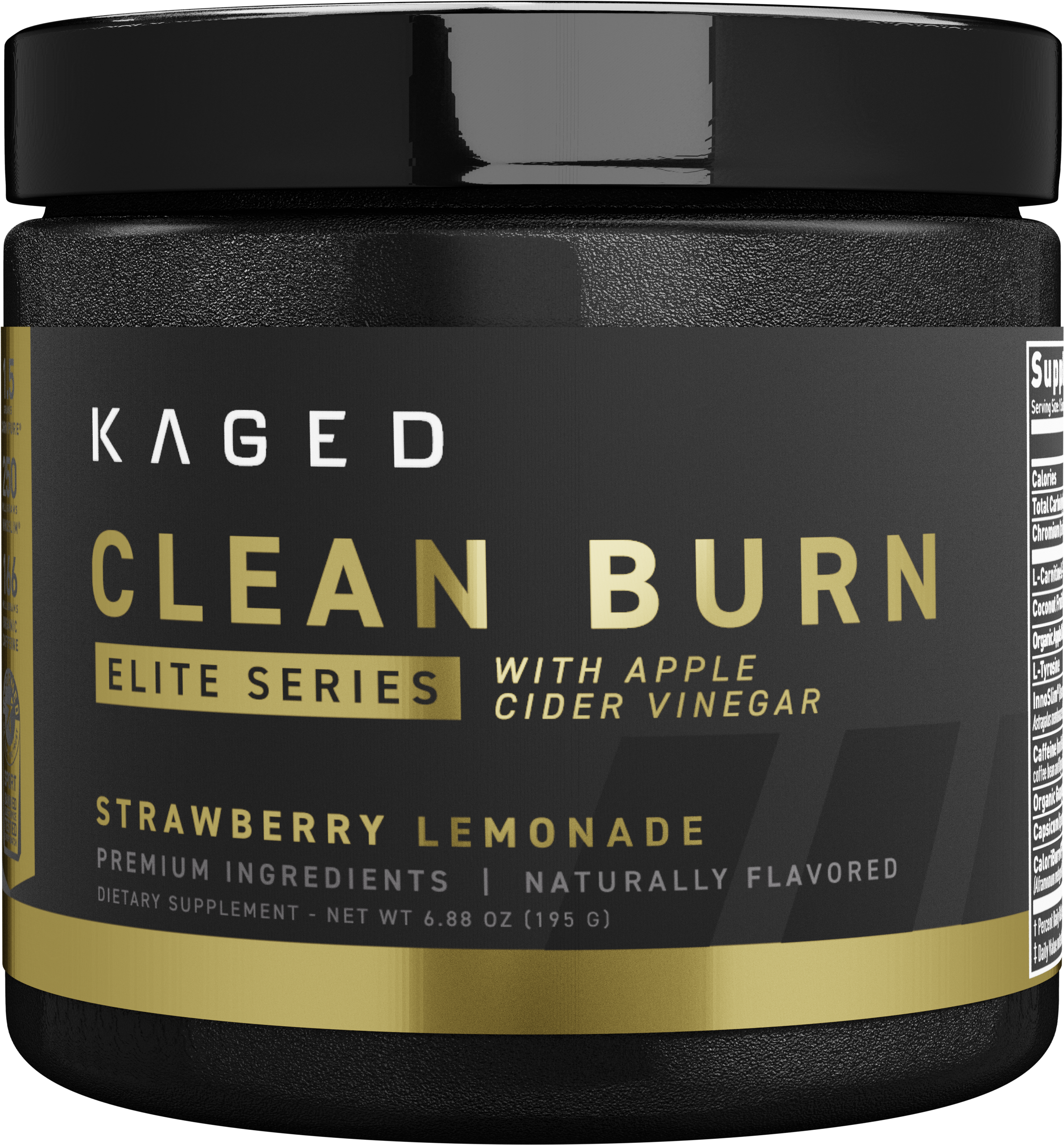 Finally, InnoSlim upregulates adenosine monophosphate activated protein kinase (AMPK),[6] one of your body's metabolic switches that controls key enzymes like acetyl-CoA carboxylase (ACC), which governs your body's rate of fat burning.
We often call AMPK the "we need energy now enzyme", and this pathway is targeted by many successful ingredients in the dietary supplement industry. However, it's the main AMPK driver in Clean Burn Elite, so this will leave us with greater effects than the original Clean Burn Powder on its own.
InnoSlim also upregulates adiponectin, a hormone that can prevent your liver from storing too much glucose.[10] This is incredibly important because overabundant liver glycogen storage not only leads to the large "potbelly" you see on individuals with sick livers, it can also lead to awful health consequences. So boosting adiponectin in an attempt to clear that out is always a great weight loss strategy.
Combine this with the other ingredients covered in our original Clean Burn Powder article, and you have an even more incredible weight loss drink mix with 166 milligrams of naturally-sourced caffeine.
Flavors available
Don't worry, it's not in apple cider vinegar flavor. Kaged originally launched Clean Burn Powder in Orange Mango, but for the Elite line we're starting with Strawberry Lemonade and Lemon Drop: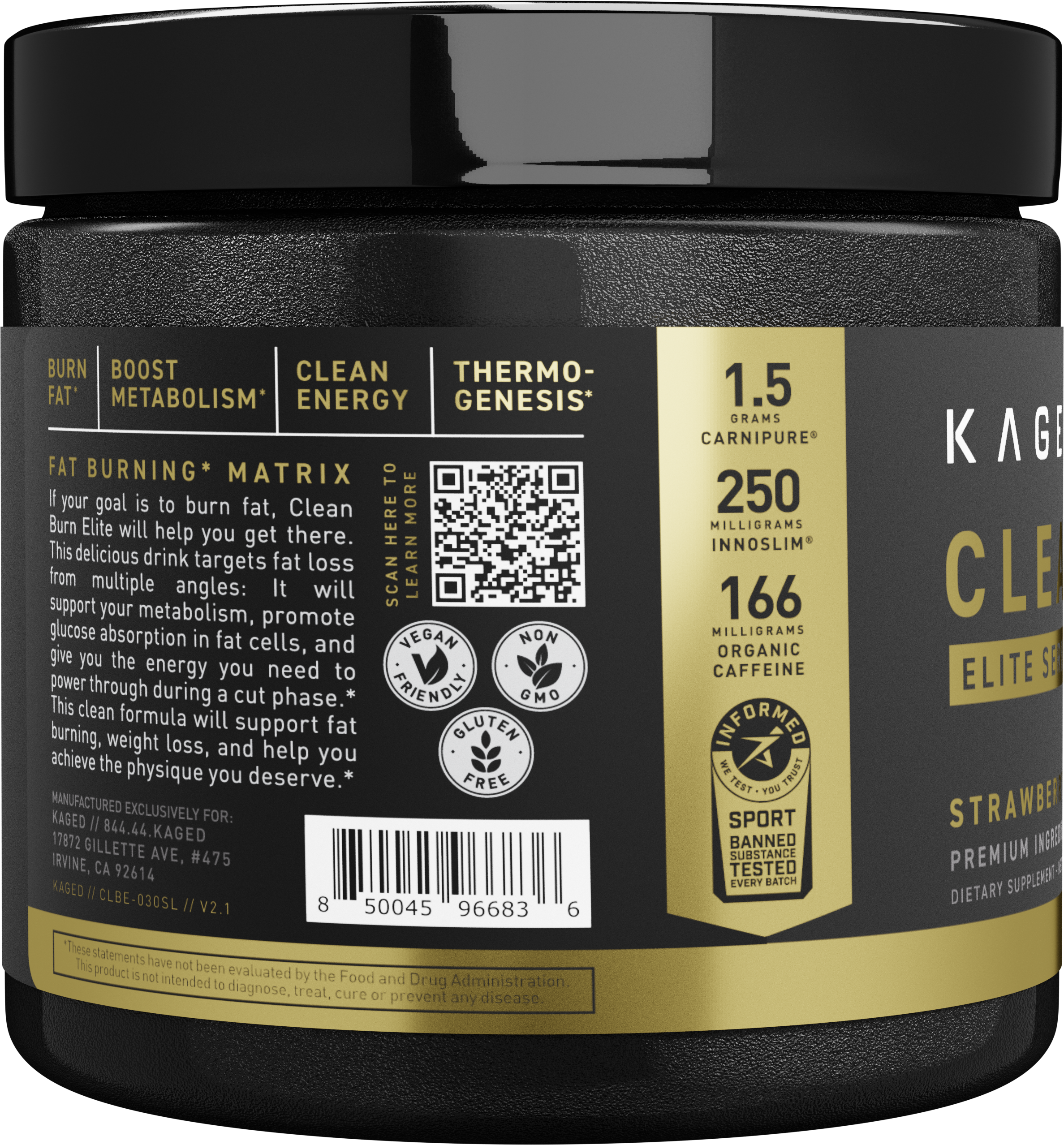 Clean Burn Elite with Apple Cider Vinegar!
Apple Cider Vinegar is the hot new thing, and modern scientific research is showing that it is worth using. Unfortunately, we see too many supplements relying on just ACV, when we know that there are so many more beneficial ingredients to support weight loss and fat oxidation.
Fortunately for us, Kaged knows that adding in L-carnitine, natural caffeine, InnoSlim, and grains of paradise can amplify the support provided.
Clean Burn Elite is also third-party lab tested and certified to have zero banned substances, so drug-tested athletes can rest assured. And as with other Kaged supplements, it uses mostly natural sweeteners, topped off with a dash of sucralose to cover any residual bitterness. It's also non-GMO.
Clean Burn and Clean Burn Amped are solid weight loss pills, but more users like to drink their energy, and powders allow for greater doses of ingredients that need more than a gram, such as L-carnitine. So it's a win-win here.
Sign up for our Kaged news alerts to see what's coming next from the brand:
Kaged Clean Burn Elite – Deals and Price Drop Alerts
Get Price Alerts
No spam, no scams.
Disclosure: PricePlow relies on pricing from stores with which we have a business relationship. We work hard to keep pricing current, but you may find a better offer.
Posts are sponsored in part by the retailers and/or brands listed on this page.