Any time Glaxon announces a new product launch, the industry pays attention – and nobody watches more closely than the PricePlow content crew.
The reason for this is that Glaxon always comes up with something new. While many other supplement formulators are content to mix and match time-tested standby ingredients, seemingly every Glaxon product either introduces consumers to a new ingredient or puts a new spin on an ingredient whose potential has not been fully explored.
Crucially, Glaxon's innovative approaches work. Here at PricePlow, even we get overwhelmingly positive feedback from consumers about the company's creative formula designs.
Introducing: Glaxon Plasm Surge V3, Now with Nitrosigine!
The big recent announcement from Glaxon is that they're releasing the third iteration of Plasm Surge, a stim-free, pump focused pre-workout. And this iteration brings Nutrition21's patented powerhouse, Nitrosigine, to promote nitric oxide production and take your training to a new level.
True to form, Glaxon was on the bleeding edge of a now-pervasive industry trend: moving away from big stimulant doses in pre-workouts. Plasm Surge was one of the first and best entries in this growing product category.
Plasm Surge's V3 redesign focuses on boosting nitric oxide and ATP generation, which is exciting to us because we've been immersed in the scientific literature on this subject as of late. ATP-focused NO boosting will likely be one of the next big industry trends, and seeing Glaxon assert itself as an early adopter reinforces that belief.
Let's get into the details of how this new formula works… But first, check the PricePlow news and deals!
Glaxon Plasm Surge – Deals and Price Drop Alerts
Get Price Alerts
No spam, no scams.
Disclosure: PricePlow relies on pricing from stores with which we have a business relationship. We work hard to keep pricing current, but you may find a better offer.
Posts are sponsored in part by the retailers and/or brands listed on this page.
Note: Check the label at each retailer to ensure that you're getting the formula you want.
This area is reserved for Team PricePlow's upcoming videos.
Subscribe to our channel and sign up for notifications so you catch it when it goes live!
The differences from Plasm Surge V2 and V3:
If you just want the highlights, here's how the new formula differs from the old one.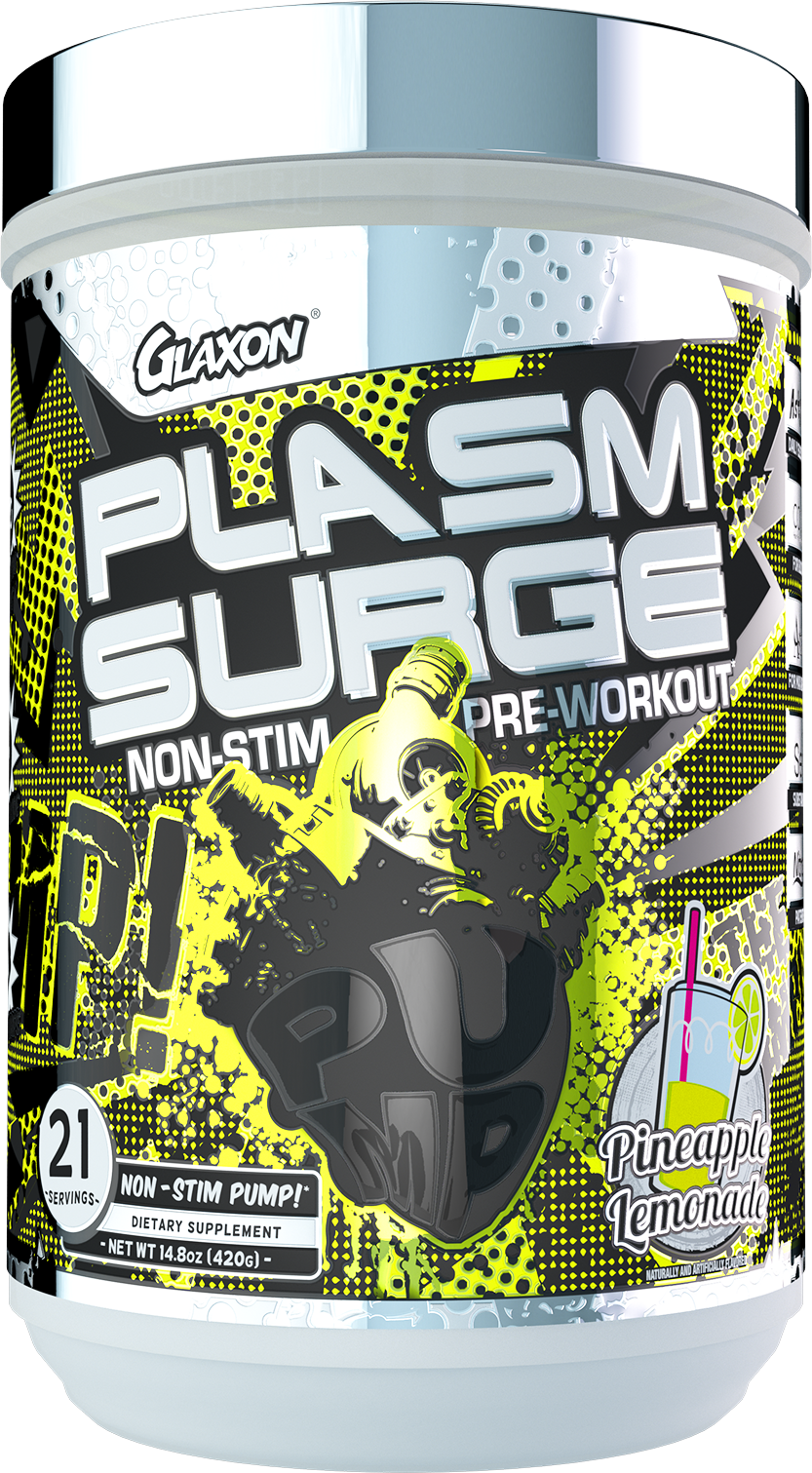 Glaxon added the following ingredients:
Nitrosigine, a patented ingredient for nitric oxide support
Beta-alanine, an ergogenic aid
Amla, an NO booster and adenosine triphosphate (ATP) booster
Pyrroloquinoline Quinone (PQQ), another ATP booster
They removed these:
And finally, they increased the dose of arginine (beyond Nitrosigine) and slightly adjusted doses of other ingredients too.
Plasm Surge V3 Ingredients
In a single, 1-scoop (20 gram) serving of Plasm Surge V3 from Glaxon, you get the following:
L-Citrulline – 6,000 mg

Citrulline is an amino acid that packs a powerful punch when it comes to enhancing nitric oxide (NO) production.[1,2]

In the past, arginine was the supplement industry's go-to NO precursor, but recent years have seen citrulline replace it due to the latter's superior bioavailability.[3] Citrulline is more effective at boosting NO because, unlike arginine, it doesn't fall prey to the first pass effect, a phenomenon in which ingested substances are broken down in the stomach before reaching the intestinal wall.[4-8]

That being said, studies show the combination of citrulline and arginine is more effective than either ingredient alone[1,9,10] – and, fortunately, we have both of them in Glaxon Plasm Surge V3!

Citrulline's upregulation of NO comes with numerous benefits, such as:

Increased oxygen uptake and top-end muscular power[11]
Increased athletic endurance. In one 2010 study, high doses of citrulline led to a 50% increase in subjects' maximum bench press repetitions.[12]
Significantly reduced post-workout muscle soreness – up to 40% reduction in severity[12]

Increased blood flow translates to more efficient nutrient and oxygen delivery, as well as faster lactic acid clearance, which is crucial for athletes since its accumulation leads to post-exercise muscular fatigue and soreness.

Beta-Alanine – 3,200 mg

Beta-alanine has a long history of use as an ergogenic aid. – it's been a mainstay since the beginning of the nutritional supplement industry.

When beta-alanine is combined with L-histidine, the result is carnosine, a dipeptide molecule that's abundant in muscle tissue. Carnosine's function in muscles is to help remove lactic acid, a waste product that causes muscular fatigue when it accumulates.[13]

Thus, reducing lactic acid accumulation, via beta-alanine supplementation, is a practical approach to improving athletic endurance.

Despite carnosine's benefits, it's better to take carnosine precursors rather than carnosine itself. The situation is the same as that of citrulline versus arginine, with the precursor being more orally bioavailable than the target compound.

The bottleneck, when it comes to carnosine production in the body, is the amount of beta-alanine available to cells – beta-alanine is the rate-limiting factor.[14,15] Hence, supplementing with beta-alanine is an almost surefire approach to stimulating carnosine production, especially since histidine, the other necessary precursor, is abundant in common foods.

Two large meta-analyses examining over 40 peer-reviewed papers on beta-alanine found that the compound is most effective for enhancing endurance during exercise sessions conducted at a sustained intensity, between 30 seconds and 10 minutes.[13-20]

The 3,200-milligram dose used in Glaxon Plasm Surge V3 is the most commonly used and clinically validated by far.

A word about the beta-alanine tingles

Upon taking beta-alanine, most individuals experience a tingling sensation in their upper body. Although it might feel strange for first-time users, the scientific consensus is that this tingling is harmless, and that beta-alanine is safe for human consumption.[21]

L-Arginine – 2,000 mg

Arginine might seem like a strange ingredient to show up in Glaxon Plasm Surge V3. After all, we said earlier that oral arginine supplements aren't as effective.[4-8]

However, there's an exception to this rule. As we mentioned in passing, when combined, arginine and citrulline outperform either ingredient taken alone in both humans[9,10] and animals.[1]

The synergistic effects of arginine and citrulline are one reason arginine hasn't fallen completely out of fashion among savvy supplement formulators.

The reason this combination works is that the presence of citrulline inhibits arginase, the enzyme responsible for breaking down arginine in the first pass effect we discussed above. As a result, more arginine transits the gut and is absorbed through the intestines,[5,6] thus leading to improved arginine bioavailability.

By combining arginine and citrulline, you're getting even more NO than you would with citrulline alone, and thus greater effect sizes with all the benefits we discussed in the citrulline section. But don't worry, there's even more arginine coming by way of Nitrosigine!

Astrolyte Electrolyte Blend (Fructooligosaccharides, Sodium Chloride, Magnesium Citrate, Potassium Citrate) – 1,770 mg

Glaxon's in-house electrolyte blend, Astrolyte, is used in a lot of their products,including Specimen, Specimen GFY, Plasm Surge, and Tranquility.

Astrolyte is made up of electrolyte minerals — sodium chloride, potassium, and magnesium — that play a crucial role in muscle contractions and athletic performance, cardiovascular health, bone density, insulin sensitivity, glycemic control, and blood pressure.[22-34]

These electrolytes are lost in sweat during intense workouts. So, if you're working hard, it's necessary to replenish them for optimal performance and recovery.

We love electrolytes, but the inclusion of fructooligosaccharides (FOS) is what really makes Astrolyte stand out. FOS is a special carbohydrate that enhances mineral bioavailability (such as sodium, potassium, and magnesium), thereby multiplying the benefits associated with electrolytes it's stacked with.[35-38] FOS also has a prebiotic effect by nourishing the beneficial bacteria in the gut.[39]

Lastly, thanks to FOS, Astrolyte is naturally sweet — approximately 0.3 to 0.6 times as sweet as sugar.[40,41] This helps improve the flavor of Glaxon Plasm Surge V3.

For further information on this remarkable ingredient, click through to our full-length article on Glaxon Astrolyte: Hydrating Electrolytes That Do More.

Nitrosigine (Inositol-Stabilized Arginine Silicate) – 1,500 mg

Nitrosigine is one of the most advanced and effective nitric oxide promoting ingredients on the nutritional supplement market today — it's a patented form of arginine combined with inositol and silica.[42] You'll see it on supplement labels as inositol-stabilized arginine silicate, but in most research studies, it's referred to as ASI.

Compared to other ingredients like L-arginine, L-arginine AKG, L-citrulline, L-citrulline malate, and agmatine sulfate, in-vitro research showed that Nitrosigine can promote a greater boost in NO.[44]

This form of arginine (ASI) remains intact for longer periods of time, supporting greater blood levels of arginine and nitric oxide.[21] Nitrosigine is both fast-acting and long-lasting, taking effect as soon as 30 minutes after ingestion, with effects lasting up to six hours.[43,45]

Arginine, citrulline, and Nitrosigine?

Glaxon's inclusion of Nitrosigine in Plasm Surge V3 is extremely interesting. To understand why, we need to discuss the history of arginine, citrulline, and the development of Nitrosigine.

As we mentioned earlier, plain arginine fell out of favor with supplement formulators due to its low oral bioavailability.[5-8] That was the problem Nitrosigine was designed to solve: Nutrition21 set out to build a better arginine, one that could be absorbed more efficiently by the human digestive tract and wouldn't need massive doses.

As we also said, the arginine precursor, citrulline, is often used to work around arginine's bioavailability limitations.[2] However, you need large doses of citrulline to achieve maximal effects,[46,47] and those large doses can lead to GI distress.[48,49]

Here's why the inclusion of Nitrosigine is interesting: It can deliver clinically significant results at much smaller doses, which is typically why Nitrosigine replaces arginine and citrulline in formulas.

What we almost never see is arginine, citrulline, and Nitrosigine in the same formula!

Arginine is reasonably effective on its own, citrulline even moreso; and like we said, the combination of arginine and citrulline has synergistic effects.[1,9,10] So, even just with generic arginine and citrulline, Plasm Surge would be in a position to deliver a good pump, especially since they're generously dosed.

Throw in a clinical dose of Nitrosigine on top of all that, and all bets are off. Compared to the typical product entry, Glaxon Plasm Surge V3 looks to deliver truly insane pumps.

Glaxon really went big on this one.

Nitrosigine research

According to one study, a 1,500 milligram dose of Nitrosigine can increase flow-mediated dilation (FMD), a measure of arterial blood flow, by 31%. In comparison, an 8-gram dose of citrulline malate increased FMD by 34%,[51] meaning that Nitrosigine produced roughly the same effect size at roughly 1/5th the dose!

Glaxon, of course, decided to take that study and do both.

Nootropic effects

NO boosters are typically discussed in the context of maximizing physical performance. However, the cognitive effects of optimized NO production are arguably just as important! The brain is no less affected by circulation than any other organ, after all. In fact, it has a disproportionately high demand for oxygen, ketones, and glucose circulating in your bloodstream.

And this is where Nitrosigine adds even more clinically-studied benefits to Plasm Surge V3 — it's especially effective at improving cognitive performance.

NO as a potent vasodilator can also increase blood flow in the brain, which may have cognitive benefits. One study found that when Nitrosigine is taken prior to strenuous exercise, it can prevent the temporary cognitive decline typically seen afterwards.[52,53] Its cognitive benefits may even work within 15 minutes of taking it![52]
Nitrosigine supplementation has also been shown to improve multitasking in healthy young men, even those who hadn't exercised recently.[54]
Another study showed that healthy adults taking Nitrosigine performed better on an immediate memory test than those taking a placebo.[50]

Maintaining peak cognitive performance is an essential part of coping with challenging workout routines and avoiding burnout before achieving one's goals.

That's why we see pre-workout formulas increasingly relying on heavy nootropic support, and we can't think of a better ingredient than Nitrosigine to play this role in Glaxon Plasm Surge V3.

If you're interested in a more in-depth discussion of this awesome ingredient, check out PricePlow's previous article on Nitrosigine titled "Nitrosigine: The Nitric Oxide Booster That Enhances Brain Function".

Amla (Phyllanthus emblica) [Fruit] Extract (Std. to 50% tannins as Capros) – 250 mg

Amla, a fruit tree with a rich history in Ayurvedic medicine, is also recognized by two scientific names, Phyllanthus emblica and Emblica officinalis.

Its significance in East Asian culture earned it the nickname "Indian gooseberry." Amla has been used for centuries to improve cardiovascular health and treat circulatory disorders.[55]

How amla upregulates nitric oxide (NO)

Modern research largely supports traditional knowledge about amla. Certain antioxidants present in Indian gooseberries have been found to improve endothelial function while also preventing platelet formation,[56] thereby reducing the risk for serious cardiovascular events, such as heart attacks and blood clots.

In studies conducted on animals, amla has demonstrated a noteworthy anti-hypertensive effect caused by its stimulation of endothelial nitric oxide synthase (eNOS), which produces NO in arteries.[57]

One reason amla can do this is because of gallic acid, a bioactive constituent that's naturally abundant in amla fruit[58]. Research shows that gallic acid can prevent the oxidative degradation of eNOS, leading to a bump in serum eNOS levels and a corresponding increase in NO production.[59]

Gallic acid is also a primary bioactive constituent in tea, a beverage that is renowned for its cardiovascular benefits.[60]

The connection between ATP and eNOS

Amla tree extracts are standardized for low molecular weight tannins (LMWTs). Some examples include emblicanin-A, emblicanin-B, punigluconin, and pedunculagin.[61]

When the body metabolizes these tannins, they're converted into urolithins A, B, C, and D, all of which can significantly improve mitochondrial function.[62]

Your mitochondria are responsible for producing cellular energy in the form of adenosine triphosphate (ATP). Your body uses ATP to do everything, so, unsurprisingly, ATP production is positively correlated with improved health and athletic performance.[63,64]

That's well and good, but what does ATP have to do with NO and pumps, which are supposed to be the focus of Glaxon Plasm Surge V3?

As it turns out, the latest research shows that increased ATP production can upregulate endothelial nitric oxide synthase (eNOS), increase production of nitric oxide (NO), and improve arterial function.[65] This happens because when red blood cells, platelets, and endothelial cells release ATP in response to stimuli, calcium is upregulated within endothelial membranes, causing the translocation of eNOS into endothelial cells, where it's activated to produce NO.[65]

Here is how one expert describes the process:

Once released, ATP binds to purinergic (P2X and P2Y) receptors on endothelial cells. Binding results in the endothelial cells releasing nitric oxide via endothelial nitric oxide synthase, prostacyclin, and endothelium-derived hyperpolarizing factor, all 3 of which affect the smooth muscle of the vasculature via cyclic guanosine monophosphate, cyclic adenosine monophosphate, and hyperpolarization, respectively.[66]

Amla's other benefits

Aside from its role in ATP upregulation, urolithin B might also have anabolic effects.[67]

Finally, Amla extracts can also improve cognitive performance.[68]

L-Glutathione Reduced (as Setria) – 200 mg

The various iterations of Plasm Surge have long included Setria, a trademarked form of the highly bioavailable L-Glutathione. Glutathione (GSH), as most of us have probably heard by now, is an endogenous antioxidant (i.e. produced by your own body) that scavenges free radicals and protects cells from oxidative damage.

Setria's innovative fermentation process has enabled the production of a GSH that has been clinically proven to raise serum GSH levels, making it more effective than generic GSH supplements. Besides its superior bioavailability, Setria is a well-known standardized glutathione supplement that's been in Plasm Surge for a while.

Although your body can produce GSH on its own, under certain circumstances it can be beneficial to supply it with exogenous GSH for the purpose of enhancing health and performance.[69]

For example, Setria has been shown to support immune system functioning by enhancing detoxification and fighting oxidative stress,[70] making it a potentially useful supplement for pathogenic infection.

May synergize with citrulline

Although it's most commonly used in health and wellness supplements, Setria is appearing more and more in performance-focused formulas like Glaxon Plasm Surge V3 thanks to key cardiovascular benefits, like improving blood flow and pumps when stacked with citrulline.[71,72]

Research has shown that combining Setria and L-citrulline can potentially lead to synergistic and sustained increases in nitric oxide production.[71] Other research has found that this combination can also lead to synergistic increases in lean muscle mass and muscular strength compared to both citrulline malate and a placebo. More research is needed to confirm these findings.[72]

The Setria dose used in these studies was 200 milligrams, the same dose in Plasm Surge V3.[71]

AstraGin (Astragalus membranaceus and Panax Notoginseng) [Root] Extract – 25mg

In order to maximize bioavailability, Glaxon uses 25 milligrams of AstraGin in Plasma Surge.

AstraGin is a patented proprietary blend of Astragalus membranaceus and Panax notoginseng root extracts from NuLiv Science.[73-77] While it offers numerous benefits, its main advantage is an ability to enhance bioavailability and nutrient absorption.

Preliminary studies suggest that AstraGin can activate several transporters in the small intestine, thus improving their uptake of nutrients, including amino acids, creatine, and omega-3 fatty acids.

Because we've been talking a lot about arginine's poor oral bioavailability, it's worth mentioning that a 2017 study demonstrated AstraGin significantly improves L-arginine absorption.[78] This obviously makes it a valuable ingredient for the Glaxon Plasm Surge V3 formula, which features one of the biggest arginine doses we've seen in a while.

Moreover, some research indicates that AstraGin can support overall gut health by fighting gut inflammation and improving the structural integrity of intestinal tissue.

Pyrroloquinoline Quinone (PQQ) – 5 mg

Pyrroloquinoline quinone (PQQ) is a disodium salt that's capable of increasing mitochondrial biogenesis,[79,80] the process by which the body generates new mitochondria. PQQ does this by upregulating sirtuin 1 (SIRT1), an enzymatic protein with incredible benefits for health and longevity.[79]

Greater mitochondrial density means more ATP, which leads to, as we've discussed, NO upregulation, improved circulation, and better oxygen utilization.[81]

PQQ's effects on circulation can actually improve cognition,[82] much like Nitrosigine. When taken over long periods of time, PQQ supplementation can lead to reductions in perceived stress, increased energy levels, and better sleep quality.[83]

Again, the addition of PQQ is a sign that Glaxon intended to exploit the ATP-NO connection to the fullest with this Plasm Surge redesign.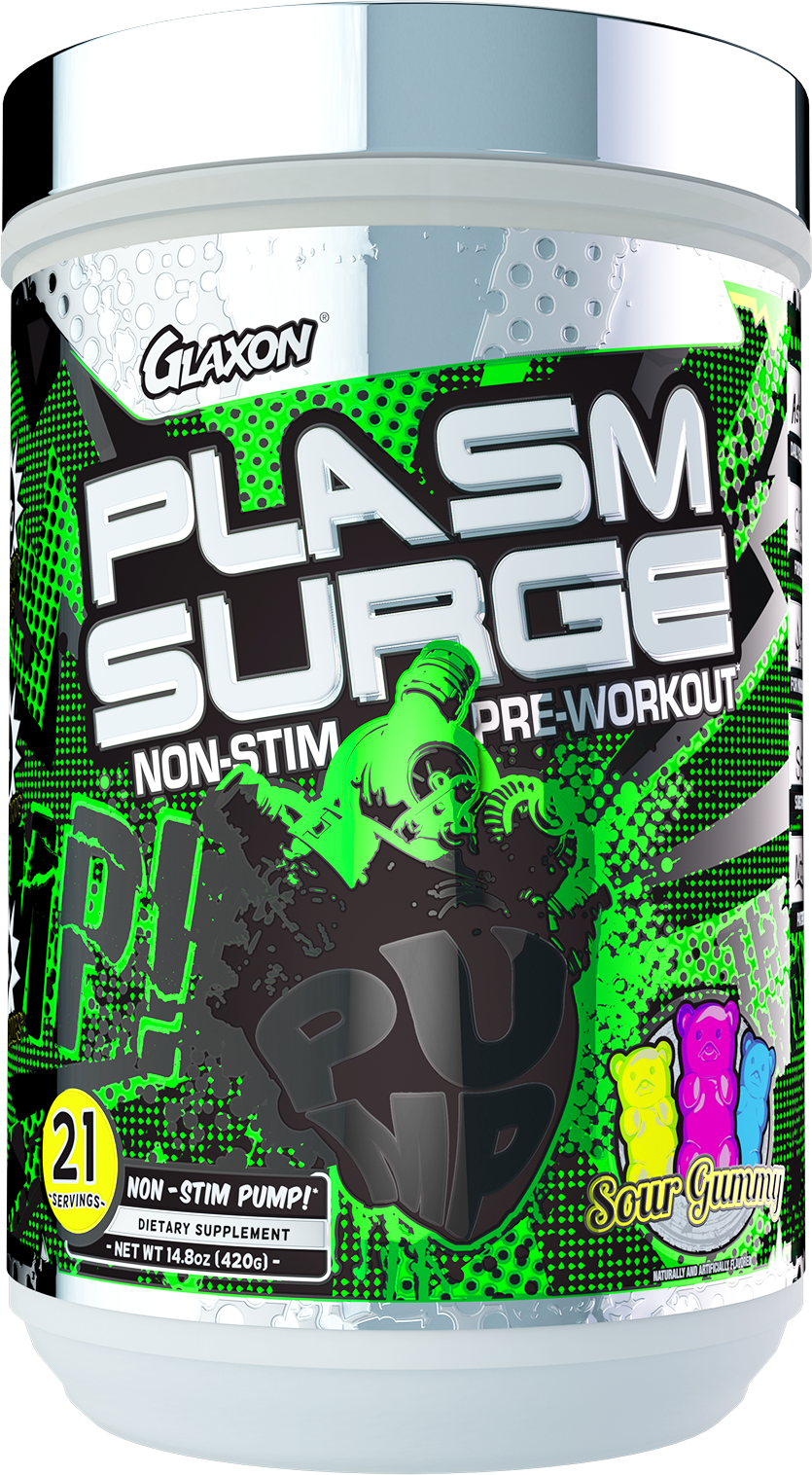 Plasm Surge Flavors Available
You can get it flavored or unflavored, so that it makes stacking with the new Specimen Genesis easier than ever:
Previous versions of Plasm Surge
For a stroll down memory lane, let's look at the previous versions of Plasm Surge:
Plasm Surge V1 (late 2019)

Glaxon Plasm Surge V2 (2020)

Note that there was also an older version of this label that had the same ingredients.

Glaxon Plasm Surge V3 (2023)

You are here:
Conclusion: A Nitrosigine-Backed Pump Powerhouse
With Plasm Surge V3, Glaxon strikes an exquisite balance between the tried-and-true pre-workout fundamentals and innovative new ingredients.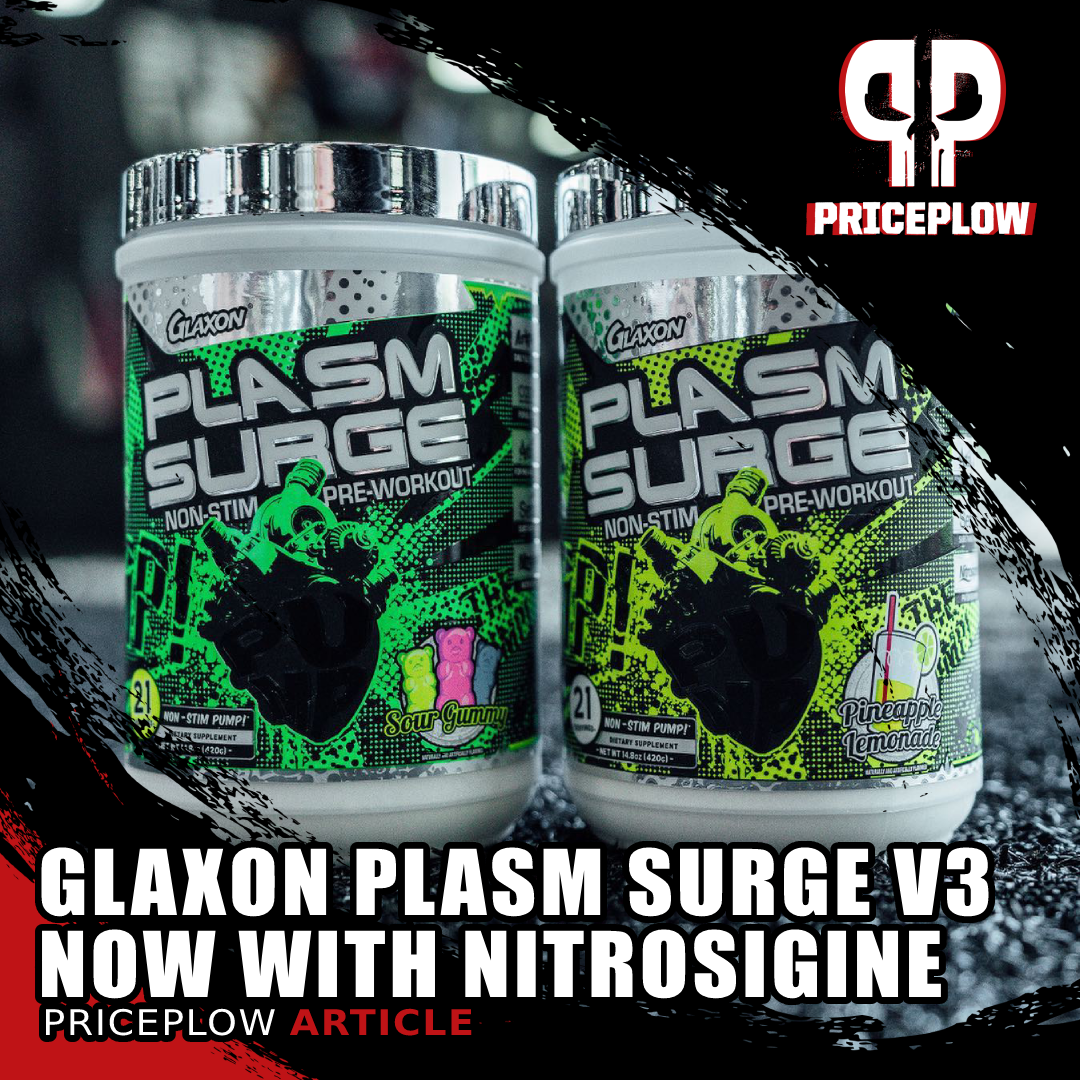 The quantity of citrulline and arginine here – and the magnitude of their synergistic effects – is unlike almost anything else we've seen. Glaxon went all in on the traditional NO-boosting pathway, adding the trifecta from Nitrosigine, citrulline, and arginine.
At the same time, it's evident they're keeping abreast of industry and research trends – with amla, glutathione, and PQQ, the inevitable conclusion that we've come to is that Glaxon has been reading a lot about the connection between ATP and NO.
Plasm Surge is one of those products that just keeps getting better and better. Glaxon definitely didn't disappoint with its third iteration.
Glaxon Plasm Surge – Deals and Price Drop Alerts
Get Price Alerts
No spam, no scams.
Disclosure: PricePlow relies on pricing from stores with which we have a business relationship. We work hard to keep pricing current, but you may find a better offer.
Posts are sponsored in part by the retailers and/or brands listed on this page.
Note: Check the label at each retailer to ensure that you're getting the formula you want.
This article was originally published on August 3, 2020 and updated on May 12, 2023.