AstroFlav has undergone a meteoric rise in the supplement industry throughout the last few years – and for good reason.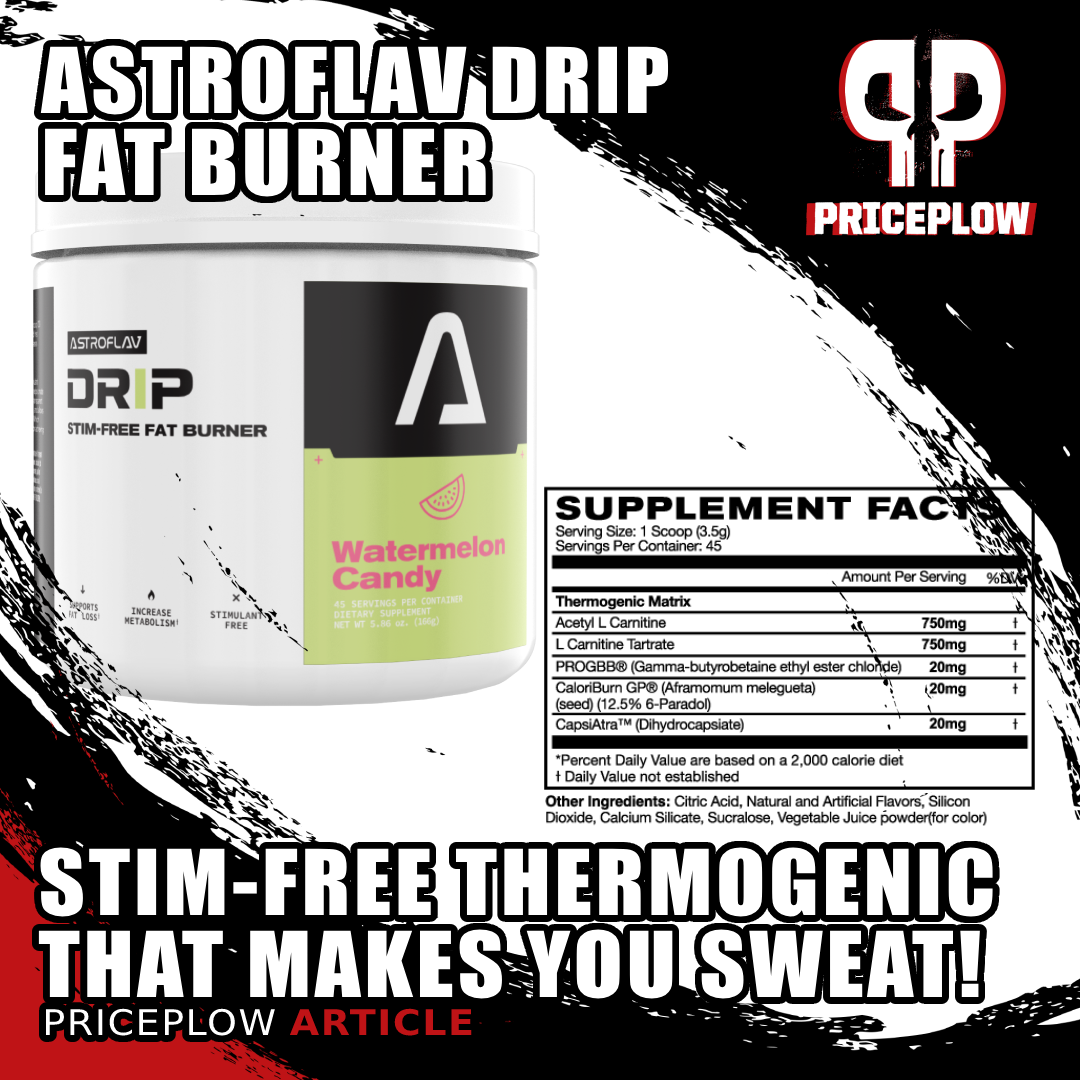 They're known for out-of-this-world flavors, such as in their IsoMix protein powder, but they also do great in weight loss supplements with MetaBurn AM / PM as well as 2X. Even AstroFlav's Magnesium and Joint Plus formulas are unique and can support training and body composition goals!
Between their formulation prowess and their wizard-like ability to make incredible flavors, AstroFlav has really hit their stride.
AstroFlav Drip is Back with some Hot Upgrades
AstroFlav has announced the release of Drip, a powerfully thermogenic formula built atop carnitine. Even cooler, it includes ProGBB, which is an extremely interesting pro-carnitine ingredient known to increase thermogenesis and sweat production (hence this product's name, "Drip").
Backing up this brown-adipose tissue boosting carnitine complex is CaloriBurn GP from NNB and CapsiAtra. Get ready to feel the pounds melting off at a blistering pace!
For the full run down on AstroFlav Drip, keep on reading. First, though, check out PricePlow for good AstroFlav deals, along with our video review of Drip.
AstroFlav DRIP – Deals and Price Drop Alerts
Get Price Alerts
No spam, no scams.
Disclosure: PricePlow relies on pricing from stores with which we have a business relationship. We work hard to keep pricing current, but you may find a better offer.
Posts are sponsored in part by the retailers and/or brands listed on this page.
This area is reserved for Team PricePlow's upcoming videos.
Subscribe to our channel and sign up for notifications so you catch it when it goes live!
AstroFlav Drip – How It Works
Each 3.5 gram serving of AstroFlav Drip contains the following ingredients: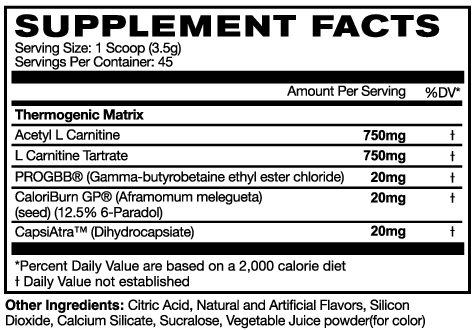 Acetyl L Carnitine (750mg)

ALCAR, also known as acetyl-L-carnitine, is renowned in the supplement world for its potential cognitive benefits, including its neuroprotective effects, capacity to promote neural growth, and potential mood-enhancing qualities[1]. Similar to L-carnitine L-tartrate (LCLT), ALCAR facilitates the transport of energy substrates to mitochondria, assisting in the production of ATP[2]. This mechanism is vital for all cell types, encompassing both muscle and neural cells.

A unique trait of ALCAR is its ability to cross the blood-brain barrier (BBB)[3], a characteristic not commonly found in most nutritional supplements.

L Carnitine Tartrate (750mg)

L-carnitine L-tartrate (LCLT) stands out in the supplement world for its exceptional bioavailability.[2]

Studies involving long-distance runners showed that consuming 2 grams of L-carnitine daily can boost the concentration of cellular enzymes,[4] potentially increasing cellular performance and assisting athletes in adapting to exercise.

Furthermore, carnitine supplementation seems to have a beneficial effect on the endocrine system, especially in relation to testosterone. Research with resistance-trained athletes indicated that LCLT supplementation can elevate androgen receptor (AR) density. A heightened AR density can potentially intensify the impact of testosterone binding, aiding in muscle growth and faster recovery after exercise.[5]

ProGBB (20mg)

ProGBB is a proprietary form of gamma butyrobetaine (GBB), which acts as a crucial precursor in L-carnitine synthesis with the assistance of the enzyme gamma-butyrobetaine dioxygenase (BBD).[6]

In addition to the benefits discussed above, carnitine amplifies brown adipose tissue (BAT) activity, which effectively transforms calories into heat. This is evidenced by the fact that carnitine supplements have been observed to elevate body temperatures in laboratory animals.[7]

White adipose tissue (WAT) evolves into BAT through the formation of new mitochondria. The increased presence of mitochondria in BAT imparts its distinct brownish hue when viewed microscopically.[8] In essence, BAT is a mitochondria-dense tissue.

Additionally, BAT is capable of glucose metabolism. This indicates that having a higher ratio of BAT to WAT can positively impact blood glucose concentrations, irrespective of fat loss.[9] This becomes paramount in understanding health and longevity since consistently high fasting glucose serves as a primary marker for mortality potential.[10]

CaloriBurn GP (20mg)

CaloriBurn GP, developed and trademarked by NNB Nutrition, is an extract from the grains of paradise pepper plant (Aframomum melegueta). This extract is unique due to its 12.5% 6-Paradol content derived directly from grains of paradise.

A study found that men consuming grains of paradise extract had an increased metabolic rate due to higher BAT activity.[11] Additionally, women taking the extract showed reduced harmful visceral fat, linked to diabetes and insulin resistance.[12,13] Animal studies confirm the harmful effects of visceral fat, with its removal preventing metabolic decline in aging rats.[14]

CapsiAtra (20mg)

CapsiAtra, a proprietary sweet pepper extract, is a creation of Glanbia Nutritionals. It's formulated to have 2.3% dihydrocapsiate content, positioning it as a contender against capsaicin-based extracts.

For years, capsaicin has been a staple in the industry, acknowledged for promoting fat loss through thermogenesis.[15] However, it's not without its drawbacks. Some users might experience unwanted side effects such as elevated blood pressure and an accelerated heart rate.[15] Additionally, its strong taste might not appeal to all consumers.

Dihydrocapsiate, on the other hand, exhibits similar fat-burning effects,[16,17] enhancing calorie burn in consumers but without the cardiovascular side effects linked to capsaicin.[15].
Stacking: So many options
Since Drip is stimulant-free, the sky's the limit as to what you want to stack with. For an all-out weight loss stack, the MetaBurn AM and MetaBurn PM combination is incredible. But if you don't want to ditch your pre-workout, you can swap MetaBurn AM for One Scoop Only, and if losing a bit of fat oxidation capability concerns you, you can always add a bit more in with 2X.
Aside from that, we're hugely bullish on AstroFlav Magnesium, and recommend it to literally everyone.
All AstroFlav Drip flavors
In 2023, AstroFlav Drip re-launched with Strawberry Candy and Watermelon Candy. Check out our up-to-date list below:
Powerful Thermogenesis from AstroFlav
AstroFlav Drip is a powerhouse for burning fat. Hitting the all-important carnitine factor from three different angles, Drip will have that scale dropping at a breakneck pace. That's not to take away from the importance of both CaloriBurn GP and CapsiAtra in this well-rounded formula. CaloriBurn is one of our favorite forms of Grains of Paradise, and CapsiAtra is standardized for dihydrocapsiate, an interesting competitor to capsaicin without the side effects.
And, in typical AstroFlav fashion, we're getting two delectable fruity flavors to start with in Strawberry Candy and Watermelon Candy. What more could we ask for?
AstroFlav DRIP – Deals and Price Drop Alerts
Get Price Alerts
No spam, no scams.
Disclosure: PricePlow relies on pricing from stores with which we have a business relationship. We work hard to keep pricing current, but you may find a better offer.
Posts are sponsored in part by the retailers and/or brands listed on this page.