https://blog.priceplow.com/podcast/lief-labs-supplement-manufacturing-101
Over the years, PricePlow has continually become more interested in supplement manufacturing, as it is the cornerstone basis of the entire industry. Good manufacturing quality and testing leads to safe, high-quality products for end consumer.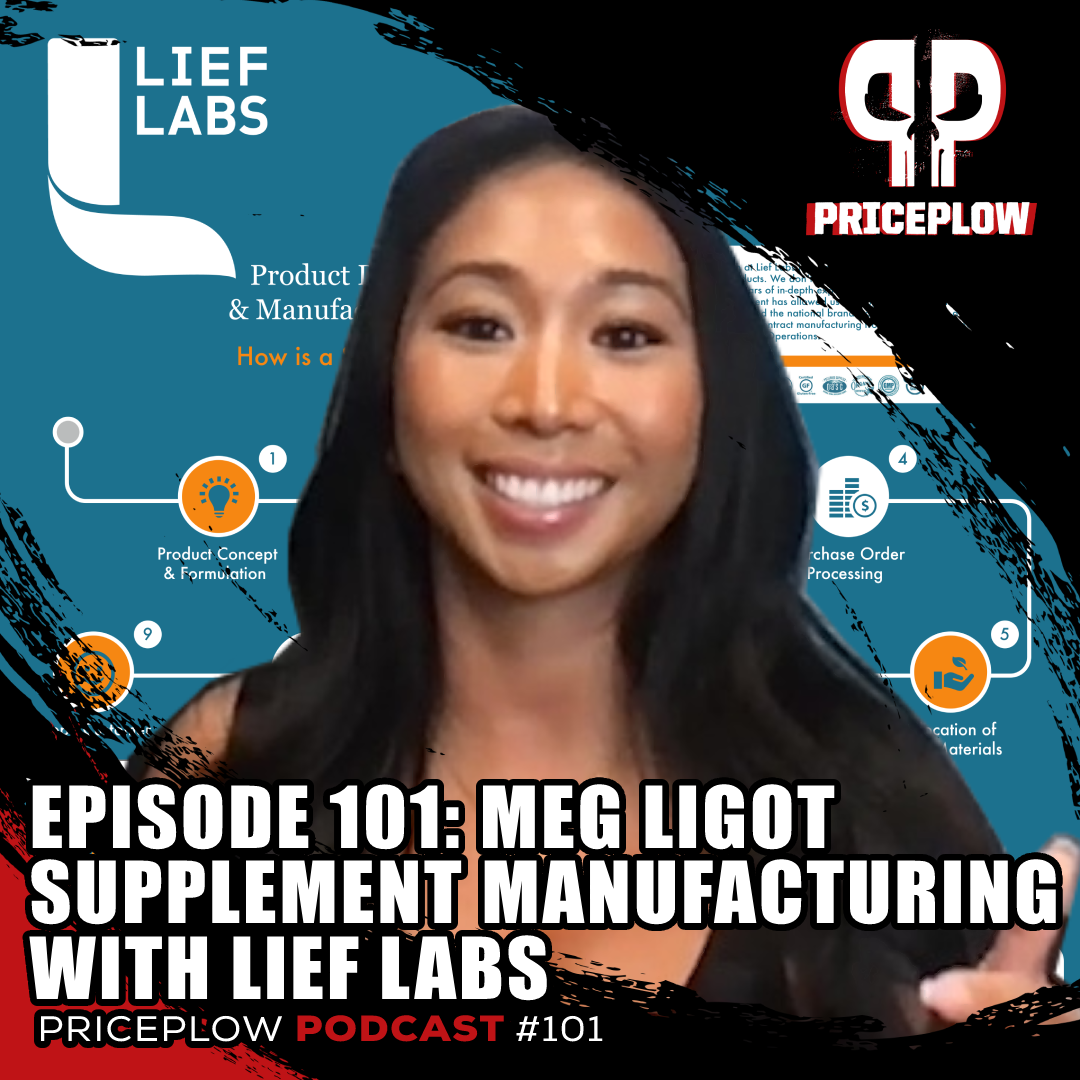 In Episode #068, we interviewed Matt Karich of Soul Performance Nutrition, who took us through his exhaustive process of finding a high-quality manufacturer that produce supplements that would pass rigorous tests and become BSCG Certified. It turns out, the manufacturer he ended up with was none other than Lief Labs.
So we began to talk more frequently with Lief Labs (and their sister subsidiary ingredient development business, Lief Raws), learning how they differentiate themselves from the rest of the supplement manufacturers out there. We've continually emphasized that dietary supplements are regulated (see Episode #100 with Dan Fabricant of the Natural Products Assocation), but what manufacturer takes these laws with the utmost seriousness? What manufacturer can provide additional services to help inexperienced operators make high-quality products?
Manufacturing 101 with Meg Ligot of Lief Labs
An answer to both of those questions is Lief. So we brought Meg Ligot, Senior Product Development Manager at Lief Labs, to bring us through Supplement Manufacturing 101. It's an informative and fun episode, and does a great job showcasing how Lief does things right. We also talk a bit about Lief Raws, flashing back to their unique Biozomal Caffeine product that we covered in the past.
It's all covered below, and you can watch on YouTube or listen through Spotify or any RSS-capable podcast app:
Podcast: Play in new window | Download (Duration: 1:28:53 — 86.7MB)
Subscribe to the PricePlow Podcast on Your Favorite Service (RSS)
Detailed Show Notes: Manufacturing 101 at Lief Labs with Meg Ligot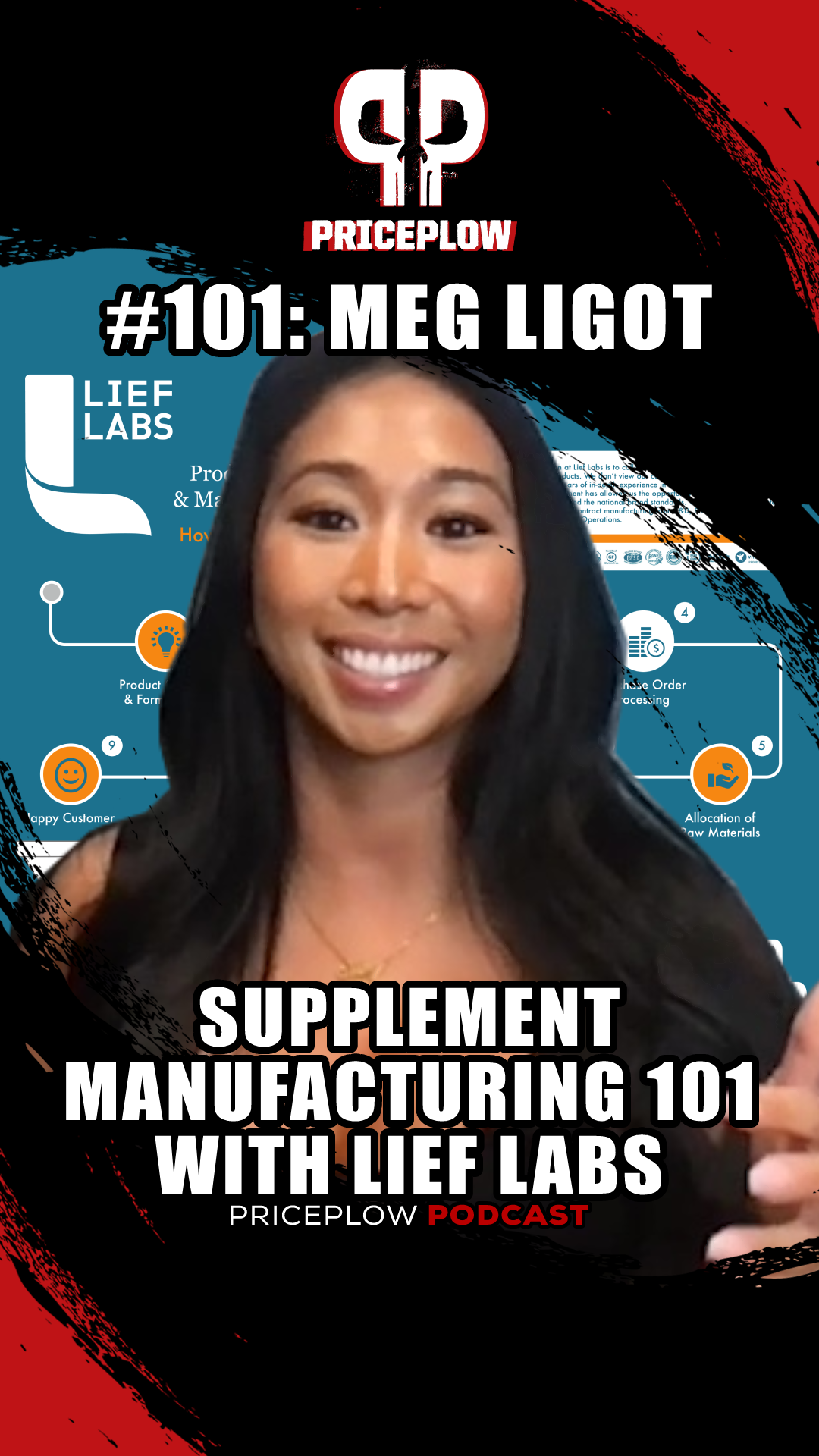 0:00 – Introduction

Mike, Ben, and Meg kick off the podcast with an introduction on Lief Labs, a dietary contract manufacturer known for its exceptional quality. Lief's been around since 2008, their CEO has a background in biochemistry, and his first job was in the industry.

Lief Labs started off on the right foot immediately by getting NSF Certified — NSF is a company that strictly enforces high quality and standards for manufacturers. Meg says that a key difference between Lief and other contract manufacturers is that they do everything product development wise right there in house, and can provide full supplement manufacturing services from ideation to creation.

3:30 – How Lief Works With Their Customers

Mike transitions from Meg's statement of Lief playing a big role in formulation and bringing the product to life, but asks if it's absolutely necessary if someone with a good formula comes in looking solely for manufacturing, especially if the budget is tight. Meg counters this by stating that Lief doesn't even charge for product development – a huge bonus! Lief will work with any customer with the hope that if they are involved in the formulation process, they will be the manufacturer for that product. If it doesn't work out, they are still happy to have helped someone in the industry.

6:00 – Example of the process with Lief as a new brand owner

Ben puts himself in the shoes of a new brand owner who wants to produce a pre-workout supplement, but has little to no knowledge or experience on how to do so. He asks Meg what his experience would be like when asking Lief for contract manufacturing services.

After reaching out to Lief, you will first go through a couple of introductory questions such as "What is it that you're looking for?", "Do you have a formula in mind?", "What does your customer look like?" and "What is it that your customer is looking for?"

If you can articulate who your customers are, then Lief can help you build a better supplement for them.

8:15 – NSF Certification and Continuing the Formulation Process

Ben goes on to ask Meg how the NSF certification plays a role in the situation he just played out formulating a new pre-workout. This transitions into talking about Lief's ingredient vendors and how their standards must be as high as Lief's to ensure that the customer is getting the highest quality ingredients. Once a formula is nailed down, a quote will be put together, and from there adjustments can be made as necessary.

12:00 – How the costs break down

Mike asks Meg how early price is brought into the product development process and all the factors that really go into it. Meg talks about how it's involved almost the whole time because there's so much that goes into: target demographic and their price point, target retail price, ingredient costs, packaging and labels, volume of the order, and more.

Ben asks if Lief will bring in new ingredients that they don't carry, and they will try to do so (if it adheres to their standards and legal compliance), but understand that this plays into the cost and lead time of the final product.

15:40 – Prop 65 Warning and Legal Requirements

Mike asks about Prop 65 warnings and any other legal requirements that may come about and how Lief supports those. Meg answers by saying that if there are any specific testing measures or certifications that the customer is trying to get, it's best to bring them up in conversation as early as possible since it starts with ingredient sourcing and dosages.

For example, if a customer needs to stay under 2 ppm (parts per million) for lead, they need to see what each ingredient yields for lead and adjust accordingly. This could lead to changing ingredient dosages in the formula, swapping out ingredients for others, or finding a new source of an ingredient that is yielding too high of lead. All of these factors can affect lead time and bring on other potential risks to the product.

19:40 – Product minimums and what they can do

As of right now, the product manufacturing minimums are 2500 units for powders (per flavor) and also 2500 units for capsule products. There is some flexibility since not every customer and situation is the same, which is a nice feature of Lief Labs. They are a dry powder manufacturer, meaning they can do powders, capsules, and tablets – including chewable tablets.

21:30 – Flavoring and sampling

Preliminary cost includes formula, packaging components, flavoring placeholder, manufacturing, and labor. From there the R&D process is started and flavor is discussed.

In Ben's example role he's been playing for the podcast, he brings up that he likes mango flavor but isn't a cherry fan. Meg talks about what goes into flavoring and how certain flavors may not work with the ingredients that are inside the product. Meg shares a funny story of her in the R&D lab only 4 days into the job and having to taste raw theacrine and chase it with a Girl Scout Cookie to get rid of the bad taste.

26:00 – Masking ingredient tastes that may not be pleasant

Ben and Mike ask Meg how they would deal with an ingredient that may not taste great but the customer really wants to have it in their product.

She asks if the customer would want to flavor and sweeten naturally, or can there be artificial ingredients like sucralose inside? Sucralose can mask flavors a lot better than natural sweeteners can, so choosing your demographic and ingredients wisely early on is super important.

If going natural, Lief will tap in with their experts and partners to find a solution to make your product taste as good as possible – but it's definitely more of a challenge since stevia and other natural sweeteners are not as sweet as sucralose.

28:40 – Natural vs. artificial flavors

Mike asks what the difference between natural and artificial flavors are, with Meg responding by saying natural flavors are made from extracts and powders from natural ingredients, like a strawberry. Artificial flavors are made synthetically and are not necessarily derived from nature or made using natural extracts.

30:15 – Flavor is picked, what's next?

After Ben chooses sucralose for a sweetener, it's now time to get into the lab to try a couple of different flavors. The samples are shipped out or you can spend time in the lab yourself. From there, Meg collects information on what could be tweaked to make the flavors taste as good as possible. Some of the adjustments that can be made are adding more flavor or sweetener, adjusting acid levels, or even swapping the types of acids used, such as citric and malic acids.

35:00 – Meg's background

Meg's background is in biochemistry, attending Mount Saint Mary's in Los Angeles. She got a job at a gym and started noticing that the gym was selling supplements with ingredients inside that she was studying in school, which piqued an interest. She tried her first pre-workout and got the infamous beta-alanine tingles, and ended up writing her senior thesis on what it does to your body.

Through connections in the gym, this led to her applying for a job at Lief, and the rest is history.

43:00 – Next steps for product

Next up is certifications and testing requirements that the customer may be seeking for their product. Lief works to help you obtain any certifications or perform any testing that you seek, whether it be testing levels of certain ingredients or getting the product non-GMO verified. After that, the supplement facts panel needs to be laid out, whether it lists all the ingredients and their exact amounts or it's (unfortunately) a proprietary blend. The good thing about Lief is that even if there is a prop blend, they still test as normal and can make label claims, which you don't see often.

50:15 – Finally, manufacturing!

Based on the finished formula with all the ingredients, flavoring, and sweetening, Lief will choose an appropriate bottle size and lid. They don't have a design team in house to make labels, but have a lot of great connections that they can refer you to (see Episode #087 with Taylor Knox of NutraMedia for a great example) and will check over everything in house as another regulatory set of eyes.

In terms of lead time for both capsules and powders, in our example case 5000 units, it's currently about 8-10 weeks until the product is manufactured, but don't quote this because it's always changing.

There's a ton of stuff that happens between the customer placing the order and it finishing. The account manager will be in regular contact with the brand owner to get labels, take care of certifications, and handle any other items that will be needed to get everything done as required.

58:00 – The manufacturing process

Order is placed. Now it's time for the Lief team to plan the logistics of getting this product made and into a tub. Based on the ingredients picked for the formula, lead times will be calculated to ensure the customer gets their finished product by the given time estimate (in our current case 8-10 weeks).

Inside the manufacturing facility is where the GMP standards and guidelines really kick into effect. Before the specific ingredients get to the facility, the ingredient vendors need to fill out a spec sheet supplied by Lief as a first step in the process of QA/QC. Once the ingredients are approved for use, the customers will get a pallet setup for them with all the ingredients weighed out on it that will go into the product.

1:01:30 – What if something goes wrong?

Mike brings up a great question after hearing Meg go through the beginning steps of the manufacturing process: what if something goes wrong?

Ultimately, by law, the brand is responsible if something goes wrong during manufacturing and the product still reaches the market. However, the brand will most likely be asked where the product was produced, and an audit will be done on the manufacturer to see if they are actually holding up to the standards and following guidelines correctly. If not, they will be notified of corrections that need to be made to be sure they are producing safe products for the public.

Manufacturers are highly incentivized to avoid problems such as product recalls, legal drama, and additional audits, so this is why Lief maintains cGMP (current Good Manufacturing Practices) so strictly.

1:03:30 – Are common ingredients always in stock?

Mike asks if common ingredients like caffeine and citrulline are always in stock at the Lief facility and how they handle their ingredient inventory. Meg brings up a great point of the importance of shelf life in a product. In our example pre-workout, she doesn't want to use caffeine that's been sitting on the shelf for a long time. Lief strategizes their ingredient orders based on how often they are used and makes sure the ingredients shelf life will work for the product's shelf life.

1:05:40 – Ensuring the product contains what it says it does

Ben asks what Lief does to ensure that they are doing what they are saying they are doing manufacturing wise. Meg responds by saying they do a performed-by, verified-by, and sign-off signature process at multiple checkpoints throughout the process. When blending is complete, Lief will take a serving of the product and send it off for testing. Only when all testing is complete and passes the requirements that Lief enforces can they release it to the customer.

Ben then asks about dosing each ingredient and if they put a little extra of each (overage) inside to make sure there's enough even after long-term degradation. Lief does put in a certain amount of overage for each ingredient to count for potential loss during the manufacturing process. These overages are built into the cost of the formula so it's not an added fee to the brand owner which is a nice feature.

1:11:15 – Testing is complete, the product is ready to be shipped!

Once the product has passed all of its testing requirements and is ready to be shipped, Lief and the brand owner will figure out the logistics on how many units and where everything is going, whether that be warehouses, fulfillment centers, or even their home.

1:13:45 – Now we know Lief Labs, but what is Lief Raws?

Lief Raws came about after they started seeing the rise of consumer demand for natural products. Their first ingredients were a line of organic rice excipients (floli), which can replace capsule fillers like silica to provide a natural alternative. This was a good move on Lief's part because it also gets them involved in the supply chain where they would be utilized more compared to a special version of a botanical extract that may only be seen in an energy supplement.

Lief also has other ingredients like oat milk powder (Oatzi, which is used in Soul Performance Nutrition Bliss Revitalize Collagen) and celery juice powder (CeleVida) that came to be from ideas from people inside their own teams. Meg developed the oat milk powder as a natural alternative to things like gums that are normally put into protein powder. Some team members were juicing celery but didn't enjoy the process of actually doing it, so they developed their celery juice powder to provide an easy alternative.

1:18:39 – Lief Raws makes function based ingredients too

Lief noticed an increase in the trend of liposomal technology in supplements, but not necessarily done the right way and instead was mostly used for marketing. Lief wanted to use this technology correctly and apply it to an ingredient that was very commonly used, and this led to their liposomal caffeine (Biozomal Caffeine) coming to fruition.

1:21:00 – Tablet manufacturing at Lief Labs

Lief Labs offers a line of certified organic tablets that are pre-developed formulas that can be selected by the customer. They also offer a full line of gummies so they can provide multiple options to their customers without them having to go to another manufacturer to get things done. The gummies and tablets are all shown on the Lief Labs website.

1:24:50 – How Lief brings ingredients in

Mike asks Meg how strict Lief is when it comes to bringing ingredients in to be used for a product. She responds by saying they are very strict and follow the GRAS and NDI guidelines to ensure nothing is coming in that shouldn't be. Before any ingredient is sent to Lief's facility, the vendor needs to fill out proper paperwork to adhere to Lief's in place requirements. Some of the things on these forms could be kosher statements, country of origin, and allergen statements. If there are any ingredients (like NMN) that are up in the air with the FDA, Lief is not working with them until they are fully cleared.

The trio signs off and says thanks.
Important Links
Thanks to Meg and Lief Labs for joining us! Return to the PricePlow Podcast and don't forget to subscribe and leave a review on the platform of your choice.
Subscribe to the PricePlow Podcast on Your Favorite Service (RSS)