We've covered Advanced.GG — the creators of Focus, the first clinically-dosed gaming supplement utilizing nooLVL — numerous times in the past, but this one's different. Previous articles have dug into the Focus formula, the clinically-tested nooLVL ingredient from Nutrition21 that's inside, and flavor collabs such as Travel Danielle's Strawbana and GGB's Strawberry Lemonade.
So we've seen trendy gamer flavor collaborations, but never before have we seen an entire game getting its own collab too:
Advanced.GG partners with Splitgate for Rocket Pop FOCUS
The supplement company that's made by gamers, for gamers — Advanced.GG — is now partnered with Splitgate, a popular warfare arena first-person shooter game. They've released the Splitgate Rocket Pop flavor, which is a take on the famous red, white, and blue popsicles.
As the first game partnership, the two companies made sure that this flavor would not be a disappointment, and we can't think of a better partner to have a Rocket Pop than a first-person shooter like Splitgate. The details are covered below, and if you want more notifications about Advanced.GG news, you can sign up on PricePlow:
Advanced.GG Focus 2.0 – Deals and Price Drop Alerts
Get Price Alerts
No spam, no scams.
Disclosure: PricePlow relies on pricing from stores with which we have a business relationship. We work hard to keep pricing current, but you may find a better offer.
Posts are sponsored in part by the retailers and/or brands listed on this page.
Splitgate Rocket Pop?
Rocket Pop (sometimes called "Bomb Pop") flavor systems generally feature three distinct flavors: cherry, lime (sometimes lemon), and blue raspberry – and every brand tilts theirs in a different direction to work with their supplement. The Advanced.GG Focus Splitgate take on flavor, as shown in the video above, is a very good cherry with lemon/lime (heavier on the lime than lemon), while going lighter on the blue raspberry.
What is Advanced.GG Focus?
In fall of 2019, the trend-setting ingredient developer and research firm Nutrition21 announced the first dietary supplement to include an ingredient known as nooLVL. That supplement was none other than the latest version of Advanced.GG's Focus. With a clinical study under its belt,[1] nooLVL was the world's first science-backed dietary supplement ingredient made for gamers and studied on gamers. And as the first supplement to go live with nooLVL inside, it made Advanced.GG Focus the world's first clinically-dosed gaming supplement.
Ever since then, Advanced.GG has been on a tear, and their collabs keep getting bigger and more grandiose as they stake their claim on not only the gaming industry, but the nootropic focus sector of the supplement industry as well.
You can read more about it in our article titled Advanced GG Focus Esports Supplement: For Gamers, By Gamers.
Advanced.GG Focus Ingredients
Each scoop of Focus has the following profile:
nooLVL (Inositol-enhanced Bonded Arginine Silicate) – 1.6g

Alpha-Glyceryl Phosphoryl Choline (Alpha GPC 50%) – 300mg

Choline Bitartrate – 250mg

Natural Caffeine (from Green Tea (Camellia sinensis) (leaf)) – 200mg

L-Theanine – 100mg

Panax Ginseng Extract (7% Ginsenosides) (stem & leaf) – 50mg

Astaxanthin (Haematococcus pluvialis) (alga) – 20mg

Black Pepper Extract (piper nigrum) (fruit) (Bioperine) – 5mg

Toothed Clubmoss (Huperzia serrata) (aerial parts) (standardized to1% Huperzine A) – 50mcg

Added B and C vitamins
Details on nooLVL, and the latest studies
nooLVL is based upon inositol-enhanced arginine silicate, which has been shown to improve blood flow through increased nitric oxide production.[1-4] These types of ingredients are generally utilized in workout supplements to increase blood flow to the muscles, but they actually increase blood flow to the brain as well – and this has been shown to lead to improved cognitive performance and reduced cognitive decline after extreme exercise.[5]
Nutrition21 took this technology, which was in a pre-workout ingredient named Nitrosigine, and put it to the test in gamers. In 2019, researchers recruited 60 video gamers (both men and women) who played at least five hours per week.[6] In a double-blinded, randomized, placebo-controlled trial, they found that seven days of nooLVL gave gamers significantly greater reaction time, accuracy, decision-making speed, and perceived energy compared to placebo.[6]
Most importantly, those gamers were actually playing modern games — Fortnite, Call of Duty, and Madden[6] — the first two of which are very relevant to Splitgate.
While those effects were measured after a week of use, a more recent study out of Texas A&M published in 2021 found that there were significant effects in various measures of short-term memory, reaction time, reasoning, and concentration only 90 minutes after using nooLVL![7,8]
And getting back to the inositol-stabilized arginine silicate in Nitrosigine, which lies at the base of nooLVL, a more recent 2021 study has shown that it's able to improve cognitive outcomes in healthy adults as well,[9] so that's also worth looking into!
You can learn more about the more recent study in our article titled nooLVL Increases Short-Term Memory and Reaction Time: New Study Published and read about the rest in our article titled nooLVL: Next-Gen Focus Ingredient for Gaming Supplements.
In addition, you can also see that there are other energy and focus-boosting ingredients in Advanced.GG Focus, including 200 milligrams of naturally-sourced caffeine.
What is Splitgate?
Splitgate is a multiplayer first-person shooter (FPS) video game that was created by 1047 Games and is free to play. It was launched in mid-2019 for Windows, Xbox One, Xbox Series X/S, Playstation 4 and 5, and the unequaled Linux operating system. Upon the game's launch, it was so popular that their servers crashed, thanks to over 600,000 downloads in its first week.
Splitgate has a science fiction edge that was inspired by Halo, where players engage in combat in battle arenas but can create wormholes between different parts of the map. The portals can be used for both travel and weapons deployment, creating an enormously fun and excitingly fast experience.
All available flavors of Advanced.GG's Focus: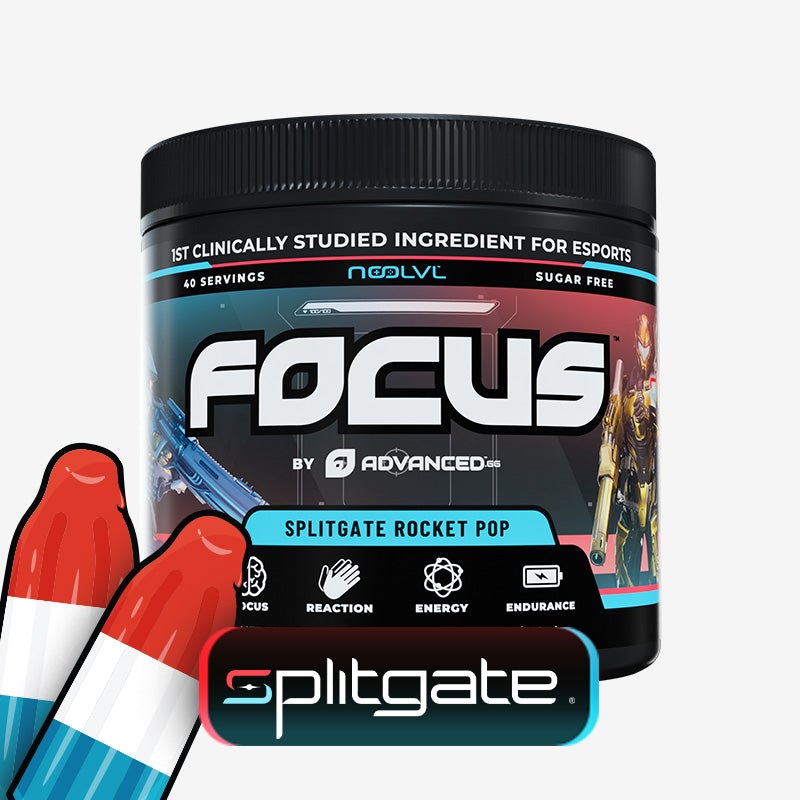 Advanced.GG making moves with server-destroying Splitgate
As the gaming industry evolves, Advanced.GG does as well, and it's all backed by a full, clinically-studied dose of nooLVL. The enhanced blood flow to the brain is a perfect complement for the added energy and focus support, bringing a well-rounded gaming supplement that's not too much yet never too little.
We've loved following Advanced.GG over the years, as they've brought efficacy, transparency, and legitimacy to a gaming supplement industry that was certainly lacking all of those before they — and nooLVL — arrived on the scene.
And even if you're not a gamer, and just want an incredible nootropic energy drink that can double as a pre-workout supplement, Focus is still here. There are plenty of flavors to choose from, and Splitgate Rocket Pop may be the one that hits closest to your heart, just like those classic ice pops.
Advanced.GG Focus 2.0 – Deals and Price Drop Alerts
Get Price Alerts
No spam, no scams.
Disclosure: PricePlow relies on pricing from stores with which we have a business relationship. We work hard to keep pricing current, but you may find a better offer.
Posts are sponsored in part by the retailers and/or brands listed on this page.