Raw Nutrition isn't all CBum supplements, you know!
We recently covered new flavors of Raw Nutrition's CBum Thavage Pre-Workout RTD (Miami Vice and Strawberry Mango), which followed up the sleek Raw Nutrition rebrand, but today we get back to the basics with a "single-ingredient" formula… except better.
Raw Nutrition Beta Alanine: More than Just Beta Alanine
Today, we're covering the new Raw Nutrition Beta Alanine supplement — which of course includes the popular tingle-producing ingredient that's been shown to promote better muscular endurance. But it's no ordinary beta alanine supplement:
Raw's take on Beta Alanine also includes the amino acid L-Histidine, which is a necessary precursor to get beta alanine where we want it to go (towards carnosine production). In addition, there's a small amount of added electrolytes to support athletic performance even more.
It's the perfect, stackable, endurance booster – and there are potential benefits whether or not your pre-workout already has beta alanine inside. We cover it all below — first, check PricePlow's coupon-powered prices, and sign up for our Raw Nutrition news so you don't miss their future updates:
RAW Nutrition Beta Alanine – Deals and Price Drop Alerts
Get Price Alerts
No spam, no scams.
Disclosure: PricePlow relies on pricing from stores with which we have a business relationship. We work hard to keep pricing current, but you may find a better offer.
Posts are sponsored in part by the retailers and/or brands listed on this page.
This area is reserved for Team PricePlow's upcoming videos.
Subscribe to our channel and sign up for notifications so you catch it when it goes live!
Raw Nutrition Beta Alanine Ingredients
Each 5.2 gram scoop contains the following:
Beta Alanine – 3.2 g

Most athletes at this point know about beta alanine — it's the famous pre-workout ingredient that promotes endurance and often leads to a tingling sensation (don't worry, it's been shown to be safe and non-toxic as we'll explore below).

3.2 grams is the most common clinical daily dose in research, but we'll also talk about how adding this to a supplement stack that already has beta-alanine can lead to even more benefits — or at least get you to those benefits faster.

When talking about beta alanine, there are four main references to lean upon:

A 2012 meta-analysis on 15 studies[1]
A 2016 meta-analysis on 40 studies[2]
The ISSN (International Society of Sports Nutrition) 2015 Position Stand[3]
A 2019 safety meta analysis[4]

All in all, these studies show that beta alanine very safely improves muscular endurance and exercise performance across a myriad of sports activities – especially within non-sprinting time ranges. Let's look at those two meta-analyses first:

Beta alanine meta-analyses on exercise performance

2012: 15 studies, 360 Participants

In the 2012 meta analysis, the researchers looked at the current data available and found 15 studies appropriately utilizing beta alanine. It consisted of a total of 360 participants. They found that beta alanine significantly improved endurance performance in exercises lasting 1-4 minutes long.[1]

But as many of us following the industry know, a lot of beta-alanine based research (and pre-workout supplements) came out in the ensuing years. So a new meta-analysis took a look at the updated data:

2016: 40 Studies, 1461 Participants

The 2016 meta-analysis was far bigger – it analyzed 40 studies that totaled 1461 participants performing 70 different exercise measures. It expanded the findings above, finding that beta alanine leads to significant increases in exercise capacity in exercises lasting anywhere from 30 seconds to 10 minutes.[2]

The big takeaway here is that exercise capacity and endurance are improved by the ingredient, but that doesn't necessarily translate to strength or sprint performance or body composition,[5] although those are secondary benefits that are often achieved.

Reason being, you need to take advantage of those endurance gains – beta-alanine won't directly build muscle for you, it'll just enable greater volume. And much of this is a volume game – but you need to make the time in your day to support that.

So now that we discuss when and in what situations it works, let's quickly get into how it works:

How beta alanine works

When taking beta alanine, the goal isn't getting more BA itself — the actual goal is to build up carnosine stores in the muscle. This is because carnosine is the molecule that can keep fatigue at bay by buffering lactic acid.[3,6] The issue is, supplementing carnosine isn't orally bioavailable (it gets metabolized before reaching the skeletal muscle),[7] so sports scientists developed a workaround — take its precursor.

And beta alanine just happens to be the rate-limiting precursor in carnosine synthesis![8,9] When combined with the other active ingredient Raw Nutrition provides here, L-Histidine, you get carnosine![8-10]

The ISSN's position stand provides the best technical summary on this (see its "Mechanism of action" section),[3] but the general gist is that greater carnosine levels lead to greater muscular endurance, and lower carnosine levels lead to very poor performance.

Since we can't take carnosine, and its production is limited by beta-alanine, which is bioavailable, the solution is right here, backed by over a decade of science on trained athletes.

Dosage strategies: 3.2 grams or… more?!

Most of the studies analyzed in the research cited above used 3.2 grams per day – generally taken as 800 milligrams 4 times daily, so that's become the "clinical daily dose". It's what's been demonstrated to provide significant results. So that's what you often see in pre-workout supplements as well as products like Raw Nutrition's here.

But that doesn't mean it's the top-end dose! Remember, our goal is to increase carnosine levels. If we can get to carnosine saturation faster, we can get to endurance improvements faster! For this reason, researchers started looking at doubling that dose to 6.4 grams, and they found even better results!

There are at least a few studies showing that taking 6.4 grams per day (179 total grams over 28 days) can further increase muscle performance, demonstrating an increase in work capacity by 16.9% and endurance by 14.9% as well as reduced perceived effort.[11-13] Large doses may also reduce inflammatory markers in elite athletes as well.[14]

So whether you're taking this standalone or adding it to your Thavage Pre-Workout (or Thavage Pre-Workout RTD), there are additional benefits to consider.

Beta alanine safety

As we alluded to above, most know beta alanine for its tingle-producing sensation. This is known as paresthesia, and researchers believe that it activates certain receptors on sensory neurons.[15] The good news is that ingestion of beta alanine has been shown to be incredibly safe and non-toxic.[4]

When using it for pre-workout purposes, we use this effect to signal that it's time to start training.

How to avoid beta alanine tingling

For those who want the benefits of beta alanine without the tingling, the following two strategies work best:

Take a standalone supplement like Raw Nutrition Beta Alanine, but split doses into two or even four smaller servings per day (and find a pre-workout without beta alanine).
If taking a larger beta alanine dose, take it with carbs in your system. We anecdotally find that paresthesia hits harder on an empty stomach.

Alternatively, just get used to it – the sensation often diminishes over time.

Don't confound your situation with the niacin flush

Finally, if you don't like the tingling, you will also want to make sure that your pre-workout doesn't contain niacin as nicotinic acid. This is the "flush" type of niacin (Vitamin B3) that can amplify paresthesia far beyond what beta alanine is capable of.

If you see "niacin" on the label, and it doesn't specify "niacinamide" (which is an inferior form anyway), then there's a good chance you have nicotinic acid… and that can definitely lead to a flush you may want to avoid!

L-Histidine – 1.1 g

Now for Raw Nutriton's brilliance in their simplicity – the added L-Histidine. As mentioned above, this is the amino acid that combines with beta alanine to create carnosine.[8-10]

Histidine is an essential amino acid that's generally quite abundant in protein-rich foods. It's uncommon to have deficiencies, but animal research does show that when there is a deficiency, carnosine concentrations in muscle are lower.[16]

Aside from beta alanine generation, histidine also supports immunity, neuron health, vascular structure, and hemoglobin levels.[17-20]

If concerned about amino acid intake, you can always just eat more meat or supplement more by taking Raw Nutrition's EAA or any of their protein powders (Raw Nutrition Vegan, CBum Itholate, or Raw Nutrition Grass-Fed Isolate).

Added Mineral Support (Sodium, Potassium, Phosphorus)

Each serving of Raw Nutrition Beta Alanine also provides the following in terms of Daily Value (DV):

8% DV Phosphorus
7% DV Magnesium
2% DV Sodium
2% DV Potassium

We often talk about the added benefits of mineral electrolytes, with sodium and potassium balance being a major issue for cardiovascular health. But note how Raw is using phosphate based minerals, not chloride, citrate, or anything else.

This provides a new spin, so let's dig into the phosphorus provided:

Phosphorus: Additional buffering?!

Phosphorus is the second-most abundant mineral in humans – it's actually 1% of our total body weight! It's needed for DNA/RNA, healthy teeth and bones, and is of course critical for our body's energy molecule, ATP (adenosine triphosphate).[21]

It's quite abundant in foods, so there's generally not a deficiency, but the interesting thing to note about here is that it supports buffering in both urine and blood![21,22]

When digging through the research on carnosine,[10] there's an old study cited discussing the importance of various phosphate molecules with regards to buffering.[23]

So while we see several chloride and citrate and malate forms of minerals in the various electrolyte and hydration supplements out there, using phosphate may provide some different effects.

Magnesium: Support the metabolism.. and nearly everything else

Entire books have been written about magnesium — this mineral of paramount importance is almost always in short supply in our modern food environment.

There's a wealth of research demonstrating magnesium's incredible benefits for human health:[24-39]

Greater insulin sensitivity
Better blood glucose control
Reduced blood pressure
Increased bone mineral density
Lactic acid waste removal support
Skeletal muscle gains
Protection from muscle damage
Lower inflammation markers

Those in bold are more specific to our general goals alongside Raw Nutrition's Beta Alanine.

At 8% DV, Raw Nutrition gives us a nice boost here, but we honestly suggest getting more with Revive MD Magnesium+ or Revive MD Magnesium Glycinate, two of our all-time favorite magnesium formulations. How much more depends on your diet!

Sodium and potassium: keep the balance

As a quick reminder regarding sodium and potassium, most of us intuitively know from the salty taste that the majority of our sweat is sodium,[41] so it's good to replenish it when training hard.[42]

Beyond that, cardiovascular problems are more commonly from too little potassium as opposed to "too much sodium",[43-50] and too low of sodium is a major problem too.[51-53] Potassium is the one that's more difficult to get in our modern food situation.[43,54,55]

The point here is that while these aren't huge numbers, we'll gladly take them, and appreciate that Raw Nutrition has kept the potassium in balance with the sodium.
Stacking
This can be stacked with anything, anytime, any place.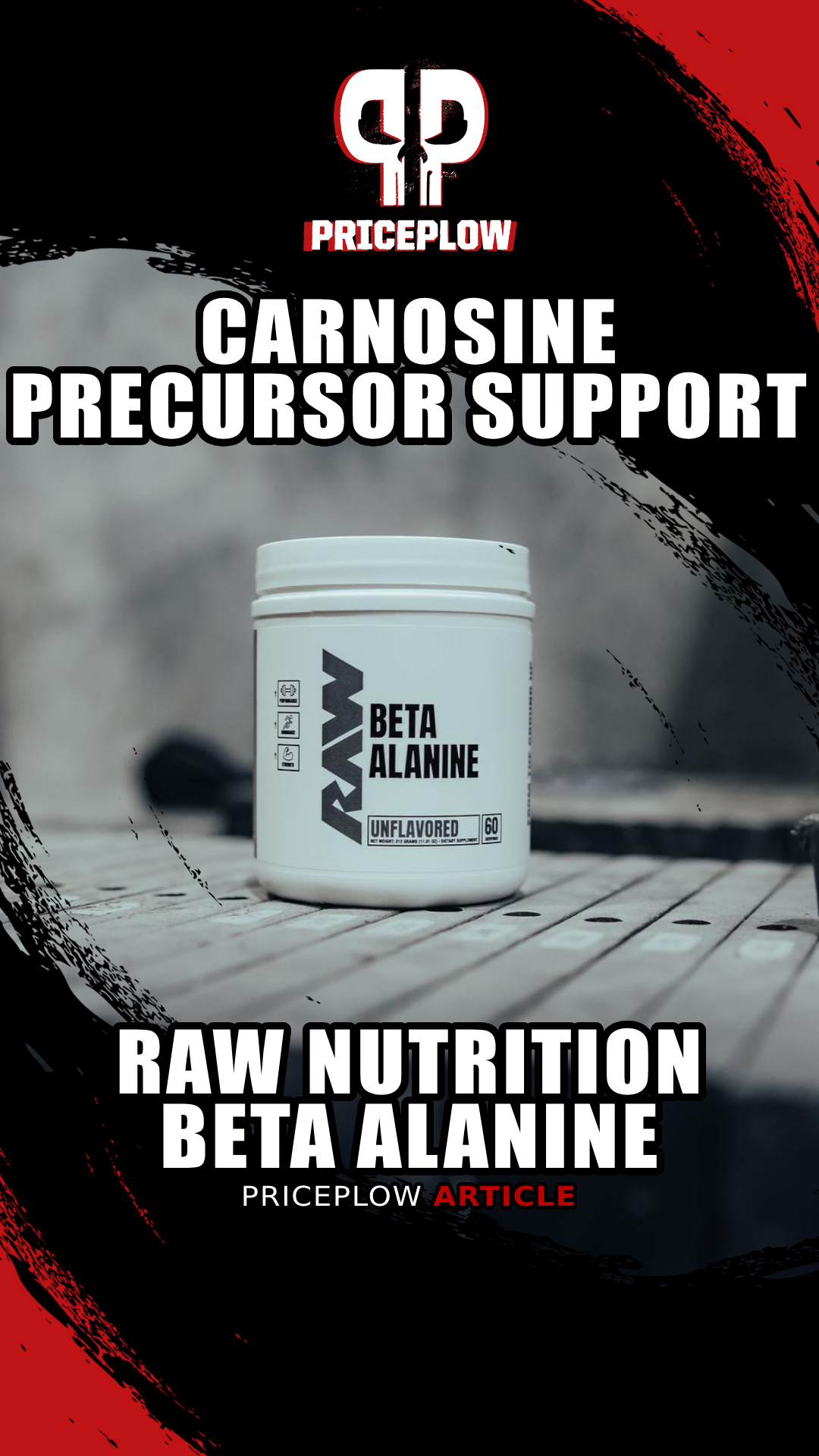 Above, we discuss if you want to try 6.4 grams per day by combining it with a pre-workout supplement that already has 3.2 grams. If doing that, it may make sense to take it on the opposite side of the day, unless you really like those tingles!
Beyond that, this is a great way to get in some extra BA, especially if you want to space out smaller doses throughout the day.
Conclusion: A Smart Twist on Beta Alanine
There's not much more to say here – we love beta alanine, but some of us don't love the acute tingling effects. If that's you, you can get a low (or zero) beta alanine pre-workout, but space out small doses of Raw Nutrition's Beta Alanine throughout the day.
The inclusion of histidine is a simple, common sense addition. If you're into fasting or training fasted, it could be good to take this to get some additional precursor support, and to sip on some Raw EAA while you're training.
Finally, adding electrolytes in phosphate form was also a cool idea. Most of us get plenty of chloride in our day, so this is a novel way to boost electrolytes in a balanced fashion.
Well done from Raw Nutrition. If you liked this article, sign up for our Raw Nutrition news alerts below, and see our PricePlow-powered prices.
RAW Nutrition Beta Alanine – Deals and Price Drop Alerts
Get Price Alerts
No spam, no scams.
Disclosure: PricePlow relies on pricing from stores with which we have a business relationship. We work hard to keep pricing current, but you may find a better offer.
Posts are sponsored in part by the retailers and/or brands listed on this page.