The summer heat is in full effect and we at PricePlow have had coconut on our mind. Why so? Back in June 2019, Ghost introduced a refreshingly creamy limited-edition Coconut Ice Cream Ghost Whey flavor. Customers couldn't get enough. So Ghost brought it back for a limited time just before Mother's Day the next year. This year we're getting spoiled again with the delicious flavor coming back in both Whey and Vegan.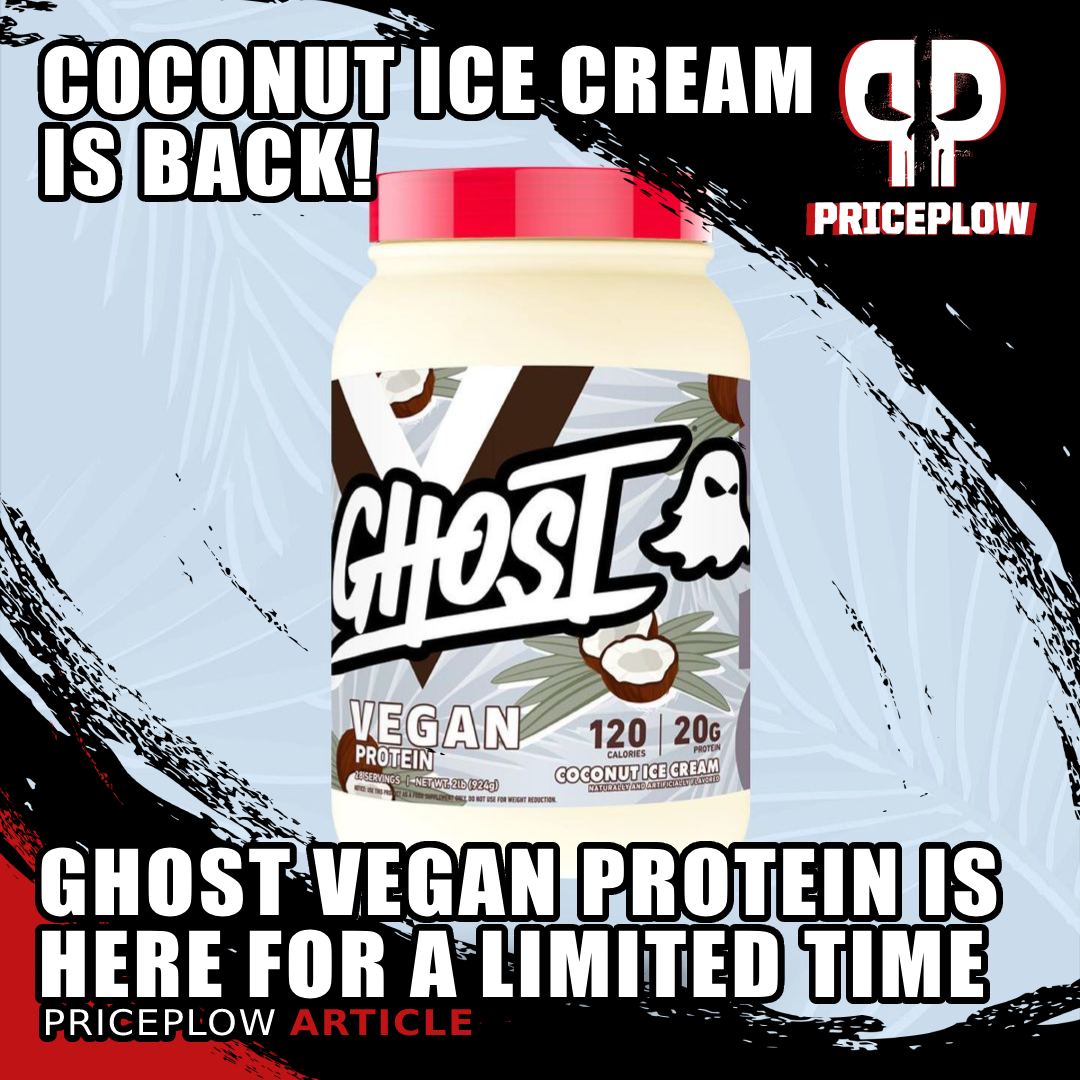 Ghost Coconut Ice Cream Proteins are upon us
For those who stick to a fully-plant based vegan or vegetarian diet, then a supplement like Ghost Vegan Protein should be a part of your daily regimen. Alternatively, if you just want a protein bump that ditches the milk, it's a great supplement to try. And if you're fine with dairy, then Ghost Whey will always be there for you as well.
With the release of Coconut Ice Cream, Ghost makes it even easier to incorporate more protein into your diet.
Keep reading to find out what makes Ghost's Coconut Ice Cream one of the best protein flavors on the market. But before you do, take a second to subscribe to Ghost news and deal alerts because if we've learned anything from this out-of-the blue best-selling seasonal release, you never know what Ghost has up its sleeve. And we've got our eyes on their feed so you don't have to!
Ghost Vegan Protein – Deals and Price Drop Alerts
Get Price Alerts
No spam, no scams.
Disclosure: PricePlow relies on pricing from stores with which we have a business relationship. We work hard to keep pricing current, but you may find a better offer.
Posts are sponsored in part by the retailers and/or brands listed on this page.
Below, we discuss mostly the new vegan protein. However, you can see our Ghost Whey Coconut Ice Cream article to look at those details, which have received their annual update.
Ghost Vegan Protein History
Prior to 2018, Ghost's protein supplement (Ghost Whey) was dairy-based. These products were popular, of course, but the brand caught wind of a gaping hole in the supplement industry and they jumped in to fill it. The company launched the first Ghost Vegan Protein with Peanut Butter Cereal Milk, followed by Pancake Batter and Banana Pancake Batter.
Their trick however, is that they weren't afraid of sucralose — a vegan ingredient — making the flavor far better than the stevia-based competition. Their gamble worked, and a few other companies have followed suit. In one year Ghost Vegan Protein went from new-kid-on-the-block to one of our favorite protein supplements. Check out PricePlow's Top 5 Plant-Based Proteins.
Admittedly, it was a bit of a controversial pick due to its sucralose content (making it vegan but not entirely plant-based). But consumers didn't have a problem with it and neither did we. The sweet and creamy flavor formulations Ghost was delivering every few months kept us all on our toes — and it continues to this day.
Vegan Coconut Ice Cream Nutrition Facts
Ghost Vegan Protein is sugar, soy and gluten free. It's also macro friendly, which means it's amenable to providing you with the ideal ratio of protein, carbohydrates and fats to make your body run and operate more efficiently. So a macro diet is beneficial for everyone, whether your goal is to lose weight, build muscle, or simply maintain a healthy lifestyle.
A single rounded scoop (33 grams) of Ghost Vegan Protein contains:
120 Calories

20g Protein

2g Fat

5g Carbs (1g of of which is fiber)
Vegan Coconut Ice Cream Ingredients
Ghost combines three different sources of high-quality protein in their Vegan Protein supplement. This is the best way to produce a complete amino acid profile like you can find in whey protein, since the amino acid content is higher in some plants and lacking in others.
Here are the three protein sources:
Pea Protein Concentrate 80% – 15g (12g protein)

Organic Pumpkin Protein 70% – 7.86g (5.5g protein)

Watermelon Seed Protein 75% – 3.33g (2.5g protein)
In addition, the added sources keep it smoother than pea-only or pea/rice vegan proteins. Combined, these sources deliver 20 grams of complete protein per serving.
Other Ingredients
Ordinary vegan protein supplements are known for being bland or even on a bit acidic, but not Coconut Ice Cream. Ghost successfully formulated a creamy and sweet protein supplement by including a few extra ingredients. And the great news is that they don't alter the macros. To nail down the authentic coconut ice cream character, Ghost uses natural and artificial flavors, plus sugar-free sucralose, xanthan gum, and Ace K. Sunflower creamer gives it a full-bodied creamy texture and salt rounds out the overall flavor palette.
Other Flavors – Ghost Vegan Protein
If you're not a fan of coconut, but you still want to add a high-quality vegan protein powder to your daily regimen, then check these other Ghost Vegan Protein flavors. There's sure to be something that you like:
You can read more about the product itself, with some studies included, in our main Ghost Vegan article.
Watch the team launch Coconut Ice Cream Vegan
As always, we need to include a clip from Ghost's Building the Brand YouTube Series, where they show behind-the-scenes footage. The Vegan Coconut Ice Cream video was published in the S7:E28 episode titled "Hot Vegan Summer".
Ghost Keeps the Flavors Coming
Vegan supplements have been around for a few years, and demand has been massive. Increasing numbers of consumers have been adopting vegan and vegetarian diets for a variety of reasons. Aside from ethical concerns, a key factor driving market growth of plant-based supplements is the prevalence of metabolic dysfunction. It turns out that ingredients in protein supplements are essential in controlling and managing some of these issues. Plant-based proteins can be highly effective in boosting stabilizing blood sugar levels.
Ghost may not discuss these things, but ultimately, that's why many of us are here. No matter what your diet is, leveraging high amounts of protein is incredibly important.
Finally, some customers of Ghost Vegan simply like it because they're just dairy-free – and most protein powders include some form of dairy. If that's you, then give it a shot — the sucralose will keep this one close to home, but shouldn't give you GI upset like dairy sometimes does.
Enjoy the rest of your summer, and enjoy it with coconut!
Ghost Vegan Protein – Deals and Price Drop Alerts
Get Price Alerts
No spam, no scams.
Disclosure: PricePlow relies on pricing from stores with which we have a business relationship. We work hard to keep pricing current, but you may find a better offer.
Posts are sponsored in part by the retailers and/or brands listed on this page.