It's no secret that 'Merica Labz is one of our favorite brands here at PricePlow. They've given the world stellar supplements like BOOM Energy Drink and Red White & BOOM Pre-Workout. We especially love their high octane, testosterone-fueled approach to supplement formulation and their marketing savvy.
When it comes to adaptation and innovation, 'Merica Labz has proven to be extremely capable. At some point, most of their best-selling products have undergone a significant redesign and rebranding. And, importantly, 'Merica Labz' new and improved formulas are always better – that's what happens when you value red-blooded American ingenuity.
'Merica Labz Announces a New SUPRIMOS Flavor: 19th Hole!
Never ones to rest on their laurels, the patriotic food scientists at 'Merica Labz have come up with yet another improvement on one of their flagship products: a new flavor called 19th Hole, part of the 'Merica Labz SUPRIMOS essential amino acid (EAA) blend that arrives just in time for the final phases of the world-famous British Open golf tournament.
This choice of flavor is a real hole in one! After all, it's inspired by the beverage named for legendary golfer, Arnold Palmer: an iced tea and lemonade mixture. The refreshing drink has long been regarded as the classic beverage of American golf courses. "19th Hole" of course refers to the activity often partaken after 18 holes of golf – having a drink!
One sip of this smooth and tangy blend and you will instantly feel as if you're watching the big names of golf get ready to tee off for the world championship title. Don't be surprised if you spontaneously don argyle socks or a Higdon hat!
Check Out Our Full-Length SUPRIMOS Review
Need a refresher on 'Merica Labz' SUPRIMOS BCAA and EAA supplement? Check out our comprehensive ingredient breakdown in Merica Labz SUPRIMOS: The Supreme Amino Supplement.
Otherwise, stick around for a brief SUPRIMOS ingredient review and recap. But first, here are some 'Merica Labz prices and news:
Merica Labz Suprimos – Deals and Price Drop Alerts
Get Price Alerts
No spam, no scams.
Disclosure: PricePlow relies on pricing from stores with which we have a business relationship. We work hard to keep pricing current, but you may find a better offer.
Posts are sponsored in part by the retailers and/or brands listed on this page.
SUPRIMOS Ingredients
An essential amino acid (EAA) supplement is designed to maximize the user's anabolic response, while minimizing catabolism. The anti-catabolic properties of EAAs, and in particular the branched-chain amino acids (BCAAs), make this a popular type of supplement for people who train fasted as part of an intermittent fasting (IF) regimen.
In a single, 1-scoop (19 gram) serving of SUPRIMOS from 'Merica Labz, you get the following: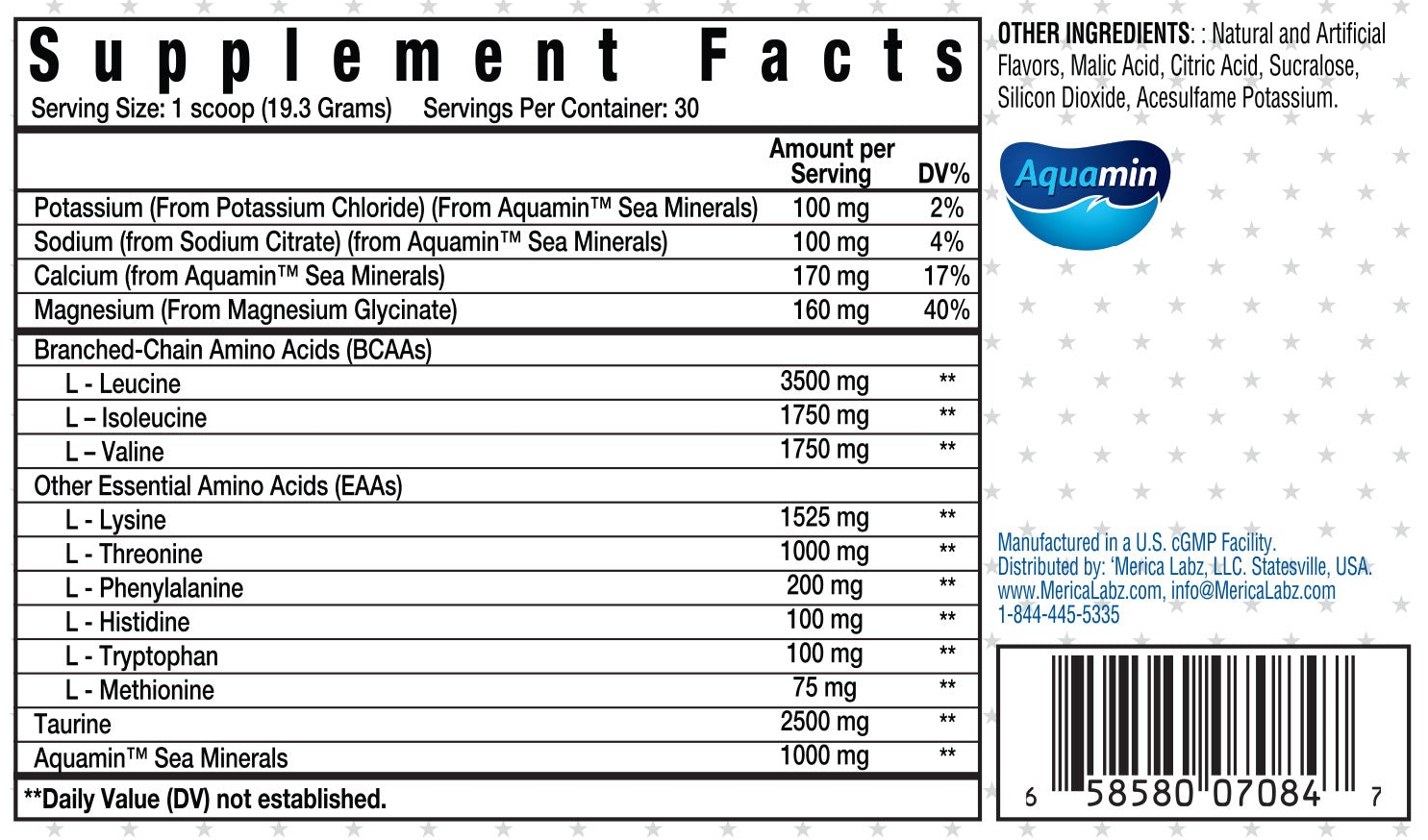 Branched-Chain Amino Acid (BCAA) 2:1:1 Blend – 7,000 mg: The BCAAs are leucine, isoleucine, and valine. Each one has anti-catabolic and pro-anabolic effects but leucine predominates in BCAA blends because it activates mTOR, a master switch of the anabolic response. BCAAs also increase athletic endurance.
Essential Amino Acid (EAA) Blend – 3,000 mg: What makes any aminos "essential" is the fact that your body can only make them in very limited quantities, or more commonly, can't make them at all. While the BCAAs we mention above are classified as essential amino acids, there's a total of nine EAAs in all. The other six are:

L-Lysine – 1525 mg: an important carnitine precursor that helps you absorb calcium, and regulates where calcium is deposited in your body's various tissues. Lysine is also important for collagen production.
L-Threonine – 1000 mg: required for optimal production of glycine and serine, two neurotransmitter-like amino acids that are crucial for optimal brain function. Threonine also helps maximize muscle protein synthesis.
L-Phenylalanine – 200 mg: a precursor to tyrosine, which is in turn the precursor to many important neurotransmitters, including dopamine and adrenaline.
L-Histidine – 100 mg: a precursor to carnosine (not to be confused with carnitine, mentioned above). Carnosine helps prevent lactic acid buildup in muscle tissue, which can improve athletic endurance. Elevated levels of histidine can increase the rate of muscle protein synthesis.
L-Tryptophan – 100 mg: don't worry, this one won't make you sleepy! But it can help increase your pain tolerance and improve mood by increasing serotonin production.
L-Methionine – 75 mg: an antioxidant amino acid, which is a precursor to taurine and cysteine, two different amino acids that are crucial for athletic performance and post-exercise recovery. Similar to lysine, methionine is also a precursor to carnitine.

Taurine – 2500 mg: taurine is conditionally essential, meaning that your body can produce a good bit of taurine on its own, but not enough for optimal health.

Taurine really helps pump up your mitochondria, the organelles in cells that are responsible for producing all the energy your body uses. Taurine is also an osmolyte, helping to regulate your cells' water balance, which improves performance and protects cells from heat stress. Taurine also helps improve calcium signaling, potentially increasing strength, and has GABAergic activity in the brain. Lastly, taurine helps increase nitric oxide production, which triggers vasodilation and can create a bit more pump.

Aquamin Sea Minerals – 1000 mg: good electrolyte support to replenish whatever trace minerals you've lost while sweating during your workout.
Magnesium (from Magnesium Glycinate) – 160mg (40% DV): magnesium is a true wonder supplement with huge metabolic benefits: reduces glucose and insulin blood levels, improves lactic acid clearance, and reduces anxiety. Magnesium deficiency is common, and the glycinate form of magnesium is superior to others in terms of its bioavailability and side-effect profile. Glycine is also beneficial; it has downstream GABAergic activity and supports collagen production.
Again, see our original SUPRIMOS article for the full list of references.
Other Flavors Available
Iced Tea Lemonade not your thing? Not a problem here, SUPRIMOS has some phenomenal options, including the world-class Daytona Beach variation if you're into tropical flavors:
See you at the 19th Hole!
'Merica Labz has done it again, making a great product even better by releasing it in a bold new flavor. This is always an incredibly enjoyable flavor system.
Since you've made it this far, here's some industry insider information: many brands are calling this type of flavor Arnold Palmer, even if it's not officially licensed through Arnold Palmer and his estate. Reason being, the estate is [currently] not pursuing users of the trademark in the supplement/drink space, so brands are taking advantage of the name without necessarily paying.

However, Merica Labz has decided not to use the name. You never know what the future holds, and as typical for the brand, they've decided to go their own way.
And ultimately, this is better – because 19th Hole is the best name we've seen for this flavor system yet.
Leave it to Merica Labz to leave their mark, once again. This is the way.
Merica Labz Suprimos – Deals and Price Drop Alerts
Get Price Alerts
No spam, no scams.
Disclosure: PricePlow relies on pricing from stores with which we have a business relationship. We work hard to keep pricing current, but you may find a better offer.
Posts are sponsored in part by the retailers and/or brands listed on this page.