Arms Race Nutrition VEGAN protein powder has launched… and it has inclusions!
One thing that people on a plant-based diet discover is that it can be difficult to get enough protein from whole-food plant sources. That applies for those who are dairy-free as well.
Generally speaking, plant proteins are less digestible and, hence, less bioavailable than animal proteins. This means that the dietary protein requirement for vegans and vegetarians is actually higher than that of omnivores and carnivores (since your body uses less of the protein you consume).
It's not impossible to get enough protein from whole foods on a plant-based diet, but it's easy to overlook if you aren't paying close attention to what you eat. If you've decided to forego meat, or even all animal products entirely, you should track everything you consume and calculate your total protein intake to ensure it's adequate.
Arms Race Vegan: A Pea / Brown Rice Vegan Protein Powder with inclusions!
For the many athletes, vegans and vegetarians who will discover that they're not getting enough protein from food, Arms Race Nutrition has a new vegan protein powder that we suggest trying. That said, this product definitely appeals to more than just people who don't eat meat.
This powder is based on pea protein and brown rice protein – two plant proteins that are relatively digestible and together cover all nine essential amino acids.
Arms Race VEGAN has launched in a couple of delicious flavors right off the bat – and as mentioned up top — many of the flavors have inclusions, something we don't see in vegan protein powders! And more flavors are coming…
Arms Race was clearly careful in formulating these flavors to overcome a problem that's typical of vegan protein powders: namely, it's very difficult to find a vegan protein powder that has great flavor, texture, and nutritional quality. Below, we show how they did it:
Arms Race Nutrition Vegan – Deals and Price Drop Alerts
Get Price Alerts
No spam, no scams.
Disclosure: PricePlow relies on pricing from stores with which we have a business relationship. We work hard to keep pricing current, but you may find a better offer.
Posts are sponsored in part by the retailers and/or brands listed on this page.
This area is reserved for Team PricePlow's upcoming Product Review video.
Subscribe to our channel and sign up for notifications so you catch it when it goes live!
Arms Race Vegan Ingredients
Pea Protein

First up is pea protein, a great plant-based protein because of its complete amino acid profile.[1-3] What we mean by "complete" is that it contains all nine essential amino acids. And what makes them "essential" is that your body can't synthesize these aminos on its own, so you must obtain them in their whole form from the food, drinks, and supplements you consume.

One interesting thing about pea protein is that, compared to more typical complete protein sources, it's a bit low in methionine— a substance that functions as an antioxidant.[4] Although methionine is crucial for certain bodily processes,[5] there is evidence that methionine restriction may improve health and increase longevity.[6,7]

The research literature shows plainly that pea protein supplementation is effective for increasing strength and building muscle. One randomized, double-blind, placebo-controlled study from 2015 found that athletes using pea protein alone – that is, not part of a protein blend like Arms Race Vegan – gained the same amount of weight during the study period as those who took whey protein.[8] This says a lot about pea protein's effectiveness, considering that whey is the gold standard for protein supplementation for athletes and the supplement industry's go-to protein ingredient.

Another study, this one from 2019, replicated the earlier study's findings, but with a different training modality. This time participants performed high-intensity functional training (HIFT), which basically means a CrossFit-style workout.[9]

One of the reasons pea protein works so well is that it's highly bioavailable. The protein digestibility-corrected amino acid score (PDCAAS) for pea protein is 92.8 out of 100,[3] which is a pretty astonishing number considering that the PDCAAS of beef, the go-to protein source for untold numbers of weightlifters and bodybuilders the world over, is "only" 92.[10]

Brown Rice Protein

Brown rice protein is often used in plant-based protein supplements to add some methionine into the mix, as most plant-based proteins are naturally low in the substance (unlike most animal protein sources, which, except for organ and offal meats, tend to be high in methionine). The dangers of excess methionine consumption are real, as high methionine levels can raise your blood levels of homocysteine, an amino acid that's been tied to cardiovascular disease.[11] However, we all need some methionine, and this ingredient will help you meet your body's requirements for it.

One of the reasons brown rice protein is so popular is that it's high in branched-chain amino acids (BCAAs), which are considered particularly effective at supporting the anabolic response and muscle protein synthesis. By weight, about 18% of brown rice protein's amino acids are the BCAAs leucine, isoleucine, and valine.[12]

Leucine has been identified as a particularly effective anabolic amino,[13-15] probably because it activates mammalian target of rapamycin (mTOR),[16-18] the metaphorical master switch of the whole anabolic response.

The synergistic effect of pea protein and brown rice protein

As a side note, one of the reasons we don't see brown rice protein used on its own is that it's low in the essential amino acid lysine.[4] As it just so happens, pea protein is very high in lysine, consisting of about 6% by weight,[19] which is a high number for a single amino acid. That's why we see a blend of pea protein and brown rice protein in Arms Race Vegan. And it's also why complementary starch pairings, like rice and beans, are found all over the globe.

The effectiveness of this combination can be seen in the change to the PDCAAS – again, pea protein alone has a score of 92.8, but the pea and brown rice protein combo brings that number up to 100.[20]

Still, brown rice is effective in its own right. A 2013 study found that for the purposes of building muscle and recovering from exercise, rice protein was just as effective as whey protein.[21]

Athletes may need extra methionine

You might recall us saying in the pea protein section that there may be some benefits in methionine restriction. At the same time, nutrient requirements vary from individual to individual. That goes for methionine, too.

Because intense exercise depletes the body of methionine,[22] athletes may have a significantly increased methionine requirement. Many athletes methionine levels are critically low, sometimes even as low as those who suffer with chronic illness.[23]

Vegan Branched-Chain Amino Acids (BCAAs) 2:1:1

The branched-chain amino acids (BCAAs), as we said above, consist of leucine, isoleucine, and valine. They get their name from their unique chemical structure, which visually resembles the branches of a tree.

Although brown rice protein is naturally pretty high in BCAAs, the BCAAs are so crucial for optimal muscle growth that Arms Race Nutrition added a little extra to the formula.

BCAAs are usually taken immediately before, during, or after a workout so that their absorption into the bloodstream peaks within the "anabolic window" that opens at the start of a workout (it's disputed how long it stays "open" but 8 hours is a safe bet). They help increase muscle protein synthesis by activating mTOR,[1,13,14,21] an effect mostly driven by leucine, as we discussed above.

However, although leucine is the best of the three at stimulating mTOR,[24-29] all three BCAAs have been shown to inhibit catabolism, the breakdown of muscle tissue that occurs in response to increased energy demand, such as during times of stress or intense exercise.[30-32] All three BCAAs also have a documented ability to increase athletic endurance.[33-35]

One reason why the BCAAs have similar effects is that they're all isomers of each other,[36,37] meaning that they have the same chemical formula but differ slightly in chemical structure. This is evident from the fact that one of the BCAAs is named isoleucine, which literally means "equal to leucine."

The 2:1:1 ratio is the proportion of leucine, isoleucine, and valine found in this BCAA mix – there's twice as much leucine as there is isoleucine or valine.

DigeSEB (Amylases, Lactase, Protease, Lipase, and Cellulase)

Closing out this formula we have DigeSEB, a patented combination of five powerful digestive enzymes: amylase, lactase, protease, lipase, and cellulase.

The first thing to note about the inclusion of digestive enzymes is that they can help overcome an issue we brought up at the beginning of this article, namely that plant-sourced proteins tend to be less digestible and, hence, less bioavailable than animal proteins.

Here's a list of the enzymes in DigeSEB and what substance each one helps to digest:

Amylase – starchy carbs
Protease – protein
Cellulase – cellulose (a type of insoluble fiber that occurs in plants)
Lactase – lactose (a sugar that occurs naturally in milk)
Lipase – fats

These enzymes are here to ensure you utilize as much of the protein-based ingredients as possible.

Also, some people experience gas, bloating, and flatulence when taking a protein supplement. These symptoms are caused when undigested protein gets fermented by the bacteria in your gut. Introducing digestive enzymes helps you avoid this outcome by ensuring your body digests protein as rapidly as possible, before the microbiome has a chance to feed on it.

Symptoms of protein intolerance can indicate a digestive disorder, and, unfortunately, digestive disorders are quite common. At least 11% of the U.S. population has some form of chronic digestive problem.[38] However, this number is likely a radical underestimate of gastrointestinal disease prevalence. Researchers have found inflammatory bowel syndrome (IBS), the most common gastrointestinal disease in the country,[38] is undiagnosed in more than 75% of patients.

For people with digestive problems, supplemental digestive enzymes can help. In one study, IBS patients who supplemented with pancrelipase (PEZ), a blend of digestive enzymes that are naturally produced by the pancreas, reduced the severity of symptoms like cramping, bloating, and diarrhea.[39]

Another study gave a different set of IBS patients a broader spectrum of digestive enzymes, along with some prebiotic fiber. The IBS-fiber combination was shown to reduce the severity of bloating, flatulence, and abdominal pain.[40]

Finally, patients with functional dyspepsia have been shown to benefit from supplementing with a blend of digestive enzymes, resulting in successfully reduced gas, bloating, burping, and flatulence symptoms.[41]

All of this is to say that if you've had bad gastrointestinal experiences from past use of protein supplements, the presence of DigeSEB might solve, or at least minimize, your intolerance of large protein doses.

Protease is the enzyme responsible for breaking down protein – and at least three of the other four enzymes will help too, since there is still a bit of starch, fat, and fiber in Arms Race Vegan.

We consistently notice that proteins made by brands that Doug Miller is involved in nearly always have digestive enzymes, and we love that he's staying so consistent with it!
Meanwhile, some may just be most excited about the other ingredients inside – the inclusions!
Flavors Available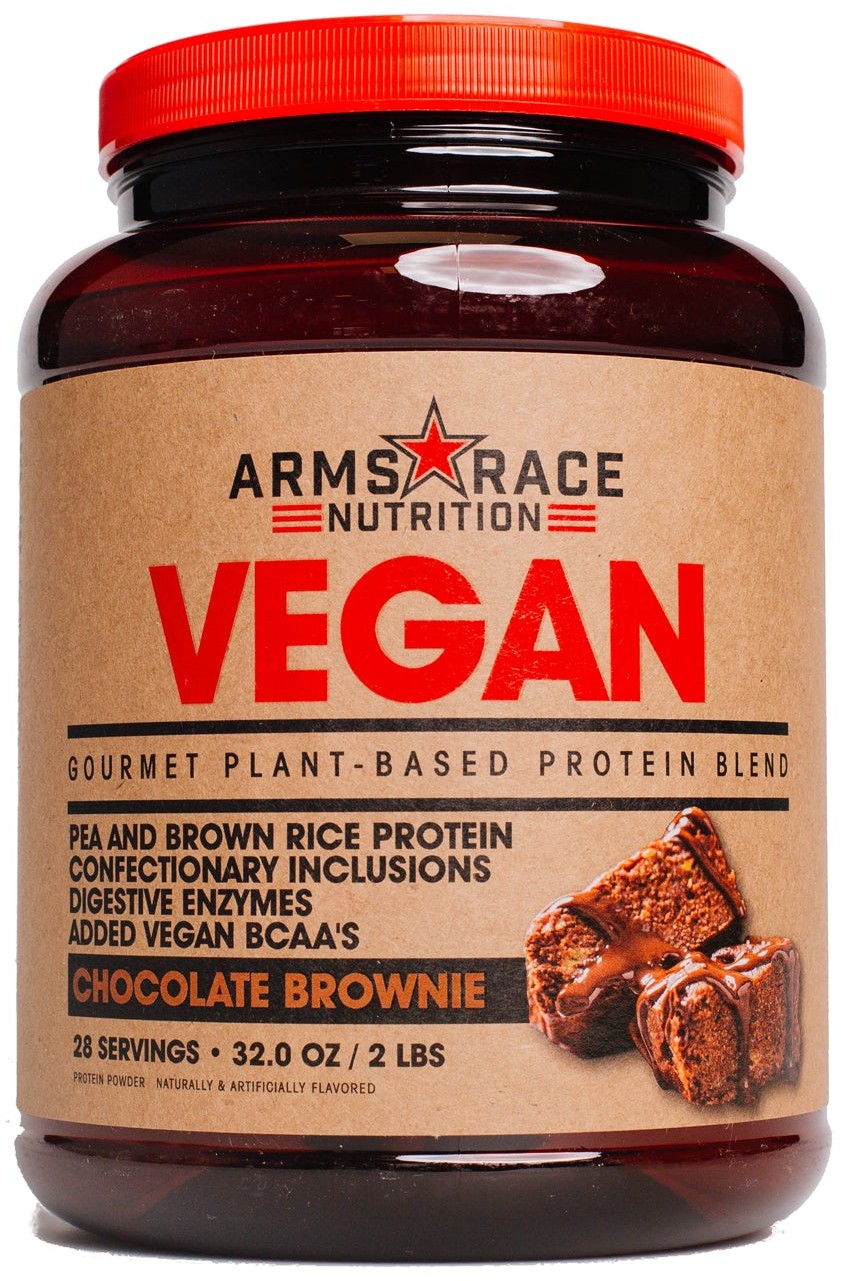 Below is the full list of flavors of ARN Vegan:
Conclusion on Vegan Inclusions: An Arms Race Win
Arms Race Vegan is a solid protein powder by any standards, not just vegan standards. With delicious inclusion-based flavors, relatively digestive protein choices, extra BCAAs, and supplemental digestive enzymes to maximize bioavailability, in addition to vegans and vegetarians, we recommend this protein powder to any athlete who's in the market for one.
Plus, we find it reassuring to see two protein sources, specifically those that have been shown to perform as well as whey, included in this formula.
Stay tuned for more from Arms Race, more flavor extensions in other products are on the way!
Arms Race Nutrition Vegan – Deals and Price Drop Alerts
Get Price Alerts
No spam, no scams.
Disclosure: PricePlow relies on pricing from stores with which we have a business relationship. We work hard to keep pricing current, but you may find a better offer.
Posts are sponsored in part by the retailers and/or brands listed on this page.