We first got turned onto InnovaPharm a couple months ago when we test drove their focus-powered Limitless Pre Workout powered by the potent nootropic phenylpiracetam, which nearly makes it "unfair" compared to other pre workouts. Since our first introduction to the company, we've also seen them release a cutting edge ZMA formula titled ZMX.
As the calendar turns from 2016 to 2017, InnovaPharm is ramping up their business for the new year in a big way, with a slew of new products coming to market incredibly soon. The first of which you'll see revealed today is Novamino — a well dosed BCAA product that also packs in some natural muscle building!
We've got the full breakdown ahead, but first, take a moment to check the best deal (coupons included) and sign up for alerts from PricePlow:
Novamino - Best Deals and Price Drop Notifications
Get Price Alerts
No spam, no scams.
Novamino Ingredients
The BCAA market is an incredibly crowded segment of the supplement market. Some companies have tried to differentiate themselves from the masses by using outlandish BCAA ratios like 8:1:1 or 12:1:1. InnovaPharm isn't pulling any gimmicks like that here (know that leucine is the cheapest branched chain…). They've included a heaping 6g dose of 2:1:1 BCAAs along with the full clinical dose of Betaine to bring some muscle-building to the game.
BCAAs 2:1:1 (6g)

After seeing all sorts of "non-standard" BCAA ratios with some ridiculously high Leucine compositions, InnovaPharm has included the tried and true research-backed ratio of 2:1:1. As such, each serving of Novamino provides you with 3g of Leucine, 1.5g of Isoleucine, and 1.5g of Valine.

The key ingredient here is still the 3g of Leucine, which is regarded as the primary ignitor of the mTOR pathway in the body.[1] Stimulating mTOR keeps you in a very anabolic state, to get more muscle-building accomplished without having to consume endless amounts of protein.

On top of that, supplementing with BCAAs also help accelerate recovery and prevent the onset of muscle soreness, also known as DOMS.[2,3]

Betaine Anhydrous (2.5g)

Betaine anhydrous is a proven muscle building compound derived from sugar beets, that's also known as trimethylglycine (TMG). It's a potent ergogenic that's been proven over and again in various clinical trials to increase strength, power, and endurance, while at the same time also reducing soreness.[5,6,7]

Why Betaine?

Now, some of you may be wondering why this is included as opposed to something like Glutamine, which is included in many other BCAA products. Well, we reached out to InnovaPharm and here's their reasoning:

"We feel BCAA products have come full circle. We also know that over recent years research and anecdotal feedback has shown Glutamine to be effective at much higher doses than those found in most BCAA products.

So instead we wanted to include an ingredient much more useful than Glutamine. Enter Betaine Anhydrous. An overlooked and often underdosed ingredient which has not yet been included in any daily use product at the clinical 2.5g dose along with the proper 2:1:1 BCAA ratio. This is an outstanding combination for performance, recovery, strength, endurance and body composition."

–InnovaPharm

Agreed. For a while now we've known that 2.5g per day is where it's at. But with so many products half-dosing it, we're never really sure where most average supplement consumers land with it every day if they're not going out of their way to take it. None of that concern needed here.

If you're new to this ingredient, you can read our article titled Betaine: A Safe, Natural Muscle Builder.

Citrulline Malate (1g)

Citrulline Malate is a top of the line nitric oxide booster[8], but that's not why it's included here. The relatively minor dose is included for a couple reasons. First, the extra gram of CitMal will help prolong the N.O. boost from your pre workout, say for example, InnovaPharms focus-heavy pre workout Limitless.

Second, and more poignantly, the malic acid component of Citrulline Malate (from the malate) increases work capacity and oxygen utilization.[9]
Flavors Available
InnovaPharm isn't messing around with the flavoring. You're going to get 4 delicious tasting options to choose from, not the same old boring fruit punch, grape, or blue razz nonsense:
Cotton Candy
Sweet Georgia Peach
Fuji Apple Pear
Caribbean Colada
Cotton Candy has been a fantastic flavor for the LIMITLESS pre workout — not too heavy — and we hope it stays that way for intra workout. It's important to balance the taste with the overwhelming sweetness of cotton candy.
Takeaway
2017 is officially here, and things are kicking into high gear around the industry. We'll be flooded with tons of new products, as companies big and small roll out their newest and most cutting edge formulas.
InnovaPharm burst onto the scene strong in 2016, and they're priming to take January 2017 by storm with three new products, led by their incredibly well-dosed BCAA Novamino. Make sure to keep an eye on these guys as they'll have plenty more to come in the new year!
Novamino - Best Deals and Price Drop Notifications
Get Price Alerts
No spam, no scams.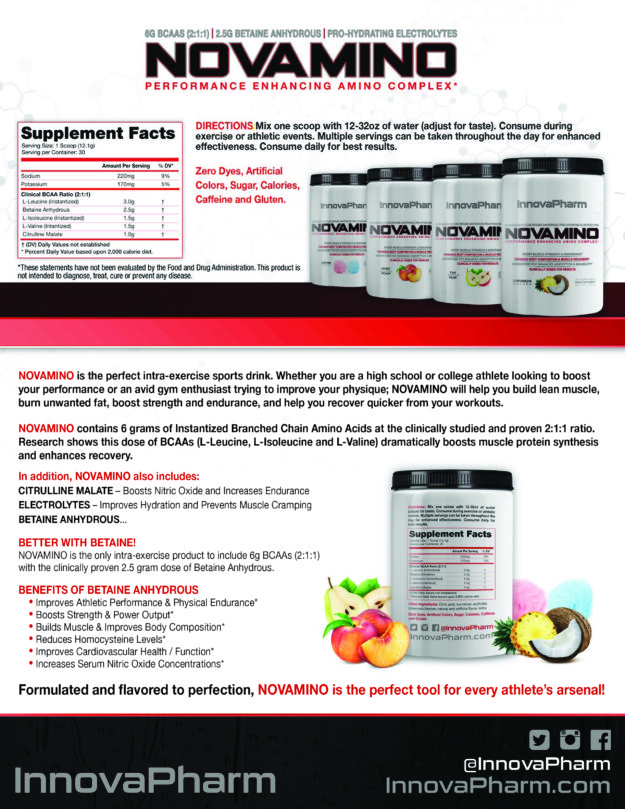 Like this Post? We have more on the way…
PricePlow is a price comparison site that asks one simple question: is this worth it?
The honest truth lives here. Follow us on social media below:
References