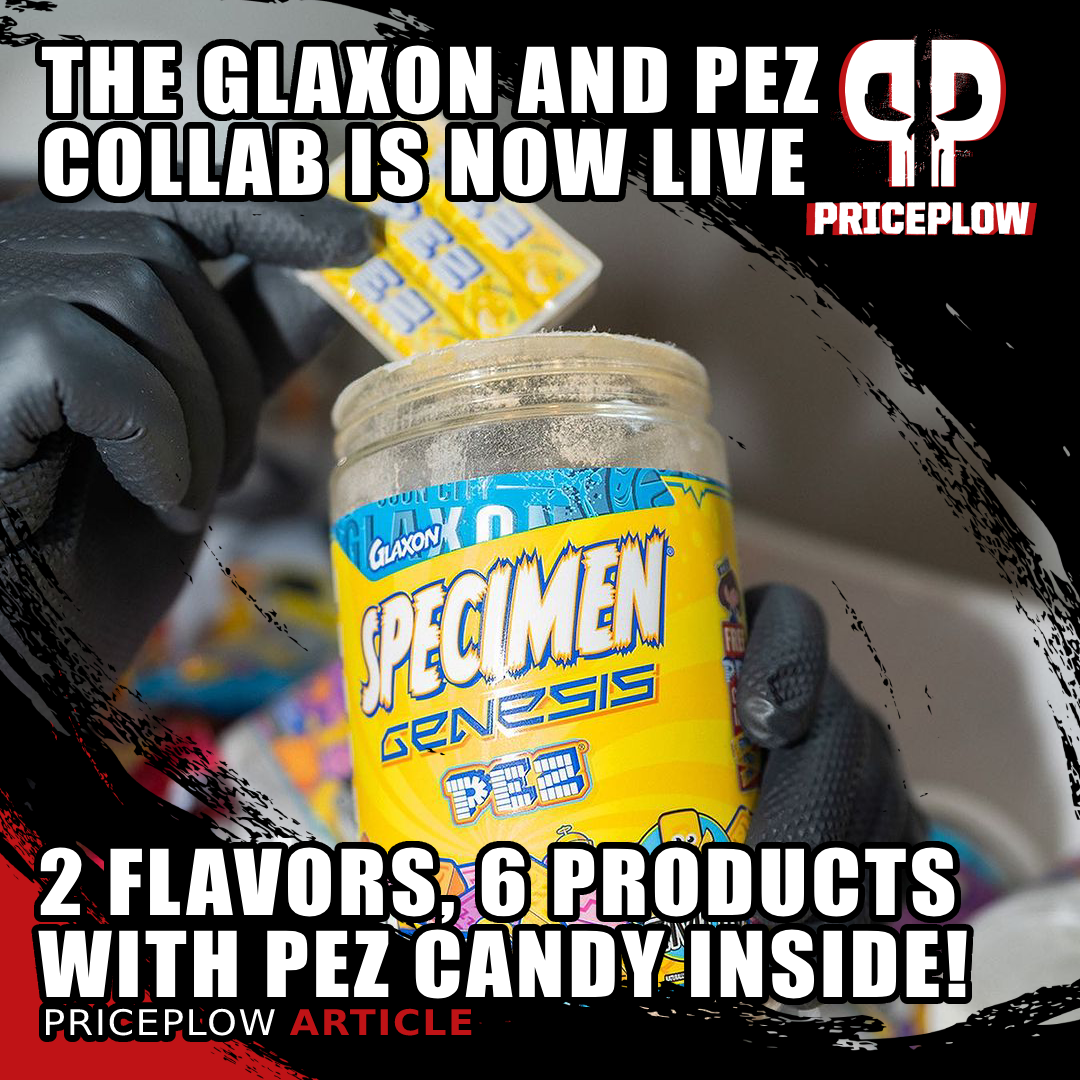 Earlier this month, Glaxon teased a brand new collaboration with the iconic dispensing candy: PEZ. Well, the day has finally arrived.
Back when you were a kid and your metabolism worked like a nuclear submarine, you could slam down hundreds of those chalky little treats in one go, with little concern over counting calories and physical fitness. Unfortunately, our waistline is something we have to consider as we age.
If you want to relive the tastes of childhood while maintaining the physique you've worked so hard for, you now have the opportunity, courtesy of Glaxon.
What is PEZ Candy?!
PEZ Candy is a delightful confectionery that's captivated taste buds and sparked joy since its creation in 1927. This unique candy stands out not only for its delicious flavors but also for its iconic form factor and playful dispensers.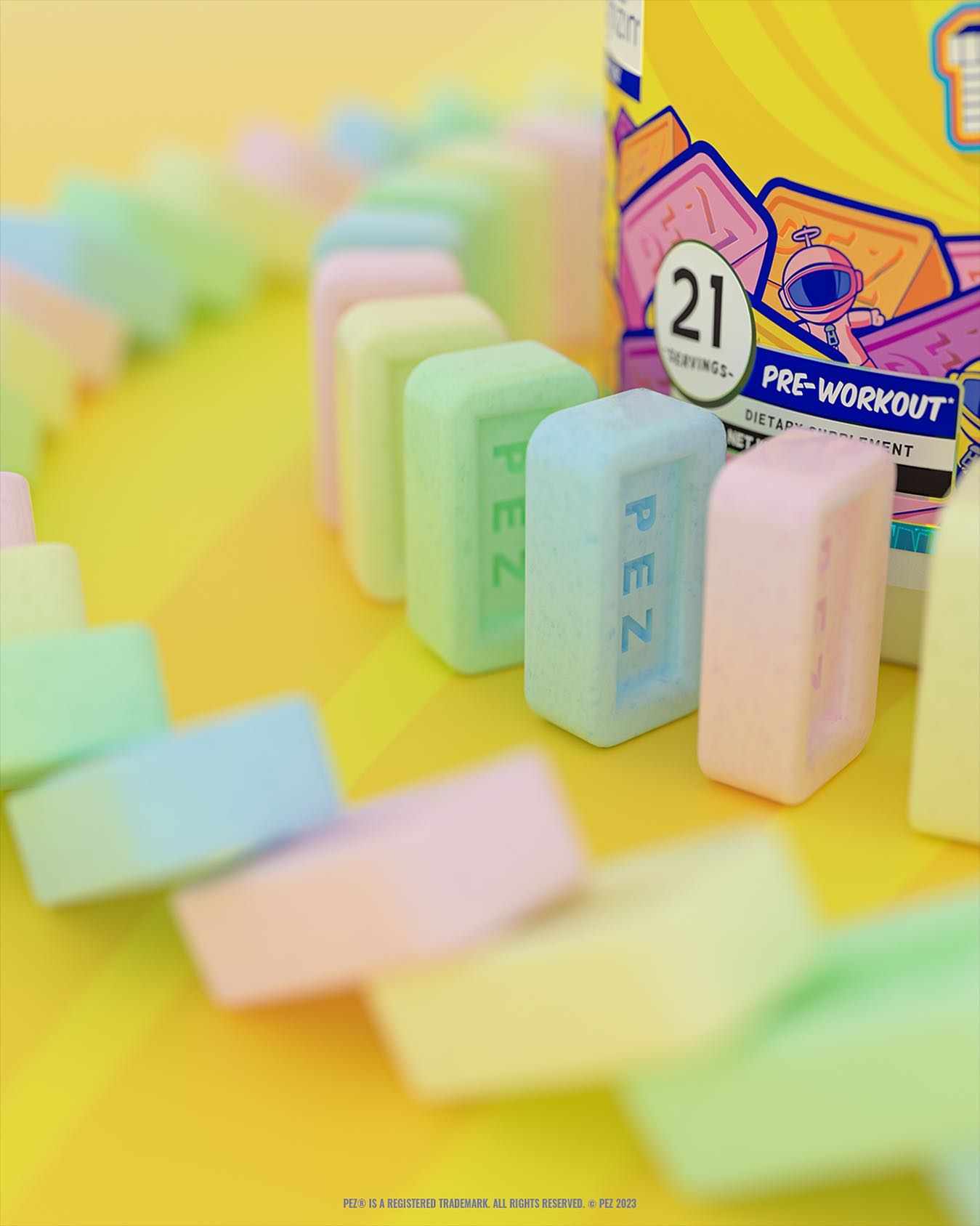 One of the most recognizable aspects of PEZ Candy is its distinct shape and form. These small, rectangular candies are cleverly designed to fit perfectly within the iconic PEZ dispensers. The dispensers themselves are a fun story in and of themselves. Shaped like a small rectangular tube with a whimsical character head on top, they offer a delightful way to enjoy the candy while adding a touch of fun to every treat.
PEZ Candy originated in Austria and made its way to the United States in the 1950s, quickly winning over hearts with its unique concept. Originally marketed as a breath mint for smokers, it eventually transitioned into a beloved candy for all ages. The company behind PEZ, PEZ Candy Inc., has continued to innovate and expand its range of flavors and dispenser designs, keeping the magic alive for generations of candy enthusiasts.
PEZ Candy comes in a variety of delightful flavors, ensuring there's something for everyone. From classic fruit flavors like strawberry, orange, and lemon to more adventurous options like sour watermelon or cola, each small candy packs a burst of sweetness. The joy of PEZ Candy lies not only in the taste but also in the anticipation of trying different flavors and discovering new favorites.
And, of course, the most fun part – it's a well-known fact that children, and even a few curious adults, have occasionally found their fingers stuck in these playful contraptions. While it may lead to moments of brief panic, it often results in laughter and amusing stories to share. If you know, you know. This is a testament to the enduring charm of PEZ Candy and its ability to create cherished memories, even in the most unexpected ways.
So, whether you're a PEZ aficionado or have yet to experience the joy of these delectable candies, the Glaxon collab is one to get excited over!
You can sign up for our Glaxon news alerts in the widget below, and keep reading to learn what products are featured in the collaboration debut!
Glaxon Specimen Genesis – Deals and Price Drop Alerts
Get Price Alerts
No spam, no scams.
Disclosure: PricePlow relies on pricing from stores with which we have a business relationship. We work hard to keep pricing current, but you may find a better offer.
Posts are sponsored in part by the retailers and/or brands listed on this page.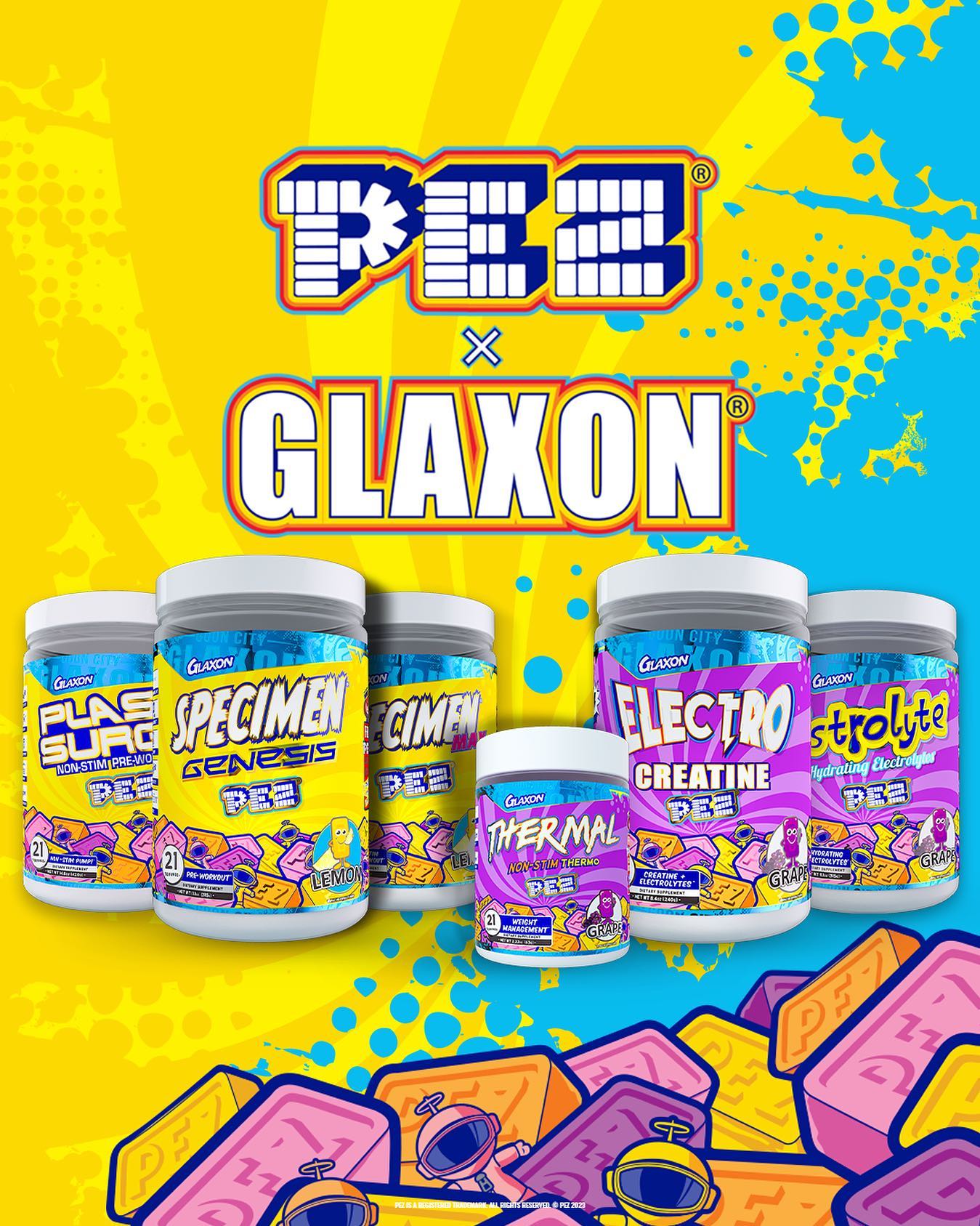 The Glaxon x PEZ Candy LEMON Collection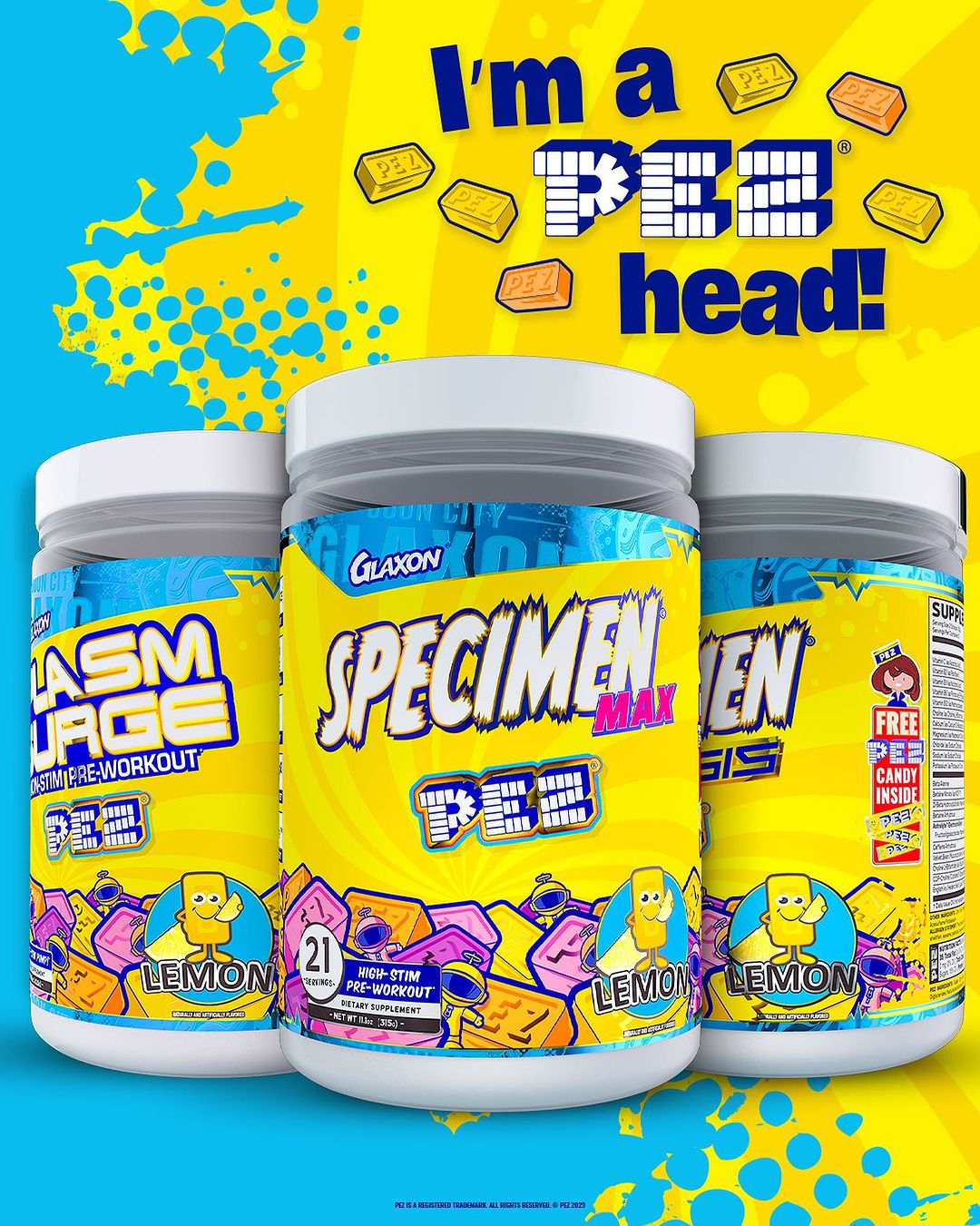 Specimen Genesis: Specimen Genesis is the latest in Glaxon's pre-workout offerings. Released in Spring 2023, the blend asserts its uniqueness with its use of exogenous ketones, which have become something of a Glaxon hallmark. Glaxon additionally made a point to include nootropic ingredients like Mucuna pruriens, which is an excellent source of the dopamine precursor, L-dopa.
Specimen Max: Whereas Specimen Genesis could be seen as a daily driver pre-workout, Specimen Max is for those times when you really need to tap into that explosive power. Jam-packed with 400 milligrams and a powerful blend of rauwolfia and yohimbe, Specimen Max will definitely help you shift into high gear.
Plasm Surge: That brings us to Glaxon's non-stim pre-workout: Plasm Surge. Containing an immaculately designed mix of ingredients like L-citrulline, beta-alanine, Amla, and PQQ, Plasm Surge will get you feeling the pump in no time, in addition to boosting ATP, thereby replenishing cellular energy.
The Glaxon x PEZ Candy GRAPE Collection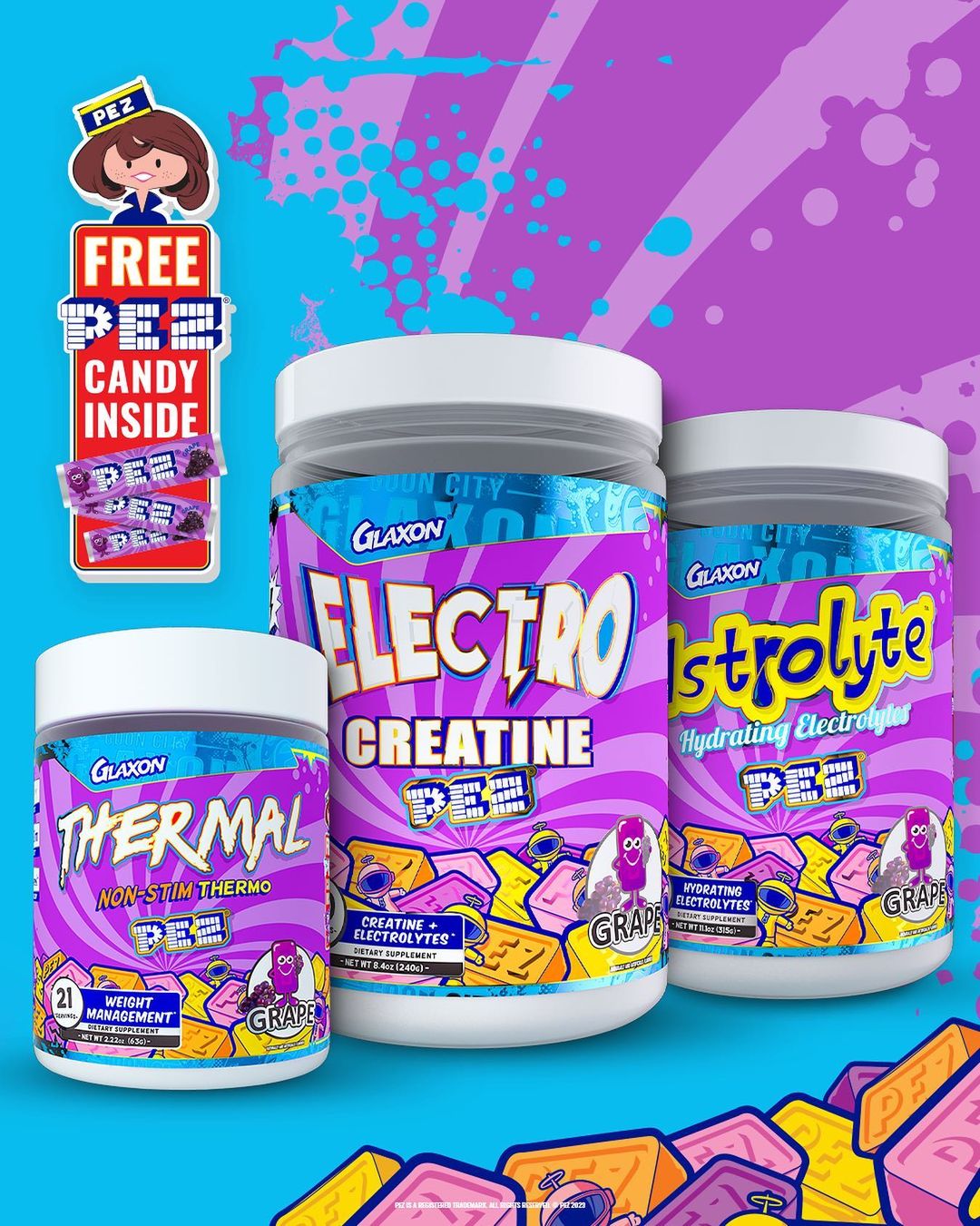 Electro Creatine: In typical Glaxon fashion, they couldn't be convinced to release just another pure creatine product. There has to be something special. In this case, Electro Creatine provides you with the muscle-nourishing creatine you need, bolstered by the famous Astrolyte electrolyte blend. For more information on Astrolyte, keep reading!
Thermal Non-Stim: Unleash the fat-melting Glaxon Thermal on your waistline to get that perfect, beach-ready body. Glaxon Thermal is a non-stim thermogenic weight loss aid built around ingredients like L-carnitine, VitaCholine, and most interestingly: L-BAIBA. MitoBurn, the only pure form of L-BAIBA on the market, is a non-protein amino acid that acts as a signal to cells to hustle and burn more calories.
Astrolyte: Hydration supplements are all the rage these days, but Astrolyte is easily one of our favorites on the market. Replete with vital electrolytes like sodium, magnesium and potassium, Astrolyte will ensure you're remaining properly satiated after a grueling workout. In addition, Glaxon opted to include more than a gram and a half of fructooligosaccharides, which help to improve the absorption of minerals.
This is a great idea — we've seen other collabs try to put all of the flavors in a single product, and they fail more often than not. But by isolating flavors that best match the formulas, we get more variety and higher-quality.
Finally, don't miss the PEZ shaker that arrived at GNC stores, which PricePlow leaked to the world:
View this post on Instagram
PEZ is a registered trademark of PEZ Candy Inc.