Doug Miller, pro natural bodybuilder and entrepreneur, is a machine. The company he started with his wife, Core Nutritionals, seems like it pumps out a new incredible formulation every week.
We've written about Core Nutritionals and their wide array of products many times before. Recent major endeavors are their Lifeline Series, which includes awesome products like Core Gut and Core Soothe, their groundbreaking HYDRATE electrolyte supplement, and even some new flavors of their enhanced BCAA supplement, ABC.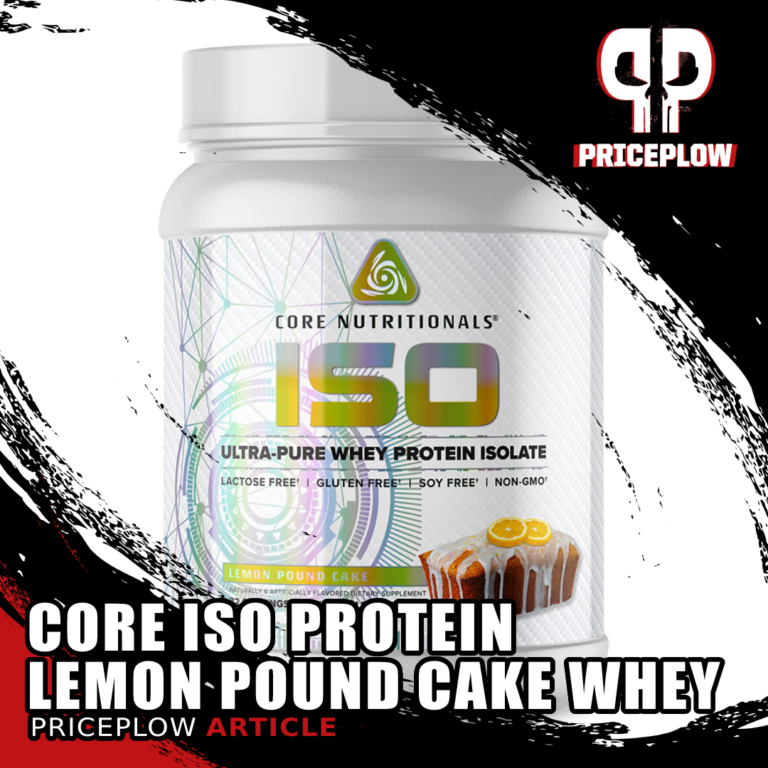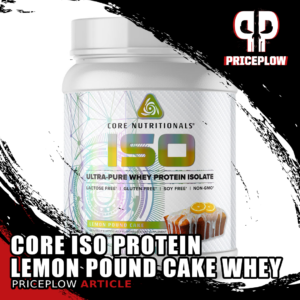 In Core's ISO protein powder, Doug gets back to basics. A simple whey protein isolate powder paired with an impressive and unique variety of flavors. If you're looking for the purest protein money can buy (while also actually enjoying your daily serving of it), Core ISO is the way to go.
Core Nutritionals ISO Lemon Pound Cake
You won't catch Core Nutritionals putting out any boring flavors. Nope, Doug and his team go right for our guilty sweet-tooth.
Core ISO comes in a bunch of different flavors – all dessert-themed. They have Peanut Butter Toffee, Red Velvet Cake, Strawberry Shortcake… all hard to beat. But we think their latest, which came out in earlier this summer, will give all of them a run for their money.
What did they bring? Lemon Pound Cake. Mouth-watering, zesty, sweet, cakey goodness wrapped in whey protein isolate, the purest protein on the market.
So if you're counting your macros, want to avoid any unnecessary lactose, and miss dessert, look no further than Core ISO.
Core Nutritionals ISO – Deals and Price Drop Alerts
Get Price Alerts
No spam, no scams.
Disclosure: PricePlow relies on pricing from stores with which we have a business relationship. We work hard to keep pricing current, but you may find a better offer.
Posts are sponsored in part by the retailers and/or brands listed on this page.
This area is reserved for Team PricePlow's upcoming Product Review video.
Subscribe to our channel and sign up for notifications so you catch it when it goes live!
Core ISO Nutrition Facts
Below is the macro profile of one Lemon Pound Cake scoop(28g):
Calories: 100

Protein: 24g

Carbohydrates: 1g

Fat: 0g
As you can see, Core ISO's macro profile is incredibly clean. Aside from that singular gram of carbs, it's pure protein.
Core ISO: Pure whey protein isolate
Core ISO keeps it simple. The primary ingredient is pure whey protein isolate.
At this point, the scientific community in the bodybuilding space has reached as much of a consensus as is possible: protein is king. When you want to put on muscle, you need to increase your protein consumption. High-protein diets repeatedly demonstrate their prowess in establishing a solid base for general health, as well as strength and body composition.[1-4]
Quality carbs and fat also have their roles to play, of course. For optimal performance, you shouldn't go out and guzzle down refined sugars or omega-6 oils. But if we're following the Pareto principle – 20% of the effort produces 80% of the results – quality and sufficient protein consumption is the order of the day.
The problem is that it can be difficult to get the amount of protein we need each day without some kind of supplementation. This is where whey protein isolate comes in. Whey protein is supported by a gigantic body of scientific research that demonstrates its efficacy in improving body composition and strength, provided it is matched by a cohesive exercise regimen and a nutrient-dense diet.[5-8]
Whey comes in a few different forms, mostly differentiated by the filtering process and how many impurities it contains. Whey protein isolate is the purest of them all, and that's what Core decided to use as the bulk of their ISO protein powder.
Whey protein isolate: making macro tracking as simple as possible
Whey protein isolate, often referred to as "WPI-90" due to its 90% protein purity rating, undergoes multiple filtration steps in a process intended to remove as many impurities as possible.[9] Basically, whey protein isolate is the attempt to break the whey protein into just protein, without all the excess sugar, fat and other compounds.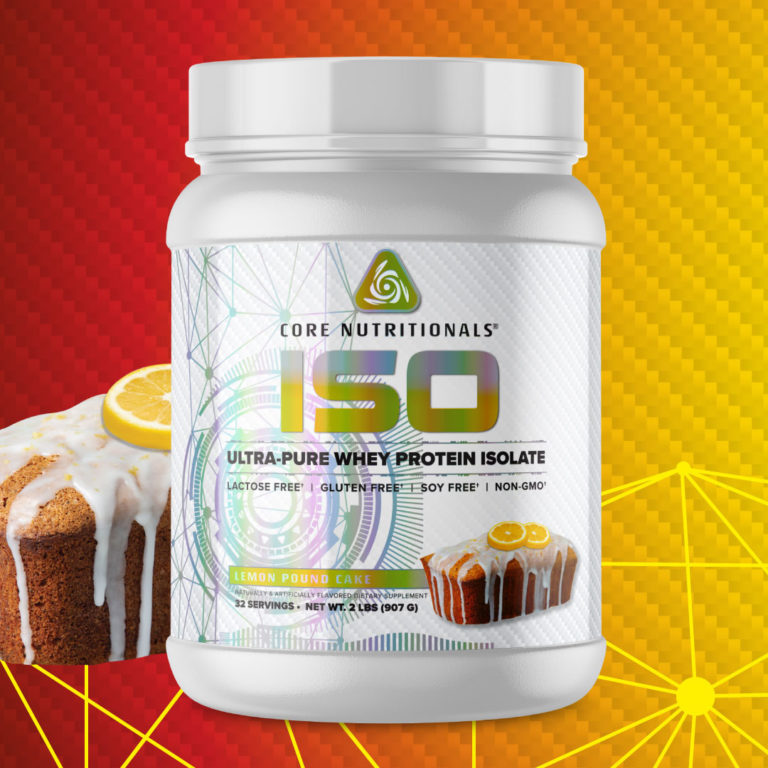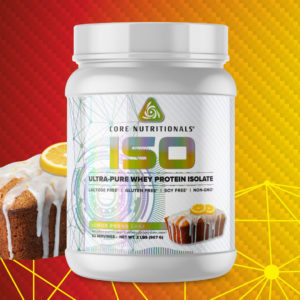 Protein powders built from whey protein isolate are just easy to supplement with. There are virtually no other macros you have to account for, which makes life that much easier for those of us tracking our calories and macros. You don't have to account for all the other sugars, and other components found in less pure forms of whey protein, like whey protein concentrate.[9]
A second and equally important property of whey protein isolate is found in its bioavailability. If your body can't break down and use a protein supplement, it is essentially useless. Whey isolate has a protein digestibility rating of 95, and a "perfect" PDCAAS (Protein Digestibility Corrected Amino Acid Score) of 1.0, meaning the vast majority of protein and amino acids in whey protein isolate are being utilized by your body.[10]
The other ingredients
Like we said, whey protein isolate forms the vast majority of Core ISO. There are a few other ingredients as well: some natural and artificial flavors (responsible for creating that incredible Lemon Pound Cake flavor), some xanthan gum as a thickening agent, sucralose for sweetening, sodium chloride (salt), and sunflower lecithin.
All in all, ISO is a pretty clean, pure protein powder.
Flavors Available
Core ISO has racked up an impressive stack of dessert-style flavors:
But there's more than just whey protein isolate at Core Nutritionals…
Other CORE Nutritionals proteins:
Not everyone needs a lean and mean pure whey protein isolate. Core Nutritionals actually has several protein powders, including their flagship listed first:
Conclusion: Lemon pound cake that doesn't feed the flab
As good as whey protein isolate is, let's be honest: there are so many brands to choose from that it seems like it doesn't matter which you choose. This is a direct result of the avalanche of scientific data backing the efficacy of whey protein isolate supplementation in helping shift body composition and increase strength. It's just a great product.
In the end, it comes down to what you would enjoy scooping into a shaker bottle and drinking every day after your workouts. That's the value of awesome flavors. They keep you consistent.
Core Nutritionals is on the job. In their ISO line, they've pumped out tons of delicious dessert-themed flavors – Frosted Cinnamon Bun, Chocolate Mint Cookie, Strawberry Shortcake. All guilty pleasure delicacies that we have to abstain from when we really start taking our health seriously.
The genius of Core ISO is that it has found a way to recreate these flavors and pair them with the purest whey protein on the market. No small feat, and Lemon Pound Cake just might be our favorite flavor yet.


Core Nutritionals ISO – Deals and Price Drop Alerts
Get Price Alerts
No spam, no scams.
Disclosure: PricePlow relies on pricing from stores with which we have a business relationship. We work hard to keep pricing current, but you may find a better offer.
Posts are sponsored in part by the retailers and/or brands listed on this page.