When we last encountered 360CUT, the brand was fresh off releasing it's caffeinated amino acid supplement titled 360Amino Energize. Since that time, the popular brand hasn't put out a ton of news, lurking in the shadows and up to something.
We've finally learned exactly what the guys at 360CUT HQ have been up to — developing the brand's first entry into the crowded whey protein market. But seeing how 360CUT operates, you know they're going to bring something of great quality to the market.
360Pro Whey is a whey-protein based blend that's high in protein and low in carbs, fats, and fillers. Some key features that separate 360Cut's whey protein from the typical whey blend are:
Minimum 70% Isolate, 30% Concentrate (may vary a bit by flavor)
Soy-free / gluten-free
No artificial colors or dyes
Added digestive enzymes
The breakdown is just ahead, but before we get there, take a second to check the best deal and sign up for alerts from PricePlow:
360Pro Whey - Best Deals and Price Drop Notifications
Get Price Alerts
No spam, no scams.
360Pro Whey Ingredients
360Pro Whey is a whey protein blend that utilizes three different forms of whey protein powder. Other than that, we've got the usual collection of additives plus two other digestive enzymes to improve digestibility and optimize nutrient absorption.
360Pro Whey Premium Protein Blend

As stated above, 360Pro Whey is a blend that consists of three different forms of whey protein. Going in the order listed according to the manufacturing label, the blend uses Whey Protein Isolate (WPI), Whey Protein Concentrate (WPC), and Hydrolyzed Whey.

Although there are three distinct forms of whey, they still are all derived from cow's milk. The difference lies in the degree of refinement each undergoes and the resulting content of the protein, carbs and fats. WPI is 90% protein and contains virtually no fats or carbs from lactose[1], making it an ideal option for those who are lactose intolerant.[2] Listing it first in the blend means it makes up the greatest percentage of the three forms, a VERY good thing!

Next up is WPC which can range anywhere from 35-80% protein, with the remaining percentages containing a larger percentage of fats and carbs compared to WPI. Due to the higher portion of carbs, this form can give some GI distress to those who don't tolerate dairy too well.

Finally, hydrolyzed whey is the most processed form of whey and is really the last resort for the extreme cases of lactose intolerance where even WPI causes issues. Due to the chemicals used in the manufacturing process, hydrolyzed whey typically has an "off flavor" that when consumed on its own isn't too appealing. Having it last means it contributes the smallest percentage to the blend, and therefore shouldn't affect flavor too terribly.

The key is in the blend percentages

However, anyone can make a cheap blend. Several companies are known for putting Whey Concentrate first and then Whey Isolate second in a proprietary blend. At that point, they could quite literally (and oftentimes do) have 99.99% Whey Concentrate and 0.01% Whey Isolate – just enough to add it to the label and nothing more.

This isn't even remotely the case with 360Pro Whey, where 360CUT has guaranteed us to get 70% isolate in the tub! That's a better number than most whey isolate-first blends, which often are closer to around 50%.

What's this mean? It means that those who are lactose sensitive (but not completely lactose intolerant) can almost definitely use this one, which isn't always the case with 360Pro Whey's competitors. It also means more protein by weight and less filler junk.

The Rest

To complete the ingredient list, you'll see the typical mixture of protein powder additives including cocoa, Natural & Artificial Flavors, Ace K, Sucralose, Sunflower Lecithin, and the digestive enzymes Protease and Lactase.

As mentioned above, the digestive enzymes are included to help the body digest and absorb the various vitamins and amino acids contained in the protein powder and serve as another measure to ease any potential digestive issues for those who suffer from "milk bloat" due to not tolerating dairy very well.

The added lactase is another reason why lactose sensitive users will likely be able to use it — lactase is the enzyme that breaks down lactose, but not all of us produce it (or enough of it to matter). A little added help from the supplement is always appreciated.
Macros
A single scoop of 360Pro Whey weighs in at 32g and contains the following:
Calories: 120
Protein: 24g
Carbs: 3g (1g sugar)
Fat: 1.5g (0.5g saturated)
Flavors Available
So far, the only confirmed flavors of 360Pro Whey is Chocolate Silk and Creamy Vanilla. Rest easy flavor fiends, 360Cut has confirmed that there will be several other enticing flavors to round out the panel.
Takeaway
360CUT may have been quiet for an extended period of time, but the sure weren't taking it easy. Getting into the protein market is bold move for the company, as it's an extremely competitive area of the market that only gets more additions each year.
360Pro Whey isn't doing anything novel, but what it lacks in creativity, they make up for in quality and flavoring and a move towards openness. There aren't enough brands who are guaranteeing us a level of isolated whey – many of us don't need 100%, but we need more than 50%.
Don't be afraid of venturing away from your go-to protein powder in order to try the latest addition to the market from 360CUT, you just might be surprised to learn you have a new favorite.
360Pro Whey - Best Deals and Price Drop Notifications
Get Price Alerts
No spam, no scams.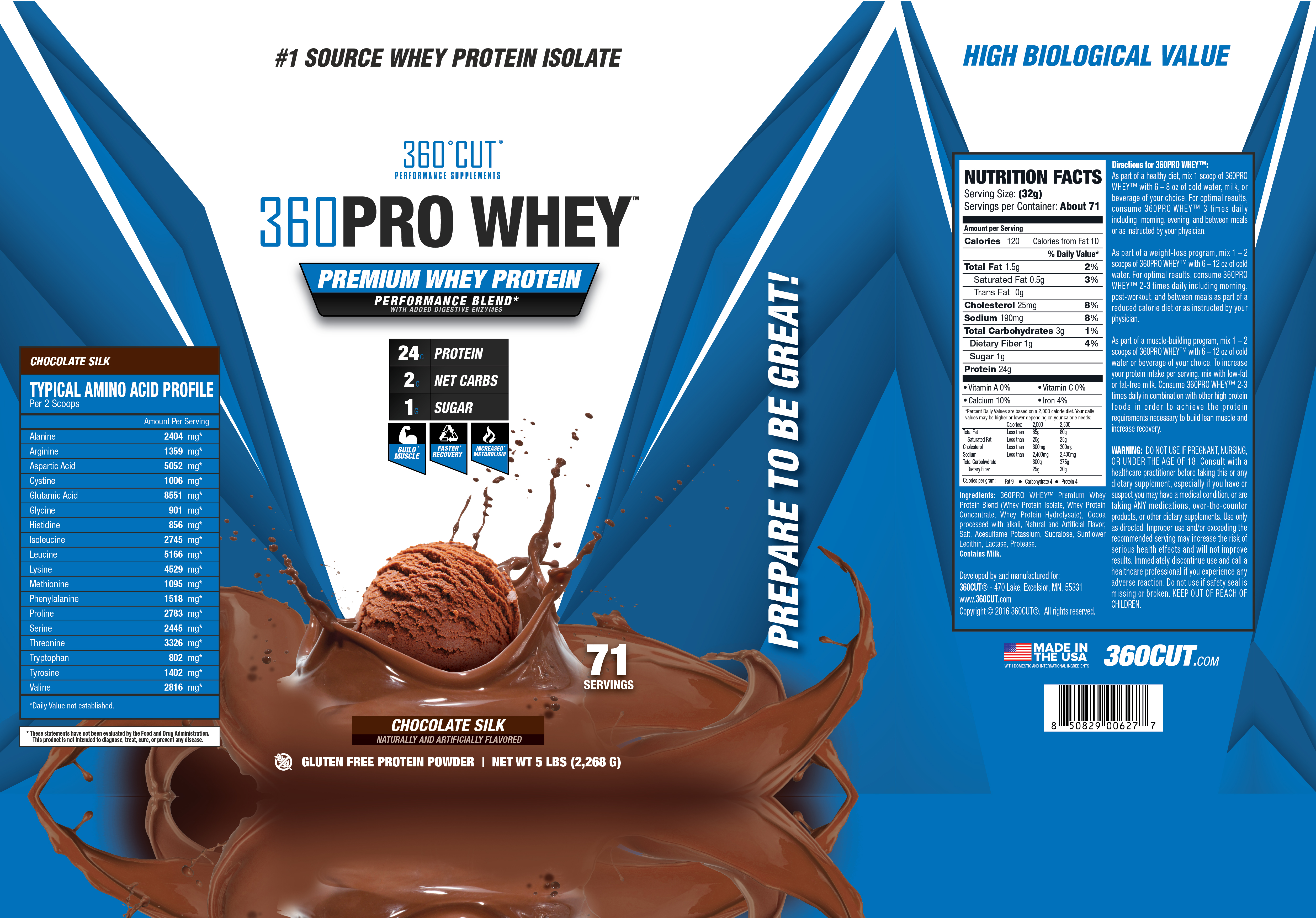 Like this Post? We have more on the way…
PricePlow is a price comparison site that asks one simple question: is this worth it?
The honest truth lives here. Follow us on social media below:
References
Hoffman JR, Falvo MJ. Protein – Which is Best? Journal of Sports Science & Medicine. 2004;3(3):118-130; https://www.ncbi.nlm.nih.gov/pmc/articles/PMC3905294/
Geiser M. (2003) The wonders of whey protein. NSCA's Performance Training Journal 2, 13-15; https://www.researchgate.net/publication/242220432_The_Wonders_of_Whey_Protein (full text available at http://www.webcitation.org/6l9cf3g1S)