Most supplement users who've ever seen one of the glorious labels of Merica Labz' supplements know their slogan, "Never Big Enough". With their latest natural testosterone boosting supplement, Liberty Ballz, the slogan becomes a reality.
Merica Labz Liberty Ballz Means Business: Protecting Your Boys
Here, we have an epic six-capsule formula that includes seven incredibly well-dosed ingredients… and one of them has even been shown to significantly improve testicular weight while improving testosterone and semen parameters in animals, putting some truth to the name and slogan!
With Liberty Ballz, we're looking to support healthy testosterone levels, increase libido, and balance estrogen levels. It includes a unique blend of ingredients – many everyone is familiar with, but one powerful anabolic ingredient we don't see all too often – and Merica Labz bets big on it.
The formula and each ingredient's effects are detailed below, so get ready to go balls to the wall this month with Liberty Ballz:
Merica Labz Liberty Ballz – Deals and Price Drop Alerts
Get Price Alerts
No spam, no scams.
Disclosure: PricePlow relies on pricing from stores with which we have a business relationship. We work hard to keep pricing current, but you may find a better offer.
Posts are sponsored in part by the retailers and/or brands listed on this page.
Liberty Ballz Ingredients
Updated in early 2022, six capsules will get you this potent ball-blasting formula:
Anacyclus Pyrethrum Extract (Root) (5:1) – 1800 mg

What a way to begin – it's been far too long since we've covered the potent anacyclus pyrethrum root, which is an aphrodisiac herb also known as akarkara that's from Morocco, Algeria, and Spain.[1]

With roots traditionally used for toothache, digestive problems, lethargy, and infertility, there's research showing anacyclus has the following benefits in animals:[1]

Afrodisiac / fertility booster[2-5]
Immune stimulant[6,7]
Antidepressant[8,9]
Antimicrobial[10,11]
Anesthetic[12]
Improved salivary flow and oral pain relief[13]
Anti-inflammatory[14,15]
Antioxidant[16]
Antidiabetic[17,18]
Memory-enhancer / nootropic[16,19,20]

The studies regarding its use as an aphrodisiac are where we see effects we're interested in. Anacyclus has repeatedly been shown to improve sperm counts,[3-5] a sign of better testicular function. Additionally, anacyclus may have anabolic properties, where animals also gained significant amounts of weight with the extract.[4,5]

In one paper's discussion, the writers state that "The experiment clearly suggests anabolic steroidal effect of A. pyrethrum."[4]

In the other study demonstrating anabolic and androgenic potential, all three treatment groups given anacyclus in differing doses showed statistically significant improvements to testosterone, FSH (follicle stimulating hormone), and LH (luteinizing hormone).[5] Unsurprisingly, since sperm count went up, so did testicular weight – a sign of improved natural androgenic potential.

Primary phytoconstituents from the plant are N-isobutyldienediynamide and other polysaccharides.[4] Researchers believe that the most pronounced reproductive effects are through the pituitary-testicular axis.[5]

More is better – but how much more?

The question comes down to dosage. In the above study showing significant testosterone improvement, there was a dose-dependent response with 50, 100, and 150 mg/kg doses.[5] This also happened in other studies measuring sperm counts.[3,4]

Simply put – we seem to need a fair amount of anacyclus (1,500 to 2,500 milligrams) to get great results, and that's why we're used to seeing it heavily-dosed. At 1800 milligrams, this is taking up three capsules, or half of the formula, and that's well worth it as a major ingredient differentiator in Liberty Ballz.

Fenugreek Extract (Trigonella foenum-graecum) (Seed) (50% Saponins) – 600 mg

Again drawing on an ingredient hailing from Ayurvedic practices, fenugreek is next up in Liberty Ballz. Also known as Trigonella foenum-graecum, fenugreek is a heavily studied herb that is often investigated for its effects on testosterone and many of the aspects of health that branch from it — strength, body composition, and libido, to name a few.

In a study from 2016, 60 healthy male volunteers were recruited for a randomized, placebo-controlled procedure. They were split into two groups — half of the volunteers were given 300 milligrams of fenugreek twice per day, while the other received a placebo. Alongside their respective supplementation, each participant followed a supervised resistance training program for the full eight-week study. Compared to both baseline measures and placebo, those given fenugreek saw significant improvements in serum testosterone (98.7% over baseline) and additional markers of anabolic activity, such as serum creatinine and blood urea nitrogen.[21]

These hormonal changes influenced performance in the gym and body composition, as well. The fenugreek group also performed markedly better in tests on the bench press, yielding a statistically significant improvement despite performing similar to placebo at the beginning of the study.[21] The test subjects also significantly reduced their body fat percentage, while the placebo group saw no such effects.[21]

Improves libido

An earlier trial published in 2011 was also interested in fenugreek, not for its potential action on serum testosterone or strength, but libido. Splitting 60 healthy male volunteers into two groups — one received 600 milligrams per day of a fenugreek extract, while the other was administered a placebo — and measured changes in scores on the Derogatis Interview for Sexual Functioning (DISF-SR). They found that the treatment had an overall positive influence on libido, highlighted by significant increases in sexual arousal.[22] Self-reported quality of life scores also reflected higher satisfaction in energy and muscular strength.[22]

Attenuates testosterone breakdown

Research has suggested that fenugreek alters testosterone levels by inhibiting two enzymes that break down the androgen — aromatase and 5-alpha reductase.[23] Aromatase converts testosterone into estradiol,[24] the primary estrogen in the body, while 5-alpha reductase reshapes testosterone into dihydrotestosterone.[23] While these relationships aren't inherently bad, if the mission is to elevate serum testosterone, reducing its breakdown into other hormones helps achieve that goal.

Liberty Ballz delivers a high-quality fenugreek extract, standardized for at least 20% protodioscin and 50% saponin content. These constituents are believed to be the primary bioactive compounds of the herb, responsible for the effects shown in research.[25] With 500 milligrams of it at work here, Merica Labz is clearly a believer in its testosterone-protecting potential.

Mucuna Pruriens Extract (Seed) (50% L-Dopa) – 500 mg

Liberty Ballz next registers a solid dosage of Mucuna pruriens, a bean with numerous antioxidant effects[26] — but here, it's well-standardized for L-Dopa.[27] At 50% standardization, we get 250 milligrams, which is quite useful since it's a precursor to dopamine.[28]

The main use of mucuna is to reduce stress levels through the reduction of cortisol[29-31] — we often see it used for these purposes to take the "edge" off of high-stimulant pre workouts. However, in our case, we want to keep cortisol levels down because cortisol can drop both testosterone and gonadotropin levels.[32,33]

Additionally, mucuna pruriens and L-dopa have both been shown to generate greater release of growth hormone![35-37]

And for those of you who are concerned about "man-boobs" and lactation, there's research showing that Mucuna pruriens reduces prolactin levels while increasing sperm count/motility and luteinizing hormone.[38] Reason being, the dopamine pathway it affects competes with the prolactin pathway[34] — and as men who are definitely not breastfeeding, we'd far rather have dopamine than prolactin!

You may also note that massive doses (eg. 5 grams) have been shown to increase testosterone in infertile men,[38] but that's 10x the dose here, so we're not really expecting mucuna to provide that benefit. We're mostly here for cortisol reduction and growth hormone release.

Spilanthes acmella (Flower) Extract (3.5% Spilanthols) – 400 mg

Spilanthes acmella is a plant found in the tropical areas of India and South America that has a long history of anecdotal uses. Various communities have used it to treat an array of ailments, ranging from wound healing to rheumatism to toothaches, the latter of which earned the plant a colloquial nickname — the Toothache Plant.[39] Recent research has not only revealed the main bioactive constituents — N-alkyl amides and spilanthol — but also additional potential uses, including some relating to testosterone and sexual health.[39]

In 2011, researchers studied the effects of spilanthes on LH, FSH, and total testosterone. Using mice, they created five groups — they were given between 50 to 150 milligrams per kilogram of bodyweight of spilanthes extract, one 5 milligrams per kilogram of bodyweight of sildenafil citrate (used to treat erectile dysfunction, serving as a positive control in this study), and a placebo. Each treatment was administered daily for 28 days.[40] They found that all three spilanthes groups saw significant increases in serum testosterone compared to controls, while the 100-milligram and 150-milligram spilanthes groups also had significantly higher LH and FSH levels.[40]

Furthermore, this study found additional effects that relate to both sexual health and testosterone. The spilanthes groups had significantly improved nitric oxide (NO) production, effectively improving vasodilation and blood flow.[40] This, in addition to a dose-dependent increase in mounting and ejaculation frequency,[40] speak to an overall increase in virility that works alongside improved hormonal function.

The primary caveat with this ingredient is that virtually all research that has been published are animal studies, making it difficult to draw direct conclusions on how effective spilanthes could be in humans. However, a pool of research being in its infancy doesn't immediately dismiss its potential — the mechanisms at play in mice have promise in humans, too. We'll just have to wait for more research to address it.

Extrapolating animal doses yields daily doses between 1,500 and 2,500 milligrams for humans. However, anecdotal uses suggest that 300 to 600 milligrams of a high-quality spilanthes extract could not only maintain overall potency but also stay cost-effective. However, Merica Labz used a stronger standardization than we normally see, so the 400 milligram extract with 3.5% spilanthols leveraged here puts this inclusion in that range (and possibly more than normal actual active constituents), providing a very strong, effective dose of this testosterone and virility-boosting herb.

3,3′-Diindolylmethane (DIM) – 300 mg

A metabolite of indole-3-carbinol (IC3), 3,3′-diindolylmethane (otherwise known as DIM) is a phytochemical found in cruciferous vegetables like broccoli, kale, and cauliflower.[41] It's not uncommon to find either DIM or its parent compound used in supplements, specifically those that target hormone optimization. However, research not only identifies DIM as the primary driver behind these aims, but also illuminates a potential use that makes it somewhat more appealing than other testosterone-related ingredients.

Balances estrogen levels

DIM is immediately attractive due to its ability to suppress aromatase activity.[42] Similar to what we discussed with fenugreek, this can help limit the conversion of testosterone into estradiol.[24] Research suggests that the DIM induces this inhibition by modulating the aryl hydrocarbon receptor (AHR),[43] a transcription factor that controls numerous vital bodily processes.[44] However, this doesn't tell the full story — DIM doesn't just simply reduce estrogen levels, it optimizes them.

Estrogen is an essential hormone in both men and women. Yes, it plays a larger role in the health of the latter, but it's vital for both males and females to strike a respective balance between testosterone and estrogen. Furthermore, there are different forms of estrogen — some deemed "good" and some "bad" — and it's important that those are stable, as well. DIM helps accomplish both of these, making it unique compared to other ingredients often found in similar products.

Research from 1993 found that DIM is capable of increasing estradiol 2-hydroxylase (EH) production, while simultaneously decreasing 16-alpha-hydroxyestrone in competing pathways.[45] This helps achieve a healthy balance of estrogen metabolites, which research shows can help reduce carcinogenic risks.[46] Promoting the production of "good" estrogen in place of the "bad", DIM helps keep estrogen levels in check rather than completely diminishing them.

While most clinical studies regarding DIM test the ingredient in models related to cancer, a true clinical dose is difficult to come by. However, doses between 30 and 200 milligrams seem to be tolerated well and show positive effects in these studies.[47] As such, we're very confident in the huge 300 milligrams Merica Labz provides here in Liberty Ballz.

Eurycoma longifolia (Root) (100:1) – 250 mg

Eurycoma longifolia, also known as tongkat ali or longjack, is another ingredient we often see in testosterone-boosting formulas. Its inclusion in such products is accredited to its original use as an aphrodisiac in folk medicine, which ultimately encouraged more research on its effects in the realm of sexual health. And though that's what we're focused on here, the plant has also shown potency as an antioxidant and anxiolytic agent.[48]

In a clinical study from 2012, researchers conducted a randomized, double-blind, placebo-controlled procedure to investigate the plant's aphrodisiac behavior. For 12 weeks, 109 healthy men received a daily administration of either 300 milligrams of longjack or a placebo. Using multiple questionnaires — the International Index of Erectile Function (IIEF) and Sexual Health Questionnaires (SHQ) — they measured changes in libido across groups over the course of the study. They found that longjack improved libido by roughly 14%, evidenced in significantly higher scores on self-assessments compared to placebo.[49] Further measurements unveiled a 44% increase in sperm motility, as well.[49]

Additional research suggests that longjack may improve serum testosterone levels without compromising liver and renal function.[50] However, according to a meta-analysis from 2017, evidence of any libido-promoting or testosterone-boosting effects of the herb are a bit mixed but mostly positive. Their review of 11 studies found seven studies that showed marked improvements in sexual health and function, and another four that showed no such effects.[51] Though these researchers highlighted the lack of conclusive results, they also noted the existing convincing evidence that longjack has displayed — and that more research is necessary.

Like with spilanthes, this is again a high quality longjack extract standardized for the plant's primary bioactive constituents, including its glyco saponin and eurypeptide content – at a 100:1 ratio. With 250 milligrams, it's toward the higher end of what we typically see in research and should be enough to help capitalize on what longjack has been shown to do – especially using such a strong dosage.
Dosage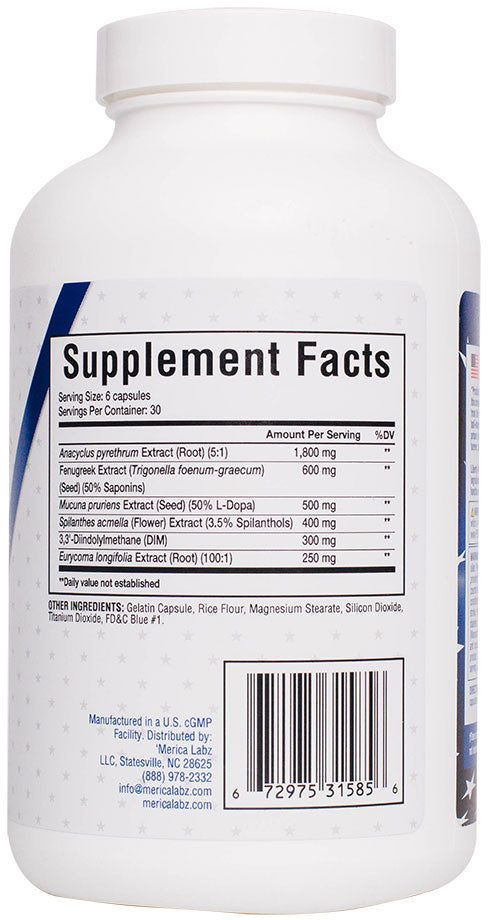 Take all six capsules pre-workout on training days. On non-training days, take 6 capsules with any meal. You could also consider AM/PM dosing if that's too many capsules to take.
A word on stacking
If interested in testosterone management and libido, we also encourage you to ensure that you're getting in plenty of vitamins and minerals that help with testosterone production:
Vitamin D (5000IU at least – consider 10000IU)
Vitamin A
Vitamin E
Vitamin K
Boron
Zinc
Never Big Enough
There's never been a better time to use Merica Labz' slogan, "Never Big Enough" — and that's even considering their Super Sized weight gainer! In modern society with endless amounts of testosterone-sapping distractions, endocrine-disrupting plastics (even in the synthetic polyester clothing and underpants many wear[52-56]), and estrogen-mimicking soy food, it's a non-stop battle to get back to our historical testosterone levels.
With or without pharmaceutical support, we need to do everything we can to keep our boys healthy – and often that means coming to nature for some of its remedies. We live by the phrase "meat is food, plants are medicine" – and alongside animal-based food (including products like Patriot's Whey), we can give our bodies the boost it needs in warding off bad estrogens and supporting our testicular function.
When using supplements like Liberty Ballz, we generally feel a great bit of extra mojo. It's not going to put you at supraphysiological testosterone levels, but you're likely to get a nudge in the right direction, while keeping estrogen levels at bay. Remember, it's a supplement – you still need to do your best in removing the toxic environment from your body as much as possible, and provide it with the sunshine and vitamin support it needs to get those hormones – and balls – back in action.
Merica Labz Liberty Ballz – Deals and Price Drop Alerts
Get Price Alerts
No spam, no scams.
Disclosure: PricePlow relies on pricing from stores with which we have a business relationship. We work hard to keep pricing current, but you may find a better offer.
Posts are sponsored in part by the retailers and/or brands listed on this page.