This past summer, we wrote an article about using Animal Creatine Chews to kick-start glycogen reload. We concluded that article saying, "So it sounds like we'll need some more Chews from Animal."
Well our requests have been answered — not only did we get Animal Energy Chews (each individual one with 25 milligrams of caffeine, 250 milligrams of L-tyrosine, and 250 milligrams of taurine), that can be taken before training… we also got some to take after training:
Animal Recovery & Restore Performance Chews
Introducing the third chewable tablet supplement in the series, it's Animal Recovery & Restore Performance Chews, which are the most delicious of the bunch, and can be taken as a great way to boost your glutamine, taurine, and BCAA intake a bit.
If you're a post-workout candy fiend, consider these a healthier way to start on that sweet tooth after training. Each chewable tablet contains one carb (there are four carbohydrates per four-chew serving), and the Tropical Mango flavor is better than most compressed candies we've had on the market.
We'll break down the benefits of glutamine, taurine, and the BCAAs inside — first, let's take a look at availability and PricePlow's coupon-powered prices, then get into the science:
Universal Animal Recover & Restore Performance Chews – Deals and Price Drop Alerts
Get Price Alerts
No spam, no scams.
Disclosure: PricePlow relies on pricing from stores with which we have a business relationship. We work hard to keep pricing current, but you may find a better offer.
Posts are sponsored in part by the retailers and/or brands listed on this page.
This area is reserved for Team PricePlow's upcoming videos.
Subscribe to our channel and sign up for notifications so you catch it when it goes live!
Animal Recovery & Restore Performance Chews Nutrition Facts
First, some quick macros. In four chewable tablets, you get: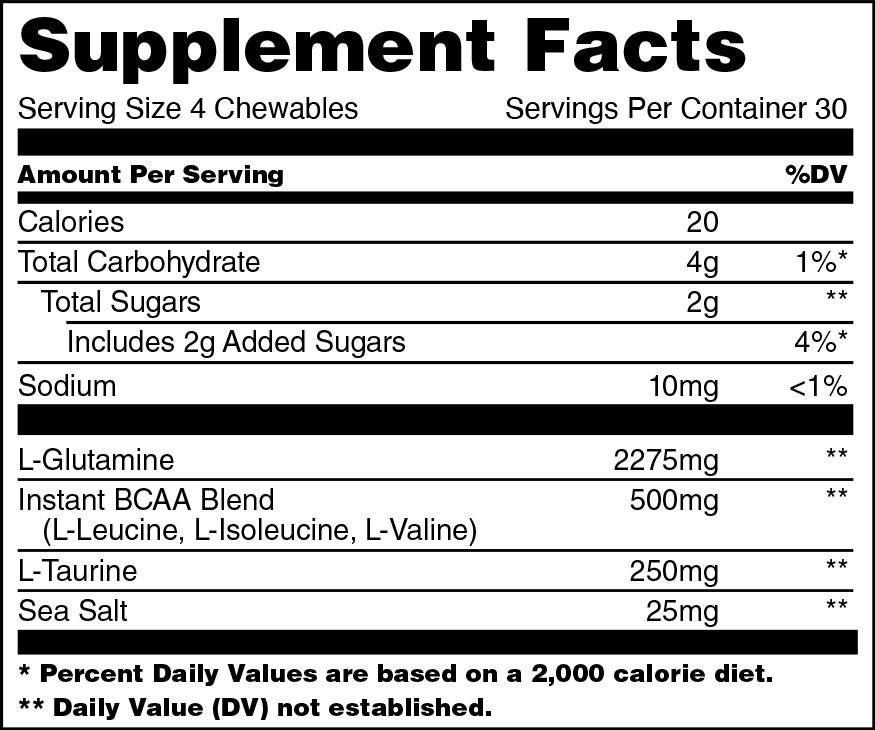 Calories: 20

Total Carbohydrate: 4g
So we can guess that we have about 2 grams of sugar from the sugar and dextrose, with about 2 grams of maltodextrin as well. Now let's get to the actives:
Animal Recovery & Restore Performance Chews Ingredients
L-Glutamine – 2275mg

Glutamine is an conditionally essential amino acid that takes on several roles in the body — it's most notably involved in muscle protein synthesis, the immune system, and the gastrointestinal system.[1] Not only does the body naturally produce glutamine, it also acquires glutamine from various sources of food.

Glutamine is known as the most abundant free form amino acid in the blood, but research shows that you can develop glutamine deficiency during periods of metabolic stress, such as injury, illness, or intense exercise.[1,2] Preliminary studies have found that glutamine can preserve skeletal muscle mass, maintain nitrogen balance, and may enhance barrier function within the gut, which is key for preventing illness.[1] Since the research on L-glutamine supplementation focuses on three key areas: recovery, the immune system, and gut health, that's what we will do as well.

Promoting Recovery

Even though glutamine contributes to muscle protein synthesis, there's very little evidence showing that supplementation of L-glutamine increases muscle mass.[3] However, research has reported that oral L-glutamine supplementation enhances recovery and reduces soreness.[4]

In a study from 2015, researchers recruited 16 healthy men and women to participate in a double-blind, randomized, placebo-controlled crossover study.[4] Half of the subjects received 0.3g/kg of L-glutamine along with 0.3g/kg of maltodextrin, once per day.[4] The other half served as the placebo, thus they were given 0.6g/kg of just maltodextrin, once per day over a three day period.[4]

All participants performed an eccentric exercise protocol consisting of unilateral knee extension. At the end of the study, the researchers concluded that the participants who supplemented with L-Glutamine had significantly less soreness and greater knee extension peak torque after the eccentric exercise protocol than the placebo group.[4]

Another study from 2011 was conducted to determine if L-glutamine supplementation could positivity impact muscle recovery after eccentric exercise.[5] The researchers utilized a randomized single-blind placebo controlled design, recruited 15 physically active males and gave them either 0.3g/kg of L-glutamine or 0.3g/kg of maltodextrin, 0, 24, 48, and 72 hours post exercise.[5]

Each participant performed 100 drop jumps in order to induce muscular damage from eccentric exercise.[5] In the end, they found that L-glutamine supplementation resulted in greater preservation of strength (as measured by peak torque knee extension) and significantly lower muscle soreness over 96 hours.[5]

In addition, glutamine can be very beneficial for promoting healing following an injury, since the research shows that injuries can be a major cause of glutamine deficiency.[2] If you train for long enough, injuries are bound to come up, thus keep in mind that it may be a good idea to add in some extra glutamine in order to facilitate healing and get back in the gym faster!

Although the research on glutamine's ability to enhance muscle growth and body composition is lacking, there's definitely evidence that shows it may promote recovery, preserve strength, and reduce muscle soreness.[4,5] It's also important to note that many athletes get plenty of glutamine from their diet, especially if they eat meat. Thus, if you adopt a more plant-based diet, then supplementing with glutamine will likely be even more beneficial.

Promoting recovery is not all glutamine can do — it's also crucial for the immune and gastrointestinal systems!

Immune System

It turns out that glutamine is a major fuel source for both intestinal and immune system cells.[2] Studies show that glutamine is rapidly used by immune cells, and is deemed crucial for optimal lymphocyte proliferation, phagocytic activity, and cytokine production.[6]

Furthermore, glutamine is a precursor to one of the most powerful antioxidants within the body — glutathione. Thus. it helps protect against oxidative stress induced by free radicals.[2] Glutamine has also been shown to express strong immunomodulatory properties and can stimulate the proliferation of lymphocytes, also known as white blood cells, which play a key role in defending against foreign pathogens.[2]

Research suggests that individuals with the following conditions could benefit the most from supplementing with L-glutamine: overtrained athletes, endurance athletes, individuals with burns, injuries, sepsis, or following surgery.[6]

The researchers speculate that glutamine deficiency occurs from the increased utilization by the liver, kidneys, gut, and immune system during these conditions.[6] In addition, lowered levels of plasma glutamine contribute to decreased immune system function — significantly increasing your risk of getting sick.[6]

It's fair to say that glutamine may be even more important for the immune system then muscle growth or recovery.

Gut Health

The last major benefit of glutamine we're going to highlight is its ability to improve gut health!

Your gut is closely related to your immune system, thus it makes sense that glutamine would support both systems. Not only is glutamine a major energy source for enterocytes and epithelial cells within the intestines, it helps maintain proper gut barrier function.[7] This barrier is crucial for optimal health, because it keeps foreign invaders from entering circulation and prevents chronic gastrointestinal conditions from developing, such as leaky gut syndrome.

Furthermore, glutamine contributes to mucus formation and integrity of the intestinal surface.[7] Intestinal mucosa is important for trapping bacteria and inhibiting it from entering the body.

A meta-analysis from 2012 reported that glutamine can prevent gastrointestinal injury induced by radiation in cancer patients, decrease mucosa atrophy, improves barrier function and morphology, reduces oxidative stress, enhances mucosal lymphocyte count, lowers intestinal permeability, and inflammation.[8]

It seems like gut health issues are becoming more and more common and if you suffer from some type of gastrointestinal disorder, then we highly recommend seeing a health care professional and discussing what they think about adding in glutamine as part of the treatment.

Instant BCAA Blend (L-Leucine, L-Isoleucine, L-Valine) – 500mg

BCAAs (short for branched-chain amino acids) include the amino acids, L-leucine, L-isoleucine, and L-valine, which are three of the nine essential amino acids highly-responsible for stimulating muscle protein synthesis in the body.[9,10]

Aside from assisting in retaining muscle tissue, BCAAs also support faster recovery and delay the onset of muscle soreness, a.k.a. DOMS.[11,12] Usually, we see BCAAs in a ratio of 2:1:1 (Leucine:Valine:Isoleucine), which has been studied most frequently.

L-Taurine – 250mg

Last but not least, we have the conditionally essential amino, taurine. This gives us another 250 milligrams, which is also what's in Animal Energy Chews. Found predominantly in the brain, heart, and lungs, taurine is usually in plentiful supply. But, as we saw with glutamine, during times of intense physical stress (i.e. exercise), the body can't synthesize enough to meet demand. This is when supplementation becomes crucial.

Following a workout, chances are you've lost a lot of water and electrolytes through sweat. Taurine acts as a cell volumizer in the muscle which helps attract water and nutrients into the muscle belly.[13] This means that taurine will help replace those lost nutrients plus, supplementing with taurine has also been documented to reduce signs of soreness / DOMS.[14].

As always, our goal is generally to get to one gram of taurine per day, which is where the endurance benefits start up.[15] Taking the Animal Primal pre-workout is a great way to get there.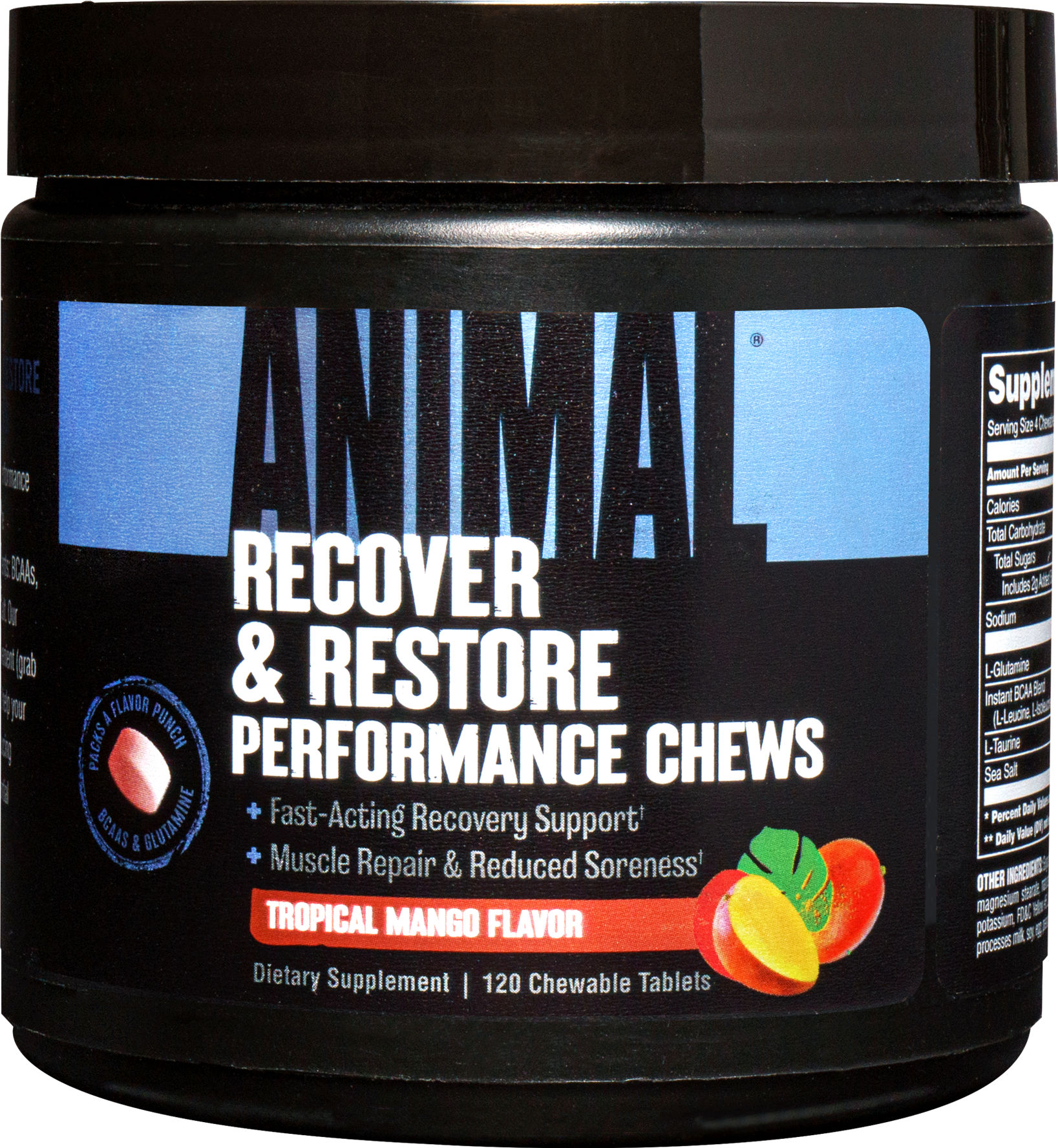 And, of course, there's 25mg of sea salt added to the end to make up some flavor. This provides just 10mg of actual sodium, which is less than 1% of the recommended daily value, so don't consider this a salt supplement by any means.
Flavors Available
Animal Recovery and Performance Chews
So there you have it, a great way to boost your glutamine and amino acid intake a bit. This brings us to a trifecta of chewable tablets from animal — to see the others, read our articles listed below:
Will there be more? This time, we honestly don't know, so you'll have to sign up to PricePlow's alerts below to find out:
Universal Animal Recover & Restore Performance Chews – Deals and Price Drop Alerts
Get Price Alerts
No spam, no scams.
Disclosure: PricePlow relies on pricing from stores with which we have a business relationship. We work hard to keep pricing current, but you may find a better offer.
Posts are sponsored in part by the retailers and/or brands listed on this page.