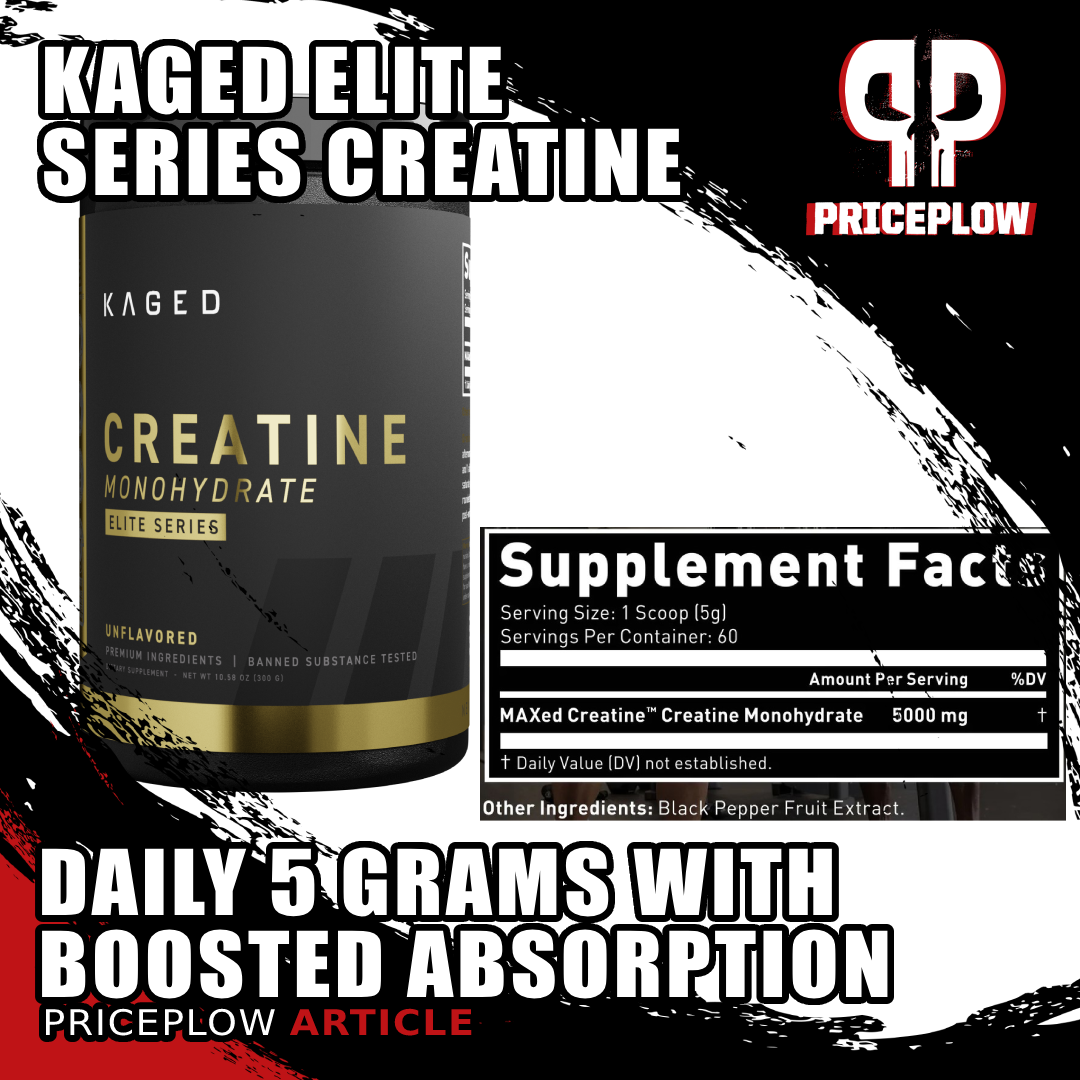 2023 has been a year full of big changes for Kaged. It really started in early 2022, with a name change to Kaged, as discussed in Episode #058 of the PricePlow Podcast. Then, this summer, Kaged announced a massive partnership with GNC, featuring the most products ever launched into the retailer at once, discussed in Episode #097.
As a part of this partnership, Kaged has released the Elite series of supplements, which are essentially the same Kaged products we all know and love, with the volume dialed up to eleven. We've already covered Kaged Protein Isolate Elite, Pre-Workout Elite, Hydration Elite, and more.
Now it's time to cover Kaged's take on what constitutes an Elite Creatine supplement.
Kaged Creatine Monohydrate Elite
At this point creatine is classic. Every brand and their mother has a creatine supplement. This makes sense: creatine works. It has been continuously demonstrated in an extensive body of research to boost athletic performance in nearly every category. Not only is creatine beneficial for athletics, but it has also been shown to be effective at improving mental performance.
All in all, there are few if any ingredients that provide a bigger bang for your buck than creatine – especially ingredients with the same level of scientific rigor backing them up.
MAX Catalyst for more absorption
Kaged's argument with Creatine Elite is that creatine can be made even better and more effective. The big addition in this formula is MAX Catalyst, an improved form of piperine from black pepper extract that helps increase absorption and utilization of creatine.
We're going to dive into the details of how Kaged Creatine Monohydrate works, but first, let's check the PricePlow for good Kaged deals, and check out our video review of the new GNC-exclusive product:
Kaged Creatine Monohydrate Elite – Deals and Price Drop Alerts
Get Price Alerts
No spam, no scams.
Disclosure: PricePlow relies on pricing from stores with which we have a business relationship. We work hard to keep pricing current, but you may find a better offer.
Posts are sponsored in part by the retailers and/or brands listed on this page.
This area is reserved for Team PricePlow's upcoming videos.
Subscribe to our channel and sign up for notifications so you catch it when it goes live!
Kaged Creatine Monohydrate Elite – How It Works
The Ins and Outs of Creatine Supplementation
Creatine, composed of methionine, arginine, and glycine, helps produce adenosine triphosphate (ATP) by providing phosphate groups to the mitochondria.[1] As we frequently discuss on the PricePlwo Blog, the mitochondria is the powerhouse of the cell. ATP is important because it powers all of the body's processes, from muscle contraction[2] to cognition. Creatine is known to improve athletic performance[3] by allowing increased ATP production during exercise, especially when glycogen stores are depleted.[4]
Creatine needs vary based on individual factors such as body weight, muscle mass, meat consumption and activity level. Achieving creatine saturation, a term to denote when muscles are adequately supplied with creatine, is beneficial for improving metabolic function, as creatine is essential for ATP production. The average male body can store up to 160 grams of creatine,[1,5] but typically contains about 120 grams.[1] The body loses about 1.7% of its creatine stores daily,[6,7] equating to a net daily loss of around 2 grams for men.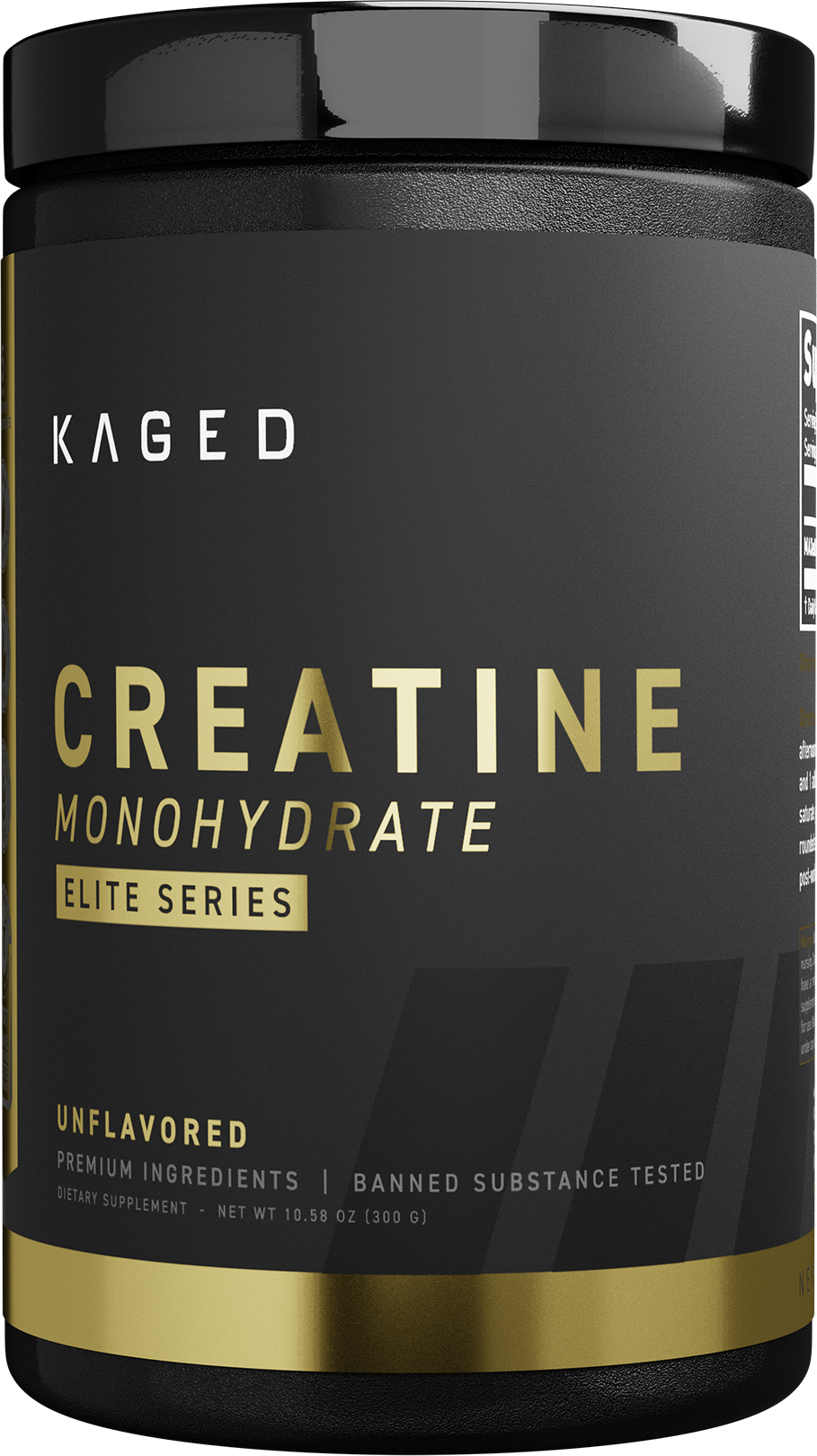 Although dietary sources such as red meat and herring contain creatine, the average American's intake is still below the amount needed to saturate creatine.[8] Creatine supplementation can help achieve and maintain saturation.
A common method involves an initial "loading phase" of 20 grams per day for five days, followed by a maintenance dose of 5 grams per day. Additionally, regular consumption of 5 grams per day can also lead to saturation within a few weeks, depending on individual needs and lifestyle factors.
Benefits of Creatine Supplementation
A significant body of research, including a 2003 review of approximately 300 experiments, supports creatine's potential to improve various aspects of athletic performance by 5 to 15%.[9]
Creatine supplementation is associated with increased strength and overall physical performance,[9] in addition to long-term increases in muscle mass.[10-16] In fact, athletes using creatine gained nearly twice as much lean mass as those who did not.[14-16] These benefits are due to increased exercise intensity due to creatine saturation and the production of creatine.
Additionally, new research shows potential cognitive benefits of creatine, especially for people who eat less meat. Creatine may alleviate cognitive decline caused by ATP depletion in nerve cells exposed to stress or disease.[17] Data from the NHANES study from 2005 to 2012 showed a correlation between lower creatine intake and higher risk of serious mood / disposition problems.[18]
Long story short — get your creatine in, whether it's through copious red meat consumption, supplementation, or preferably… both! The only question is, what kind to get? Kaged has the answer to that, and it starts with the word "MAX":
What makes Kaged's Creatine Elite? Meet MAX Catalyst
The long and short of it is that creatine rocks. We all know it. The question, then, is what exactly makes Kaged's Creatine elite?

As a part of their new GNC exclusive Elite series, the creatine Kaged is offering isn't just any creatine powder. Kaged has included in the formula an ingredient called MAX Catalyst, which is a proprietary ingredient made from black pepper extract, also known as piperine.
The magic of piperine comes from its potentiating effects – in short, it makes ingredients stronger, and more potent. By inhibiting the enzymes that typically break down nutrients in the stomach, piperine helps to enable these nutrients to move past the stomach and into the intestines, from which point they are absorbed into the bloodstream.[19]
The inclusion of piperine in Creatine Elite acts like a supercharger, improving the absorption of creatine and producing better results, pound for pound. Although the research isn't published yet, MAX Catalyst's inventors claim a 40% increase in absorption, providing the chart shown below:
This is similar to the MAXed Citrulline, MAXed Beta Alanine, and MAXed Creatine Monohydrate that's already in Kaged Pre-Workout Elite. In fact, if you've taken a full dose of this pre-workout, you can probably skip taking Creatine Elite for the day, unless you're in a loading phase or are big and trying to get 10 grams or more in per day.
Supercharged Creatine
As we said above, there is no doubting the positive, beneficial effects of creatine at this point. It simply works. That doesn't mean, however, that it can't be made even better.
Creatine monohydrate paired with MAX Catalyst helps to boost absorption, and therefore increases the efficiency at which you can obtain creatine saturation. Why settle for standard creatine when you can get better results with less?
We look forward to seeing MAX Catalyst's data get published, and will update this article when the time comes. To make sure you don't miss out on those updates, sign up for our Kaged news alerts in the widgets below.
Overall, Kaged's Elite Series is living up to its name. As if Kaged's products weren't already top-notch, the Elite Series takes the game to an entirely new level.
It is, after all, for the elite.
Kaged Creatine Monohydrate Elite – Deals and Price Drop Alerts
Get Price Alerts
No spam, no scams.
Disclosure: PricePlow relies on pricing from stores with which we have a business relationship. We work hard to keep pricing current, but you may find a better offer.
Posts are sponsored in part by the retailers and/or brands listed on this page.