When it comes to our diets, we are far too often concerned about calories and total fat, while ignoring the importance of the quality of fat we eat. Today, we focus on Universal Nutrition's Animal Omega, an essential fatty acid supplement pack meant to improve our fatty acid ratios and provide a unique arrangement of fats that aren't normally ingested in our diets.
With ten different sources of omegas, this heart-health focused supplement is built to lower inflammation and improve lipid levels, and includes a few ingredients to improve fatty acid absorption, transport, and oxidation. First, let's talk about why we're here.
The overwhelming data on omega-3:omega-6 ratios
As you can imagine, there have been countless studies on the topic. There is strong research showing that humans (and animals) had an omega-3:omega-6 ratio close to 1:1 prior to the industrialization of food,[1-4] and ratios skewed against omega-3 consumption are predictive of mental illness,[5-20] cardiovascular disease,[1,21] insulin resistance and general metabolic dysfunction,[22-25] diabetes,[26-28] and obesity[29,30] — and the evidence is further strengthened with data on childhood obesity.[31] The data is quite clear: low omega-3 intake paired with high omega-6 intake — which is what the Western diet has become[1,32-34] — is extraordinarily deleterious to one's health.
How do we fix these issues? As always, we encourage a diet-first approach, which consists around the removal of ultra-processed foods and refined sugars/carbohydrates. But in addition, it's wise to boost the quality fats as well, and that's what we're doing with Animal Omega. Stack it with Animal Flex, and you're on your way to a far lower inflammation year.
Nearly 100 studies are covered in this article, so let's dig in after checking PricePlow's coupon-powered prices:
Universal Animal Omega – Deals and Price Drop Alerts
Get Price Alerts
No spam, no scams.
Disclosure: PricePlow relies on pricing from stores with which we have a business relationship. We work hard to keep pricing current, but you may find a better offer.
Posts are sponsored in part by the retailers and/or brands listed on this page.
Animal Omega Ingredients
In a pack of Animal Omega, you get seven softgels and one capsule containing the following blends:
Omega-3 Fatty Acid (n-3 FA) Complex – 4000 mg

This complex contains four grams of total fish oil – far more than what most consumers are taking or getting from diet. First, let's cover the benefits of omega-3 and fish oil consumption in general, and then detail a bit more about each specific one.

In the intro, we cover the numerous concerns with regards to poor omega-3 status. Let's work to fix that below, which have been shown to yield the following benefits:

Benefits of Omega-3 Supplementation

If we've become deficient in omega-3 — largely due to lack of fatty fish eating in lieu of processed foods — then one step is to supplement more. In general, researchers have seen the following benefits from omega-3 (and fish oil) supplementation:

Improved lipid levels: reduced triglycerides and increased HDL

There are literally dozens of studies demonstrating the well-known effect that fish oil has on triglycerides. We won't cite them all, but will reference many of the meta-analyses and reviews that continually verify this effect.[35-39]

In addition, there are two meta-analyses showing a slight improvement to HDL levels with fish oil.[37,39]

Together, these two mark an overall improvement in metabolic function, since the triglyceride:HDL ratio is a great proxy for insulin sensitivity[40,41] and the pair is a far better predictor of cardiovascular disease and mortality than LDL cholesterol![42-45]

Mood improvements

Similarly, we have dozens of studies confirming omega-3 fish oil's effects in combating mood disorders, with multiple systematic reviews statistically verifying them.[46-50]

Reduced anxiety

Interestingly, fish oil's benefits go beyond mood, but it also seems to reliably lower anxiety levels.[51-55]

Focus in children

Not that children are likely to take a massive Animal Omega pack, but there is plenty of research showing omega-3 supplementation improving focus in "focus-deficient" children,[56] and this is likely to translate to adults as well.

Blood Pressure Reduction

Fish oil has a small yet significant effect on blood pressure in hypertensive individuals.[57] While reducing sugars and overall processed carbohydrate intake is likely to drive a greater impact on this measure (along with the other concerns in this list), omega-3 seems to reliably help a little bit as well.

Reduction in Overall Inflammation

Fish oil has been shown to reduce numerous inflammatory markers in multiple types of individuals.[58-63] It's worth noting that many of the successful studies used decently large doses — comparable to what's provided in Animal Omega.

Paired with Animal Flex (which adds a few other unique fatty acids that aren't in Animal Omega), you have an incredible inflammation-reduction stack.

The above list are the most well-demonstrated effects, but there are clearly more. For instance, a meta-analysis shows a slight reduction of cognitive decline,[64] but not to the extent of some of the stronger effects listed above.

The major point is that there's an extremely solid argument to make for fish oil consumption if you have anything remotely resembling a Western diet. With that said, we still encourage the reduction of ultra-processed foods and refined sugars.

Now let's briefly look at each oil specifically:

Flaxseed Oil

Flaxseed contains a high amount of alpha-linoleic acid (ALA),[65] the omega-3 fatty acid that's often forgotten compared to the DHA and EPA in the fish oils below. A review published in 2020 states that it is protective against cardiovascular disease, high blood pressure, insulin resistance, and inflammation, and is promising in assisting with metabolic health.[66]

Salmon Oil

Salmon is a top source of long-chain omega-3 polyunsaturated fatty acids. However, even with salmon oil as a key ingredient in Animal Omega, we still encourage eating salmon for its other beneficial components like selenium.[67]

Cod Liver Oil

A 2008 paper published in Medscape titled "Mother Was Right About Cod Liver Oil" provides incredible evidence for the power of this incredible oil,[68] which contains great amounts of vitamins A and D on top of its omega-3 fatty acids.[69]

Herring Oil

Atop its status as an omega-3 powerhouse, herring oil possesses a unique ability to inhibit bacteria such as Staphylococcus aureus and can prevent biofilm formation and virulence.[70] This makes it an interesting "anti-infective" agent.

Anchovy Oil

Coming from everyone's favorite pizza topping, anchovy oil has powerful antioxidant properties[71] that have been shown to improve menstrual cramping and discomfort.[72] Even better, it was shown to reduce abdominal pain and the women using it required fewer doses of over-the-counter painkillers.[72]

Mackerel Oil

Mackerel is a cold-water fatty fish whose oil has been shown to slow the progression of coronary atherosclerosis (primarily by reducing blood clotting factors) in animal models.[73] An interesting study showed that its fermentation (which we don't have here) promotes hair growth![74]

Sardine Oil

Sardine oil is a quality source of EPA (Eicosapentaenoic acid),[75] one of the three primary healthy omega-3 fatty acids alongside DHA and ALA.

Omega-6 Fatty Acid Complex

While we're biggest on pushing our ratios towards omega-3 fatty acids, there are some omega-6 fatty acid containing oils that have some incredible health-boosting properties, and we don't get much of them in our diet, making a good reason for supplementation:

Borage Seed Oil

Both borage seed oil and evening primrose oil (which is also below) are large sources of gamma-linolenic acid, and numerous studies have shown that it has anti-inflammatory action that protects skin against conditions like eczema and dermatitis – both topically and orally.[76-80] It has a protective effect on DNA,[81] leading to various beneficial effects including some that combat arthritis and inflammation.[82]

Safflower Seed Oil

High-dosed safflower oil has been shown to reduce waist circumference, blood pressure, and fasting blood sugar.[83] Long used in traditional Iranian medicine, most of the wide-ranging beneficial therapeutic effects are attributed to a constituent named hydroxysafflor yellow A.[84] There's some interesting evidence in animal models showing that it restored testosterone and fertility in impaired animal models.[85]

Evening Primrose Oil

Often paired with borage oil,[77,80,86] evening primrose oil also has high concentrations of GLA and is protective for the skin, but has benefits going beyond that. For instance, it's often used to improve the quality of life in menopausal women[87] and is a highly-effective treatment for premenstrual syndrome (PMS).[88]

Sesame Seed Extract (Sesamin)

Sesamin is the most prominent lignan in sesame seeds, and by stimulating PPAR (peroxisome proliferator-activated receptors), is very beneficial in boosting fatty acid oxidation, curbing appetite, and reducing cravings.[89,90]

Omega Absorption Complex

The one capsule in Animal Omega, this complex includes some ingredients that improve fatty acid metabolism – yet we rarely see in fish oil supplements!

Lecithin

Various forms of lecithin are popular emulsifiers, but even better, they promote better absorption and digestion of fat-soluble ingredients.[91] Since that's basically the entirety of Animal Omega, it's a perfect fit.

L-Carnitine

Most sport supplement users are very familiar with L-carnitine, the amino acid in numerous fat burners that improves fatty acid transport to the mitochondria.[92] This also makes a perfect fit for Animal Omega, and if you want a large therapeutic dose for your entire day's diet, look at Animal Cuts Powder.

Lipase Enzyme

Lipase is the digestive enzyme that assists in the breakdown of fatty acids.[93] With a supplement full of fatty acids, its inclusion is a no-brainer, and those who have trouble digesting fats should look further into digestive enzymes such as this one.

This is the beauty of having packs — perhaps these ingredients would be too difficult or space-inefficient to get into a fish oil softgel, but they're definitely worth having in a "pak"!
Dosage and Instructions
Take a pack of Animal Omega once daily – larger users can consider two packs. Timing doesn't matter, but they're likely best taken with a meal.
If you're susceptible to "fish oil burps", consider freezing them and taking them just before bed.
Animal Omega: A full spectrum of essential fatty acids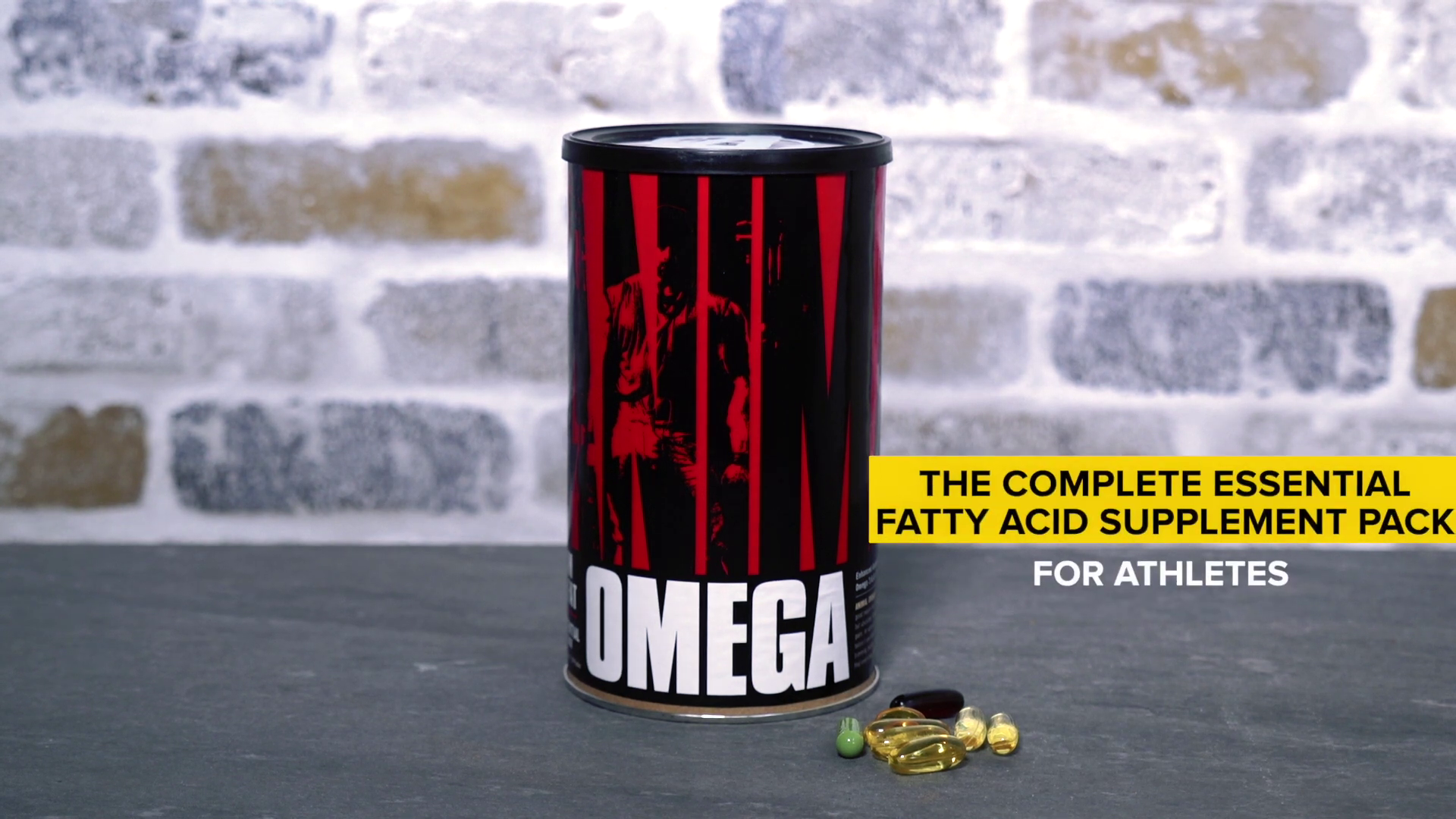 The research is pretty clear: our omega-3 fatty acid intake is too low, and our omega-6 fatty acid intake is too reliant on processed oils that provide no nutritional value. Animal Omega is a great first step in restoring the balance — but it still requires work in removing ultra-processed foods from diet.
The "pack" method makes an incredible difference here, allowing Animal to include an additional capsule for the absorption ingredients. We're surprised that we don't see more essential fatty acid supplements including lipase, especially.
A great anti-inflammatory supplement to stack alongside is Animal Flex, while dieters will definitely enjoy Animal Cuts or Animal Cuts Powder — we prefer the latter due to the amount of L-carnitine that'll be included to assist with fatty acid transport. On that note, stay tuned to PricePlow and our Universal Nutrition news — a new Animal Cuts Powder flavor has arrived, and we'll be covering that next!
Universal Animal Omega – Deals and Price Drop Alerts
Get Price Alerts
No spam, no scams.
Disclosure: PricePlow relies on pricing from stores with which we have a business relationship. We work hard to keep pricing current, but you may find a better offer.
Posts are sponsored in part by the retailers and/or brands listed on this page.