Every summer, the International Society of Sports Nutrition — ISSN — gets together in Florida for a sports science expo like none other. This year, the organization held "ISSN 2023", officially titled The Nineteenth International Society of Sports Nutrition (ISSN) Conference and Expo.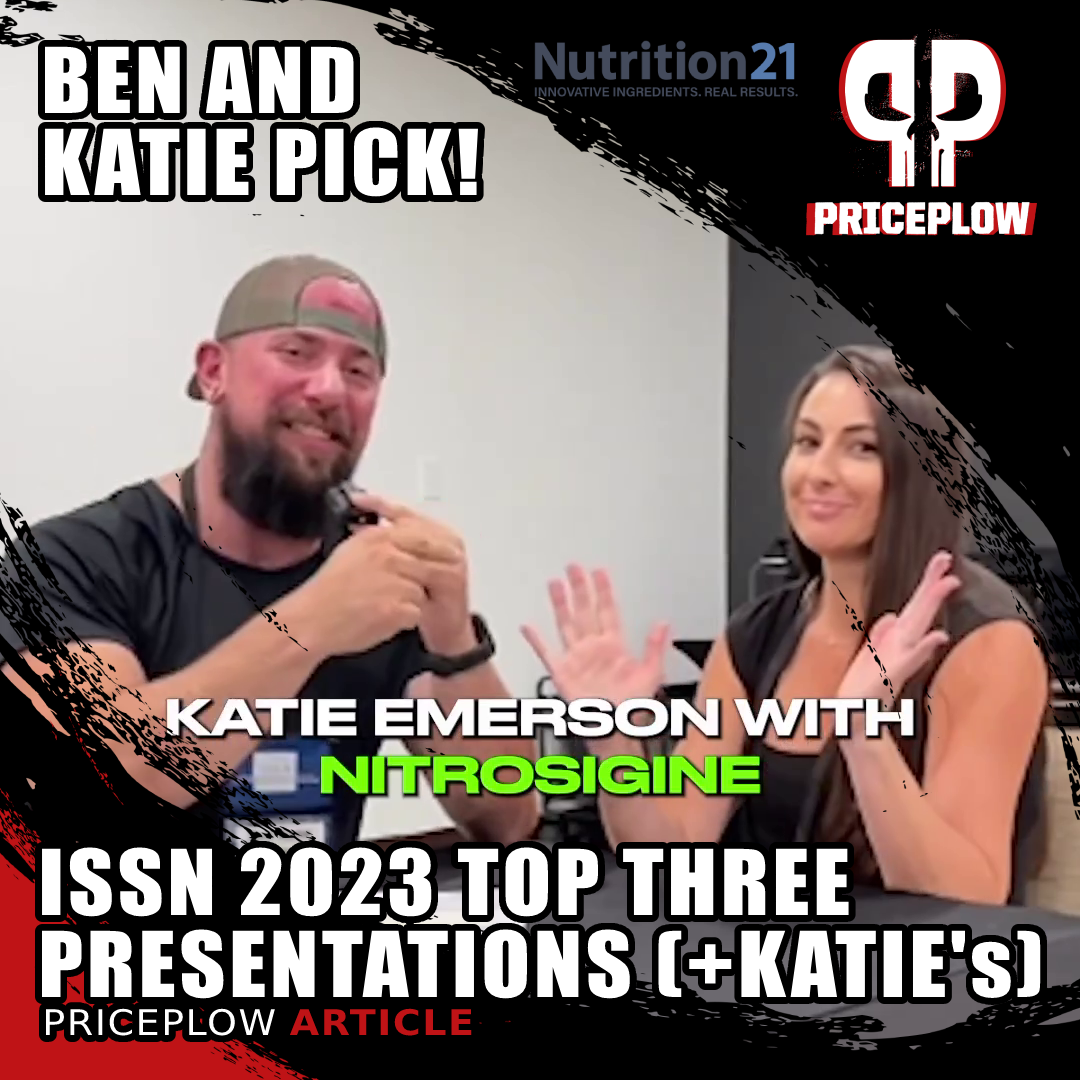 Novel ingredient developer Nutrition21 is a regular sponsor of the event, and this year, they brought PricePlow's Ben Kane along for the ride to ISSN 2023. Most sports nutrition fans and formulators know Nutrition21 as creators of ingredients like Nitrosigine, Velositol, and nooLVL, which you can learn about in our article on The Evolution of Nutrition21's sports nutrition ingredients.
In ISSN 2022, we learned about a recent study out of Texas A&M's Exercise & Sport Nutrition Lab showing that nooLVL use can lead to improvements in short-term memory, reaction time, reasoning, and concentration in esports gamers.[1,2]
ISSN 2023: New Research Presented
Unfortunately, ISSN 2023 didn't have any Nutrition21-powered research,[3] but there was still an incredible batch of publications and poster presentations. Ben and Katie Emerson sat down to give their top 3, and Nutrition21 kindly sponsored this article and the below video:
Ben and Katie's Favorite ISSN 2023 Presentations
Edwin Davila – GLP-1 Receptor Agonists and Exercise

If you're anywhere close to the health, nutrition, or fitness communities, you've likely heard of the GLP-1 receptor agonist named Ozempic (semaglutide), which is an antidiabetic drug that mimics human incretin glucagon-like peptide-1 (GLP-1), which increases insulin secretion and blood glucose disposal, which leads to better glycemic control.[4-6]

The issue is that these drugs can absolutely strip the body of muscle tissue,[7] and weight regain generally begins once the drug's use is discontinued,[8] unless there are serious lifestyle changes. So the cons can definitely outweigh the pros for most individuals except the most chronically sick and obese.

One way to combat the muscle-wasting concern is with plenty of protein and exercise – which should be a universal goal anyway, regardless of diet, lifestyle, or goals.

Chad Kerksick – Examining the Impact of Leucine Dipeptide

This is one that we guarantee you'll hear about more — the dipeptide, dileucine. We previously talked about it with Dr. Ralf Jaeger on PricePlow Podcast Episode #078 towards the end of the episode. So far, we've already seen 60% greater increases in muscle protein synthesis when comparing dileucine to leucine.[9]

The human body has di- and tripeptide transporters to absorb amino acids like this, and they seem to work better and get more highly prioritized than standard amino acids. What's interesting is that the human body actually spends energy converting leucine to dileucine — and being "lazy" with its energy expenditure, there must be a significant reason.

Stay tuned, we believe this one will be hot. You can follow Chad M. Kerksick on PubMed.[10]

Arny Ferrando – Hormonal Dysregulation with Muscle

Arny Fernando is well-known for his research on protein, including his part (alongside the aforementioned Kirksick and Jaeger) in ISSN's own 2017 position stand on protein and exercise.[12]

More recently, he's supported research on muscle protein synthesis (MPS) and whole-body protein turnover with respect to strenuous military operations that elicit severe energy deficits.[11] In such extreme conditions, the soldiers' endocrine systems get devastated, to the point where a positive protein turnover becomes nearly impossible – and this is where, as Katie says, testosterone matters.

What they're also finding is that these conditions simply can't be replicated in the lab! This sounds like great ground for a future podcast episode.

You can follow Arny's work on PubMed.[13]

Katie Emerson – Nitrosigine

And of course, how can we leave out Katie's own presentation on Nitrosigine? This is Nutrition21's patented ingredient made of inositol-stabilized arginine silicate[14] that has become extremely popular in numerous pre-workout supplements such as Ghost Legend. We often state that Nitrosigine is the form of L-arginine we had always wanted, and recently covered how Ghost added Nitrosigine to Legend V2 and kept it in Legend V3, which says a lot.

In Katie's presentation, she made the case that Nitrosigine is the best pre-workout ingredient for non-stimulant based energy — this is called perceived energy in clinical research.[16,17]

Nitrosigine increases blood flow and vasodilation through nitric oxide production,[18-20] which can lead to incredible "muscle pumps" when exercising (especially with resistance training). To support this, one study measured a flow-mediated dilation (FMD) increase of 31% with 1.5 grams of Nitrosigine.[21] FMD is a measure of arterial blood flow.

Additionally, Nitrosigine has cognitive benefits for exhausted athletes and healthy individuals who haven't exercised[15,22,23] — blood flow improvements aren't just for the muscles, after all.

This line of research is what led to the creation of nooLVL, Nutrition21's gaming supplement ingredient showcased in the 2022 presentation discussed in this article's introduction.[1,2]

You can read more about Nitrosigine in our article titled Nitrosigine: The Nitric Oxide Booster That Enhances Brain Function.
You can also listen to Katie in two PricePlow Podcasts, Episode #075 at SupplySide West 2022 and Episode #085 at Summit West 2023.
Come to ISSN 2024
Want to see presentations like this next year, and far more? Then come to the annual International Society of Sports Nutrition (ISSN) Conference and Expo! As we write this, ISSN 2024 has already been booked for June 17-19 in Bonita Springs, Florida. You can find it at SportsNutritionSociety.org.
And until then, follow PricePlow's Nutrition21 News and sign up for our Nutrition21 News alerts so that you don't miss any Nitrosigine-based pre-workouts, nooLVL-based gaming supplements, or Velositol-based protein powders!
Subscribe to PricePlow's Newsletter and Alerts on These Topics