Morphogen Nutrition has made name for themselves as a company that breaks orthodoxy. They make unique products that include ingredients that aren't on the radar for most others in the industry – and huge doses of them around that.
We recently covered one such formula, HydraGen, an intra-workout product built around salt for athletes who sweat. Morphogen realized that sodium, regardless of its unflattering position in mainstream consciousness, is vital for true hydration – especially their athletes who hit it hard in the gym. So they ran with it in spite of sodium's bad rep.
We've been so impressed with Morphogen's willingness to stray from convention that we've had Ben Hartman, founder of Morphogen on the PricePlow podcast twice: the first time we discussed Morphogen's hyper-focus on formulation, and the second time we discussed Morphogen's new branding and labeling.
Now, one of Morphogen's other awesome formulas, Adaptogen, is getting a sweet yet tangy new flavor that was made to work in hot coffee.
Adaptogen ZING: Ginger Chai Latte
There are plenty of great flavorists in the industry. Flavors have received more and more attention in recent years, as companies realized that taste is key to consistent product usage. If you don't like a flavor, you're less likely to finish the tub, regardless of how well put-together the formula is.
The thing is, most powders just don't mix well in hot liquid. Morphogen not only designed their new Adaptogen ZING flavor to work in hot temperatures, but they specifically made it to work in hot coffee.
This is an interesting idea – in a way, this feel-good supplement is meant to seamlessly integrate into the user's existing morning routine. Just pour a scoop into your morning cup of joe and now you have super coffee.
We're going to dive into how Morphogen Adaptogen works, but first, let's check the PricePlow for good Morphogen deals, and check out our video review of the new flavor:
Morphogen Nutrition AdaptoGEN – Deals and Price Drop Alerts
Get Price Alerts
No spam, no scams.
Disclosure: PricePlow relies on pricing from stores with which we have a business relationship. We work hard to keep pricing current, but you may find a better offer.
Posts are sponsored in part by the retailers and/or brands listed on this page.
The flavor is actually sweeter than it sounds – you're not going to get punched in the face with a ton of ginger. If you don't want to try the chocolate flavor, but vanilla is a bit too "boring" for you, then this is the one to grab next.
Morphogen Adaptogen – How It Works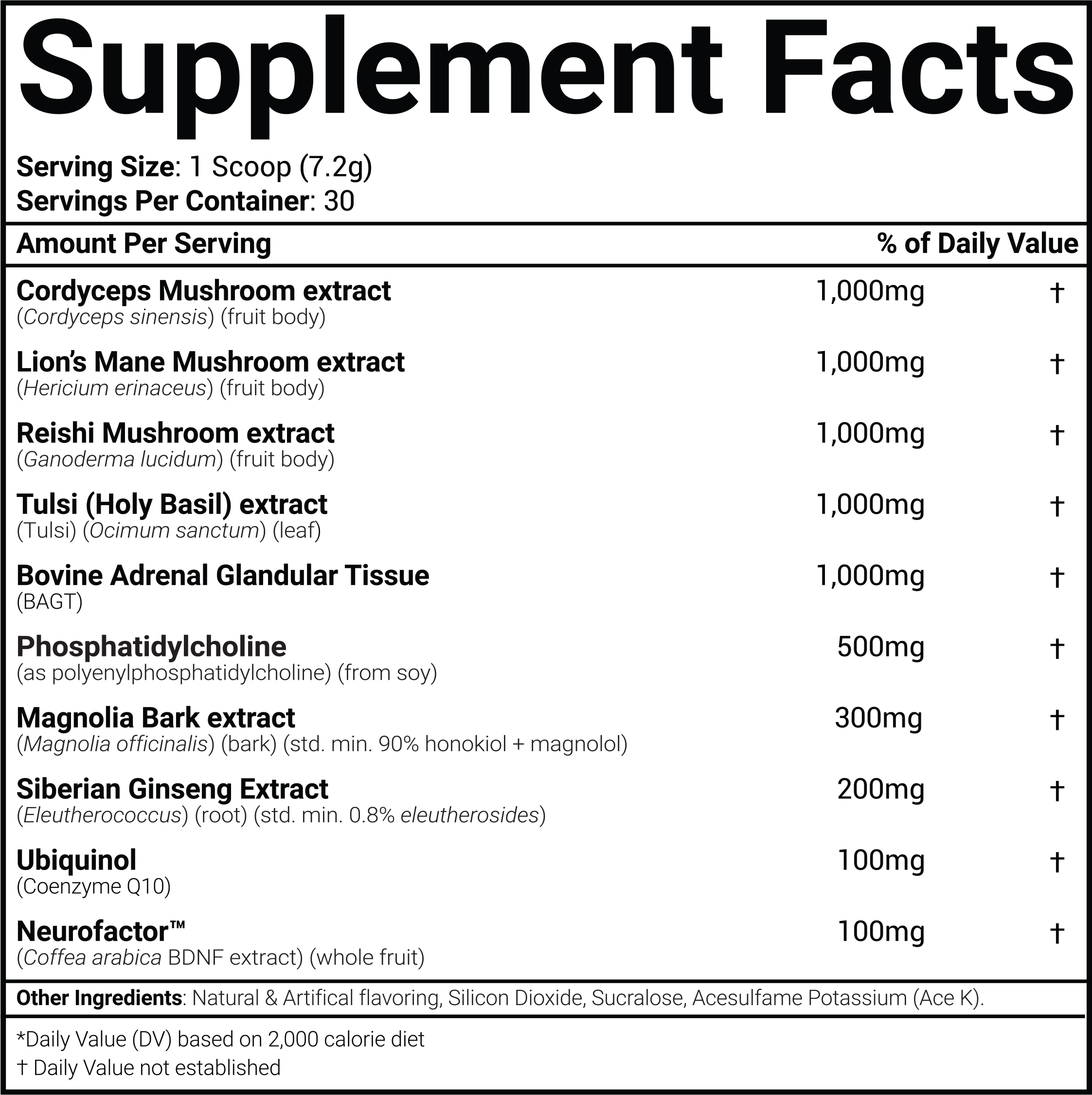 Each 7.2g scoop of Adaptogen contains the following ingredients:
Cordyceps Mushroom extract – 1,000 milligrams

Cordyceps sinensis, a mushroom strain found in Tibet's high alpine landscapes, has an incredibly long history in traditional Chinese medicine.[1] It's been used in the treatment of all manners of ailments. In more recent years, it has been studied – though not nearly enough – for its array of potential benefits:

Increases energy and endurance[2,3]
Stress reduction[2]
Boosts muscle protein synthesis[4]
Improves glucose metabolism[5,6]
Improves virility[7,8]

Lion's Mane Mushroom extract – 1,000 milligrams

Unlike cordyceps, lion's mane has been studied extensively in the past few decades. Results have been more than promising, particularly as it pertains to boosting cognitive function. One study conducted in Japan found that elderly adults exhibiting signs of mild cognitive decline managed to increase their cognitive functioning ability after being dosed with 3 grams of lion's mane per day for 16 weeks.[9]

Researchers have demonstrated the efficacy of lion's mane in combating feelings of anxiety and depression, specifically in menopausal women.[10] Further, lion's mane can improve sleep quality by regulating your circadian rhythms, which is vital for overall physiological functioning.[11]

Reishi Mushroom extract – 1,000 milligrams

While reishi has not been studied as extensively as either cordyceps or lion's mane, it has been used medicinally for millennia in the far east. Its purported benefits, derived from historical usage, include:

Helps regulate the immune system[12]
Regulates blood glucose levels[12,13]
Aids recovery and sleep[12]

Controlled, rigorous trials are needed to gauge the full effectiveness of reishi mushrooms, but countless anecdotal reports are something worth taking seriously.

Tulsi (Holy Basil) extract – 1,000 milligrams

Holy basil extract, also referred to as tulsi, is a plant native to India and widely used for medicinal purposes in traditional Indian culture.[14] These anecdotal reports are backed up by several studies in which tulsi exhibits an ability to increase the amount of natural killer and T-helper cells, which play a critical role in immune system function.[15]

Bovine Adrenal Glandular Tissue – 1,000 milligrams

Bovine adrenal glandular tissue comes from the adrenal glands of cows. Adrenal glands are responsible for regulating the body's response to stress by producing hormones like adrenaline and cortisol.

While there is not a wide body of hard evidence supporting the idea that supplementation of bovine adrenal glandular tissue will have an effect on human adrenal function, it is backed with anecdotal reports driven by the adherence to the traditional idea that supplementation with similar organs from other animals can have a net positive impact on human organ function. "Like fixes like", so to speak.

This idea, specifically, is somewhat backed in other areas of science, as can be seen in the supplementation of heart meat, which is full of CoQ10, a vital component of cardiac function.[16]

While it's not possible to say what impact bovine adrenal supplementation does have, its potential can't be discounted.

Phosphatidylcholine – 500 milligrams

Phosphatidylcholine is the most abundant phospholipid contained in cell membranes, and is a precursor to choline.[17] Choline is critical, as it servers to generate more acetylcholine, which is colloquially known as the "learning neurotransmitter".

We've written extensively on PricePlow about the importance of acetylcholine for proper cognitive function, and phosphatidylcholine is a major component of that process. If you're not eating eggs or much meat, it's important to get this class of phospholipids in – not just for focus, but for cell membrane integrity in general.

Magnolia Bark extract – 300 milligrams

Derived from Magnolia officinalis, a native tree to China and east Asia, magnolia bark extract has a long history of usage in traditional Chinese medicine. Magnolia bark extract works by inhibiting the action of 11β-Hydroxysteroid dehydrogenase (HSD-11β), an enzyme responsible for converting cortisone into cortisol. It has demonstrated an ability to markedly reduce cortisol levels, and therefore assorted symptoms commonly associated with stress, anxiety, and depression.[18-21]

This ingredient alone will help take some of the "hit" out of the coffee – so if you feel yourself getting too stimmed up throughout the day, Morphogen Adaptogen is really something to consider for a calmer disposition.

Siberian Ginseng extract – 200 milligrams

Siberian ginseng, also known as eleutherococcus senticosus, is another adaptogen that increases the expression of neuropeptide Y, thereby helping to alleviate symptoms of stress and anxiety.[22] It's been demonstrated to powerfully balance the stress response.[23]

Ubiquinol – 100 milligrams

Ubiquinol is the most widely-used form of CoQ10. CoQ10 has been shown to increase energy production, support cardiac function, and combat free radicals.[24] Other forms of CoQ10 must first be converted to ubiquinol prior to realizing these benefits[25], making ubiquinol a more efficient choice for supplementation.

Neurofactor – 100 milligrams

Known as CognatiQ in newer formulations, Neurofactor is an ingredient derived from whole coffee fruit. It works by increasing brain-derived neurotrophic (BDNF) expression[26]; BDNF is a protein that supports the maintenance and growth of neurons, and is therefore critical for overall brain function.[27,28]. Research has demonstrated a direct correlation between high BDNF levels and cognitive performance.[27-32]
All Morphogen Adaptogen flavors
Here's an up-to-date list of all available Adaptogen flavors:
Cutting-edge flavors and formulas
Morphogen is clearly a company that takes their work seriously. Driven by what seems to be an almost-compulsive need to fine-tune their formulas like a German automobile, Morphogen is out on the frontiers of athletic supplementation.
Adaptagen is an impressive formula, and not one ingredient seems to be out of place. Combine that with a similarly well-conceived flavor system built to be mixed in your morning coffee, and Morphogen is helping to make maintaining good health a natural part of your day. It helps, too, that ZING provides the perfect, spicy warmth for these cold winter mornings.
Morphogen Nutrition AdaptoGEN – Deals and Price Drop Alerts
Get Price Alerts
No spam, no scams.
Disclosure: PricePlow relies on pricing from stores with which we have a business relationship. We work hard to keep pricing current, but you may find a better offer.
Posts are sponsored in part by the retailers and/or brands listed on this page.