The Kaged rebrand continues through 2022, and autumn brings us updated Kaged Whey Protein Isolate tubs – renamed from "Micropure Whey Isolate".
Kaged Whey Protein Isolate has the same fantastic formula — a pure whey isolate that's third-party lab tested and approved for drug-tested athletes, has natural flavoring, mostly natural sweetening, the patented ProHydrolase enzyme, and is non-GMO, gluten-free, and soy-free. And of course, it still has that same insane chocolate flavor! Now it comes with the incredible new minimalist branding introduced in early 2022.
Back when this product was originally launched in 2018, it was a follow-up to Kaged Kasein, which we absolutely love, as well as the Re-Kaged post workout supplement. It took some time to come out — Kaged had no straight-up whey protein for a few years after their formation. When they changed that, they changed it in a big way — with our favorite chocolate-flavored whey protein isolate!
In this article, we talk about the label, the macros, and the updated research on the ProHydrolase digestive enzyme. First, let's check on prices and flavor availability – this one's been tough for Kaged to consistently keep all flavors in stock!
Kaged Whey Protein Isolate – Deals and Price Drop Alerts
Get Price Alerts
No spam, no scams.
Disclosure: PricePlow relies on pricing from stores with which we have a business relationship. We work hard to keep pricing current, but you may find a better offer.
Posts are sponsored in part by the retailers and/or brands listed on this page.
Before going further, we need to cut to the chase: at the time of recording the review below, this is the best tasting chocolate whey protein isolate we've ever had! And not only that, but they did it with stevia as the primary sweetener to keep the sucralose levels down. Watch on our channel below:
This area is reserved for Team PricePlow's upcoming videos.
Subscribe to our channel and sign up for notifications so you catch it when it goes live!
Great times, great powder. So how'd they do it?
Introducing Kaged Muscle's Micropure Whey Isolate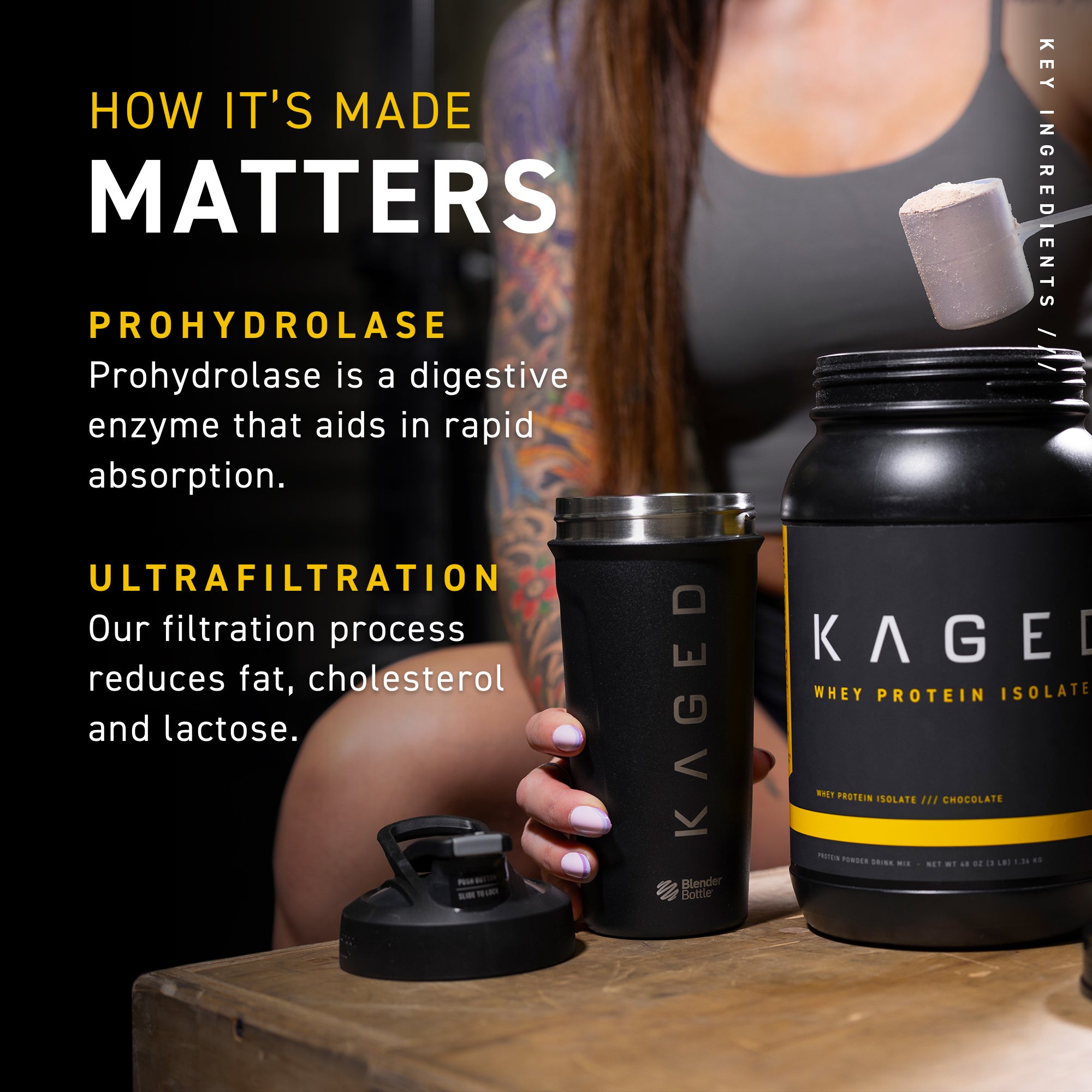 Not your run-of-the-mill whey protein, Kaged has a pure whey protein isolate that utilizes the ProHydrolase Digestive Enzyme technology. This was also discussed in our original Re-Kaged blog post, but we'll show some updated research from 2020 below.
The protein enhancement game is on!
We've seen protein isolates utilize the latest methods for increased absorption and Kaged is following a similar-but-different path. The company is using only 100% ultrapure whey isolate for maximum digestion, making it a perfect post-workout protein with clean macros that can fit into nearly anybody's diet. But it's the flavors that really blew us away for an isolate – especially that Chocolate one!
Kaged Muscle's Isolate Ingredients
The exact macros will depend on the flavors used. The cocoa in the Chocolate, S'mores, and Chocolate Peanut Butter flavors will add at least an extra carbohydrate and a dash of fat, while the flavors without cocoa will come in a bit lighter. Each product, however, keeps it consistent with 25 grams of protein.ion and ingredient come in at:
110-120 calories

25g protein

2-4g carbs

0-1g fat
Since this uses pure WPI-90 – Whey Protein Isolate that's been filtered (or isolated) to 90% protein by weight, you get a very high protein-by-weight ratio. Whey protein isolate is filtered to remove as much lactose and fat and other impurities as possible. But Kaged makes it even better by adding a patented digestive enzyme:
A bit about ProHydrolase
Prohydrolase is a patented enzyme blend – the enzymes (proteases) included help the body break down dietary proteins into their constituent amino acids, and this helps with digestion.[1] Considering an estimated 71% of Americans deal with gastrointestinal discomfort,[2] this is a great advantage that Kaged Whey Protein Isolate has over its competition.
Prohydrolase begins to convert the protein into a hydrolyzed protein through a unique mechanism, as Prohydrolase starts to break down proteins once it's mixed with a liquid. This sets it apart from hydrolyzed whey on the market as most hydrolyzed whey products are created through chemical treatment during the manufacturing process. No matter how you get there — hydrolyzed proteins may lead to easier digestion, faster absorption, and improved uptake[1] — which may ultimately lead to more gains and even less hunger through "protein leverage"[3] — something we're all for.
A study published in 2020 demonstrated that combining 250 milligrams of ProHydrolase with 26 grams of whey protein (admittedly one gram less than what we have here in Kaged!) led to improved plasma leucine and total EAA levels 30 minutes after ingestion when compared to 26 grams of protein alone.[5] This is great for athletes who use fast-digesting whey isolate to get it in now.
What's great about this updated research is that it was published a couple of years after Kaged originally included ProHydrolase in their supplements – it's always great to work with companies that continue funding and publishing research even after they've made large dents into their respective markets.
Primarily stevia-sweetened to keep the sucralose down
Also note that just like the other Kaged products, they're using stevia on top of sucralose, in an attempt to keep sucralose levels low. Unfortunately, we don't know the exact doses, but we do know that stevia's ahead of sucralose, which is a great thing. This is the norm for all Kaged supplements.
Available Flavors
Below is a list of flavors of Kaged Whey Protein Isolate – note that some may still be in the older branding through early 2023: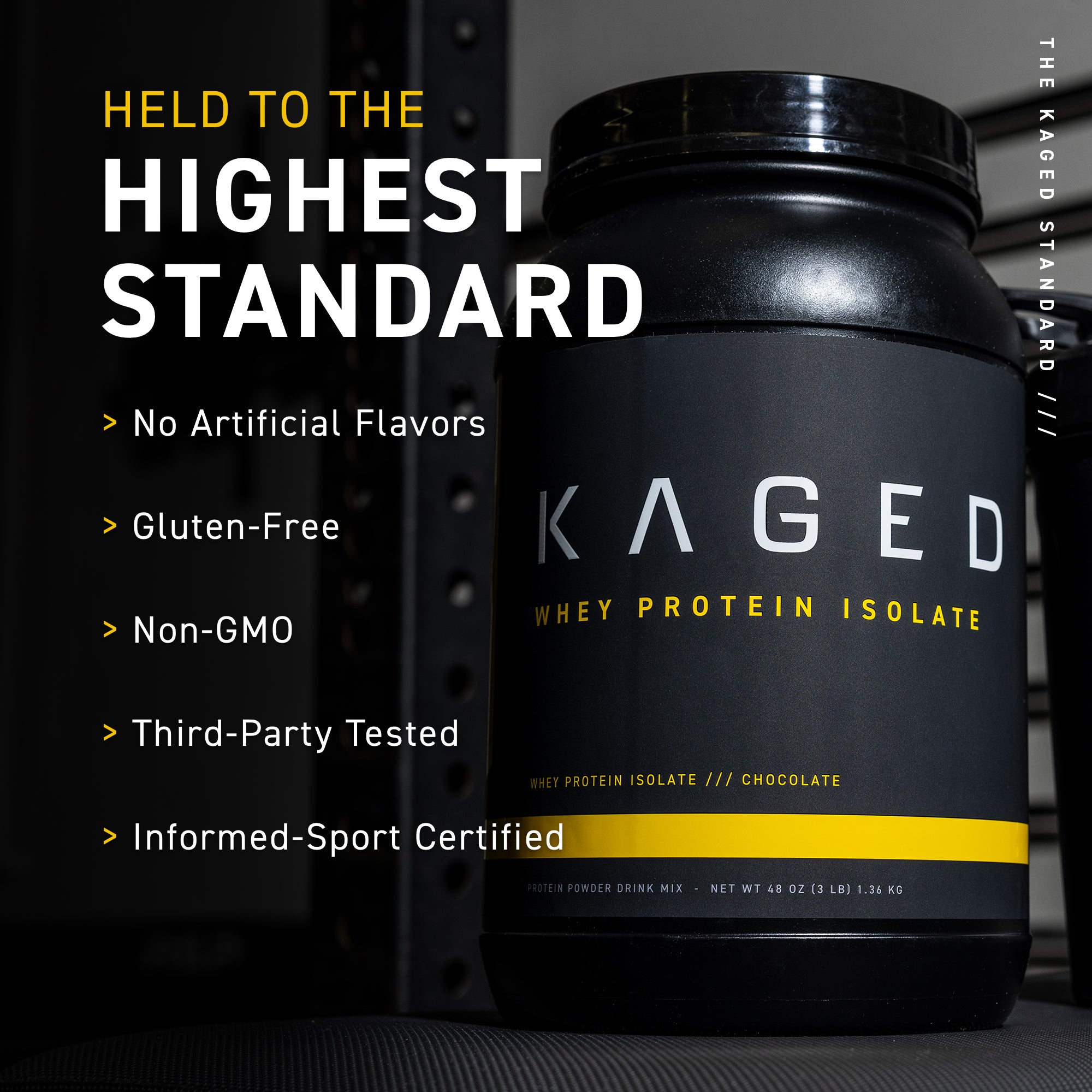 When launched, these flavors were great news for Kaged fans who had eagerly been awaiting a standard chocolate or vanilla flavored whey protein. Re-Kaged previously only had "fruity" flavors, and with so many brands going straight to "crazy" flavor systems, fans are finally given the standard go-to flavors that are actually phenomenal!
As always, Kaged Whey Protein Isolate sports the following benefits:
Pure Whey Protein Isolate
ProHydrolase Powered
No artificial flavors
Informed-Sport Certified
Third-party tested
Gluten-free
No artificial colors
Non-GMO
The Kaged rebrand continues, and with stellar flavors as always!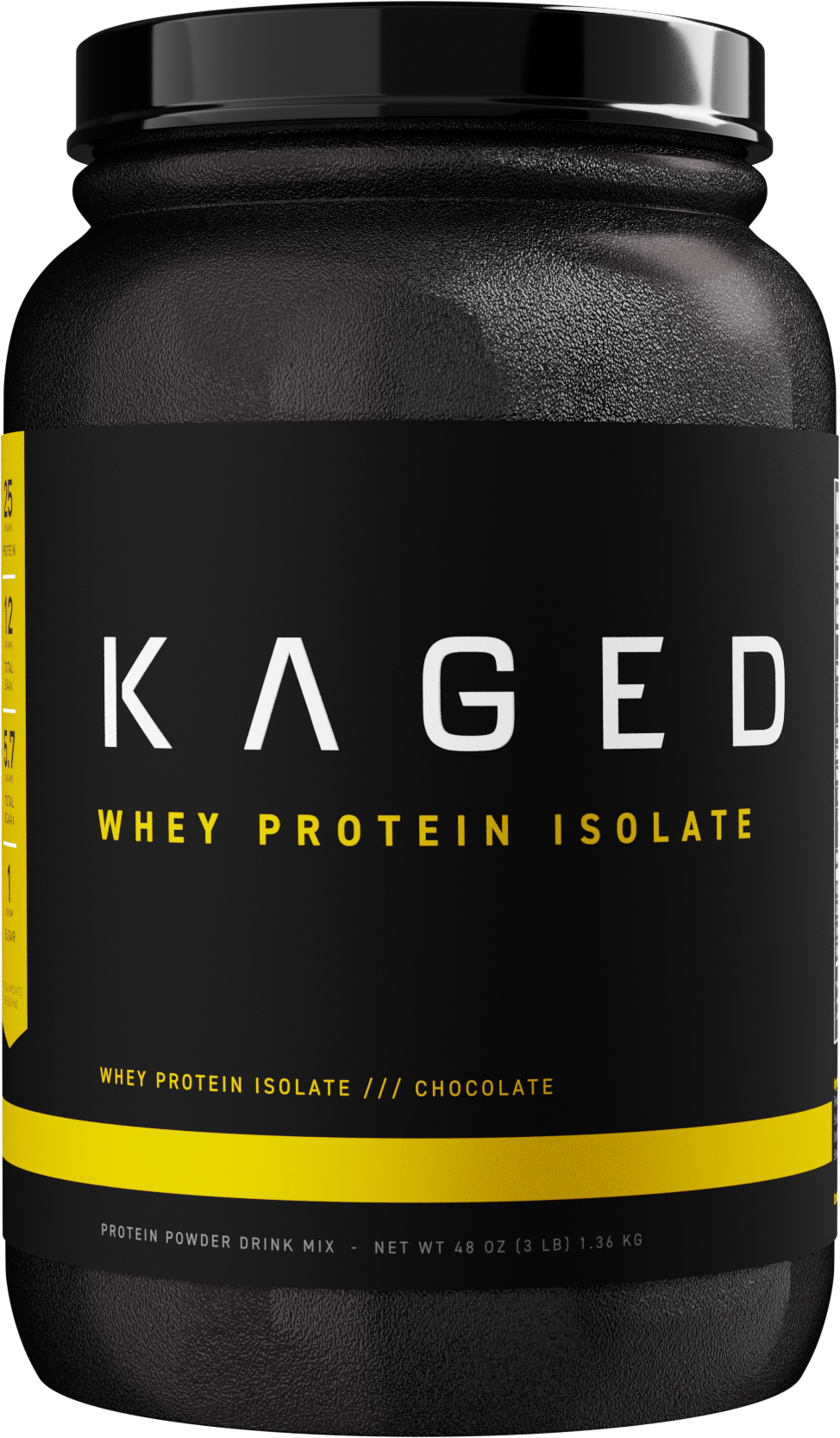 In 2018, we conluded by writing "What the company lacks in product quantity, it makes up for with its quality." That was once true, but now they excel at both!
We were also extremely proud to not only interview Kris Gethin on the PricePlow Podcast years ago, but also to get Michael McClane to explain the rebrand.
What will 2023 hold for Kaged? We're not sure, but if there are new Whey Protein Isolate flavors, they're almost guaranteed to be bangers.
Kaged Whey Protein Isolate – Deals and Price Drop Alerts
Get Price Alerts
No spam, no scams.
Disclosure: PricePlow relies on pricing from stores with which we have a business relationship. We work hard to keep pricing current, but you may find a better offer.
Posts are sponsored in part by the retailers and/or brands listed on this page.
Note: This article was originally published on August 20, 2018 and updated with the new labeling and ProHydrolase research on November 8, 2022.