The Guerrilla Chemist has been formulating supplements for decades now, always educating consumers in both suppolements and "non-supplements" along the way. But when he split off and built his own brand Chemix — debuting with the ultra high-energy Chemix Pre-Workout — his fans and followers naturally asked how he would make a natural muscle builder.
Anyone who follows @theguerrillachemist knows he's unafraid to experiment with the aggressive stuff, but when it comes to dietary supplements, we need to keep it more natural. That's the genesis of Natabolic, the testosterone-boosting anabolic from Chemix.
Natabolic: A multi-pronged approach to natural testosterone and muscle growth
Natabolic launched in 2020, and brought turkesterone into the picture a year later well before it was cool again. If you haven't noticed, several brands have followed suit! There have been a couple of tweaks here and there, but the powerful formula is largely the same.
In this article, we talk about the various anabolic and hormonal components of Natabolic, which is no minor subject — there are eight capsules to be taken per day! First, let's check prices and availability on PricePlow, then get into it:
Chemix Natabolic – Deals and Price Drop Alerts
Get Price Alerts
No spam, no scams.
Disclosure: PricePlow relies on pricing from stores with which we have a business relationship. We work hard to keep pricing current, but you may find a better offer.
Posts are sponsored in part by the retailers and/or brands listed on this page.
This area is reserved for Team PricePlow's upcoming Ingredients video.
Subscribe to our channel and sign up for notifications so you catch it when it goes live!
Note: Make sure the retailer you choose has the label you want, or get it from ChemixLifestyle themselves.
Natabolic Ingredients
In a single, 8-capsule serving of the Natabolic anabolic testosterone booster by Chemix, you get the following:
Byroviron (Bryonia Laciniosa extract) – 1,000 mg

Byroviron is a trademarked extract of Bryonia laciniosa, an herb long used in Ayurvedic medicine for aphrodisiac[1,2] and pro-fertility[1,3,4] purposes.

The main bioactive constituents of Byroviron are punicic acid, goniothalamin, and glucomannan. Punicic acid is an omega-5 fatty acid that also occurs naturally in pomegranates, which is where it gets its name.[1,5-7] The scientific nomenclature for pomegranates is Punica granatum, which indicates that the botanical community considers it the most important constituent.

There's a fairly robust body of research on punicic acid, demonstrating that it has antioxidant, anticarcinogenic, pro-metabolic, and anti-inflammatory effects.[8-10]

The landmark Bryonia Laciniosa preclinical study

In a 2009 study published by the International Journal of Impotence Research, male rats were given doses of Bryonia laciniosa extract of 50, 100, and 150 milligrams per kilogram of body weight for 28 days, comparing against 0 milligrams (the control group).[1]

By the end of the study period, rats who received the Bryonia extract had significantly higher testosterone, FSH, and LH than those who didn't – and the effect size increased dose-dependently, meaning the more Byronia a rat took, the more their hormones improved.

The rats taking the highest two doses – 100 and 150 milligram per kilogram – had major testosterone increases. Since the human equivalent dose is about 1/6th of what you'd give a rodent the size of a rat,[11] the 1,000 milligram dose in Natabolic for an adult human male is approximately twice what researchers gave the rats in this study![12]

The rats taking Bryonia improved other indices of sexual health as well – they copulated more frequently, took less time to recover in between sessions, had higher sperm count, and had higher body weight and testicle weight. All of these effects were dose-dependent, just like the testosterone increase![1]

The fructose content of the rats' semen was also higher, although the status of this as a sexual health marker remains debatable.[13,14]

The authors of the study speculate that Bryonia works through triggering gonadotropin release via hypothalamus stimulation, and there's good reason to believe this since increases in FSH and LH were observed, but more research is needed to test this hypothesis.

As far as we know, this is the only major Bryonia study looking at sexual health in mammals, but the results are remarkable. Yes, it's an animal study, but we think that, generally speaking, the results of animal studies translate well to humans.

Punicic acid metabolic support

The benefits of punicic acid are by no means limited to sexual health. There's evidence it has significant anti-diabetic effects as well.

Another animal study tested punicic acid's effects on diabetic rats and found that it significantly improved the rodents' blood glucose and insulin levels, triglycerides, cholesterol profile, and more.[15]

In fact, some researchers believe punicic acid is a potential therapy for the treatment of metabolic syndrome in humans.[16]

Metabolic support is always a good thing, but since insulin resistance is a factor in testosterone production,[17] metabolic health should be a key concern for any man who's trying to optimize his testosterone levels.

Part of what drives King of Pumps?

Finally, in our Chemix King of Pumps article, we talk about Guerrilla Chemist's Endo-Pump blend, which contains pomegranate inside as well. Inside, we cite two studies showing ergogenic benefits to pomegranate, and can only wonder how much was achieved from the punicic acid inside. Natabolic and King of Pumps may make extremely complementary stacks when training.

Korean Mistletoe – 1,000 mg

Korean mistletoe (KME) unsurprisingly hails from Korea. It's been extensively studied as a potential therapy in wasting diseases where runaway catabolic states cause the person afflicted to lose significant amounts of muscle.[18]

However, KME isn't just anti-catabolic. It could very well be pro-anabolic as well.

KME muscle building: animal study

In one 2012 study, researchers did both an in vitro and in vivo component testing on Korean mistletoe, a fairly unique dual-pronged design.[18] They studied the effect of KME saturation on isolated muscle fibers from mice, and then compared those effects to what they observed in real, live mice that they fed KME long-term.

They found that KME upregulates genes that cause muscle hypertrophy, while also downregulating genes that cause muscle wasting.[18] The actual mice who get KME-feeding had higher muscle mass and grip strength compared to control subjects.[18]

KME muscle building: human study

In a randomized, double-blind, placebo-controlled study published in 2016, researchers looked at KME's effects in human subjects. They divided volunteers into three groups: 1 gram per day of KME, 2 grams, or placebo. All subjects were between 55 and 75 years old.

Just like in the preclinical study, the subjects who got KME had greater expression of genes linked to muscle growth, and less expression of genes linked to muscle atrophy.[19] Moreover, subjects taking KME had higher levels of insulin-like growth factor 1 (IGF1), a known anabolic hormone.[20]

Most importantly for readers, the group taking 2 grams of KME per day had significantly more lean body mass than controls.[19]

KME as a fat burner

Muscle tissue is very metabolically active, and can burn a lot of energy even at rest, so there's a correlation between having lots of muscle and being very lean. Since KME helps us build muscle, it stands to reason that it may also help us burn fat too, at least in the long run.

Cue a 2013 study in mice. The animals were divided into four groups:[21]

Ordinary mice chow without KME
Chow and KME
Highly obesogenic diet designed to make the mice fat and cause metabolic derangement
Obesogenic diet plus KME

The results were striking: mice that got the obesogenic diet with KME weighed about the same as the group that got normal chow alone. Animals that got chow and KME weighed less than the control group.[21]

The researchers specifically ruled out the possibility that KME was just making the mice eat less, noting that the overall amount of food consumption didn't vary significantly between the groups. The mechanism of action by which KME increases fat burning is upregulation of uncoupling-protein 1 (UCP1) in brown adipose tissue (BAT), which basically increases the amount of energy that an organism burns off as heat.[21]

Black seed (Nigella sativa) oil – 750 mg

Black seed oil is pressed from the Nigella sativa (NS) black cumin plant, and is regarded in folk medicine as something of a panacea. Modern scientific research has largely borne out the idea that NS has some wide-ranging benefits for human health. And research is mounting that NS can help improve conditions like inflammation, hypertension, and obesity, among other medical issues.[22,23]

Much of the research of black seed oils and extracts are done on metabolically deranged humans and animals, but starting off with a study on healthy rats, we can see that there may be more to it than just improving metabolism.

In 2012, researchers grouped 24 male rats into a 0 mg/kg control group and 200 mg/kg and 400 mg/kg alcoholic Nigella sativa seed extract groups for 60 days. The results were incredible: "There was a significant difference in testes and epididymidis weight, sperm count, ESR, DSP, blood testosterone concentration, LH and fertility index in both the lower dose group and the higher group as compared to the control group."[24]

Of course, one of the keys to having high testosterone levels is being lean, as obesity and accompanying metabolic syndrome are closely associated with subpar testosterone production.[25,26]

Combating testosterone drops in metabolically deranged

The good news is that there is at least three one animal study and a systematic review showing that nigella sativa seeds can help with this situation:

2015 – "Effect of Nigella Sativa Seed Powder on Testosterone and LH levels in Sterptozotocine Induced Diabetes male Albino Rats"[27]

18 rats were split into three groups, a control group, a diabetic control group, and a diabetic treatment group receiving 300 mg/kg Nigella Sativa seed powder for 45 days.

The average testosterone (ng/dL) in diabetic rats was half that of normal rats (82.78 vs 41.62, but the diabetic rats treated with Nigella Sativa rats were restored to 71.34. Luteinizing hormone was also moderately restored to healthy levels.

2015 – "Effects of black seeds (Nigella sativa) on male infertility: A systematic review"[28]

Looking at all nigella sativa studies from January 2000 until June 2014, which didn't include the one above, researchers concluded that "Nigella sativa and its main constituent, thymoquinone can improve sperm parameters, semen, Leydig cells, reproductive organs and sexual hormones in animal studies."

The question is, are the anti-obesity effects improving testosterone (through weight loss) or is black seed extract independently helping testosterone? We surmise that it's a bit of both, since one of the above animal studies worked on normal mice.[24] However, it's worth looking into Nigella sativa's anti-obesity effects:

Nigella sativa has anti-obesity effects

In one study, animals given an NS supplement with their normal diet ate 25% less food and had better fasting insulin, triglycerides, and HDL-cholesterol levels compared to control animals.[30] A human study replicated this effect, finding that NS administration to obese males between 30 and 45 years old led them to eat less.[29]

In the study mentioned above, appetite reduction in human subjects was associated with "very significant reduction of body, weight waist circumference, and systolic blood pressure."[29] Although changes in testosterone levels were not observed during this study, we need to think about the long game, and focus on maintaining a healthy weight in order to protect hormonal health from the dreaded metabolic syndrome.

In another study, this one on obese women, a very high dose of cumin powder effected significant improvements in weight, waist circumference (a powerful predictor of metabolic health), overall fat mass, and bodyfat percentage.[31] The researchers in this study also observed beter triglyceride and HDL cholesterol levels.[31] Improvements in these markers of metabolic health strongly suggest an increase in insulin sensitivity.

Nigella sativa's anti-diabetic effects

Additional animal studies show that NS can protect the insulin-secreting pancreatic β-cells from toxic injury,[32] and improve both carbohydrate and lipid metabolism in diabetic rats.[33]

One possible mechanism of action for the anti-diabetic effects of NS is stimulation of the PPAR-γ pathway,[34] which causes insulin sensitization.[35]

Overall, this ingredient is promising, but especially so for those who are insulin resistant or suffer some level of metabolic syndrome.

Ajuga turkestanica (std. to 10% Turkesterones) – 750 mg

Extracts of the Ajuga turkestanica plant, native to central Asia, are standardized for a phytoecdysteroid called turkesterone. If you aren't familiar with phytoecdysteroids, know that they are plant-derived compounds that mimic the structure—and in some respects the function—of the hormone testosterone.

The first thing we should do is clarify what's meant by "turkesterone" because the same word is used to refer to two very different things. The first is the phytoecdysteroid molecule turkesterone itself. The second is any whole-spectrum extract of A. turkestanica, which contains not only the phytoecdysteroid turkesterone, but also several other phytoecdysteroids.

"Turkesterone" in the sense of a whole-plant extract, has been taking the supplement industry by storm lately. PricePlow is a fan of the whole-plant extract, assuming it has turkesterone alongside the seven other known anabolic constituents, so we're glad to see it being used here in Chemix Natabolic.

What's really in Ajuga turkestanica?

Besides the phytoecdysteroid turkesterone, A. turkestanica extracts also contain another phytoecdysteroid called ecdysterone, also known as 20-Hydroxyecdysone, or 20HE.[36] We love this about A. turkestanica extracts because there's a ton of high-quality research on ecdysterone that paints a picture of this phytoecdysteroid as a very powerful anabolic substance.[37-41]

Researchers who study ecdysterone have concluded more than once that it should be categorized as an "S1 anabolic agent" and banned from use by competing athletes on the authority of the World Anti-Doping Agency.[37,40]

So yeah, ecdysterone is pretty serious business, and we suspect its resurgence in many of these new "turkesterone" supplements may lead to it actually getting banned for sport this time around. So if you're a drug-tested athlete, always check with your most recent banned substances list.

Even better, ecdysterone and turkesterone aren't the only phytoecdysteroids in A. turkestanica extracts either. There are at least six others, for a total of eight known phytoecdysteroids in A. turkestanica.[42]

Although we can't definitively say much about all the phytoecdysteroids in A. turkestanica, researchers who study these compounds have described turkesterone as a close analogue of ecdysterone,[42,43] so the findings on ecdysterone probably apply, for the most part, to turkesterone as well.

Turkesterone-specific studies

All that said, we don't need to spend most of our time comparing the phytoecdysteroid turkesterone to 20HE. There are some pretty remarkable studies showing that turkesterone is potentially an insanely powerful anabolic agent.

The biggest one by far is a 1998 study that was done by scientists at the Uzbekistan Academy of Sciences. The researchers put pure turkesterone in a head-to-head contest with several other compounds, among them an anabolic steroid called methandrostenolone (otherwise known as dbol), to see which would be most effective at inducing an anabolic response in rats.[44]

Pretty much anyone who's been in the bodybuilding world for any length of time has heard of dbol. It's a blockbuster steroid with inhumanly powerful pro-anabolic effects.

So most of you will probably be shocked to read these researchers found that in rats, turkesterone outperformed dbol for muscle growth.[44]

That's honestly pretty mind-blowing, and although there are some awesome nutritional supplements on the market today, it's very rare that we get to say one of them outperformed an anabolic steroid. In fact, it's perhaps the first time it's ever happened.

However, there are problems with this study. First, it's old. Also, nobody's tried to replicate it. And frankly, there just aren't that many studies looking at the effects of pure turkesterone (the molecule).

Still though, given the extremity of this result, the similarity of turkesterone to proven phytoecdysteroid ecdysterone, and the general similarity of the phytoecdysteroids as a whole, we're very bullish on turkesterone and Ajuga Turkestanica plant extracts in general.

Turkesterone is potentially a blockbuster natural ingredient that could change the course of the industry. At least that's how we see it.

Turkesterone safety profile

Unlike ecdysterone/20HE, which has an excellent and well-substantiated reputation for safety in the research community,[45] basically no work at all has been done on the safety of turkesterone, specifically.

One of the reasons that 20HE is accepted as safe is that it doesn't have much binding activity to human androgen receptors, and actually acts by occupying estrogen receptors[37,46]… it's counterintuitive, we know.

Because it mostly binds to estrogen receptors instead of androgen receptors (ARs), ecdysterone can't trigger the AR-mediated negative feedback on endogenous testosterone production that anabolic steroids typically do.

However, we've heard disputed claims that turkesterone has a high affinity for the AR, so there could be a chance that it may downregulate T production.

If you aren't sure about taking turkesterone, talk to your doctor and get a full panel of blood work, as discussed in our main turkesterone article.

Final thoughts on phytoecdysteroids

PricePlow is pretty optimistic about the long-term future of A. turkestanica extracts and of phytoecdysteroids in general. We think these compounds are shaping up to be the next big thing in natural anabolic supplement design – and Guerrilla Chemist was ahead of the curve with this one.

KSM-66 (Ashwagandha Extract std. to min 5% withanolides) – 600mg

Withania somnifera is an evergreen shrub, colloquially known as ashwagandha, that's native to the Middle East, India, and Africa.

Long prized in Ayurvedic and other folk medicine practices for its purported ability to harmonize the mind and body,[47] ashwagandha has been used for thousands of years to treat a wide variety of ailments.[48]

As most readers of this blog probably know, ashwagandha is most commonly used today as a stress-reduction supplement, owing to its powerful ability to reduce cortisol levels in those who take it.[49]

Cortisol and testosterone are generally antagonistic toward each other. So, researchers wondered whether ashwagandha might be an effective testosterone booster.

Ashwagandha and testosterone

In a double blind, placebo-controlled study from 2019, researchers divided 50 middle-aged, overweight men into two groups. One group took a high-yield ashwagandha supplement daily, and the other got a placebo. After eight weeks of continuous supplementation, researchers swapped the groups – so the men who had been taking ashwagandha now got the placebo, and vice-versa. This part of the study lasted another eight weeks.

The study authors found that taking ashwagandha increased the mens' testosterone blood levels by 14.7% compared to the placebo.[50]

The ashwagandha men also had lower levels of cortisol.[50]

Does it work in healthy young men?

So that 2019 study yielded a great result, no doubt. But given that it was conducted in middle-aged, overweight men, the next obvious question is: Would there be any benefit to ashwagandha supplementation in young, healthy men?

To answer that question, we go further back in the ashwagandha annals.

In 2015, another double-blind, placebo-controlled study found that ashwagandha supplementation in men averaging 28 years of age significantly improved strength, body composition, and testosterone levels,[51] compared to placebo. The young mens' testosterone levels increased by an average of 15.2%, an effect size comparable to what we saw in the 2019 study.

Note that the dose used in the 2015 study was 300 milligrams – that's half the amount used in Chemix Natabolic!

It's worth noting that Chemix has opted for the KSM-66 extract, which is generally recognized in the supplement industry as being of exceptionally high purity and efficacy. Standardizing for withanolides is always a good call, as these are the main bioactive constituents of ashwagandha.

Eriobotrya japonica extract 10:1 – 500 mg

Here we have another anabolic muscle growth promoter in the form of Eriobotrya japonica, also known as loquat.

Loquat is rich in ursolic acid,[52-54] a known activator of mammalian target of rapamycin (mTOR).[52,53] This is big because mTOR is an anabolic master switch. It basically controls the entire process of muscle growth. Put simply, things that activate mTOR make you grow muscle, and things that inhibit mTOR prevent you from growing muscle – and may even cause you to lose muscle. mTOR means growth.

In animal models, loquat extracts have been shown to improve muscle function in aged rodents whose strength was compromised by senility,[52] and can also preserve muscle in the face of toxic insults that ordinarily induce catabolic muscle wasting.[54]

We discuss ursolic acid in our Chemix King of Pumps article, as it may be in the EndoPump blend from pomegranate extract. Inside, we briefly cite a systematic review of 17 ursolic acid studies, where the researchers found that ursolic acid increases thermogenesis, enhances skeletal muscle mass, and improves physical fitness.[55]

So besides helping build and preserve muscle, loquat may also help you get lean. Ursolic acid has been shown to increase the body's proportion of brown fat,[56] a metabolically active type of body fat where mitochondrial uncoupling turns calories into heat through a process called non-shivering thermogenesis.[57]

This is a very interesting ingredient, and given the 10:1 standardization, we believe we're getting a decent dose of ursolic acid inside.

Eucommia ulmoides bark extract 100:1 – 500 mg

Eucommia ulmoides is an interesting plant used in traditional Chinese medicine for numerous anti-inflammatory properties. It has over 100 constituents including lignans, fatty acids, iridoids, triterpenoids, and many other active compounds. It's not clear what part exactly makes it so powerful, but research has shown that there's a "supra-hormonal effect of E. ulmoides (EU) extract on androgen receptor and testosterone."[58]

It's able to activate androgen receptors in a dose-dependent manner, but only mildly activates the androgen receptor (by roughly 6%).[58] However, when the extract is paired with testosterone, together they activate the androgen receptor even more, leading to twice the normal transcription activity![58]

A turkesterone amplifier?!

Ultimately, Eucommia ulmoides seems like an "amplifier" for anabolics. Given how well it works next to testosterone, and how closely the turkesterone molecule resembles that of testosterone, we're wondering if this is going to amplify turkesterone as well!

Eucommia ulmoides bark also has a high concentration of chlorogenic acid,[59] a powerful antioxidant[60] also found in coffee. There's also some evidence that chlorogenic acid can make the vascular system more responsive to exercise,[61] which is a huge boon for maintaining good cardiac health.

We're also interested in chlorogenic acid's ability to help us burn fat. It can bind with androgen receptors and trigger the release of fatty acids into the bloodstream where they're burned for energy[59] in a process called lipolysis.

Acacetin – 50 mg

In one study where 24 different compounds isolated from the shrub, Turnera diffusa, were studied for their anti-aromatase activity, acacetin was one of the two strongest aromatase inhibitors,[62] both of which were demonstrated in a research setting to renew sexual function in sexually exhasuted male rats.[63]

Aromatase is an enzyme that converts testosterone into estrogen,[64] so inhibiting aromatase can favorably affect your all-important testosterone-to-estrogen ratio.

Boron – 10 mg

Having adequate boron levels is crucial for optimal testosterone and vitamin D production.[65] And since vitamin D is also a testosterone booster,[66] this means that the chemical can both directly and indirectly increase your testosterone levels!

Boron actually extends the half-life of vitamin D, meaning it takes longer for the vitamin in your bloodstream to be degraded and rendered inactive,[67] allowing more vitamin D than usual to build up in your blood.

One much-discussed study from 2011 showed that boron increased the levels of free testosterone in those who took it.[67]

Even though the study was done on a group of healthy males, that's considered an extremely small sample size and hasn't been replicated yet, so we'd love more research to come with boron.

Still, since boron has effects on vitamin D and can also improve magnesium absorption,[68] magnesium being another mineral that's important for optimal T levels,[69] we think boron's a pretty promising T boosting ingredient.
Dosage and Directions
A full serving is 8 capsules, but Natabolic is strong, so the bottle states that beginners may start with 4 capsules per day. Experienced users can use all 8 per day.
Either way, we suggest splitting the doses into AM and PM doses, spaced roughly 12 hours apart, to keep the constituents flowing evenly.
Listen to The Guerrilla Chemist Discuss Natabolic Himself
The above video is a touch dated, since it's about the original 2020 formula, which has had some modifications, but it's a great starting point to hear from the man himself.
Natabolic: A truly natural anabolic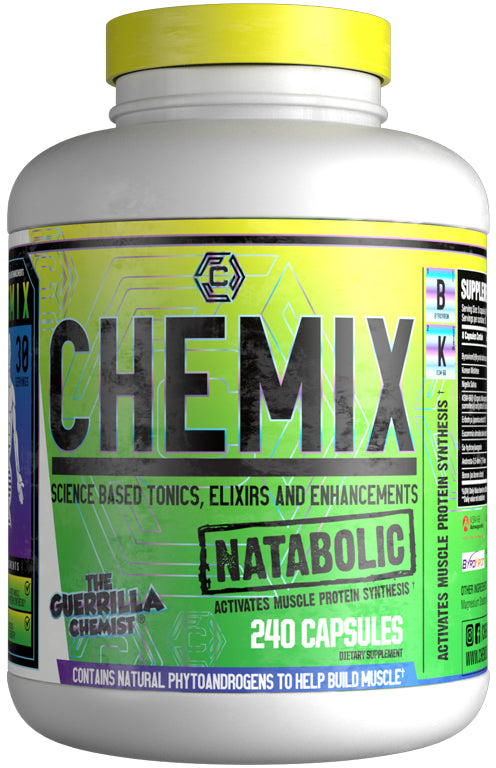 When The Guerrilla Chemist released Natabolic, it was an eye-opener for his fans and followers. 8 capsules full of unique and powerful plant compounds.
However, it was also an eye-opener for the rest of the industry. In 2022, we're seeing tons of "turkesterone" supplements that are using Ajuga Turkestanica inside. But who was one of the first industry titans to bring it back? The Guerilla Chemist, that's who — Natabolic put it into Natabolic in 2021, before many other brands followed.
Chemix has led the charge, and still to this day, Natabolic is a serious force to be reckoned with.
The only question is, when you start seeing gains, you'll wonder which ingredient is doing the most heavy lifting, and if it's A. Turkestanica itself. That question, we won't be able to answer here, because here's a lot of anabolic activity inside. Just as we'd expect from The Guerrilla Chemist.
Chemix Natabolic – Deals and Price Drop Alerts
Get Price Alerts
No spam, no scams.
Disclosure: PricePlow relies on pricing from stores with which we have a business relationship. We work hard to keep pricing current, but you may find a better offer.
Posts are sponsored in part by the retailers and/or brands listed on this page.
Note: Make sure the retailer you choose has the label you want, or get it from ChemixLifestyle themselves.