NutraBio has long been known as the leader in quality and transparency throughout the supplement industry. We've covered it rather extensively before, but one thing you might not think about with the brand is their innovations with flavoring.
The pioneer in full disclosure has updated the flavor lineup of its basic branch-chain amino acids product BCAA 5000 with three new intriguing flavors. The one we're most excited about is pina colada, which has a perfect spin on the tropical pineapple-based drink!
The long story short is if you want a ton of 5g BCAA servings with no artificial colors, limited sucralose, that are vegan-sourced with no extra stuff – just straight BCAAs – you can't beat what NutraBio's cooked up here.
We'll get to those other new flavors in a bit after explaining the product, but before all of that, take a moment to check the best deal and sign up for alerts from PricePlow:
BCAA 5000 - Best Deals and Price Drop Notifications
Get Price Alerts
No spam, no scams.
BCAA 5000 Ingredients
As you might have guessed the "5000" in BCAA 5000 stands for 5,000mg or 5g, which means that each serving of BCAA 5000 provides 5g of the good stuff 2:1:1 BCAAs.
Fermented Vegan Leucine (2.5g)

The undisputed "king" of amino acids, leucine has been well documented to be a powerful stimulator of muscle protein synthesis (MPS) as well as decrease muscle soreness, reduce recovery time between workouts, and enhance lean muscle mass.[1]

Additional research shows that leucine (in combination with isoleucine and valine) consumed prior to exercise reduces muscle damage and accelerates recovery in resistance-trained subjects.[2] So, not only do BCAAs support muscle building, but they also help you recover faster for your next bout of intense training!

Fermented Vegan Isoleucine (1.25g)

Lovingly referred to as leucine's younger brother, Isoleucine, is another BCAA that can stimulate muscle protein synthesis (just like its big brother) but to a much less extent on its own compared to leucine. But what isoleucine lacks in MPS stimulation, it makes up for in glucose uptake.

See, isoleucine greatly enhances glucose uptake in the body as well as the use of glucose during training, which leads to better all around energy production. And, there's even some research indicating that the amino acid can boost fat burning![3]

Fermented Vegan Valine (1.25g)

The third and final branched-chain amino acid is Valine. It's predominantly known for its ability to enhance muscular endurance and reduce fatigue during intense exercise. The reason is that during exercise, tryptophan is converted to serotonin and tells the brain your body is fatigued, leading you to feel more worn out than you actually are.

But, valine competes with tryptophan for entry into the brain, and wins, which means less serotonin enters the brain, leading to better endurance, quicker recovery between working sets, and greater strength.[4,5]

The Rest

Rounding out the rest of BCAA 5000 is a modicum of ingredients including natural & artificial flavoring (900mg), citric acid (600mg), sucralose (100mg), beet root powder (50mg), and ace-K (20mg).

Note: The flavoring amounts will vary depending on which flavor you choose.

Comparing sucralose levels to other intra's

This is a relatively low amount of sucralose. In their more fully-featured intra workout supplement named Intra Blast, due to having so many more ingredients, NutraBio uses ~220mg sucralose in those. So if you're looking to keep the artificial sweeteners lower than the standard intra workout drink, BCAA 5000 is a great way to go.

Vegan BCAAs!

As you can see, the above amino acids are from vegan sources, which means no horse hair or duck feathers for your BCAA sources!
Flavors Available
As we mentioned up top, NutraBio recently launched 3 new flavors of their popular BCAA 5000 product. The new flavors in the lineup are:
Lemon Lime
Pina Colada
Kiwi Strawberry
These flavors join the already existing flavor lineup, which includes:
Tropical Fruit Punch
Passion Fruit
Watermelon
Grape
Unflavored
Mike and Robert reviewed the new flavors, and Mike's favorite was Pina Colada by a longshot! Subscribe to our YouTube channel to stay tuned for that review! If you like to water your intra workout down a lot and want it nice and sweet, this is the flavor to get!
Takeaway
BCAA 5000 is bringing 5g of pure 2:1:1 BCAAs to the party with no other fillers, fluff, or fooey. NutraBio has crafted a quality, no-nonsense amino product that can be used on its own or added to the brand's top 10 pre workout PRE Extreme.
BCAA 5000 - Best Deals and Price Drop Notifications
Get Price Alerts
No spam, no scams.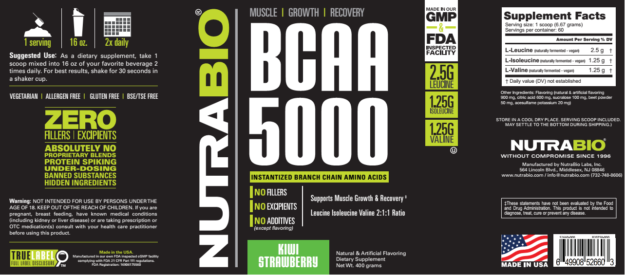 Like this Post? We have more on the way…
PricePlow is a price comparison site that asks one simple question: is this worth it?
The honest truth lives here. Follow us on social media below:
References