The TB12 Pre-Workout is Tom Brady's Pre-Workout, and it's a stimulant-free masterpiece loaded with a clinical dose of Nutrition21's Nitrosigine nitric oxide booster alongside massive amounts of organic vegetable-based performance enhancers.
When Tom Brady launched The TB12 Method, he showcased his holistic stance on health and fitness, covering four pillars of wellness and athleticism:
Nutrition
Hydration
Mental Fitness
Movement
It started with a diet and training routine, but over time, the G.O.A.T. put together the TB12 supplement line. And when it comes to supplements, there's nothing that catches our attention faster than the pre-workout.
Given Tom Brady's natural and ancestral stance on dieting, we were excited to see how he'd put this together. And quite honestly, it's one of the most impressive and on-brand celebrity pre-workout supplements we've ever seen.
With a clinically-studied and verified dose of both Nitrosigine and L-citrulline, Tom Brady's stim-free pre is already potent. But then he goes above and beyond, adding absolutely massive doses of organic nitric oxide boosters like beet root extract and red spinach extract – with a beet root dose that's literally ten times what we generally see in the bodybuilding industry.
To top it off, we have a unique herbal libido- and natural energy-enhancing ingredient in maca root extract, which puts this product in its own class.
Today, we cover the Nitrosigine-powered stim-free pre-workout in all its glory. Whether or not you're a fan of Tom Brady or TB12, this is a product to try — especially if you're looking for natural flavors and natural sweeteners without caffeine or artificial colors.
First, check out the prices we've found on PricePlow, then let's get into the science behind Nitrosigine and everything else inside:
TB12 Pre-Workout – Deals and Price Drop Alerts
Get Price Alerts
No spam, no scams.
Disclosure: PricePlow relies on pricing from stores with which we have a business relationship. We work hard to keep pricing current, but you may find a better offer.
Posts are sponsored in part by the retailers and/or brands listed on this page.
This area is reserved for Team PricePlow's upcoming Ingredients video.
Subscribe to our channel and sign up for notifications so you catch it when it goes live!
TB12 Pre-Workout Ingredients
In a single, one-scoop serving of TB12 pre-workout from TB12 sports, you get the following — with zero caffeine:
L-Citrulline – 6 g

Citrulline is an amino acid that has a powerful ability to boost nitric oxide (NO) production.[1] Although arginine used to be the supplement industry's go-to NO precursor, citrulline has replaced it in recent years because it's significantly more bioavailable.[2] Unlike arginine, citrulline is largely spared from the "first pass effect," where ingested substances get broken down in the gut before reaching the intestinal wall, and thus are not absorbed nor effectively utilized.[3]

Thanks to its incredible nitric oxide production capability, citrulline has the following benefits:

Increased oxygen uptake and higher top-end muscular power[4]
Increased athletic endurance. (In one 2010 study, a high dose of citrulline supplementation successfully increased subjects' maximum number of bench press repetitions by over 50%.[5])
Significantly reduced post-workout muscle soreness — up to 40% less, according to one study[5]

All of these effects can be credited to NO's role in causing vasodilation, the expansion of blood vessels to increase blood flow. The reason this benefits the training athlete so much is that more blood flow ultimately means a higher efficiency of nutrient and oxygen delivery, as well as an increased rate of lactic acid clearance. This is important since the buildup of lactic acid is what produces muscular fatigue during exercise and soreness afterwards.

Citrulline is often bound to another substance, e.g. malate, so only a certain percentage of the dose is actually citrulline. Not here though. In TB12, we have pure citrulline – every single milligram of this citrulline form is actual citrulline.

So you're getting 6 grams of actual citrulline— a truly monster dose, and it's only the first of several nitric oxide boosters. Citrulline also has an excellent safety profile. In this case, a large dose is a great thing if you're looking to boost blood flow and reap the benefits from it. Just realize that TB12 is strong enough to get some individuals too pumped up for some sports, and you could probably use half a serving and still get a legit pump!

SaBeet Beet (Beta vulgaris) [Root] Extract – 5 g

Beets are an excellent source of nitrates and betaine, two compounds with big benefits for athletic performance and muscle growth. Sabeet Beet Extract is claimed to have at least 2% nitrate content,[7] which means we have at least 100 milligrams of organic nitrate content – a far greater amount than what we normally see with smaller beet root doses. Both sides are explained below:

Nitrates

Let's start with nitrate. After it's ingested, nitrate is converted into nitrite and enters the bloodstream through the intestines. From there, it goes to our salivary glands, which converts it into nitric oxide[8-10] – a different pathway from citrulline (above) and Nitrosigine (below).

According to a 2013 meta-analysis,[11] nitrate supplementation reliably:

Improves circulation[12]
Produces higher aerobic efficiency[12-15]
Increases strength[16,17]
Improves athletic endurance[14,15]
Improves recovery
Provides cellular energy[17-19]

So you can see that the effects of nitrate supplementation are similar to those of citrulline, which isn't surprising since they both increase the production of NO.

The issue is that many of the studies above used more than 100 milligrams of nitrate, so it's tough to verifiably argue for all of the benefits above. However, we still have another organic nitrate-based ingredient coming! And at a five gram dose of beet extract, we're confident that we'll get at least some of the studied benefits above – this is literally over a 10x dose of beet root that we see in other pre-workout supplements.

Betaine

Also known as trimethylglycine or TMG, betaine is an ergogenic aid with effects similar to those of creatine. First, we have to note that we don't know how much betaine is in this beet root extract – in general researchers have found just 114–297 milligrams per 100 grams of beets,[21] which means we could have a small dose here.

Betaine is a methyl donor that can lower blood levels of homocysteine,[22] an amino acid with blood levels that are positively correlated with cardiovascular disease.[23,24]

Betaine is also an osmolyte, meaning that it increases the water retention of your body's cells, thus keeping them optimally hydrated[23,25] and protecting them against heat stress.[26]

Tons of research has established the benefits of betaine for athletic performance,[27-32] but again, realize that those studies use pure betaine anhydrous and we likely don't have the doses used in those experiments.

Still, this is a monstrous beet root dose, especially given that it's just one of the ingredients. Normally, in the sports nutrition world, we see 500 milligrams. Tom Brady went 10x that!

Organic Maca (Lepidium meyenii) [Root] Powder – 3 g

Maca is great for boosting a few different dimensions of what we could vaguely describe as "energy" – libido, fertility, mood, and mental performance.

The problem with maca is typically that large doses are needed in order to achieve clinically significant effects. That's why it's great to use maca in powdered supplements like this one where it's easier to achieve large doses of constituent ingredients. 3 grams is a pretty big dose of maca, so we definitely expect this constituent of TB12 to produce significant effects.

According to the research literature, the following benefits have been associated with maca supplementation:

Higher libido in men[33,34] and women.[35]
Higher male sperm count and fertility[36,37]
Improved mood and lower anxiety levels in women[38]
For women, relief of some symptoms associated with menopause[36]
Possible cognitive benefits in human[39] and animal models[40]

The inclusion of 5 grams of beet was impressive, and so is the maca powder. Despite being a stimulant-free pre-workout supplement, this much maca may be felt by some individuals, and we're highly interested in trying it.

Next up, however, comes the clinically-dosed nitric oxide powerhouse:

Inositol-Stabilized Arginine Silicate (as Nitrosigine) – 1.5 g

Nitrosigine is a combination of arginine, inositol, and potassium silicate (abbreviated in research as ASI).[41] Compared to ordinary arginine, nitrosigine has much better bioavailability and these ingredients combined outperform the equivalent individual dose of each.[42]

The idea behind this is, as with most of the other ingredients in TB12, to boost (NO) production. Arginine has long been known as an NO precursor. But as we discussed above in the section on citrulline, the bioavailability of oral arginine is not very good. Thus, Nitrosigine was invented to overcome this obstacle.

Because the arginine silicate is "buffered" by the additional molecules, it's protected from being broken down in the gut before it can be absorbed through the intestinal wall. Most likely, this is because the complex of the three ingredients inhibits arginase, the enzyme responsible for hydrolyzing arginine in the gut.[44]

Nitrosigine is both fast-acting and long-lasting. According to the latest research on Nitrosigine, it is biologically active as soon as 30 minutes after being ingested, and its effects persist for 1.5 to 6 hours.[45,46]

Better blood flow… better cognitive scores!

As is the case with most NO boosters, ASI has more than merely physical benefits. Laboratory testing has demonstrated that ASI is capable of improving cognition in multiple domains, and prevents the temporary cognitive decline that typically follows an intense workout.[47]

In young male subjects who did not show signs or evidence of post-exercise fatigue, Nitrosigine still sped up their rate of "task switching," a metric of cognitive flexibility.[48] Another recent study showed an improved short-term memory score compared to placebo when tested in healthy young adults – TB12's demographic![43]

A good overall summary of Nitrosigine's effects are published in a 2015 study in which subjects who took 1,500 milligrams of Nitrosigine daily (N.B. – the exact same dose used in TB12) had significantly increased perceived levels of energy after a mere 72 hours of supplementation.[45]

We really like seeing ingredients that boost feelings of perceived energy, because feeling energetic is so crucial for the optimal motivation needed to accomplish any task, be it mental or physical. This makes sense if you think about it: everything we do is mediated by the state of our body, including blood flow

For a longer, in-depth discussion of why Nitrosigine is so awesome, check out a longer, more in-depth article we did on the topic, "Nitrosigine: The Nitric Oxide Booster That Enhances Brain Function".

Oxystorm Red Spinach (Amaranthus tricolor) [Leaf] Extract – 1 g

More botanical nitric oxide boosters!

Oxystorm red spinach extract is another source of nitrates, which we discussed above. It's standardized for 9% nitrates by weight[49] – a pretty high concentration – so although the dose of Oxystorm used in TB12 isn't huge, you are getting quite a lot of nitrates from what sounds like a small dose.

If you want a refresher on what nitrates are and why they're so awesome, just scroll up to the beet extract section of this article.

To give you some context for understanding how high the nitrate concentration is in Oxystorm, beets contain about ~250 milligrams of nitrate per 100 grams of whole beet root,[50] whereas here we're getting about 9,000 milligrams of nitrate per 100 grams of Oxystorm.
Flavors available
At the time of publishing, Tom Brady and team have just one flavor: blueberry pomegranate. This is from natural flavors, and it is naturally sweetened with stevia leaf and monk fruit extract.
If more flavors are added, they may be shown below:
While it'd be great to have some benefits from blueberries and pomegranate (the former being a focus aid / antioxidant and the latter being ergogenic), they're not active ingredients and likely not dosed enough to get benefits aside from their flavoring. However, we get excited anytime the flavor/color systems potentially provide any additional benefits.
Conclusion: Tom Brady's Stim-Free Pre is impressive
Nitric oxide has enormous benefits for athletic performance. So the best pre-workout supplements will hit the nitric oxide system hard, and that's exactly what the TB12 pre-workout formula does. No nonsense: except for maca, every single ingredient in this stack is there to maximize nitric oxide production, and the maca is likely to be experiential. Moreover, the ingredients complement each other for synergistic effects.
This may be a tough one to flavor, so look for our video above, but the fact is, this is an extraordinarily impressive stimulant-free pre-workout supplement that has clinical doses of powerhouse ingredients like Nitrosigine and citrulline alongside far greater beet and red spinach doses than we normally see in the bodybuilding world.
If the taste is palatable enough, we have to tip our hats to Tom Brady for formulating a monster. This is a celebrity stim-free pre done properly.
TB12 Pre-Workout – Deals and Price Drop Alerts
Get Price Alerts
No spam, no scams.
Disclosure: PricePlow relies on pricing from stores with which we have a business relationship. We work hard to keep pricing current, but you may find a better offer.
Posts are sponsored in part by the retailers and/or brands listed on this page.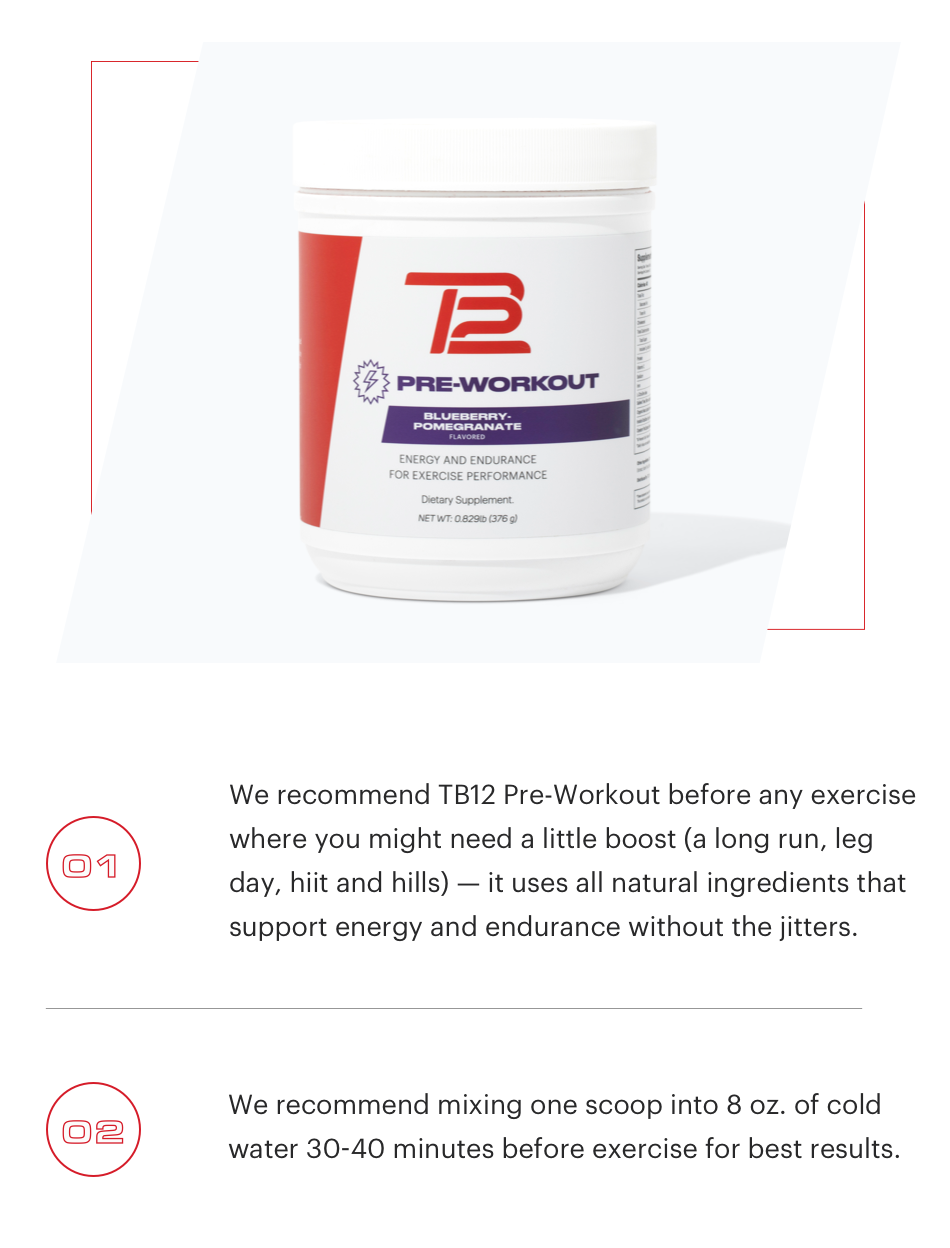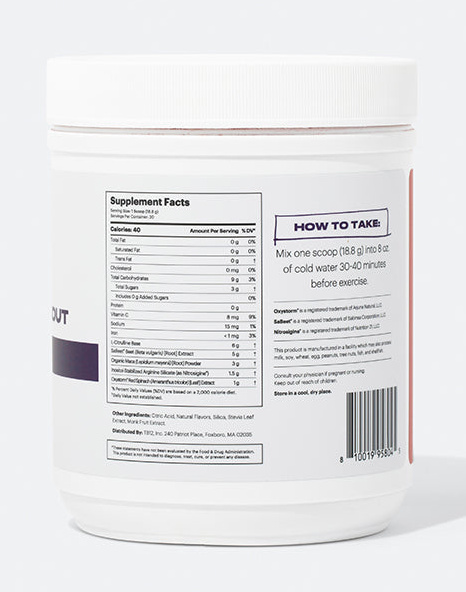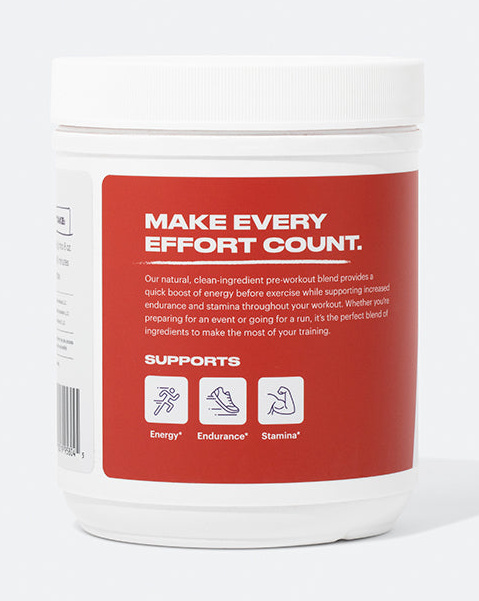 ‌